Interview conducted September 02 2007
Interview published January 18 2008
After a short but energetic gig at Swedish Metal Expo, Metal Covenant hooked up with Queen B (vocals), Mary (guitar), Jennaah (drums) and Lolita (bass) from Vision to discuss all kinds of matters revolving the band.

Niklas: What have you been up to here at Swedish Metal Expo?
Queen B: We've been meeting many different people here. It's a good mix of things on this event, like clinics, seminaries, concerts and stuff. It's been really interesting.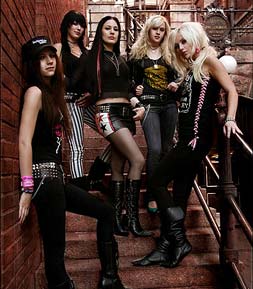 Niklas: There have been a lot of members coming and going from Vision over the years, has this been tough for you?
Mary: Well, it's always difficult to find a person who is committed enough to struggle with this several hours each week, for no money whatsoever! (laughs) (Queen B:) I think that it's generally rather tough to find committed people, so it mostly happens so that you play with those you know from before. It's only natural if somebody wants to do something else, and then you have no choice but to go out and find someone new. You just have to go on trying until you have a group that wants to go at the same direction.



Niklas: How close do you work with No Remorse, the music association that specializes in girl-bands?

Mary: We rehearse there and they are our sponsors. They've helped us a lot, but it's hard to point out exactly what they do because it's so much. No Remorse knows the business better than us and helps us with connections.

Niklas: How would you describe Vision's sound?
Queen B: Well, we do have a variety of influences each and every one of us, and just if you happen to listen to one band it's doesn't automatically mean that you play that kind of music. I guess you could sum it up by mentioning the 80s, and possibly a bit of the early 70s. Bands that we all like are Kiss, Judas Priest, Mötley Crue, Backyard Babies, Guns n' Roses, etc. We mix those together and out comes a Vision-cocktail. (laughs)
Niklas: Are there any plans to record an album soon?
Mary: At the moment we're working on writing new songs, but this year we have changed a few band members and also changed our sound, so we decided to throw away our old stuff and start anew.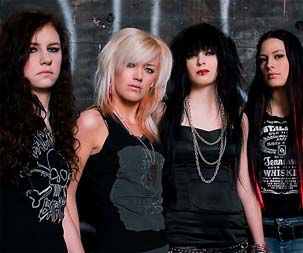 Niklas: What kind of sound did you have before you changed course?
Mary: That sound was more indefinable. Those songs had kind of a heavier groove with bright vocals, sort of. However, now it feels that all of us have decided what kind of music we want to make. In the old Vision-days everybody had different ideas and went to different directions to the extent that it was impossible to keep it all together.
Niklas: Has it been mostly positive or negative for you being a girl-band?
Jennaah: There's been a little bit of both. When it comes to getting gigs, being a girl-band is an advantage, but at the same time it's bad because some guys look down on you. Just because you're a girl they think that you can't play. (Queen B:) You can look at it this way; people are generally interested and want to learn more about girl-bands before they have even heard them. So step one is rather easy; but then you have to prove to people that you're a good musician as well, or else they will never take you seriously. So that step is definitely harder to take. But at the moment we're seeing lots of: "We don't have any girl-bands at this event, let's book you!". (laughs)
Niklas: So where do you hope that Vision will be in a few years? Do you have a vision, perhaps…?
Jennaah: Haha, how clever of you! (laughs) (Mary:) Well, we certainly want the band to have moved forward in a few years. By then we want to have a record deal, played festivals, many gigs and much more. (Queen B:) I myself would like to have the image of girl-bands changed from what it is now. I hope I'll be able to change the world in that matter. (laughs) I just don't see why people have to categorize girl-bands as "girl-bands", no matter what kind of music they play. I'm not saying that we're trying to act like men, I mean we ARE a band of girls, but it's a bit sad that the view on girl-bands is so distorted.

See also: review of the gig the same night »»
Related links: