Interview conducted January 17 2012
Interview published January 19 2012
The tremendously brutal and brain damaged German guerrillas of suicidal thrash lunacy have returned with their new anthem of abuse and stored anger aptly titled: 'Feed the Extermination'.
I was privileged to have another steadily organized conversation with the metal law warrior vocalist - Mario Vogel - about the band's past and future, the musical chugs and production, the cancerous lyrics based on the dominance of violence in our black as coal, lying society, and their eventual signing with Massacre Records. So come and join us on the road to hate, and prepare yourself for hostility, and revisit the glory that is this trained rager's fate.

MettleAngel: Hey Mario, congratulations to you and your Brain Damaged brothers on the recent release of the new Vendetta album, and for being signed to Massacre Records for your fourth full-length!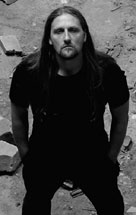 MettleAngel: As you may recall, I am a huge Vendetta fan, and the 'Brain Damage' release is still my favourite album of all time, after almost 25 years!
MettleAngel: I just have a couple of questions that I want to ask you about the current position of the band and your new album.
MettleAngel: I will be honest that when all the Vendetta freaks here in America asked me what I thought about the new album, I described it as such: "If 'Brain Damage' is the equivalent of Metallica's 'Master Of Puppets', and their comeback album release called 'Hate' was more akin to 'Load 'or 'Re-Load', then 'Feed The Extermination' follows the caustic pattern of 'St. Anger'."
MettleAngel: I am being open and forthright. Now, I do not mean to suggest that the album sucks, and after playing it countless times, it has grown on me, and is definitely much better than the apostasy that is 'St. Anger', or even 'Lulu' - the recent Meta-Lou-ca album.
MettleAngel: I did really relish the 'Beyond Magnetic' (EP), and I am excited about the band releasing the Mp3s from those four amazing 30th Anniversary shows with all those famous guest spots. As concerns Vendetta, what I mean is that the album is very heavy and brutal, with some chugs, and the production has improved.
MettleAngel: Indeed! Those sapient solos we expect from the first two offerings are just not there, and perhaps purists of the 80's will not be too impressed with the new direction.
Mario: Well, this is not the same band, as back then, you know!
MettleAngel: I understand that, and I have often wondered why the band has never released or re-recorded such excellent songs as "The Shine" or "Black As Coal". Those songs to me were written as the logical progression from 'Brain Damage'. Were those demos enacted before you joined the band in 2002, almost a decade ago?
MettleAngel: I am not familiar with that outfit?
MettleAngel: I sure would love to hear that. You should here a band called The Porridgeface from Sweden. Anders Lindberg's cover of "On The Road" is exceptional! Was Mickey involved with Poke too?
MettleAngel: The live versions I have of those songs almost sound like both you and Achim "Daxx" Hömerlein are performing the vocals duties. Do you sing on those tracks, or is it just Daxx?
MettleAngel: If I recall correctly, the first time that I interviewed you a few years ago, you sent me these live tracks. I am really impressed with the overall sound quality. My version also includes a Slayer cover of "Black Magic".
MettleAngel: Even that particular cover has the Vendetta touch, if you know what I mean.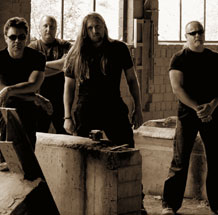 MettleAngel: I was surprised how short the 'Hate' album was when it was released, and often wondered why you chose not to include updated versions of these older songs.
Mario: We decided to cut out the songs. If we had attempted the full versions, then the album would have been 15 minutes longer. The fact is that we do not want to play such complicated songs, and we chose to pull out all the "stops and breaks" etc.
MettleAngel: Well, I guess that makes sense. You do not want to repeat yourselves, as you always want to evolve and experience new realities.
Mario: Besides, everybody in the band thought that the older songs just did not adapt to, or fit into the new stuff and material that we were creating on the 'Hate' album.
MettleAngel: I suppose I can understand that. The new album is a logical progression from the writing style of 'Hate', and thankfully the album is a solid length.
MettleAngel: I am pleased to hear that the lyrics are once again well-written and thought provoking. As I only have a digital version of the new album, perhaps you can kindly E-mail me the lyrics.
MettleAngel: Once this is posted I will notify and remind you, at that time.
Mario: That is great, because the guy who does our cover art, named Pablo from Extasy-Design should have everything in order. You might also want to check the Internet, as they should be available soon.
MettleAngel: I will do that, but I still do not even have the lyrics to 'Hate', which you were supposed to send me a while ago. Perhaps you will be able to get all lyrics to me. I would be interested in hearing anything you have from the Poke project, if you are able to secure that for me, as well. Maybe you can ask Heiner for me, is that cool?
MettleAngel: I am very persistent, so I will. Let me ask you this; are you now the main lyricist? Does the whole band write the music, it is a collaborative effort, both musically and lyrically?
MettleAngel: He is the only original member, right. I assumed he was also the main songwriter.
Mario: When it came to writing the album, everybody was working really hard, overtime. We all discussed the lyrics, the title, and everything else. I wrote the majority of the lyrics, though.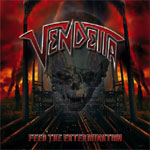 MettleAngel: Given the lyrical nature, the attitude, and the themes, I assumed it was you who penned the poignant thoughts.
MettleAngel: I wonder if a song like "Tremendous Brutality" is a bit tongue-in-cheek, perhaps even suggesting that the band echo the essence of the first two albums.
MettleAngel: Given the ever changing Metal Milieu, and the current audience and climate of ambivalent Metalhead listeners, - thanks to Dethklok, where everyone want its "brutal" and not as melodic - so many great artists tend to compromise their sound to placate the masses, and even create enough abundance to just survive.
MettleAngel: Honestly, I prefer a blend of both heavy and melodic, what are your thoughts?
MettleAngel: I know, but those albums are written on my heart, and I will always love them. When a band reunites, we always hope to hear remnants of their past, and keep that essence alive. In a case like new Van Halen we know that is just not the case. With the fatal cancer diagnosis of legend Tony Iommi, now that Sabbath reunion is unlikely, too!
MettleAngel: I know, and that is why we are doing this interview, because there is merit and worth in what the band are still doing, and I am open to that. Unfortunately, too many of us are just stuck in the '80s, and act rather stiff-necked.
MettleAngel: I feel you will always have that vibe, as the music is still solid Vendetta, thanks to the hints from Heiner! Also, I have always honoured the lyrical tradition of the band, and you continue that legacy of brutality with such aplomb.
MettleAngel: So what are your inspirations as concerns the lyrical content? I noticed that some of the songs really deal with some questionable subject matter? I think I hear songs about child abuse, dealing with the horrific effects of cancer, and losing one's faith in God and the world around us. Am I correct in these assumptions and interpretations?
Mario: Yes you are right! The lyrics are from all aspects of life. They focus on those things in which everyone is in touch: aggression, death, cancer, and corruption of the Church and society, what have you.
MettleAngel: Those sound like Metal lyrics to me! Basically, the band was never about the cliché: Sex, Drugs, and Rock 'N Roll attitude, per se.
MettleAngel: What motivates the band to write the music in the fashion that they do? Is this the exact same line-up as 'Hate'? If so, then I trust that the band gels real well, having been so tight for nigh ten years, already?
Mario: That is right, and so far everything is really good at the moment. It is still the same line-up like it was years ago, but right now we do not know how long Frank Schölch can remain in the band.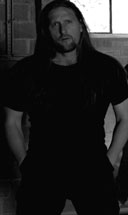 MettleAngel: Oh no! I really like his playing and style. Frank does an excellent job of keeping that Vendetta vibe alive. It would be a crying shame if he were to depart.
Mario: Frank is vital to Vendetta, and we are still looking for another guitarist, perhaps even a replacement, if necessary. We want to perform with an additional guitarist live, too. Unfortunately, we have not been able to find the right one, just yet.
MettleAngel: I am sure that having two guitarists live would really edify the sound and structure of the band; especially, when you chose to play the stuff from the 80's.
MettleAngel: I imagine that there is a great guitarist and accomplished Metal musician out there who would love to play in Vendetta! Have you considered another seasoned German guitarist from another band, who may have time to pull double duty? There are so many killer new thrash acts coming out of Germany, lately!
MettleAngel: Do you still love to play the classics live, like "On The Road", "Drugs & Corruption", "War", "Brain Damage", "Precious Existence", etc.
MettleAngel: Man, I would die to see that! This is where a second guitarist would truly make a difference. Perhaps you should advertise on your Webpage and other links the need for this opening?
MettleAngel: What newer songs do you add into the live mix?
Mario: As far as the newer material from 'Feed The Extermination', I think that we will play the title-track, and perhaps "Cancer", or "Dog In The Manger" or something like that. What are some of you favourites?
MettleAngel: Give "Tremendous Brutality" a fighting chance! Did not Skyclad also have a song called "A Dog In The Manger"? How did you get signed to Massacre Records, and did they dictate to you what style to compose the album in, that they might placate their audience who tend to prefer a more Death Metal attitude?
Mario: NO! Massacre received the first two songs from our Manager (M. Hansen), and then they offered us the deal. Massacre Records never told us what style they preferred, or expected us to meet their musical requirements.
MettleAngel: That is very reassuring. I am grateful that they opened their doors to Vendetta. The more I listen to the newer material, the more I hear hints of the past musically and lyrically. This is what keeps me loyal to what you are always creating. It is like when Deathrow progressed with their masterpiece 'Deception Ignored', and then further evolved with 'Life Beyond'. Do you agree?
Mario: Yes, and thank you very much. We appreciate the fact that you have given the albums several listens. This allows you to be open more to what we are now accomplishing. I just hope both older and newer fans are willing to do this.
MettleAngel: I am sure that it is a challenge for a band such as yours to survive with so many Metal acts around these days. I personally have grown weary of bands that release albums under their original name, but only have one original member. i.e.: Venom, Exciter, Annihilator, etc.
MettleAngel: I know that in some respect this is true with Vendetta, but even though Klaus "Heiner" Ullrich is the only survivor, the band today is a strong unit, very capable of creating some solid Metal!
MettleAngel: Just take a look at what Tankard have done for three decades! Andy has been with them for a while, and they too only have just one guitarist who does it all. How do you feel when I suggest that Vendetta fits in this mold? What do you want for the band as far as the future, keeping old fans, while making new ones?
Mario: It is a mixed bag, really. If we just play in the "Old School" fashion, then some people will want us to sound updated.
MettleAngel: I see your point, and so the only ones that you should focus on pleasing primarily are yourselves!
Mario: Precisely! Older fans want the classics; newer fans want the recent stuff, so how can we win? My goal is to get in touch with all Metal Heads. We hope they appreciate what we are striving to do.
MettleAngel: I am just grateful that the band is active, truly acknowledging their roots, and continually creating new music for us to ponder. What are your plans for touring?
Mario: We are hoping to get on the road next time. We have plans to play Spain in August.
MettleAngel: Indeed Vendetta needs to be "On The Road", or En El Camino, if you are to play in Spain! I heard a rumour that like Tankard, Coroner, Whiplash, etc. you were supposed to play live and be on "70,000 Tons Of Metal II". Were you ever even approached about playing this once in a life time gig?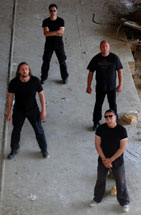 MettleAngel: Well that sucks, and I am going to have to chide my source who even suggested this as a possibility.
MettleAngel: Last year I met a true Metal warrior on the cruise, and we have become close friends. Would you believe that while we were docked and visiting Cozumel, Mexico for the day, he and I discussed the magnificence that is 'Brain Damage'! It turns out that he is an American, and actually lives in Kentucky!
MettleAngel: It is a small world after all! He will be attending "70 K II" with his lovely wife, but he was so hoping that Vendetta would be on board. It is weird, as several artists who told me personally they were performing, suddenly now are not! Who can you trust these days!
MettleAngel: My wife, son, and I will not be going this year. Hopefully the third time is the charm, and Vendetta will be aboard!
MettleAngel: Well it is time to bring this interview to a close. I want to sincerely thank you and all the Vendet-dudes for all the great music and memories. Long live those who go and live and stay to play live!
Mario: Same to you Michael! Always keep thrashing - every time again. I hope that I did alright for you, as these were some demanding questions, and you caught me a bit off guard. I hope my answers were enough for you.
MettleAngel: Brother, I appreciate your candid offerings, and your willingness to indulge an "Old School" radical, mettle heart, such as I am. Mario, Metal Head people are cool! I want you to know that I will always respect the band, and sing your accolades, even if the new album does not fully reach my expectations.
MettleAngel: Metal is the never ending cure to my brain damaged, precious existence! I wish you and yours All The Best!
Related links:

www.vendetta-band.de
www.myspace.com/vendettapower