When I heard that Vendetta were planning to re-issue their classic thrash masterpieces this fall, and that they were working on a brand new CD, I almost suffered brain damage. I knew I had to get in touch with them immediately and create a conversation which would spawn a new revolution command of love & hate, while waging war against the systems of death; ultimately upholding the precious existence of the metal law. Go and live...stay and thrive!

MettleAngel: Wow, Vendetta's "Brain Damage" is my favourite album of all time, even after almost two decades of listening to high quality metal. I even played the CD at my wedding with tracks like the instrumental "Fade to Insanity" serving as my wedding march since it begins with "Jesu, Joy of Man's Desire" being played on bass. I still love all the songs on this CD like "War", "Conversation", "Precious Existence", "Never Die", "The Love Song", etc. I have duplicates in every format on CD, cassette, and vinyl with sealed copies for posterity. One of my vinyl copies is on the wall in my bedroom, next to my now hermetically sealed tape. When I heard recently that you planned to reissue this and your debut - "Go and Live...Stay and Die", I was ecstatically practicing RADAR Love and ready to celebrate the moribund dance. When do you plan to do this and who is the label who has undertaken this task?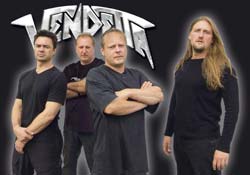 MettleAngel: What are the bonus tracks for each release? Will these titles also be digitally remastered and available in the States? Will the awesome artwork remain true to form?
Mario: I think the artwork will be nearly the same. Inside perhaps, there will be someting more, and we`ll put some Live-Bonus tracks on it, as well.



MettleAngel: Are there any live tracks recorded back in the day which you plan to release? Are there plans to release a live DVD with the new Vendetta line-up?

Mario: We have recorded some stuff on tour with Sodom last year and at the Open Air Festival, but we're not thinking about releasing a DVD, until next time.

MettleAngel: Mario, you have been the vocalist for a few years now. I downloaded the free live demo you offered at your website last year and I really enjoyed the way you handled the classic tracks. Are you now the only vocalist, or does Daxx still contribute? In the past it was always difficult to discern between Daxx & Mickey's vocals. That is until I saw the video for "Brain Damage".
MettleAngel: I really like the new tunes which I heard as well. They embodied the classic Vendetta sound, while still maintaining a slightly modern approach. Tell me more about the new CD "Hate" due out in February.
Mario: We changed a lot, since then. Four songs were on a demo which was made in one day and it was totally f...up. Now they are faster, there are shorter and more aggressive tracks. The other songs are brand new and we hope they kick ass.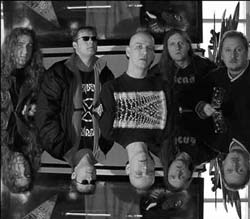 MettleAngel: Have you written all the lyrics now as well? What inspires you to write lyrics? I still detect several political themes in the overall context.
Mario: Yes, I have done some of the lyrics, but a lot still come from Daxx, we don`t change the themes - we dont want to write about dragons and steel right now...
MettleAngel: Has Vendetta been able to gain some new fans while playing certain concerts and festivals?



MettleAngel: Will you also be reissuing the album designs for shirts? If so please let me know as I'll definitely want one of each.
MettleAngel: So what does the band Vendetta symbolize for today's metal market?
MettleAngel: Tell me about your new line-up and the background of the latest members. I briefly read the bios on your website and it seems like quite an eclectic group of guys with rather unique tastes in music.
Mario: It was a big desaster for us lately. After Daxx left us, to get off the drugs, then Frank Heller wanted to leave as well A few weeks ago, we did not even have a guitar player. Frank Heller helped us out for a long time so we could play the Festivals, etc. So then we got Frank Schölch from another band. Then we changed completely our Live-Set and right now we play with only one Guitar - Frank Shölch.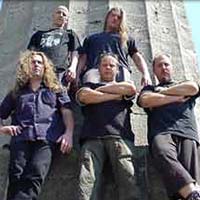 MettleAngel: Did you know that there was once another band called Vendetta? I saw them on MTV once and they reminded me of Thin Lizzy Do you now have complete ownership of the name? I'm pleased to see that you still are utilizing the killer vintage logo.
MettleAngel: I want to ensure you that you still have fans who worship the first two releases. Up until now, as you know those have been really difficult to procure on CD without paying a lofty price; of which the band never sees a single dime As I mentioned I have duplicates of each version; since I was concerned those titles would fall into obscuration and obolescence. I even purchased "Brain Damage" on CD as an engagement gift for the wife. Even with all the metal noise constantly flowing into my world as a metal connoisseur and devoted critic; Vendetta & Deathrow CDs always inspire me. What do you want to say to your fans who have maintained their mettle all these years?
Mario: It was not easy for us to handle it - we know that there are so many copies still circulating in East Europe, and on Ebay you pay a lot for that stuff. We've had to fight for our rights backed by a lawyer. Now we have the Recordings back, but it has taken a long time. We are proud of the Fans, because we feel after we opened the homepage, that it's unbelievable, viewing the Guestbook, answering Questions, Clicks, Personal Mails... We were astonished - All Metal Fans world wide are something special to us.
MettleAngel: Thank you so much for this opportunity to professionally speak with a band who has made me who I am, while upholding the metal law after all these years on the road overcoming the lure of drugs and corruption. Please keep me well-informed on the reissues and new CD release!
Related links: