Interview conducted October 04 2008
Interview published October 14 2008
Derek Kerswill is the new chosen drummer for Unearth. He is one awesome dude, who has been around the Boston scene for ages. He has played with several notable bands. Thankfully, he has now embraced his grave of opportunity in Unearth. He seems less concerned about the almighty dollar, and more focused on creating true mettle aspirations. The mark of his kinship to follow, is laid out in this very macro-killer, motivational, and empowering dialogue, enjoy....

MettleAngel: Hello Derek, I have interviewed Buzz & "Slo" previously, so I am pleased to work with you. You are the new guy, right?
Derek: Yeah, I guess, actually I have been with Unearth for almost a year and a half. I played drums in a band called Seemless, and I am also in Kingdom Of Sorrow.

MettleAngel: Really, that is the sludge band with Jamie Jasta and Kirk Windstein who plays with Down and Crowbar.
Derek: Yes, I'm really great friends with them, but I chose to work with Unearth, and now I have joined the band full-time. I actually worked with them when they were recording The Oncoming Storm, in an advisory capacity. While recording The March, I invested so much time, and emotion into the songwriting, that I knew I wanted to be an active member, and not just another session musician. With Unearth, we are all on the same page, and have so much in common. I've known these guys for ages. I often felt they were under appreciated.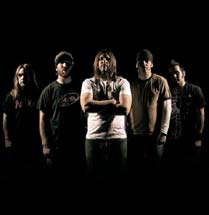 MettleAngel: So you chose to tour with them, and not Kingdom?

Derek: The KOS Tour with GWAR was simultaneous to the Unearth Tour. Jamie understood, and respected my decision, as even Kirk could not commit to the KOS Tour. Jamie, Kirk, & I wrote the record, and will create another album eventually. We are the foundation of this band, and represent the name, message, and that for which the music stands. The thing is that we all have other bigger projects, as you know.
MettleAngel: I understand that you recorded all drum tracks for The March, even before you became their signed drummer.
Derek: Actually, I wrote The March with Buzz and Ken. At first I was happy just helping them out, but then after careful consideration, I decided joining Unearth was the right move.
MettleAngel: I usually don't interview the drummer, so it is cool to gain your perspective; especially, since you were so fundamental to the writing process.
Derek: Buzz and I spent time working on these riffs at Ken's house. Ken enjoys the writing process, and it inspires him. Buzz created some amazing songs. "Slo" lives further away, but he actively participated when he could.
MettleAngel: So you all laid the rhythms down for the recording, and Adam developed it from there. On the last album, Unearth went with Terry Date's production; but, this time you retured to Adam Dutkiewicz, the guitarist of Killswitch Engage.
Derek: Buzz and I brought these songs to Adam, and he created a monster. The album is very honest, and pure. Records and songs are mere moments in time, one must never overthink them, lest they become too spurious. We went with our gut in the writing, and Adam solidified the foundation to create The March.
MettleAngel: Adam really brings out the best in the bands with whom he works. As a drummer, I'm sure you understand this, as he used to also play drums.
Derek: I'm also a musician, I too play guitar, bass, etc. I've been around a long time, I even played with Shadows Fall early on. It was such an honor to open for Pantera in Japan, and witness their last show ever, given what followed. I even played on the last Stryper release.
MettleAngel: Wait, you played on Reborn? What about Robert Sweet?
Derek: Well, it's in the past, and you can read what went down, but...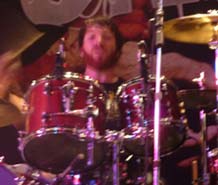 MettleAngel: No worries, we are here to focus on Unearth. I streamed it three times prior to this interview. I will receive the CD soon, and I intend to listen to it with lyrics, and really sit down and absorb it before I review it, and link it with this interview. Now, I'll pay careful attention to the drumming. I will say, I was very impressed with the overall metal energy of the record. Aside form Trevor's gruff vocals, which are still discernible, the melodies almost have a classic '80s Metal Blade feel. I'm reminded of bands like Nasty Savage, Hallow's Eve, Omen, Savage Grace, etc., especially with the abundance of solos, and guitar harmonies.
Derek: Man, you really get where we are coming from, and in only three listens, wow! Take a song like 'Grave Of Opportunity', that almost reminds me of Cinderella.
MettleAngel: That, 'We Are Not Anonymous', 'Cutman', and definitely 'The Chosen' all carry a real metallic feel. Other than the acceptable breakdowns, Unearth have almost become Power Thrash, shedding the Metalcore label altogether.
Derek: I agree, the breakdowns are somewhat necessary, because a band like this invented that sound. The March is super intelligent Unearth. The music is memorable, and fun. We viewed the breakdowns like Chaos A.D.
MettleAngel: Sepultura were heavy, and incorporated such tribal elements, before the term breakdown was even coined. I remember hearing Hallows Eve's 'Rot Gut' off of Monument. this was so different with its chugging and heavy riifs. When I heard Pantera and Sepultura doing this in the '90s, I dubbed it the "Rot-Gut Sound".
Derek: Dude, we speak the same language! many bands now have calculated breakdowns, we wanted to just create a wall of sound which would blow you away.
MettleAngel: How did you get into drumming?
MettleAngel: Phil asked you to join ATR when Shannon left for Black Dahlia?
Derek: Oh yeah, before they got Jason, I was going to do a European tour with them, but then family concerns impelled me to cancel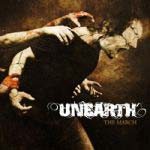 MettleAngel: That is providential, because Jason is perfect for ATR, and you are meant to be with Unearth. Did you ever work with Overcast?
Derek: I myself, no, but Pete Cortese our guitarist in Seemless plays with Overcast. Jesse David Leach, the old singer from Killswitch, sings for Seemless.
MettleAngel: Just like with the Gothenburg bands of the '90s there seems to be a real inbreeding of bands from the Boston area. Everyone is somehow connected.
Derek: That is because we are all friends with one another. The reason our scene became so sucessful is because we never competed with one another. We all endeavoured to create the best music possible for our fans. We strove to provide them with a very positive, empowering message. This is precisely what Unearth does. I shun all these labels, and sub-genres, we are all Metal!
MettleAngel: You are all Mettle, indeed! Unearth and their brethren all exude an honest, sincerity, a real alacrity. You honor your fans, you are true to your calling.
Derek: Dude, the fans are the reason we are hear. I never grow tired of being with my fans. My favorite part of touring is right before we hit the stage, whent the lights go down, I feel so pumped, so fired up. After the show, I am thrilled to meet the fans in attendance. I can go to my grave feeling I've achieved all I ever wanted. my life is good. I'm married, I have a great job, and I remain a positive guy.
MettleAngel: I admire your alacrity. Success is truly the measure of joy in your present life. I imagine being married is taxing while being on tour.
Derek: Well, three of us our married. Trevor just got married. Buzz and I have been in it for the long run. We do this because we love it. We all stick together, as it is not always easy.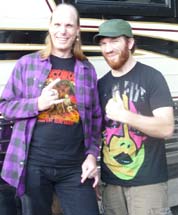 MettleAngel: Wendy and I our celebrating eight plus years together as well. We have been woking with bands and labels professionally for almost four years. Unearth have finally achieved the success they yearned so many years to attain. The House Of Blues has even voted you as the Band Of The Month. That is quite an honor.
Derek: Hell yeah! We are all working class musicians, with no egos. There is a revival in the world of muisc. When we are on stage, I can really feel it. Unearth has stepped up their performance, they are playing better now, than they have in a long time.
MettleAngel: I always enjoy watching Unearth play live. Ken and Buzz exhibit such enthusiasm. It is like a circus on stage with them bouncing, scrambling, and running all over. They give it their all, and truly amuse themselves. I know there is a great deal of alcohol invloved, but so what; the point is they never play the same show twice. I've seen them three times, this will be the fourth; everytime, is different, and more exciting.
Derek: This is why I'm with them. I'm a positive dude. I worked hard to tighten up the Unearth vibe, and get them to really play some serious music. The main reason I decided to join, was to help these guys out.
MettleAngel: You are like their big brother, with the voice of experience, and the attitide of steel reserve. I respect this. When I work with bands, I remove my personal preconceptions. I focus on the individuals, even if I don't care for their music. I still honour them as artists.
Derek: Exactly, there are many bands whom I don't enjoy musically, but I don't just claim that they suck, I respect what they are doing and their fans. Fans are the key. I won't become jaded. I promised myself, that if I allow this to happen, I might as well pack it in. I am so thankful that people genuinely care about what I create.
MettleAngel: We do, and I am very pleased to have spent some quality time getting to know you. Congratualtions on another awesome Unearth album, and thank you for you time, you honesty, your integrity, and your personability. Interviewing someone like you is the measure of my success, as well.

See also: review of the album The March

Related links:
www.unearth.tv
www.myspace.com/unearth
www.myspace.com/seemless
www.myspace.com/kingdomofsorrow