So it goes that I get to unearth the glorious nightmare visions and secrets of this band who celebrate the sanctity of brothers with their unstoppable sting of conscious endeavours. My desire is to gain a stronghold and grasp their sound which will fuel the fire of the oncoming storm for their latest, endless eulogy. These great dividers will crush all false idols of failure as their blackhearts now reign in the eyes of fire. After the show, in the parking lot, I met up with Unearth's bassist John "Slo" Maggard and discussed the band and unearthed many metal superlatives.

MettleAngel: When did you guys form?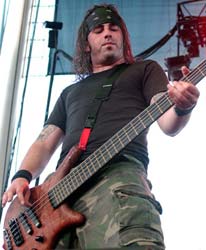 MettleAngel: Now, there's been some confusion with another band called Unearthed and some believe they are ex-members of Iced Earth.
John: Yeah we've been dealing with that frustration for quite some time. We own the trademark legally to the name Unearth now. There was some legal confrontation, but we finally have the legal rights to the name. It sucks we had to go through all that bullshit, but that's the music business.

MettleAngel: Tell me more about your progressive band Netherworld, since you originally played keys for them.

MettleAngel: That's always the case when a major metal scene arrives and becomes dominate: Take for example: England in early '80s, The Bay Area Sound, Florida Death Scene, Seattle Grunge, Swedish Gothenburg Melodic Death, you get the idea?
MettleAngel: What does the name Unearth, then essentially mean to you?
John: It's an unearthing, so to speak, of the old sound we all love, the old metal which we all grew up enjoying and the renewal of that sound in a modern context. With Unearth we place a twist on the classic sound of metal. We love the heavy shit that's what I call all types of metal - "Heavy Shit"!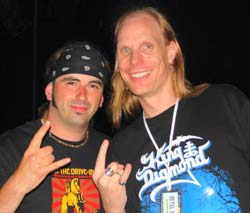 MettleAngel: So who are some of your influences for both bass and keys?
John: Geddy Lee (of course), John Myung, Steve Harris, and Tori Amos - especially on Piano, as well as Josh Silver (Type O Negative), Kevin Moore and Jordan Rudess (Dream Theater).
MettleAngel: I love Kevin Moore's work with Dream Theater...
MettleAngel: I would have to say first up is "When Dream and Day Unite" then "Scenes from a Memory".
MettleAngel: I love them all! "Matter of Time", "Light Fuse..Get Away", " After Life" - it's difficult for me to just choose one; since I really do love all those songs on that CD.
MettleAngel: Charles Dominici - I had the "Majesty" demo early on, so I was really excited when Dream Theatre released "When Dream and Day Unite" on the now defunct MCA/Mechanic label. I also have the demo from before they released "Images & Words". Did you know they had Jon Arch from Fates Warning singing with them for a short while after Dominici left, before they found James?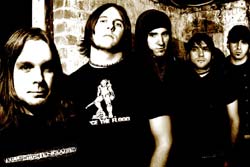 MettleAngel: Next time I see you I'll dub you a copy of this demo, as it's on a tape - of course. I even recorded over an older Concrete Corner Tape from the early '90s, just so I could preserve the original and just play my back-up copy.
John: Man, you sure know your music, most kids who interview me don't have a clue. I mention a musician and they're "like who? from what band?"
MettleAngel: Yeah, unless it's an obscure reference I usually know what musicians play or played in what particular band. So in keeping with this vibe, as you are on Ozzfest now, what would be your ideal bill or venue?
MettleAngel: Yeah, go for it - dream! There are no limits or boundaries. What if you could form your own "Supergroup", who would play?
John: I got asked this question the other day. Let's see how about this: Tori Amos, Jordan Rudess on Keys alternating, Gene Hoglan on drums, Petrucci on guitars, also Andy LaRouque, and on drums 'Knife' the ex-drummer of Shadows Fall.
MettleAngel: Ok, 'Knife', now that's what I mean by an obscure reference, otherwise that's a killer band.
MettleMaiden: What classical influences do you have?
MettleMaiden: What modern day pianists then...?
MettleAngel: Talk about a dream band, put me in a band with Sarah Brightman and I am there!
John: Yeah, I just love to listen to music, put on my headphones and tune out. That's what it's all about. I just find my own world and zoom out. I also like the Black Crowes, which is kind of silly.
MettleAngel: I know what you mean. Turn on and tune in the music, and tune out reality. Thank you for this interview.
Related links: