Interview conducted April 07 2013
Interview published April 14 2013
The master executer - Udo Dirkschneider - is back with another new U.D.O. album called 'Steelhammer' due out in late May on AFM Records. I spoke with him while he was visiting America for a brief, but wholly dedicated Greatest Hits Promotional Tour.
For well over two solid decades this Teutonic Titan - a freelance man or metal machine - who means business, has dominated or delivered the bomb, time and time again, showing no limits to his 24/7 independent leatherhead banging "I'm a rebel!" approach.
So come experience his metal heart of gold, as we break all the rules....

MettleAngel: Happy 61st Birthday! I so respect how you have been doing this for such a longtime, with no sign of ever slowing down.
Udo: Well, you know the very key is to have a good time, all the time. Right now my main concern is to have fun!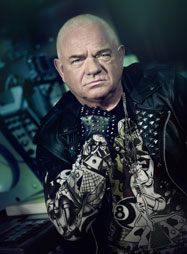 MettleAngel: I respect that. I am amazed how U.D.O. has remained active for well over 25 years. Many thought it was just your side project away from Accept.
Udo: Well it may have started this way, but now it is my main career. I have been in this band longer than I was in Accept, it seems.
MettleAngel: Actually give or take your leaving and returning to Accept, and U.D.O., I think the two are commensurate; however, I know you have had more control in U.D.O. as far as the direction of the music and how the band is managed.
MettleAngel: I so wish I could have had a chance to see you perform in Cleveland on the 18th of April. Something important came up, and I am unable to make the show. Last time I saw you was when I went on my first date with the woman who would become my wife. You came to Cincinnati in May of 2000 while on tour with Raven. Unfortunately, Raven did not make the show, as they suffered from mechanical concerns.
MettleAngel: I am pleased to say, that I married that woman, and we are still together! Will you be debuting any new material on this brief stint through North America?
Udo: Oh no, this is strictly a promotional tour where we will just play our greatest hits, with a few Accept songs. We want to mix the set list up with both bands to get a feel for how Americans will recieve us, overall. So far, the pre-sale for several shows; especially, Canada, has been quite promising.
MettleAngel: Well that is quite encouraging! I think you booked some good cities.
Udo: Yes, and if this proves to be a success for us, we will return sometime next year for a proper tour and to promote the new album "Steelhammer", which will be out next month.
MettleAngel: I hope to see you then. Will you also be bringing some other better known AFM acts on tour with you?
MettleAngel: Well with the release of those "Anniversary Editions" of most of your back catalogue, fans should be quite familiar with the songs you select.
MettleAngel: I have all the BMG and Gun originals, some on Vinyl, Tape, and CD. The label was kind enough to send me the Anniversary re-masters of "Timebomb" and "Mean Machine", both of which I still have the originals on CD. As far as the forthcoming album, I have only heard the single for "Metal Machine".
MettleAngel: I do not think it has been publically. I received a promo download of the song. Last time we spoke I teased you about having so many songs with the word "Midnight" in the title. Now it seems like you really like "Machine". You know, 'Man Or Machine', 'Mean Machine', "Metal Machine", etc.
MettleAngel: I sure can see that given so many album covers like 'Dominator', 'Rev-Raptor', 'No Limits', 'Man And Machine', etc. Although, when I last saw you, I bought a 'Holy' shirt. I wore that shirt while I was on my honeymoon in Florida. That was Andreas Marschall artwork, right?
Udo: Yes, he did a few album covers for us like 'Solid'. He is a really good guy, and I admire many of the coverwork he has done for several bands.
MettleAngel: You mean like Running Wild, Grave Digger, In Flames, Dimmu Borgir, who did an interesting cover of "Metal Heart", etc. Speaking of covers of Accept songs, I will see an American band on the third installment of the "Metal Alliance Tour" tonight who do an excellent rendition of "Fast As A Shark".
MettleAngel: The band is called Holy Grail, and they are from California. They are young, hungry, talented musicians signed to Prosthetic Records here in the U.S. Another American act who are making waves covering U.D.O. is Sister Sin. I understand they joined you on stage to perform "24/7" live while on tour?
MettleAngel: I have seen them perform live a number of times. The most recent tour was with your good friend Doro. I just wish they would announce that this is an U.D.O. cover, and not claim it as their own. They even have a video, and most fans are not aware that it is not really their song. I guess this has always been the case for bands.
MettleAngel: I guess, I am not quite sure how I feel about the band, overall. So, I hear that you now have a new line-up, with younger musicians.
Udo: Yes, it is with great regret that Stefan Kaufmann has had to leave the band due to ongoing health issues. I know he is making the right choice, though.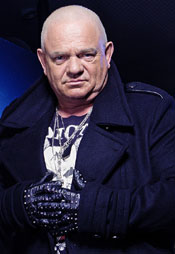 MettleAngel: The last release with him, then was the 'Live In Sofia' DVD?
Udo: Yes, and he will continue to work with the band, but in a behind the scenes capacity. He is such a good friend, but I am concerned about his health and overall well-being. I know the msuic we play is just too much for him to handle now.We have two new guitarists, Andrey Smirnov and Kasperi Heikkinen.
MettleAngel: Kasperi is in that Gamma Ray Tribute band from Finland called Guardians Of Mankind. I heard them on the 'Hello-Ray' Tribute Thomas Hansen from Gaia Epicus released last year. Your other guitarist is from Russia, right?
MettleAngel: I am not too familiar with them. I do know you have quite a following in Russia though. First the Scorpions paved the way, and now U.D.O. have set the standard.
MettleAngel: You still live on an island off the coast of Spain, correct? Unlike Doro, who is married to metal, you have a family, though.
Udo: Yes, and when I am not on tour, I go home for my private life, away from everything. It is funny, because now noone in this band is from Germany. We have a universal act with members from all over like Italy, Finland, Russia, etc.
MettleAngel: I understand that your son is a musician too.
Udo: Yes, he is a drummer, and he has played a few shows for us with his new band, like our 25th Anniversary gig. Although, I do not let him use U.D.O. as an excuse to become successful.
MettleAngel: You mean, no nepotism? On the new album were you not originally working in the studio with Michael Waegener?
Udo: Yes, that was the initial plan, but then he became too busy with Lordi. This time I went into the studio with a hands on approach, which has a more live feel.
MettleAngel: How do you mean?
Udo: Stefan was very technical and always used computers and digital tools to do the mixing. I wanted an older approach where the musicians actually played their instruments, and recording each take live.
MettleAngel: I have always been an avid supporter of the band, so I am very excited to hear the new album.
Udo: I am excited for our fans to hear it as well. I put a great deal of time and energy into creating this. I had a very down to earth approach. I even worked on my singing and playing piano. There will be orchestrations, up-tempo fast songs, mid-paced melodies, heavy cuts. You know, just about what every fan wants to hear. I do feel it is quite different than 'Rev-Raptor', though.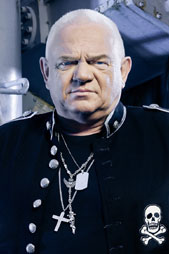 MettleAngel: I liked that album too. So, I imagine you have some more heavy touring in your future after this brief deal in North America?
Udo: Indeed! I am so busy. We are booked through 2014. We plan to go to some areas where we have never played before, which will be quite exciting. I feel I have at least ten more good years left in me to accomplish my dreams.
MettleAngel: That is awesome! Just look how you opened the border of Russia! More power to you. If The Stones, The Who, Aerosmith, etc, can do it, so can you! Real quick, last time we spoke, you had not heard Mark Tornillo sing with Accept. I will not open old wounds, but now that they have had two very successful albums, I was just wondering about your current view.
Udo: Wolf and I have talked this over, and I am happy for them. I wish them all the success in the world. Mark is a great singer, and I am grateful that they have him. He does not merely imitiate me, he has his own character, and I respect that. They know U.D.O. is my main priority.
MettleAngel: Man, what a perfect way to end this interview, knowing that there is no more bad blood. Accept are my thrid favourite band, ever, but I really like this incarnation, as well, as the others. I also have always supported U.D.O., so I am grateful that both bands exist. It is the same with Iron Maiden and Blaze Bayley. Mark will actually be playing a reunion show with TT Quick next month with The Rods, Anvil, Raven, etc. i New Jersy. I would love to attend that too.
MettleAngel: Yes, Johnny and Marsha Zazula are working with Eddie Trunk for the benfit show. I think there are two or three scheduled. I know Twisted Sister are headlining the first one. Damn, yet another awesome gig on U.S. soil that I am unable to attend. Udo,Thank you so much for youor time and energy!
MettleAngel: I know how you are inundated with interviews every half an hour, and I was reticent to even mention Accept. Now, I am glad I did. I look forward to hearing the new album, and hopefully catching you next time you come to America. All The Best!
Related links:

www.udo-online.com
www.facebook.com/udoonline
www.facebook.com/udodirkschneiderofficial