Interview conducted October 19 2009
Interview published November 18 2009
Wholly, I'm a rebel with my balls to the wall! I am a real mettle heart breaker, who practices degrees of Russian roulette. For years, with no limits, I have been desperately trying to secure a solid interview with the Mastercutor himself - Udo Dirkschneider - who has just released the 12th U.D.O. studio album.
Recently, an opportunity arose, which itself resulted in several delays. After almost a month of waitng for final clarification; finally, I present you with my conversation with one of the best Metal vocalist ever!

MettleAngel: Ah finally, Udo, I finally get a chance to speak with you over the telephone. I assume you know that there have been issues with us having to reschedule, and you not calling when designated?
Udo: Yes, I must indeed apologize for all these mix ups. I understand that you have been very eager to converse with me, so here I am.
MettleAngel: Man, you are a legend - a Metal God - I am so exilerated to be speaking with you. What was the cause for all the delays?
Udo: You see the problem is that I live on a small island in Spain. I really want to speak with the press, but I do not always get the best signal out here, you know? I hope you know it is nothing personal; especially, if we get cut off?
MettleAngel: I assumed it was something along those lines which led to all the miscommunication, and technical difficulties. I truly understand, and I am glad that you were able to explain why there was so much confusion and all this mix up, ongoing. My contact was getting quite frustrated trying to qualify this interview. All that is behind us now, so let us begin.
Udo: Yes, let us proceed. My management has expressed the urgency of this interview, so I must admit that I am curious to see what you have in store for me.
MettleAngel: I was nervous at first, but I have really done my research, so I know you shall find this conversation pleasant, and rather engaging.
Udo: I do hope so. I am an extremely busy man, but I wanted to take the time out today to speak with you, as I understand you have been quite persistent to meet me.
MettleAngel: Thank you for not giving up on me. I am a big fan of all your work, honestly. Accept are my third favourite band, ever. I love all the U.D.O. albums, too. This leads me to my initial question, what does the name U.D.O. really stand for, if anything at all?
MettleAngel: I know, but I always thought U.D.O. was an abbreviation for Udo Dirkschneider Organization...
Udo: Or perhaps, Udo Dirkschneider Orchestra? You are mispronouncing the band name. My name is Udo, the band is called U.D.O. (You-Dee-Oh).
MettleAngel: That sounds like the game my son plays called Yu-gi-oh. I always thought it was spoken just like your name.
Udo: It really is, basically. You see when 'Animal House' came out, it was just going to be a solo effort for me. The three bold-faced letters were never intended to mean anything. At the time the band was called UDO. like my name. Over time, the band became its own entity, and everyone began calling us U.D.O. (You-Dee-Oh).
MettleAngel: I bought 'Animal House' when it first came out, in 1988. I noticed the period breaks, and lightning effect on the letters, with subsequent releases. I did not know if the letters actually stood for anything.
Udo: Way back then, it was just a way of making my name stand out more. It was more defined, and brazen, then the abbreviation just stuck, and the rest is history. Now we have just released our 12th studio effort.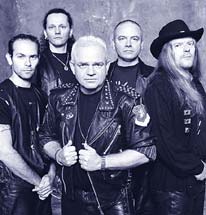 MettleAngel: I know, and 'Dominator' is a solid effort, as are all the albums you record. W.A.S.P. just released a new album called 'Babylon'. Did you know they had an album called 'Dominator' too?
Udo: When we came up with the name for this album, I was not aware. Then, I saw Blackie backstage at a festival, and he was like, "What's the big idea?'
MettleAngel: Really, it is not like W.A.S.P. has a monopoly on that title. I wonder what he thinks of the "Holy" name? I mean if you had called it 'Headless Children', maybe? Even Cloven Hoof had an album called 'Dominator'. Anyway, most U.D.O. albums have simple names.
MettleAngel: My wife is a really big fan of you, as well.
MettleAngel: Yes, we will be celebrating our ninth anniversary on October 21st. You might find this entertaining, but our first date was at the U.D.O. concert in Cincinnati, Ohio when you were on tour for 'Holy'.
MettleAngel: Do you have plans to ever return to America?
Udo: That is interesting that you should mention that. Indeed, we are now planning a spring tour for America next spring. Everything is really looking good at this point. We are working with our management, and we have lined up about 30 dates, so far for April or May.
MettleAngel: Awesome! I will be sure to inform the wife and my friends right away! Wendy considers you to be one of the best vocalist of all time, as you have such a unique range. At that show, she was frontstage headbanging in a frenzy. It is a shame that Raven did not make that night, as they were on the tour.
MettleAngel: Annies. I also saw Accept play there with L.A. Guns on the 'Death Row' Tour.
Udo: Yes, I remember now. Raven are good friends of ours, which is why they were on the tour. I am excited about their new material as they are recording with my good friend Michael Wagener.
MettleAngel: He of course, was one of Accept original guitarists?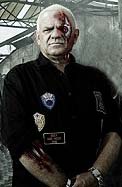 MettleAngel: I too, am very excited to hear new Raven material. I have become friends with Mark and John over the past few years. They played Cleveland on that tour, which is where I hope you come in 2010, if not closer. The weather will be perfect for an U.D.O. tour. Speaking of Cleveland, have you ever heard the band Breaker?
MettleAngel: No, they are from Cleveland, and big Accept fans. They even put out an (EP) called 'Accept'.


MettleAngel: Yeah, you might like what they have to offer. They will be playing the Auburn Records 25th Anniversary party in Cleveland December 12th, along with Destructor, H.A.T.E., Wretch, and the reunion of Shok Paris!
MettleAngel: Yeah, I imagine you meet many bands and even more fans. Breaker played HOA in 2008. We also saw Doro a few months ago. I know you and Doro are good friends. How is it to work and record songs with her?
Udo: Doro and I have been friends for ages. I really enjoyed recording and singing the duet for "Dancing With An Angel" on the 'Man and Machine' album, as well as the Priest cover of "Breaking The Law" on 'Classic Diamonds'. Doro is also a very busy lady. One day, we both want to record an album together of us two doing duets, and each other's songs.
MettleAngel: That would be awesome! You mentioned that you are good friends with Raven, too. How was it when you recorded "Born To be Wild" the Steppenwolf cover with them?
MettleAngel: You recently worked with Lordi, how was that experience?
Udo: Actually, Mr. Lordi is now my friend, as he can tell you anything about U.D.O. However, this was not initially the case. My management convinced me to contact him when they were recording 'The Arockalypse' album. I saw the costumes, and was reticent to work with them, until I finally heard the music.
MettleAngel: Looks can be deceiving....
MettleAngel: Mr. Lordi also has a unique range. I think he might be rubbing off on you. On 'Dominator', the opening track "Bogeyman' and "Speed Demon", you have a little bit of his "Ay-yay-yi" scream.
Udo: Hmnn, I do believe you are right...that is good of you to notice. I was watching Formula 1 Racing, and I was pleased to see them using "Speed Demon" as a theme song.

MettleAngel: Really? Are you familiar with the Japanese anime' called "Bastard!!"?
MettleAngel: It is a very Heavy Metal based manga, like that new video game Brütal Legend, which features "Fast AS A Shark". There is a character on the show called Dark Schneider. He has your trademark camouflage jacket and commando hair cut.
MettleAngel: You know how big Metal is in Japan! So, tell me how do you preserve your unique vocals after all these years?
MettleAngel: I am sure that definitely helps.
Udo: It has been five years now, and I have noticed a slight difference, but I guess I am just lucky. I do not really take care for my throat; although, I probably should. I do not practice any vocal exercises. I do not have any formal training.
MettleAngel: Many naysayers have claimed that you emulate Bon Scott. I am excited about that new AC/DC - 'Backtracks' Box set coming out soon.
MettleAngel: Personally, I have always felt that you had a totally unique gruff bite. Your tone has influenced thousands of bands from Exodus to Metal Church. I remember hearing "Son Of A Bitch" on a college radio. I bought 'Balls To The Wall' on cassette when it first came out. I have all Accept on CD. I can even recall when I first saw the "Midnight Mover" video on USA - "Nightflight Videos".
Udo: So, you do go way back, then?
MettleAngel: Indeed, and as far as your vocals, I do not detect too much deterioation, even on the new album.
Udo: I try to keep a similar range, which, of course, sounds like early Accept.
MettleAngel: The (EP) is called 'Infected', but your voice is as crisp as ever. Speaking of the (EP) you have two songs in Russian: "Platchet Soldat (Remix Version)" and "Poezd Po Rossii" - Live. I assume that your working with ARIA; especially, on the 'Shteel' album, has really opened doors to your fanbase in Russia?
Udo: Yes, we have been quite succesful in Russia over the last decade. I must admit, singing in the Russian language is not altogether simple, mind you! This has become very difficult for me, but I do not want to disappoint the fans. I feel that it is a good thing to work with all the accomplished artists which you have mentioned; because, I always like to keep everything interesting and fresh.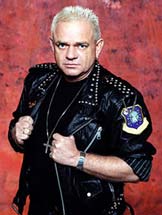 MettleAngel: I can see that, and each new U.D.O. album always has some unique quality. Tell me about the new video for "Black And White". I did not see the band in that video, just a bunch of scary chicks with fake beards and exaggerated assses. It reminds me of a Robert Palmer - "Addicted To Love" style shoot, gone awry.
Udo: Yes, it is just me and some ugly girls. Well, they are not really unattractive, but the whole concept is that I am supposed to be their hero. Honestly, I really do not know what the video is about.
MettleAngel: Your video for "The Other Side Of Midnight" was more dark, and feral. This reminds me, you sure do love the word "midnight"!
MettleAngel: O' C'mon, "Midnight Mover", "Midnight Highway", "The Other Side Of Midnight" , you get the idea?
MettleAngel: With the two main bands, U.D.O., and your work with Accept, I imagine it is difficult to come up with a set list. On the two greatest hits albums, and your DVDs, you always present a fair share of the Accept classics.
MettleAngel: You have a brand new live album which was recorded in Russia And Germany, that just came out October 6th, with quite a few Accept songs, and classic U.D.O. cuts.
Udo: Yes, we do on IMV Blueline Records. I must admit that making a set list is always such a difficult and challenging task; because, we have so much material from which to chose.
MettleAngel: Is this why albums like 'Mean Machine', 'Faceless World', and 'Time Bomb' are not strongly represented? Or are you not too proud of those accomplishments?
Udo: Oh no! I stand behind all my work with U.D.O.! We are always updating our set list, sometimes night, after night. We just added a few 'Mean Machine' songs in a show we played not too long ago.
MettleAngel: Speaking of Accept songs, I do not want to open any wounds, but I did just want to briefly touch upon the Accept reunion. What are your thoughts?
Udo: I am well aware of all the controversy. The main thing is that Stefan and I are too preoccupied with U.D.O. We do not have the time to record a new album, tour, and promote a true Accept reunion.
MettleAngel: You tried that a few years back, in 2005 playing some festivals, and whatnot.
Udo: Yes, and it all became too much of a headache. I totally support Wolf and Peter, and all they do, I just wish they would not make it an Accept reunion.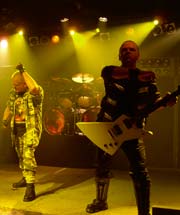 MettleAngel: What do you mean?
Udo: Given the success of Heaven & Hell, they should just call the band Restless & Wild. This is my favourite Accept album, and I think Accept fans could relate; especailly, since I am not back with the band.
MettleAngel: That is a really good idea!
Udo: Wolf was not too thrilled with my suggestion. Also, if you are going to get a replacement vocalist, why not get someone like David Reece, who sang on 'Eat The Heat. I really liked what he did with the new and old Accept songs. This new guy, what band did they get him from?
MettleAngel: You mean Mark Tornillo, from T.T. Quick?
Udo: Yeah, he is trying too hard to sound just like me. I do not like this one bit. I want to keep everything fresh. They need to get a guy who can take Accept to the next level. They really should not call the band Accept, but they plan to do so, I guess.
MettleAngel: Accept is a name which will draw a big audience. I just hope that the whole thing does not blow up in their face. Well, Udo, thank you so much for finally taking time out of your very busy schedule to satisfy a very die-hard dedicated fan.
Udo: It is no problem, and I am glad we are coming to a close, because I can feel my signal growing weaker, and I do not want you to think I just hung up on you.
MettleAngel: I understand, and I will let you get back to all the plans you have ahead. Thank you for everything, always!

See also: review of the album Dominator
Related links: