- Interview by David, 10 Oct. 2004
--------------------------------------
It is not every day that you get to meet a true legend, a man that you get goose-flesh just to see on a stage. Udo Dirkschneider might not be impressive by sight, but he is huge as a person. He shakes my hand, sits down, lights his cigarette and awaits the questions. You can tell that this is not the first time he is in this situation…

To be polite I start to ask him about the latest U.D.O.-album Thunderball. (Every artist wants to speak about their latest album, right?)
- Thunderball is made by the whole band, through the whole process of compositions, arrangements and so on. We have gone back to the roots of Accept, with choruses, melodies and twin solos. So far we have got only good reviews, Udo tells with satisfaction.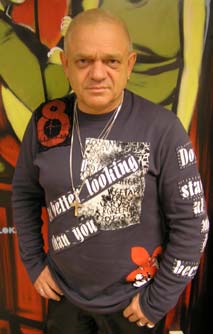 Speaking about roots, he describes how he always got attracted to the harder, more rebellious stuff; rather Stones than the Beatles and later Jimi Hendrix, AC/DC, Black Sabbath, Uriah Heep and so on. Music was a hobby that eventually became bigger and bigger during the 70s.
- I have never considered doing any other kind of music. Metal has the right feeling. I have written some other songs for other people, but for myself I have never wanted to do anything else.
The most important when writing good music, according to Udo, is to create the right atmosphere - not too much changes in tempo - and to find a harmony between lyrics and music. Udo always starts with the lyrics.
- We try to be updated to what is happening in the world, through TV and magazines. Our lyrics are about lying politicians, guns, war, terrorism… We don't just write about "the devil" and stuff like that. But we also have songs like Land Of The Midnight Sun, which is a tribute to the Scandinavian countries, from our own experiences of travelling here.
How do you prepare your voice before a concert?
- I do nothing, ha ha. I am very lucky with my voice. I never warm up. I smoke… Other singers need days off on tour, but I never have any problems like that.
Accept-classics like Princess Of The Dawn, Metal Heart and Balls To The Wall are still Udo's favorites in the live set.
- But of course you always like to do the songs from the latest album as well, Bright Eyes and The Bullet And The Bomb, for example.
With a 16 years old daughter in the house, Udo involuntarily gets exposed to new music like Linkin Park and Korn.
- Sure there is always some interesting stuff, but I just hate when it doesn't have a real melody, then it's not real music! Death metal and whatever they call it - it doesn't have a melody! But we don't try to copy anybody, Accept and U.D.O. have a special sound.
When he gets home after a tour, with a lot of heavy metal in the bus, Udo rather listens to classical music, or just to whatever is on the radio.
- I like to keep updated to what bands like Saxon and Motörhead are doing, when they release something new, but besides from that I never listen to heavy metal at home.
How would you describe a true metal heart?
- It's a lifestyle, you have to live it. A feeling… You do it with your heart and you have to believe in it! Heavy metal was going down during the 90s, but now it's back. It's not an image, it's who you are. Image is more of a thing for boygroups I think. The only image I have is my camouflage clothes, I guess.
Udo likes to describe himself as a normal person. He is married and has two kids.
- I'm down to earth, not a rock star. I hate that kind of things. I like to talk to the fans and discuss shows and songs. I found the right woman, she knows what I'm doing and that in this life, every plan can be changed quickly with a phone call.
And the obligatory question: Iron Maiden, Twisted Sister, Judas Priest, Europe… will there be a second Accept reunion?
- There is really no reason for that at the moment. I'm very happy the way things are going with U.D.O. We sound the same. We still do the old Accept classics live. Stefan is also with us, so that makes it 50% of Accept… But you should never say never. There are no plans at the moment, but for example for a festival season, it would be possible. But remember that Wolf and Peter haven't played for a very long time. We are still in contact though, I met Wolf just four weeks ago and talk to them regularly on the phone. But we talk about what's happening with our families and stuff, not about music. But there are no bad feelings and if I'd want to - it's possible!

Related links: