Interview conducted April 26 2011
Interview published April 29 2011
Be prepared for the transfixed curse of Twisted Tower Dire. After hiding in the netherworlds for nigh four years, and losing their original vocalist - Tony Taylor - to a tragically fatal motorcycle accident; the rest of the martyrs return, ready to strike with new vocalist -Vipers' own - Johnny Aune.
It was an honour to access their main songwriter and guitarist - Scott Waldrop - whom I had befriended many years ago. We reflected on a variety of topics, pulling together to briefly discuss their new album called - 'Make It Dark'.
I asked him about the signing of While Heaven Wept to Nuclear Blast Records, after they were spawned from the teeth of the vile hydra, and what else we can expect from these mysterious Virginians. Heed the battle cry, for this is the only way to be a champion of U.S. Traditional Metal.

MettleAngel: Hey Brother, I am so glad to finally hear new material from Twisted Tower Dire.
MettleAngel: Previous to my enjoyment of 'Make It Dark', the only song I had heard with Johnny Aune on vocals was the exclusive demo track of "Snow Leopard". This can be found on the 'Warriors Of Metal II' Compilation CD.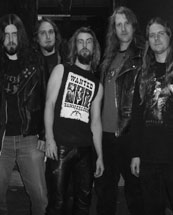 MettleAngel: I like the new version too, which did thankfully make the new album.
MettleAngel: Johnny Aune does such a great job as your new vocalist.
MettleAngel: I never was blessed with the opportunity to see you play live with the late Tony Taylor. I have always enjoyed Johnny's singing and stage presence. Did he contribute to any of the lyrics?
Scott: No, I have asked him to assist me, but so far I am still writing all the music and lyrics. I wish he would contribute more, and not waste all that talent.
MettleAngel: I love the Viper album - 'Strike Of The Viper'. Johnny has such amazing vocal presence. He brings such a new spirit to TTD with his alacrity, focus, and rockin' attitude.
MettleAngel: The new TTD reminds me of Viper, but Johnny plays guitar in that band, and his performing style is quite different from yours.
MettleAngel: It is hard to describe, but you are more NWOBHM, and he is more '80s U.S. Power Metal, with a hint of Classic Rock.
MettleAngel: I never did get to hear your Fist cover of "Name, Rank & Serial Number" on the split vinyl you did with The Lamp Of Thoth on the 'Hail Britannia II' LP. I have always enjoyed your covers. You mentioned that some of the songs are quite old. How long ago did you begin to write new material?
Scott: We began to record new material right after the release of 'Netherworlds'. Once Tony left the band, and we got Johnny to join, we all began to come up with some new, and fresh ideas.
MettleAngel: The reason I ask is because the album is so damn short. There are only eight tracks, clocking in at just over 36 minutes. I love all the songs, but I had hoped for more. The damn thing is over before you know it!
Scott: We actually had about two and a half albums worth of material, but we opted for the best songs that we felt most fit the new album. I do not mean to be chintzy or gyp the fans, but this is what we all decide upon.
MettleAngel: Lyrically there seems to be some strange themes. What exactly is the "Snow Leopard"? Am I to assume that the song "White Shadow" has the same euphoric rendering as Savatage's "White Witch"?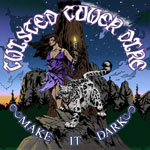 MettleAngel: Oh yeah, sure, and Sweet's "Fox On The Run" is about an animal being chased, or Sabbath's 'Volume 4' never should have been originally called 'Snowblind'.
Scott: Yeah, Metalheads do not worship the Devil, when we have our own substance which we can abuse.
MettleAngel: Well, I do not have the lyrics yet, only the music, and that is top notch. Let us discuss the mass exit of previous TTD members now in Nuclear Blast's newly signed While Heaven Wept.
Scott: Jim Hunter is in both bands. With Twisted Tower, we do not all live in the same location. Jim, Johnny, and I live in proximity, but Mark Stauffer lives far away in D.C.; while Dave Boyd is in Richmond. This makes practice and playing shows a challenge. Also, Johnny is also now playing bass in Widow.
MettleAngel: I though John E. Wooten's brother was their bassist.
MettleAngel: I will be interviewing Cris Bennett of Widow very soon. They are headliners for Friday night at "WOM IV". So, are you cool with Tom Phillips' success in While Heaven Wept?
MettleAngel: I find the band to be so boring. I think that TTD should be signed to Nuclear Blast. Now that WHW are playing Prog. Power, everyone is suddenly into buying their albums. I have not even taken the time to hear their new release 'Fear Of Infinity'.
MettleAngel: Actually, I think it is almost two decades. TTD has been around for over 15 years too.
Scott: Yeah, my wife and I have been married for 16 years, so I guess the band is that old, damn!
MettleAngel: Tell me about that benefit concert you recently played with Widow, While Heaven Wept, and other local bands to honour your friend Tony "Dio" Leonard.
Scott: Tony is a great friend. He is very well known down here, and very respected. He has been suffering from kidney failure. We played the concert, and I am pleased to say that he is recovering.
MettleAngel: I met him at one of Johnny Wooten's notorious parties. He seemed super cool.
Scott: He is, and a while back when my house burned down I lost everything. He was working for Sanctuary Records then. He was able to get me a ton of the CDs which had been lost in the fire. How cool is that! He has a heart of gold.
MettleAngel: I read an interview with Jereme Golden of Heaven & Hell Records recently. I know he re-issued the TTD albums: 'The Curse Of Twisted Tower' and 'The Isle Of Hydra'. Both were so well done with killer extras, great packaging, and excellent sound. He has been doing some other amazing reissues too.
MettleAngel: I agree, and I have encouraged many of my friends to shop with them. I noticed that he was wearing your Tygers Of Pan Tang - 'Wildcats' T-shirt. When am I going to get my Coven - 'Blessed Is the Black' shirt from you?
Scott: I keep telling you to bring your wife and kid down here, and hang out with us for a weekend, then you will get your shirt.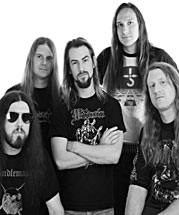 MettleAngel: I am still waiting! I finally got a Sanctuary 'Refuge Denied' T-shirt on the "70 K" cruise. They just announced their first seven bands. I wonder what the current state of Sanctuary is now with Jim and Van leaving Nevermore?
MettleAngel: How has the band and Tony's family been holding up now over a year after his tragic death?
MettleAngel: His death reminds me of the death of Steve Lee from the Swiss band Gotthard. Your son is very close to my son's age. Are you still dealing with teachers who misunderstand you for raising him in a Metal Milieu? I know we are!
MettleAngel: I am proud to say that my son is doing way better in school this year. I guess taking time off to sail on "70,000 Tons Of Metal" sure cleared his head. I know he wants to return next year. Have you booked any festivals or big shows to play?
Scott: Right now we do not have an immediate plans. It all depends on how well the new album sells, and where it is most popular. Right now we are awaiting offers. We hope to play some festivals by next summer. We will play some shows in the fall too.
MettleAngel: This is your first album for Cruz Del Sur. Are you happy to be on this label?
MettleAngel: They have not been releasing as many acts this year, as in the past. Widow and Pharaoh once worked with them. Well, Brother, I will let you move on to your next interview.
MettleAngel: I will. The number from which you called was still in my cell, so I can call you for fun sometime.
MettleAngel: I will and I have. All The Best!
Related links:

www.twistedtowerdire.com
www.myspace.com/twistedtowerdire