After Wendy and I witnessed the cold victim Justin and the living corpse of John Araya live to dive with thrashers Thine Eyes Bleed who were creating carnage for the Unholy Alliance Tour, we decided, without warning, to track them down while they were still sober for an interview. With the consequence unknown and no need to regret our fear we engaged in a conversation destined to corrupt an innocent mind.

MettleAngel: How did you get the name Thine Eyes Bleed?
Thine Eyes Bleed: (Justin:) Jeff already had the name before there ever was a band. He had the name embroidered onto his hat, so when we formed the band he suggested this name and it just stuck. (John:) Yeah, many bands today have bleed in their name, so it was perfect timing to jump on the band wagon.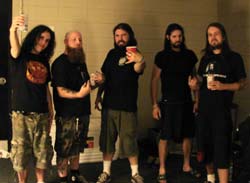 MettleAngel: How long have you been together as a band?
MettleMaiden: Have you been on tour overseas yet?

MettleMaiden: So you plan to journey overseas with the Unholly Alliance Tour?
MettleAngel: So John speaking of blood, I know the media hype claims that the only reason you were selected and made the cut for the Unholly Alliance Tour was because of your brother Tom. I know this is not the case, and nepotism was never a factor.
MettleAngel: So John, back to the blood, I have been waiting to meet you and discuss the other blood band you were in with Jeff Hanneman's brother, namely Bloodcum.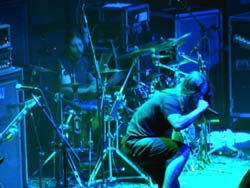 MettleAngel: Bloodcum - "Death By A Coathanger" is such an incredible mini-release. I love that EP on white vinyl from 1987.
MettleAngel: Wild Rags Records released the cassette version. Man, I've burned that from vinyl to CDR and made copies for everyone. "Happily Married" was my motto until I met Wendy (Michael starts to sing, "Getting married is not for me, the ball and chain I'll never be free, the nagging wife, the screaming child, feed the kid, my brains' running wild"). Man have times changed, that's a thrash classic, what's with that hidden adult track?
MettleAngel: Yeah, you can say that again. So how supportive has The End Records been. I know they were instrumental in getting you on this tour.
Thine Eyes Bleed: (Justin:) Yeah, we played a bunch of shows and The End Records took interest in us and signed us. Here we are now doing this! (Darrel:) We played a gig with Candiria, and their drummer Kenny handed a promo copy to The End's PR man; and after our first tour The End signed us.
MettleAngel: I noticed you debuted some new tracks tonight.
Thine Eyes Bleed: Yeah, there were two "Dark White" and "Crystal Shit".
MettleAngel: Wait, was that "Crystal Ship"?
Thine Eyes Bleed: (Darrel:) Either one, not sure yet it's a working title. (John:) No man, it's a Doors remake for today's audience... NOT!

MettleAngel: Well, given that Ryann is wearing a Lynrd Skynrd shirt I had to ask.
Thine Eyes Bleed: (Ryan:) Yeah, I like all kinds of music, man. (Jeff:) Yeah, he's even into that glam stuff too.

MettleAngel: Hey, there's nothing wrong with that, as I recall Peter Iwers of In Flames shocked his fans by wearing a Cinderella shirt after the show.
Thine Eyes Bleed: Yeah, I'm the young one so I guess I have diverse tastes.
MettleAngel: Well, thank you guys. It's been a pleasure getting to know your band.
Thine Eyes Bleed: (Ryann:) Yeah, and there's still time to check out Mastodon (we obviously missed Mastodon to do this interview). (John:) If you like Randy Rhoades check out their drummers kit, as essentially this is a drummers tour. All the drummers who play are just amazing.

MettleAngel: Yeah that's true and Janne from Children of Bodom is the only keyboardist out of all the bands. You should hear him imitate Slayer on the keyboards in their cover of "Silent Scream".
Then as Wendy and I exit the dressing room the band thanks us and signs my notebook saying Metal Covenant Michael F-yeah Unholly Alliance 200666.

Related links: