Saturday the 11th of June and Sweden Rock Festival was heading towards its end when I met up with Michael at the start of the evening in order to assist him to do an interview with the band Therion. We met up with the brothers Kristian and Johan Niemann along with Christofer Johnson, and he turned out to be a person that had very much to say. Therion is a long time running act and a band that has progressed quite a bit during the years and this is the essential parts of what the guys had to say when we sat down next to the backstage bar. - Thomas


Download entire interview in mp3 format (in swedish - 24 minutes, 2,73 Mb)
Therion at Sweden Rock Festival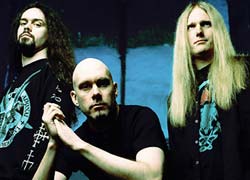 - Michael: Tell us how the show went, what where your expectations and so forth?
- Christofer: Our expectations was that everyone would be sleeping or hung over, it was pretty early so we didn't expect that many to show up.
The guys continue telling that they had a slow start since they are not used to play as early in the day, normally their shows starts late in the evenings. Therion started to play at noon at the last day of the festival and I can tell you from own experience that there is many tired people at that particular time.
- Kristian: It was a slow start but after half the set we had kicked ourselves into gear, it was fun.
They further go on talking about their performance and Christofer and Kristian joke between them that they did a creative interpretation in the song Cult Of The Shadow, or a minor "fuck up" if you will, when they didn't get the vocal leads right.
- Christofer: Its rock'n'roll.
- Kristian: It is those things that happens.
That they had luck with the weather is also something that they were pleased about, and that everything was so well organized at the festival, in all they were pleased with their performance and the reception that they received from the audience.
On The Road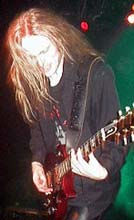 The band have been touring the release of their two albums Lemuria and Sirius B during the fall and winter of 2004 and now they have some gigs left to do in Europe before they head over to North America, Canada and South America, or was it Central America? The guys start to have an amusing discussion about which part it actually was.
- Kristian: Then we have USA and South America and Canada.
- Christofer: Not South America.
- Kristian: We have a couple of gigs in South America or Latin America, El Salvador.
- Christofer: But that is North America geographically.
- Johan: Central America.
- Christofer: Yes, but Central America is a part of North America, Panama is the border.
- Kristian: Anyway, those countries in September and October and then three dates in Turkey.
In November, they are trying to steer things up in order to do a concert with an orchestra to raise money for the children's cancer foundation in Austria. If things are settled, they will perform with an orchestra and their operatic stars and the concert will consist of both Therion material as well the orchestra's repertoire with perhaps Puccini and Mozart. Therion participate in this for free and this event would in that case be recorded, as they said it would be stupid to not try and catch this on film if they have the opportunity.

How to make an album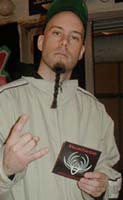 I asked if it didn't cost a lot of money to do the latest albums, considering orchestra, choirs and all that goes with it and if they did have any problems to get their record company to put up with the money for it.
- Christofer: We sell a good number of albums as we do so it goes around, we need about half a million to make an album and now we needed one million to make it. It is a lot of money but we sell enough albums so they get their money back.
It seems like they have a healthy relationship with their record company and that they have their artistic freedom. They get the money from the company to record an album and when it is done they deliver the master tapes.
- Christofer: They sell records, we make records, and I do not stick my nose in how they market the albums, those are things that they know best. We have divided the areas we are responsible for and it works good.
Therion is a band that needs to be on the edge of failure when they record a new album in order to achieve their best. They tell us of when they took the money from the budget that they had to record a new album with and built a studio with parts of it. And if the studio had been a failure - where had they been then? No money and no album. They say that the pressure is something they need to get the best out themselves. Also that they always try new stuff to keep them on the edge by not going with the same choir or orchestra, just so that they must stay alert.

Mythology, religion and lyrics
- Michael: When you write lyrics it is much of myths and legends you write about. From where do you gather that information?
- Christopher: It is a very good friend of mine, Thomas Karlsson, that writes the lyrics. He is a candidate for the doctor's degree in idea and history of religion and has a personal library with over 3000 books, so he has lot information to get from there.
The band write the songs and the melody lines and then just fill the songs with nonsense lyrics, almost as dada-ism just to get the pronunciations right to complete the songs and give it the right nuance. It is something that they say works great, they write the music and he creates the lyrics, sometimes with an input from Christopher with ideas on topics. It can also be the other way around, that Thomas Karlsson comes with an idea for lyrics and that can inspire Christopher to write music out from that idea and while sometimes they brainstorm about things they should be writing lyrics about.

And the next album?
- Thomas: Have you started to think about your next album? Will you make it even bigger?
- Kristian: Bigger is hard to make it, the last album is as big as it gets.
- Christopher: Even if we make it bigger it is hard to make it sound better, more microphones and a bigger orchestra will only make it sound noisier.
Therion has concrete plans for at least two more albums, when they recorded Lemuria/Sirius B they had material enough to record three albums and in addition they also have some new material written.
We try to get them to tell what we can expect from the next Therion album and how it will sound but they will not give away any details until it is done. Not even the record company will get to know until the album is complete and they hand over the masters. The one thing that we get out of them is that it will be more progressive. However, all details are of course not complete yet. The new drummer Petter Karlsson and vocalist Mats Levén might have some ideas as well so until everything is completed they don't like to reveal any details and in which direction they will go.
What kind of band is Therion?
- Michael: Does the band consist of four members now, or..?
- Christofer: To fully understand Therion you shouldn't say that it is as a band but more of a "crazy musical constellation that has some permanent members", which ae four persons. As I have said in many interviews; who is the vocalist in Iron Maiden? Bruce Dickinson. Who is the vocalist in Therion? Silence...
He explains that Therion doesn't have that typical front man in the band who is the singer as is natural in a rock band. It doesn't matter who sings as long as it is a really good vocalist. They don't have that demand from their fans that "he who sings on the album must also be the one that performs the songs live."S
- Kristian: He who can get the job done gets to do it.
As long as it sounds good it doesn't matter who sings and they make a parallell to the world of opera: when a opera is written it is not done specially for a certain vocalist. As long as they keep the core of Therion intact, which writes the music and creates the sound, they tell that the outer shell can be replaced, but if they would change the core it would be completely different, then it wouldn't be Therion anymore. Mats Levén is the current vocalist in Therion now and he is also the first that appears on album and then also sings live and that they think of him as a great stage personality.
- Kristian: It is hard to take in someone else and take a step up the ladder.
- Michael: I, as a part of the audience, can see that he adds something.
- Christofer: He brings a whole new dimension to the band.
Mats is also to be considered a somewhat permanent member of the band for the future, or for as long as he wants to and can contribute to the band and feels that he has fun. And fun is something that is essential to Therion, after 18 years they still think it is fun and still likes to take on challenges and so far it has never been boring and they have never felt that they have been stuck on routine. Christofer tells that they still have fresh ideas and things that can surprise the listener, and that is something that is important for Therion, that they preserve a kind of pioneering spirit.
- Christofer: The day it gets predictable and we think; damn another album, then it is time to put Therion to rest.
A band still evolving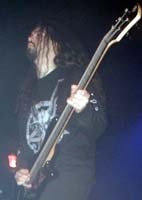 - Michael: Do you have anything that you would like to say to your fans?
- Christofer: It is nice that people listen, buy our records year after year and comes to our shows.
- Kristian: It is just to say thanks and be grateful.
- Christofer: It is a luxury we have actually, it is our 12th album and we are still at the top of our career, I think it is unique that a band is still interesting after so many albums.
They draw a parallell to bands like AC/DC and Saxon and that people talk about what they did fifteen years ago, their set lists has always been the same and that nobody really cares about their new album and that the situation for Therion seems to be the opposite. With Therion people seems to be screaming for new material and that they want to see the progression of the band and what they have done on their new albums.
- Christopher: It is a privilege that people want us to do new songs.
Life outside Therion?
- Michael: If we leave Therion now and talk about you as persons, what do you do outside of the band?
- Christofer: Sitting in the suburb reading books and listening to classical music.
He is not a person that goes to pubs but instead prefers to stay at home reading and listening to music and, although he is not a loner, prefers to spend time with friends at home instead of going to the pub.
- Christofer: It is just loud music and expensive and you smell like smoke when you come home after having been out, and also it costs just as much to take a cab home as you have spent on booze. I get enough of alcohol when we are on tour, not that I drink that much but it is always present.
When it comes to reading it is not literary books but instead reference literature about history for example that he prefers, and when we talk about classical music, Wagner is the favorite composer.
- Kristian: Mostly music, it is the only things I do. Give guitar lessons and learn kids at Musikens Hus in Stockholm how to play.
Kristian also tells us how he likes to listen to music and find new influences. When asked what it is he is into right now he said it's mostly everything but not the stuff on MTV. He tries to find new bands, or old bands for that matter, that he hasn't heard before to take in new impressions. And he and Christofer start to talk about a French progressive band from the seventies that their drummer Petter brought along to their tour bus. I think the band was called Magma and the fascinating thing about them was that they sung in a made up language.
He also spends a great deal of time with practicing on his guitar, Christofer said that Kristian used to be practicing for like eight hours a day. But the practice doesn't come as a burden for Kristian but is something that he likes to do and think is fun.
- Johan: It is the same here, music take up most of the time.
We are going to release a DVD
They also tell us plans about an upcoming DVD they are going to release this year. Therion recorded the two first shows on their tour and now these shows, which were filmed in Mexico, will be part of the DVD as well as lots of other stuff. It is going to be a triple disc release and will also include videos, audios, and perhaps more private stuff than what they think other bands would put out. There will also be a sort of homemade documentary where they have recorded stuff from their world tour, and other "amateurish" things that they have recorded themselves. Included will also be a collection of bootlegs and concerts filmed by fans that will give a retrospective of Therion and their evolution over the years. All details concerning the DVD are not completed yet but I am sure it will be something to look out for when it will be released.

Related links:
www.megatherion.com