Here comes a update of whats going on with the Swedish Deathrockers, The Crown. The band is represented by the Magnus Olsfelt, bass and lyrics/songwriting. Here follows some tasty details of whats is coming up:"Possesed 13" (Metal Blade) on October 20th 2003..
- Hell is once again here! -

Tim: Hello Magnus, whats up?
Magnus: Well thanks its cool, a little tired. Sitting here and trying to rest a bit before The Summer Breeze Festival (Ger). We travel tomorrow. Beside the gig, we are also gonna do a video for a track on the new album, so its gonna be a hectic weekend.


Tim: I probably should mention your gig at W:O:A this year, a real killer! Whats your own oppinion? Satisfied?

Magnus: Thanks!. Of course we are pleased with the W:O:A performance, the biggest audience we have ever played for. I think it was like 12.000 people or something like that. With a gigantic TV-screen and stuff..like a Guns ´n` Roses concert…


Tim: Your new album "Possesed 13" will be out this autumn. Can you tell us something what have happened in "the Crown Camp" since your last release "Crowned in terror"?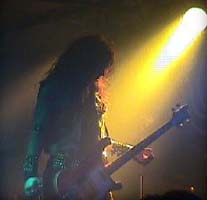 Tim: Can you tell us something about the creation of your upcoming "Possesed 13"? Did you finish all the material at the rehearsal room or were there "last minute"compositions at the studio?
Magnus: The creation of the new record was mainly made at home and in our our rehearsal room. The only writings we did in the studio was a coupple of guitar solo-stuff. Otherwise we were very well prepared for the studio session. We recorded the hole fuckin record as a demo before entering the studio. A so called pre-production a coupple of months earlier, so that we could listen through the material and be asured that it was going to be as good as possible. The album was later recorded in Studio Fredman, wich is a really "fat" studio. With Patrik J. Sten, who is a real sickminded one! This was his first recording alone, earlier he has assisted Fredrik Nordström as a technician. But the recording sessions went on smooth and well, we also did a lot of work at weekends and late nights. It was bloody cool.


Tim: What can we, the listeners expect from "P13"? Compared to some of your earlier releases like "Hell is here" (-99), "Deathrace.." (-00) and "Crowned in terror" (-02)?
Magnus: Musically, it's a very solid album but still varyied. And also a summary of our 13 year long career. There are a coupple of really old riffs from..like the first songs we ever wrote. And some old demo-riffs and stuff that we have re-used in our new songs. The songs are easier and straighter, less hysteric but harder and more "controled". Not as much grind as you can hear on "Crowned in terror", and therefor it perhaps sounds more like "Deathrace.." But it's a hole new album, and we are very satisfied! More CROWN than ever!!

Tim: What has Johan Lindstrand (vocals) comeback ment for the songwriting for "P13"? And for the band as a unit?
Magnus: He hasn't contributed as a songwriter for the new album, it is more his voice and nearness that he has contributed with. He sings really cool on the album and he has a natural understanding for our music, though we have played together for so long and grown up together in the band.
Tim: Can or will you reveal if there is gonna be any guest appearences on the album?
Magnus: There will be no guests in the meaning of appearences, but Whiplasher/Andreas Berg from "Deathstars" has contributed with lyrics on one song. We have talked earlier about the thing that he and I have a bit of the same lyric´s style, when he did the vocals in "Swordmaster" (more or less the band that became "Deathstars", Swe/Nuclear blast //red.). So that one fits very well among with my lyrics.

Tim: The Crown has been on Metal Blade for quite a while now. Plesed with them? Good back-up?
Magnus: Yes, it has worked very well. We have been able to do exactly the thing we want. Unfortunatly we hardly haven't got any money at all, but I guess that's the way it is…

Tim: A real killer layout for the new album, regarding to the samples I´ve seen from it! Who are the guilty ones and will there be any bonus material/versions on "P13"?
Magnus: Thanks! You seem to have good taste! Its made by two German friends of mine. Its really cool because its their first cover! They have only done the "Crenom" (the Crown goes Venom) stuff for us before, on our last album. I´ve provided them with some picture and stuff and told them how we wanted it. And after some adjustments it was really awesome! D.I.E or die! The album will be like white with black prints and with bloodstains, Horror! Later a black deluxe edition will be available, with a bonus CD of 13 unreleased songs. Demos and stuff..also with a total different layout and photos. There will also be an LP with a fat gatefold containing some bonus songs from the deluxe version. Plus a Japan press with a very unusual version of "The Poison" (Hell is here)...

Tim: How will you promote "P13"? Any tours on planned after the release?
Tim: Ok that's all for now! Any last words to the Metal Covenant readers? Release party? Wich one of you crowned dudes will be the one who looks deepest in the beer/booze bottle?
Magnus: Alright Timmy! Thanks for the interview and the nice chat at Wacken. Metal Covenant readers should book the 20th of Oktober, that's the date for "Possesed 13"! Buy it, invite your friends and have your own release party! The one who gets most drunk is proberbly you!! Guaranted hell!
Tim: Wise words from a wise (?!) man! Thanks Magnus for taking your time to please us with this appetizer of whats coming. Remember the 20th Oktober: The Crown - "Possesed 13".
The Crown are:
Johan Lindstrand - Vocals
Marko Tervonen -Guitar
Marcus Sunesson - Guitar
Magnus Olsfelt - Bass
Janne Saarenpää -Drums
Discography:
Crown Of Thorns - "The Burning"
The Crown - "Eternal Death"
The Crown - "Hell Is Here"
The Crown - "Deathrace King"
The Crown - "Crowned In Terror"
The Crown - "Possesed 13" (release date October 20th, 2003)
Related links: