Interview conducted January 11 2009
Interview published January 14 2009
There's a new day rising, under the sun; and a new sound for the people, storming the airwaves, and being performed by the promising Northen Irish act, known as The Answer. These four lads of leisure are currently opening for AC/DC on the Black Ice Tour. They play Classic 70's style Hard Rock & Blues, and it's never too late to discover their inevitable rise to fame.
Come follow me, as I converse with vocalist - Cormac Neeson, about his everyday demons, and keep believin' as we begin our journey to unravel The Answer...

MettleAngel: I'm grateful to make your acquaintance. I have only recently discovered, and become a fan of the band. I just received your new Never Too Late EP/DVD. I really enjoyed the bonus DVD, and learned so much about the band. I also, really appreciated the tongue and cheek quality to the music videos, on the DVD.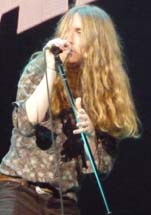 MettleAngel: I was especially impressed when I saw the footage with your bass player Mickey Waters discussing how he was priveleged to play Phil Lynott's bass for the video. He was the first one since Phil, himself. What an honour!
MettleAngel: He even claimed that if it were not for Thin Lizzy, the Irish would still be playing fifes and fiddles. Wendy & I have been into AC/DC most of our lives, but this is the first time we will actually see them live. It is also cool that we will get to witness The Answer perform as the opening act.
MettleAngel: Over the past few years, the band has garnered quite a following. I've read that Jimmy Page and Joe Elliot are fans of The Answer.
Cormac: Yes, and they are really down to earth chaps, too. There's no arrogance or anger about what we are doing, just support, and their friendship.
MettleAngel: Also, you have already opened for The Rolling Stones, Aerosmith, Whitesnake, and now AC/DC.
MettleAngel: I can imagine! So, the big question, is how were you able to secure this tour?
Cormac: Actually, it came down to the band's personal choice. It was one of those rare occasions where the industry politics did not override this from ultimately happening. For us, that was refreshing, and obviously, quite beneficial.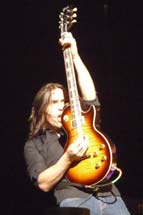 MettleAngel: Right On!
Cormac: Albert Productions, who work with us, is the same company who represented AC/DC in the early years, for the first four releases. To have maintained support back then, with a virtually unknown, is quite rare.
MettleAngel: Well, AC/DC is it! In America, everyone just seems to enjoy AC/DC, despite his/her everyday musical preference; which is commonly Rap, Country, or Pop. Mike Judge nailed it with Beavis & Butthead, assigning them Metallica and AC/DC shirts, respectively. Black Ice is the number one selling rock album of 2008, with millions of the four versions, having been purchased. Wal-Mart made the right executive decision; whereas, Best Buy, opting for Guns N' Roses, shot themselves in the foot.
MettleAngel: So, how do you find these fans embracing your music?
Cormac: They are getting into it! We were slightly apprehensive before joining this tour; because, it had already been over seven years since they toured America. It's our experience in this band, as fans of other acts, that if you come to see the headliner, you don't give a toss about the opener. Surprisingly, with us this has not been the case, and we are receiving standing ovations. The arenas are 80-90% full each night. I don't know if this is owing to the extreme cold, but it is so beneficial for us. Actually, tonight, we are privileged to extend our set, and we get to add a new song, not played previously on this tour.
MettleAngel: Wow! That makes this show, even more special. It is rare for a Hard Rock show to sell out the arenas in Cincinnati, but this particular show sold out in 15 minutes! In America, we are supposed to be experiencing an economic depression. Somehow this has not deterred AC/DC fans from shelling out $100 a ticket, $50+ for merchandise; not to mention another $50 for food and beer. Yes, AC/DC fans are definitely loyal.
Cormac: Yes, they are, which is why this tour is so vital to us. 43 dates in US, another 40+ in Europe, we are so grateful AC/DC took a chance on us.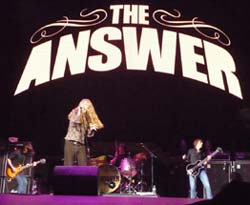 MettleAngel: You also have a new album coming out in late March, called Everyday Demons, through The End Records. I am looking forward to this. I enjoy your David Coverdale meets Robert Plant vocal style. I guess a band like The Darkness, paved the way for an acceptance of this Acid Rock style?
Cormac: Well, The Darkness were a bit too reliant upon gimmick. Our secret is that we are very serious about the music, but we don't take ourselves that seriously.


MettleAngel: Yeah, The Darkness played good music in the vein of Queen and Thin Lizzy, but his vocals were atrocious. With The Answer, I hear a good mix of British Metal influences like Saxon, Rainbow, UFO, there's a strong April Wine and Helix Canadian vibe present, as well. What is worth mentioning, is that there is also a prominent '90's rock flavour abounding.
MettleAngel: I mean I hear a hint of Warrior Soul, Pearl Jam, and Blind Melon. In the '90's it was all labeled as Grunge, but bands like Pearl Jam and Alice In Chains were much more '70's influenced, when they first originated. I even had a Smashing Pumpkins bootleg where they covered B.O.C., and Thin Lizzy.
MettleAngel: Yeah, first Shannon uses Axl to get ahead, then Blind Melon (taking their name from a Cheech & Chong skit) have that one hit wonder, with an awful, literally Bee Video, next thing you know, he's dead, go figure!
Cormac: One thing about The Answer, is we all have different tastes, and individual influences. We are all open minded, and accept each other's eclectic tastes. We soak it all up. We admit that AC/DC is a major influence, but we don't regurgitate their riffs, we appropriate them into our own versatility.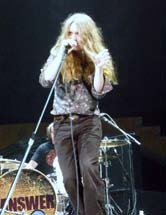 MettleAngel: This is evidenced by your cover of Aerosmith's - 'Sweet Emotion', which can be heard on your My Space page.
Cormac: We want people to recognize our influences, but with some bands, it has been thirty years, so we try to offer them something new, and original.
MettleAngel: In America, fans want it heavy, brutal, extreme, or radio friendly. They are not so quick to accept a band like Lordi or yourselves. This is why you are poised for success being on this tour.
MettleMaiden: Speaking of Lordi, who are signed to The End Records, are you as well, or are you just distributed by them?
MettleMaiden: The End Records is quickly becoming my new favourite label. I appreciate their willingness to sign bands, who may not necessarily be what everyone expects. They definitely are willing to expand beyond the Metal/Hard Rock barrier.
MettleMaiden: How did you finally agree to sign with them, I'm sure there were other vital offers?
Cormac: Actually, yes, and the one label we were all ready to pursue, suddenly folded, and went tits up!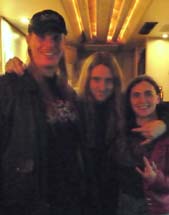 MettleAngel: That almost sound like a serendipitous blessing.
Cormac: It was, because Andreas had been knocking on our door to work with The End. He is so dedicated, diligent, and hungry for the music. We knew that going with him and his label was the right decision to make.
MettleMaiden: Indeed, it sure was! (MettleAngel): This is especially true, owing to the fact that Metalheads shop The End Records Distro for the best deal on Metal CDs, so they can add The Answer to their queue, and not have to go through another site, who may charge shipping costs. Also, The End gives you such a fair price, and quality packaging with each release. Even though the Never Too Late is an EP to hold us off until Everday Demons arrive, the DVD alone is well worth the purchase!
MettleAngel: Cormac, thank you so much for taking the time to engage in this conversation. Wendy and I are so excited to see you hit the stage in a few hours. We know this will truly be a night to remember, and an awesome way to begin the new year!
Related links: