Interview conducted December 24 2008
Interview published December 29 2008
Even though it has been a ludichristmas season, I was still able to cajole my buddie Andreas "Gerre" Geremia to answer a few questions about his Thirst for true Frankfurt thrash. He openly embraced my inquest concerning Tankard's latest incipient bubbling brew retaliation. His twisted sense of humour is quite amusing.
Tis' the time of year to eat, drink, and be like Gerre...cheerz!

MettleAngel: Congratulations on another thrashin' release. I am so grateful that Tankard has remained so consistent for over two decades, always delivering the goods in spades, and in your case, with steel reserve. Everyone expects the beer themes to pour out in the lyrics, but I noticed this time you branched out a bit, and wrote some fun songs, with a different content. What was the impetus behind songs like 'Hypertension', 'G.O.L.A.W'., or 'Zodiac Man'?
Gerre: Man, first of all thank you for all your support, and our congratulations! We always strive to create a good, quality mixture of funny and serious lyrics. This time there is also a good blend of both. I think we have accomplished what we set out to do. 'Hyperthermia' is a funny song about going to the sauna, which I do once a week. Whereas, 'Gods And Legends Of War' concerns my affinity for Greek mythology. A more personal song like 'Zodiac Man' deals with our drummer - Olaf Zissel. He, at times, becomes a challenge when it comes to communicating with him. What is funny, is sometimes he just does not get it yet, hahahaha.......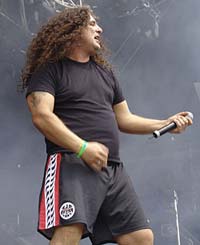 MettleAngel: So Olaf is the subject of the band's frustration, and you like to fuck with him. I thought 'Zodiac Man' was more Sci-fi, and followed the 'Alien' theme. What is the overall meaning of life expressed by 'Stay Thirsty!'? You mention in the lyrics, that you want to bring back the '80s. Do you miss this timely era of metal and thrash?
Gerre: 'Stay Thirsty' is a bit a parody of Twisted Sister's classic song 'Stay Hungry'. Of course, we still love the '80s era; but, I'm not convinced that we necessarily miss it that much. Those were definitely memorable times, and we were a slightly different band, then. Although, 'Stay Thirsty' has another meaning too. We are still hungry for metal, and will remain thirsty to thrash, never relenting after all those years!!!!!!!

MettleAngel: I too have a non quenching lust for metal; and especially, a voracity for thrash! Speaking of 'Stay Thirsty!', you just completed a video for this song. Briefly describe what the video entails, where you filmed it, who produced it, etc.
Gerre: Yes, that was fun. The guy who produced the video is Mario Stahn (www.rockstahn.com). We worked on it in a studio with a blue screen. Mario had a blast doing this with us. He really invested his time, effort, and energy into making this a quality production. What is ridiculous, is that honestly, the video clip does not really make any sense; even though, it is so damn funny!!!!! We filmed it together with the guy, who appears on the album cover, and some really hot chicks. Keep an eye out for it, and convince yourself: http://www.youtube.com/afmrecords.

MettleAngel: I most definitely will. I have really enjoyed all the Tankard videos! Let me ask you this, do you feel with the recent thrash resurgence that more and more people are embracing the 'beauty' and the beer essentials for which Tankard stand?
Gerre: Yeah, it`s really great that there is a thrash metal revival! We really recognize that ongoing occurrence. Now, thankfully, we have many more sincere offers to play. I feel that now the band has become more renown, and more popular than in the nineties. We justly purport that we have endured for more than 26 years, we never changed our style, we have always maintained our integrity, and kept the thrash spirit; so please come here and join us!!!!!!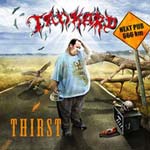 MettleAngel: My hats off to you for this timely endeavour! This is why I have remained loyal to the band for over two decades, as well. As part of this new trend of thrash fans, especially among our youth of today, I have come to realize that the new album will also be available on vinyl. Some Tankard album have been reissued on vinyl. Where might a die-hard fan purchase these versions on vinyl?
Gerre: The last four albums were just available in a big box format on picture disc, and they were extremely limited to only100 pressings. Thankfully, our new album is the first one which you can get as an actual LP. I think this is our first vinyl release, since the self-titled Tankard album in 1995. Note that "Thirst" is also strictly limited to 500 copies. It is awesome that our record company AFM Records understand that now there is a market for vinyl, once again! As for me personally, I`m happy to have my five easy pieces; because, I`m a big collector of everything Tankard releases..... hahahahhaha!
MettleAngel: So am I! I have most of the early Noise Tankard titles on vinyl. I am always striving to secure more. I did not get the four album picture disc set, unfortunately. I'm endeavouring to get Thirst on vinyl, though! One facet for which Tankard have been commonly associated, is that they have always been honest and open about expressing their political beliefs, even if in a tongue and cheek fashion. Given the most recent Presidential election in America, what are your feelings on us electing Obama? I mean, we obviously have stopped playing the victims of 9/11, to a certain extent; since he is, himself, a Muslim. Do you think us Americans, who in no way personally, reflect our government over the last ten years, finally have made a step in the right direction toward healing and peace?
Gerre: I certainly hope so. Everybody here in Germany and all over Europe has the hope of a better, and more peaceful world under the leadership of the USA, by Obama. I don't think he can solve all the problems so quickly, as necessary. He has a real mess to clean up, and the people should not be disappointed if some things like pollution control will take longer to reconcile. I do think it will be a very interesting and exciting new political area, anyway; and I look forward to the level of change, growth, and responsibility....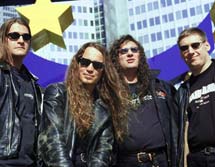 MettleAngel: Obama will do what he can, but it is really up to each and every one of us to make a sincere effort to create a better tomorrow. This will come when we truly serve as a united state of healing and peace. As Americans we need to focus on freedom and not domination of other nations.
MettleAngel: In closing, as you chose to release your new CD at such a crazy time of year, a time when everyone is concentrated on giving and receiving; not realizing this is essentially, a time to be forgiving and then receiving the blessings to follow, I want to discuss the Bangin' Around The X-mas Tree albums, this X-mas Project you worked on, way back when was quite landmark. With the influx of Holiday Metal titles like Headbangers Christmas, or the Twisted Christmas release, a few years back, briefly comment on your experience while working on this album which featured members of: Rage, Headhunter, Mekong Delta, Holy Moses, and Living Death.
Gerre: I just worked with members of the band Grinder (R.I.P.). It was quite a long time ago, about 13 years, I think, my memory is fading, and it is difficult to recall everything, clearly. I do remember having a really good time, and a lot of fun with Stefan, David, and Adrian!!!!!
MettleAngel: X-mas Project 2 was in 1993, there was an earlier version in 1985. That's cool, I'm forgetting shit all the time, and I don't even drink, ha,ha, ha! Yeah, you did some cool songs like 'Oh Tannenbaum', 'Alle Jahre Wieder', and 'Stille Nacht, Heilige Nacht', (the German version of 'Silent Night'). I definitely remember Grinder. Their albums: Dawn For The Living and Dead End are thrash masterpieces. They were only on your label Noise Records for one album - Nothing Is Sacred. Once they became Capricorn and developed a more Sacred Reich style, I began to lose interest. Thank You, Gerre for taking the time to indulge me during such a chaotic time of year! Any closing comments?
Gerre: You are, indeed, welcome! We really would like to thank all the thrashers for their never ending support over the last 26 years, and we hope to return to the states as soon as possible! That was such a cool, if not unforgettable experience. Michael, keep on thrashin' and bangin', cheers!!!!!


See also: review of the album Thirst


See also: Song By Song Commentary
Related links: