The maniac forces known as Tankard finally made it to the states as the headliners of Minneapolis Mayhem Metalfest. Unfortunately, due to some miscommunication, their live set was cut short abruptly at 1:00 AM. This landmark occasion also became the first time in over 20 years that the Kings of Beer were unable to finish their set with the closer Empty Tankard. This led to a serious tantrum and some mourning afterward. Once everything finally calmed down, Gerre helped me understand the meaning of life in the interview which follows.

MettleAngel: Hey man, I'm sorry that the curfew caused you so much frustration. Other than that fiasco, how did you enjoy your first U.S. experience?
Gerre: We all enjoyed it very much! This is the first time in over 24 years that the band was able to come over here. We had a lot of fun. Friday was our free day so we went to the Mall of America. It's less expensive for us to buy clothes here, so we purchased lots of cool stuff. My suitcase is full of jeans and shoes and overpacked with USA clothes. The Ramada hotel where we stayed had some great swimming pools too.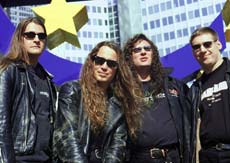 MettleAngel: I heard that the other bands who played the festival were really cool to you as well, and that you got to know them better over the weekend.
Gerre: Oh yeah, definitely! We are so grateful to Hirax for them lending us their equipment when our European gear was inoperative. We would like to come back to America and tour with Hirax and Helstar. That would be awesome.

MettleAngel: Now let's discuss the new CD The Beauty And The Beer. I feel that this is the best CD you have recorded in a long time. Don't get me wrong, I love all the Tankard releases, but this one has such an 80's feel to it both musically and lyrically.

MettleAngel: I tried to watch the video, which comes with the CD, but I could not get it to work on my computer for some reason.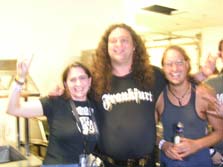 MettleAngel: I have heard it is quite amusing, inside my CD digi-booklet, there is a picture of the band smoking cigars in a hot tub with a foxy chick. I assume that is from the video?
Gerre: Yeah, she is a table dancer at the metal club where I volunteer as a D.J. This is in Frankfurt, at a club called "The Speak Easy" I get to bring in my own metal CDs and play them there. The band just offered the girl and a few of our friends some free drinks and they agreed to be in our new video, so we did not even have to pay them.

MettleAngel: Now I really have to check out the video. I see that lyrically you still employ the talents of Mike Kipness, who has contributed to the band since the early days. This time around though, he only wrote one song, "Ice-olation". Tell me more about how you met Mike and how he became your co-lyricist.
Gerre: Mike, like you Michael, is from the U.S., he has been helping us write lyrics for over 20 years now. He first helped us out on the Chemical Invasion album. He is much more busy now, so he was only able to help us with the one new song.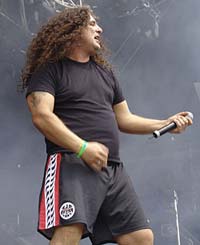 MettleAngel: I assume that the gist of "Ice-olation" is the personification of a beer bottle who does not want to expire by being put in the freezer, correct? Typical Tankard humor, now you wrote Desperation with him too, right?
Gerre: Desperation, um, I think so....
MettleAngel: You know, the song on The Morning After album about plagiarism (then I sing him the lyrics to remind him). OK, nevermind that, tell me about your exceptional guitarist, Andy Gutjhar. It is amazing how you still maintaint the thrash till death Tankard sound with only one guitarist. I also noticed in the CD credits, that Andy Bulgaropulos, your former guitarist still helps out lyrically.
Gerre: Andy Bulgaropulos is our Greek ex-guitarist who left the band in '98. He still likes to help us write music and some lyrics. We all consider him to be a vital part of the Tankard family. Andy Gutjhar, has been playing with us for eight and a half years now. We are all getting older and it becomes increasingly more difficult to endure line-up changes. Frank formed the band, so he and I are all that's left of the original members.
MettleAngel: Well I am already aware of all this. I did not know that Andy Gutjhar also played in the proto German Christian band Seventh Avenue too. So tell me what thought processes went into the recording of your latest CD?
Gerre: With Beauty And The Beer there were no major plans, we just had this basic vibe going on and went with it. Andy Gutjhar has a studio in his house, so we sat down there and just began to practice. I guess the new music is more melodic compared to Beast Of Bourbon with all the changes of labels, producers, etc. I can see now why you feel "Beauty" is the best of the three featuring Andy G.
MettleAngel: All the songs on the new album are killer. My favorite song is Metaltometal, did you write the lyrics for that one?
Gerre: No, actually our roadie wrote that one. He's an English teacher, so he improvised and utilized all the metal cliches for that one.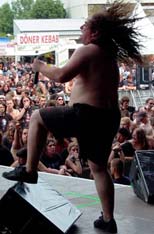 MettleAngel: Man, it seems like everyone contributes to the band, let's give it up for the Tankard "total connection'. When you play live, how do you choose your set list with so much material available? Almost every CD is fairly represented, which is quite an accomplishment, especially on your DVD - Fat, Ugly, and Still Alive.
Gerre: Sometimes, it's difficult to play a song from every release. In Minneapolis we skipped the Disco Destroyer and Kings Of Beers albums. The DVD has a lot of songs, but the show was too hot and too long. On that DVD we played 100 minutes straight with no interruptions or brakes. Also, I'm not used to speaking in English during our live shows. In Minneapolis I was conversing with an almost all American audience, for me that was really strange since I'm used to speaking in German in between songs, but I finally got use to it, after a few songs.
MettleAngel: Do you ever play Centerfold or Try Again in your live set anymore? What possessed you to cover this J. Geils Band 80's classic?
Gerre: That was our manager Buffo's brilliant idea. We played that Centerfold song a lot in the early 90's, we usually cover punk songs like the Spermbirds or Gang Greens's Alcohol. We just wanted to do justice to such a great song from the 80's.
MettleAngel: But, now the side project, Tankwart, also covers classic 80's hits sung in German, correct? Tell me more about this.
Gerre: Tankwart is a play on words with Tankard and translates roughly as "gas station attendant". It's all the members of Tankard covering German songs from the '70's and 80's. The first CD, which covers songs from the 80's, has been reissued with bonus tracks with the remastered version of the Tankard self-titled release. The second CD is really hard to find now, unfortunately.
MettleAngel: So Tankwart, essentially, is similar to Sodom's Tom Angelripper and his Onkel Tom project? Although his songs focus on German drinking serenades. Buffo mentioned to me that all the Tankard CDs have been reissued with bonus tracks, better packaging, liner notes, etc. all for a reasonable price. I already have all the originals, which figures, care to comment on these re-releases for fans who may not have acquired them as of yet?
Gerre: Sanctuary Music has reissued all the Noise titles, Zombie Attack now comes with Chemical Invasion, The Morning After now comes with the Alien EP, The Meaning Of Life and Stone Cold Sober and Two-Faced come with live tracks taken from the Open All Night video. The Tankard has all the tracks from the first Tankwart title. All are remastered with an expanded booklet.
MettleAngel: You mentioned to me that you really like the Deathrow "Raging Steel" release. I recently interviewed Mario from Vendetta, and I'm really excited about the Vendetta reissues coming soon. Buffo assures us that those Deathrow reissues will also be out soon. What other vintage Noise artists would you like to see reissued?
MettleAngel: Now Sabbat has reformed and is touring with Cradle of Filth. So hopefully Sanctuary will remaster those titles as well. I understand that the Sabbat CDs are really quite rare. Now you are on Doomsday News 3 - Thrashing East Live playing with Sabbat, Coroner, and Kreator. Are there any future plans to do a Doomsday News 4 DVD with bands like Rage, Voivod, or Celtic Frost?
Gerre: The Doomsday News 3 tour was just one show played at an East Berlin festival after they tore down the wall. We played with Kreator, Coroner, and Sabbat and they filmed it. Fans would like to see our Open All Night video come out on DVD, but we are not sure who has the rights to this.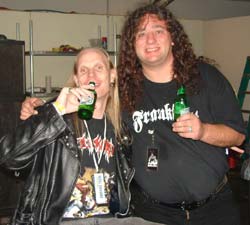 MettleAngel: My guess would be Fotodisk or possibly BMG, good luck tracking them down! That would be cool converting the Open All Night VHS into a DVD though. I can still remember watching it at my friend's house and hearing songs like Alien and 666 packs and wondering which albums those where on. It took me a long time to track down the Alien EP on CD. Now of course, it is reissued, go figure, as a two on one.

MettleAngel: Now I know you despise the unholiday season as much as I do, given the lyrics to Fuck Christmas, but I still like the songs you recorded with your fellow German thrashers in the X-mas Project on "Rockin' Around the Christmas Tree". That is one of the few Christmas CDs I actually play. Are there any plans to record an all out Tankard Christmas CD? You could choose all those goofy, silly songs like The Twelve Pains of Christmas. You could even throw in some holiday drinking songs as well, what do you think?
Gerre: Well, I'm a collector of all things Tankard, yet I think you may even have some Tankard titles which I don't. I thought those X-mas Project - "Rockin' Around the Christmas Tree" CDs were all bootlegs, by now.
MettleAngel: I assure you I received my CD from an honest source who does not deal in bootlegs; so my compilation is an original.
Gerre: Well, that's reassuring, but Tankard doesn't have any plans to do a Christmas album, ha ha ha...
MettleAngel: Well that's too bad, to fess up to that. Now I read recently that you always claim to be a stone cold sober soul and that you personally did not drink. Obviously, I was duped, as I personally witnessed you imbibing mass amounts of alcohol at Metalfest. So I take it this was just a silly ruse for which I, an avid fan, was gullible enough to believe?
MettleAngel: I know this now! As I, myself, am not one for drinking alcohol, too often. I even chose to feed the lahocla and allowed myself to indulge in a a few beers with the band; that I might celebrate the moribund dance and obey all commandments. I never became shit-faced or thrashed the room, though; as I seldom puke. Buffo mentioned that you all have real jobs outside of Tankard. Please tell me more about this, on a serious note.
Gerre: I am a social worker, I work with drug addicts. Think of the lyrics to Total Addiction, and you will understand what I go through.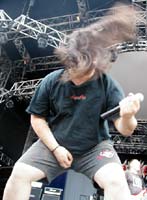 MettleAngel: Seriously? You're not pulling my chain again are you?
Gerre: No no, this is my real job and it's not always easy. We have a place known as the injection room, which you don't have in the states. Here we keep a watchful eye over our patients, who are still using drugs. We don't judge them, rather we work with them and try to help them in any way we can.
MettleAngel: That sounds like the lyrics to Try Again. I've always loved that song, as those words really speak to me.
Gerre: Actually Hank, the guitarist from the Spermbirds himself is also a social worker. We work for the same organization, but we don't work together.
MettleAngel: So then it sounds like your actual job is really quite fulfilling for you.
Gerre: Yeah, I really like my job, but I need to work on my personal life. I guess I also need to lose some weight, I'm not married and I don't have any kids. This does allow me to create the time to focus on Tankard and still volunteer as a DJ.
MettleAngel: What about the other guys, what do they do outside of Tankard?
MettleAngel: Is this why he keeps his hair so short?
MettleAngel: So seriously, when do you plan to return to the states again? I bet you can't wait to experience more of our annoying airport antics.
MettleAngel: Well, we saw Venom in Cleveland the other night, and I recognized fans, as there were Tankard patches everywhere. There were a bunch of die-hards from Toronto who really wanted to witness Tankard live, so we all appreciate you coming over and playing for us. Wendy and I especially appreciate all the freibier. We do hope you can return again soon, and play in a club which is open all night.
Related links: