Interview conducted April 13 2011
Interview published April 24 2011
Timo Tolkki's new band featuring André Matos, Uli Kusch, Mikko Härkin, and Jari Kainulainen have just released their debut album called 'In Paradisum'. This is what I dub as being more than a revolution or renaissance; rather it is pure "Angravarius" - An Infinite journey to the Holy Land.
I spoke with the Shaaman himself - André Matos - all about his illustrious musical career. Like a viper I lunged into his early efforts with those soldiers of sunrise who made the angels cry. Then we discussed his touring with Avantasia, and with a little more free time, we even began to mentalize over his solo albums, and guest contributions.
Andre' is one of my favourite vocalists, and it was a true honour to land this whole gig; an equal opportunity to speak to such a fiery talent, who works with such professionalism. We beckon you to the theatre of our fates.

MettleAngel: Hey Brother, I was just listening to the new Avantasia Live double CD called - 'The Flying Opera', right before you called. You are absolutely one of my all-time favourite vocalists.
André: Wow, that tour was a few years ago, for 'The Scarecrow', you mean the CD/DVD just now came out?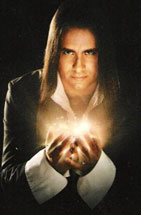 MettleAngel: Oh yes it was just recently released stateside from Nuclear Blast.
MettleAngel: I watched the DVD last night. A few minutes before you phoned, Tobias had just introduced you during the super long encore for "Sign Of The Cross / Seven Angels". I love how Kai Hansen sings on that song and "The Toy Master". The new Gamma Ray - 'Skeletons & Majesties (EP)' is weird. It reminds me of what Helloween did with 'Unarmed'.
MettleAngel: Well, I want to talk about your bands. I know we are here to focus on Symfonia, but I want to let you know that I really adore your vocals on the second Viper album - 'Theatre of Fate'. That album is a masterpiece.
MettleAngel: I have it on CD, but I first got it on cassette, and I still have that too!
MettleAngel: If I had my druthers, I would only want to talk about Viper and Angra, but I want to stay current. I respect you for all the bands you have fronted, as well as all of your guest appearances.
André: Thank You, I have been involved in so many things, over the many years, many of which are not even Hard Rock or Metal related.
MettleAngel: I would love to hear about those experiences. In the '90s, it was your vocals and Mike Kiske's that I most admired. Once you worked with Tobias in Avantasia it all came together.
MettleAngel: I know that you and Kiske, along with James LaBrie were major contenders for filling Bruce Dickinson's slot, once he left Maiden.
MettleAngel: That is astonishing! I can only imagine what 'X-Factor' would sound like with your singing style. Overall, I am a strong supporter of Blaze. He just released a new EP with Wolfsbane.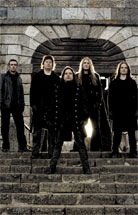 MettleAngel: Let us delve into Symfonia, and then double back to your other vocal experiences.
MettleAngel: I am sure you have been drilled to death about Symfonia in interviews thus far. I know it is more than a mere super group, so what does Symfonia mean to you, personally?
André: This is a real band, indeed. There are no compromises. Once I moved to Sweden with my family, Tolkki contacted me about working together. We had not spoken for almost 13 years, but we were still friends.
MettleAngel: He was still doing Revolution Renaissance at the time, right?
MettleAngel: Overall, I enjoy the album, even if it is what I would call "Angravarius".
MettleAngel: I did not mean any disrespect, but the band sounds like a mix of the best albums by Angra and Stratovarius.
André: I agree! We knew straight away that we were not going to do anything new. If we made an album that was poppy, progressive, or thrashy, we know we would have received some slack and criticism from our fans. We know that Symfonia sounds like Helloween.
MettleAngel: Actually, you do not. I assumed that once you added Uli Kusch to the band, he would bring his Helloween and Gamma Ray influences, but he clearly did not. If anything he reminds me of Jörg Michael, who I hope is recovering.
MettleAngel: If you had made the album more aggressive, like Uli did with 'Better Than Raw', or 'The Dark Ride', then I could see how his Helloween days would have rubbed off on the song writing. Ultimately, Timo writes and plays what he knows best. Do you pen all the lyrics?
MettleAngel: That almost sounds Japanese. it also reminds me of Kiske-Somerville.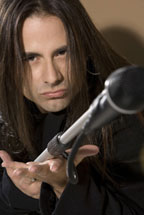 MettleAngel: I love her Aina project, which of course, you, Kiske, and Toby also served as guest vocalists. I admire how she created her own language for that.
MettleAngel: I wish I knew German; it sure would have helped me when I watched this movie called "The Human Centipede". I do speak a few languages like Spanish.
MettleAngel: I wish I knew Portuguese. As far as Symfonia, I was under the impression that it was all Timo's band, and the rest of the musicians came on board later.
André: Timo and I worked together early on, before anyone else joined. We know what people expect from us. We acknowledge that the music of Symfonia resembles our other Power Metal acts. With Angra or Stratovarius we all took artistic license to experiment with other musical art forms.
MettleAngel: Sometimes it worked, other times not so much.
André: I agree, this is why with Symfonia we agreed to write what we know. We wanted everything to be fresh with original ideas culled from everyone. Overall, I feel that we have created something special.
MettleAngel: Everything that I have heard with you on vocals has its own artistic signature. For the most part I like the music of Timo, even if I do not agree with his personality.
MettleAngel: I have never met him, and I have only spoken with Jens Johansson from Stratovarius, so who am I to judge? Mr. Johansson and I agree that the keys on 'In Paradisum' have a strong, pervasive Stratovarius element. I like the first and last Revolution Renaissance albums.
André: For all of us, the most important thing that ultimately matters most, in the end, is that we have created good songs with a solid message. We have been nothing but honest.
MettleAngel: We all truly appreciate this. You have my undying respect!
André: One thing that made it so special to me is that we recorded my vocals in the middle of the woods, in a remote studio, devoid of Internet or mobile phones.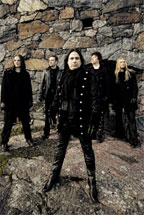 MettleAngel: That sounds like what Therion does.
André: We were very isolated, and there was a lot of snowfall. It took about three weeks. This was my first time not singing in an actual studio. This special atmosphere allowed for more introspection. I think this is what contributed to the emotional quality for the album.
MettleAngel: That is awesome, and I do feel your emotions when you sing and enunciate certain words with such passion and alacrity. You mentioned that you have also been involved in other projects outside of Metal, please elabourate.
André: Yes, I have been very involved vocally over the years. I sang with the Brazilian Symphony. I have worked with a local New Age keyboardist, which was a real challenge for me.
MettleAngel: How so? I know Neal Schon and Saul "Slash" Hudson have made New Age guitar oriented albums.
MettleAngel: Man, you really are a protean talent with such versatility.
MettleAngel: You played Tommy?!
André: Yes, dreams do come true. This was not easy either. I had to learn all the choral arrangements. When I auditioned, they did not know I was a famous Rock singer. There was no favouritism shown when I was selected for the lead.
MettleAngel: That is incredible!
André: When the female composer asked me if I was trying out for only Tommy, I knew it was a gamble. I was not even all that prepared. Many other actors and singers showed up for auditions with their own pianists, and musical accompaniments.
MettleAngel: This goes to show that true talent prevails!
André: I sang a cappella. This was a big production with costumes, lights, stage props, a full orchestra, etc. I really did not think I would get the lead.
MettleAngel: You deserved it!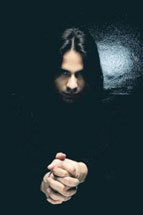 MettleAngel: I will. So tell me, from Viper to Angra, Shaaman to Symfonia, and your solo career included - out of all the bands that you have played in for the past two and a half decades - what is your favourite performance?
MettleAngel: No way, that is my choice too! This conversation has come full circle!
MettleAngel: Please tell me more...
André: We were just teenagers who loved Rock and Metal and wanted to write and create our own tribute to bands like Priest, Maiden, Queensrÿche, etc.
MettleAngel: You sure accomplished this!
MettleAngel: I know that on your debut solo album called - 'Time To Be Free' - you revisited the Viper song "Moonlight" with a song called "A New Moonlight". This clearly demonstrates how dear that album is to you. I also enjoyed your cover of Journey's "Separate Ways". This seems to be the only Journey song ever covered by Metal bands.
MettleAngel: Well, it is my favourite Journey song, so I can understand why artists chose to render their own touch. Andre' thank you so much for your time; it has truly been a joy.
MettleAngel: Thank you, this means a lot to me. All The Best!
Related links:

www.symfonia.fi
www.myspace.com/symfoniamusic