Interview conducted September 09 2010
Interview published October 02 2010
Early last month Suicidal Tendencies released - 'No Mercy Fool!/The Suicidal Family' - Featuring re-recorded tracks from 'Join The Army' as well as the music of No Mercy, a band which featured long time guitarist Mike Clark, and for which Mike Muir also sang.
I recently spoke with Mike Clark about his long history in the Suicidal revolution, and what it means to be controlled by hatred, while waking the dead, and to be still cyco after all these years. Pledge your allegiance, laugh and smile, then join Mike and me in this light candid conversation.

MettleAngel: Hey Man, how is it going?
MettleAngel: I am a strong supporter of Suicidal Tendencies. I am from California. I just received a digital copy of the new album. I have always been a fan of 'Join The Army', ever since I first bought the cassette in 1987.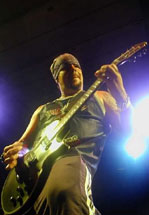 MettleAngel: I bought all my ST on tape, then CD, never vinyl. You did not play on 'JTA' though. You later joined after working with "Cyco" Mike Muir who was vocalist for your thrash act called No Mercy. They released 'Widespread Bloodshed Love Runs Red' the same year.
MettleAngel: They used some of your No Mercy songs when ST released the 'Controlled By Hatred / Feel Like Shit... Deja Vu' EP. Your song "Waking The Dead" and the video that followed is when ST truly crossed over.
MettleAngel: I am a fan and just know these things. Your first album with ST was 'How Will I Laugh Tomorrow When I Can't Even Smile Today'. This is when ST really began to become a Metal act.
MettleAngel: Suicidal were always a tough band to define. Were you Punk, Metal, Crossover, Funk, other? You are the only musician affiliated with the band to not participate in Infectious Grooves.
MettleAngel: Playing the new album, the one thing it does lack is Rocky's touch. I appreciate Dean's efforts, and I spoke with him a while back about being in ST.
MettleAngel: Some ST songs are in that vein, like "Send Me Your Money". The '97 version of "Join The Army", and even the new version called "Join The S.T. Army" are a bit funky.
MettleAngel: Your ignorance of that means you were not paid when Sony put out 'Playlist: The Very Best of Suicidal Tendencies'.
Mike: I talked to Mike Muir, and he explained that we still owed the label another album, so this completed our contract. This is why with Suicidal Records we are our own boss.
MettleAngel: Do you know what is up with Rocky George, he seems to have fallen below the radar. Last I heard he was still with Fishbone.
Mike: Yeah, he is. He has been laying low because his mother just passed. We all still stay in touch, though.
MettleAngel: Does the ST vibe today feel like it did back in the Venice Beach days when you all looked like extras in the film "Born In East L.A."?
Mike: We dress that way, because this is who we are. We are not making any statements or anything. The band has evolved a great deal over the years, and we are very tight. Our current line-up consists of some very serious musical talent, many of who do not come from a Metal or Punk background like myself.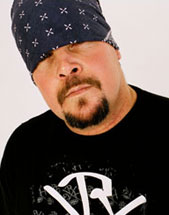 MettleAngel: I know Dean stems from a more R&B milieu.
Mike: Yes, and this band has been through so much chaos, which makes us more resilient. Mike Muir nearly died of pneumonia, and has suffered through two back surgeries. Our 300 pound drummer Eric Moore is an amazing dude and the son of the guitarist from Los Lobos. All this stress and talent has actually made me a more professional musician.
MettleAngel: That is good to hear. I see you are about to embark upon a US Tour. You will be in Cleveland on Halloween the same day as the new Helloween album '7 Sinners' is due out. I would love to see you, but my son will want to go trick or treating.
Mike: That will be a fun show, we will have to do something special that night. You really need to see us live, Steve Brunner is one of the best and most insane bassist of whom I have ever had the pleasure with which to work and play.
MettleAngel: Unfortunately, I have never seen ST live. That is saying a great deal about your current bassist, as you once played with Robert Trujillo.
Mike: I know. ST today is not the same as ST back in the day, but our hearts are still into it. Seriously, I have really become an accomplished musician since working with this new line-up. I was lazy in the '80s.
MettleAngel: I think you are a killer thrash guitarist. You took ST to the next level.
Mike: Thanks, but I am humbled when I have to match talents with these incredible musicians. They all have such an amazing technique, and no rock star attitude. Over the last few years I have learned how to musically express myself.
MettleAngel: So with all this bottled up talent, when can we expect a new ST CD, of all new material?
Mike: Man, we have never stopped writing. We have recorded everything. We have banked a ton of material. There was supposed to be a new album, before we did this, but we chose to put out 'No Mercy' for now, so we can fine tune the new songs, and release a monster next year.
MettleAngel: Will it be more Metal, than Punk? On your most recent DVD - 'Live At The Olympic Auditorium' - the song selections are mostly from your earlier works. The last two studio albums were also more crossover.
Mike: The Metal DVD with all the hits is also forthcoming. We want to tour and gage what our fans want to hear, both new and older. Believe me, I want to get back to the thrash too. 'Lights... Camera... Revolution' is still my most cherished album which we have done.
MettleAngel: That is one of my favourites too.
Mike: I just love everything about that album. I love how it sounds. I loved recording it, making the songs, the mix, everything. I loved the time and place when we made that landmark album. I still blast this on vinyl.
MettleAngel: I am pleased to see that you are not asleep at the wheel, but rather reinventing it then.
MettleAngel: You were truly cutting edge. I recall when Slayer covered "Memories Of Tomorrow". Now, Hatebreed is covering Slayer. Is it true that the song "I Saw Your Mommy...." off your debut is based on a true story?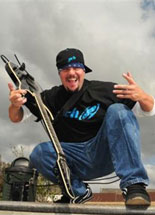 MettleAngel: Man the lyrics are so gruesome, yet somewhat funny, in a dark morose way. Hell, you pre-dated Cannibal Corpse with shocking lyrics.
Mike: Yeah, Mike usually writes about what he feels, and that experience moved him to write the song. The way he dealt with the horror of the situation was to have fun with it.
MettleAngel: Do you miss all the big time success? ST were once on the Euroleg of "The Clash Of The Titans Tour". I remember when you toured with Megadeth on "The Countdown" Tour, too.
MettleAngel: So you have risen and fallen, and are now climbing back up again. You have gone from humble beginnings to stellar stardom.
MettleAngel: Suicidal Records is an example of the band taking charge. It is like the song says, "You Can't Bring Me Down!", right?
MettleAngel: Thanks Mike for taking the time to indulge a long time fan.
MettleAngel: Amen! Now I can laugh tomorrow,and smile today!
Related links:

www.suicidaltendencies.com
www.myspace.com/suicidaltendencies