Interview conducted February 28 2008
Interview published February 28 2008
The german heavy metallers Stormwarrior are just about to release their third full length album Heading Northe and that is a magnificent album if you ask me. I got the opportunity to have a small chat with guitarist/vocalist Lars Ramcke and I was not late to put myself up for a spot on the interview list. He rang me up and below are a few words of his regarding the album, the band and the upcoming summer touring.


Download the interview in mp3 format (10:35, 4,97 Mb)
Tommy: I'm gonna start this up with a standard question, Lars. Most likely a bit boring for you, but nevertheless: Tell us a bit about the work behind the new album, Heading Northe? How do you feel yourself inside when you think about it and listen to it today?
Lars: Well, of course I have listened to it more than enough (laughs), but I still like it. I think it is the best album we have done so far. It has the best production we have had. We have tried to make everything in a more catchy way, but also with more influences and a more open sound spectrum to have some parts that are more epic.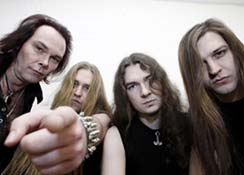 Tommy: Actually, everything you are mentioning there I think you have succedeed with. There is a more spacier sound and, well, a very good production. You recently held a release party at the Headbangers Ballrom in Hamburg. What was the common reaction to the album from people there?
Lars: They all liked it, of course. (laughs) There were also some guys from England and Belgium, and the two guys from Belgium were really great. They got a present for us, for our 10th anniversary, it was a basket with about 50 bottles of belgian beer. We had a lot of fun, we played 5 or 6 songs off the new album and the rest we played as a mix of the first albums and at the end of the set we had some ex members joining us on stage for some songs. So we had a good party.

Tommy: Always when people are talking about Stormwarrior, they always, always mention Walls Of Jericho with Helloween. Has it been a burden or a curse living with that, or has it perhaps been...well, flattering or a sign that you are doing something good….?

Lars: Well, in the beginning of Stormwarrior, Walls Of Jericho was, and actually still is, one of my favourite albums of all time and it had the most influences on Stormwarrior of course. When we started Stowmwarrior noone was playing that style anymore. When other bands were mentioning Helloween to be their influence, they were all copying the Keeper stuff. Of course, I can live with this. The plan was on the first album, back then, to show how we would have continued Walls Of Jericho. But of course, it is still there, but it has become a bit more standing on its own, maybe.

Tommy: The new album I personally don't think have much in common with Walls Of Jericho. Did you choose for that to happen, or did it come pretty natural?
Tommy: Kai Hansen was also heavily involved in the production of the two first albums, but not on Heading Northe. Perhaps this was also a step in that direction?
Lars: Actually, he did not have enough time for doing it because of the release of new Gamma Ray album and later on the tour with Helloween. On the other hand maybe it was good for this album, because there were some people saying things like "Stormwarrior is a side project of Kai Hansen and they can't do anything good without him". I think we have shown that we can. (laughs)
Tommy: I assume that you had a clear vision of what you wanted to do when you started up Storwarrior a few years ago…. Do you feel that you are heading the right way now with the band?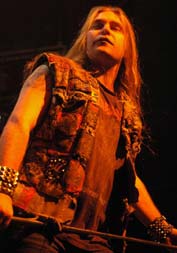 Tommy: Is the situation now pretty much what you had in mind?
Lars: When I started up the band, my dream was to one day meet Kai Hansen and to do the first album with him. So everything that came afterwards and are developing now is just over what I had expected.
Tommy: In my own review of the album a few weeks ago, I said that this is one of the very best metal albums I have ever heard, actually. And I still say the same thing. How do you feel when you hear things like that from a simple metalfan like myself, who have heard thousands of albums in my life?
Lars: I feel honoured, of course. I am very happy. (laughs)
Tommy: Have you heard many similar things about the new album so far?
Tommy: Your vocals sound a bit different on the new album (and it is to the better, if you ask me). Did that come by itself, or did you consciously try to change the vocals a bit and go in that direction?
Lars: It is a natural improvement, I think. You recognize them, of course, if you compare them to the previous albums but over a period of four years the voice develops a bit.
Tommy: Have you ever taken any lessons over the years, or...?
Lars: No, only some. The voice has always been the same. They all try to give lessons in opera singing, or something like that, that they think would fit Stormwarrior.
Tommy: Regarding your lyrics and…well, image, if you will: What's with your fascination for the northern, old fashioned language and history? Is it just a concept or are you genuinely interested in the whole thing?
Lars: We come from the most northern part of Germany and it was once part of Denmark, and our bass player is from Copenhagen. And myself have some ancestors, a generation back from Denmark and also from Sweden. And especially in this area, northern Germany, people are a bit different than in the south part of Germany. The whole mentality is more connected to Scandinavia. We're somehow rooted in that, and in my opinion northern Germany still belongs to Denmark and is still part of Scandinavia. And also, before I studied audio engineering, I was studying northern ecology and history and also some swedish at the university in Hamburg for two years. That's were I had the opportunity to do research and to read every book available within the university concerning this topic. There I collected every idea for the Northern Rage album.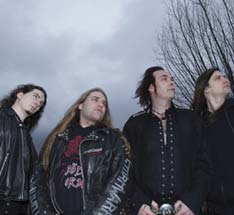 Tommy: I know, or I rather think, that you got help from someone in the beginning writing the swedish lyrics. On the new album you have a part in the song Lion Of The Northe where you also have some swedish lyrics. Did you write this yourself, or did you get help this time too?
Lars: Well, I wrote it, and then I went through them with the same girl that helped us out on the last album. She is swedish.
Tommy: How much of Vikings are you really? Do you often go berserk on gigs or festivals?
Tommy: And so to one of the most interesting questions, at least to me. I will go to the Sweden Rock Festival this summer. Will also Stormwarrior do that?
Tommy: How does the summer look otherwise for Stormwarrior regarding gigs and festivals?
Lars: So far we have some gigs confirmed. The next I think is in April at the Up The Hammers Festival in Greece, and there is a smaller festival in Slovenia, And Sweden Rock Festival of course, and we will play Manowar's Magic Circle Festival again. But I also think that our record company is trying to organize a european tour or something of that kind.
Tommy: Anything you want to add to your swedish fans, Lars?
Tommy: That was all I had, Lars. I wish you a damn lot of luck and success with Heading Northe. You really deserve the big break with this album.

See also: review of the album Heading Northe
Related links: