New Yorkers Speed\Kill/Hate definitely face the pain and crumble the walls of hate with serious impact. I had the distinct priviledge to spend some quality time with founding member and guitarist David Linsk and overdrill him with some pernicious questions.

MettleAngel: Why did you decide to form Speed\Kill/Hate?
David: While writing for Overkill I created some really great songs which they were not interested in hearing at that time. I thought it was a shame to waste such quality compositions because of publishing issues, so I decided to form my own band. We recorded the CD over a weekend and Tim Mallare from Overkill helped lay down the drum tracks.

MettleAngel: Why did you choose Mario as your vocalist?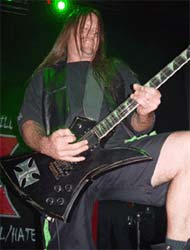 MettleAngel: Who are some of your primary thrash influences?

David: All the standards, man. Slayer, Exodus, Testament, Pantera...

MettleAngel: What's a more obscure thrash influence?
MettleAngel: No, let me rephrase that, I'm referring to an obscure metal band with whom many fans may not be too familiar.
MettleAngel: Yeah, they were better than Sepultura back in the day, since early Sepultura borrowed heavily from Sodom & Destruction, before creating their own sound with "Beneath The Remains".
David: If you were to ask me what I listen to today, it would be the same stuff I was listening to way back then. I used to have an excellent collection of cassettes with all my favorite bands, but unfortunately they fell out of my car and were never recovered. I definitely collected artists on the Schrapnel label, like Vinnie Moore and Steve Howe.
MettleAngel: Did you ever hear Steeler with Ron Keel and Yngwie Malmsteen?
MettleAngel: What about some of your death metal influences?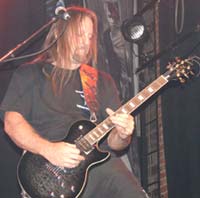 MettleAngel: Yeah me too, that and the debut by Brutal Truth. Who would you love to open for on your "Dream Tour"?
MettleAngel: What message do you hope to impart to your fans?
David: The goal of this band is impact, it's all about impact.
MettleAngel: What about those harsh and disgruntled vocals performed by Mario?
David: Mario sings pure and authentic, not like those death growl cookie - cutter and paste bands. I like being labelled as "thrash core". We like to change it up musically. I feel Speed\Kill/Hate is a viable product for today's metal market. Mario keeps our sound from becoming undated.
MettleAngel: I see your point, after all, who can forget the groundbreaking vocal effort by Chuck Billy on Testament's "Low".
MettleAngel: Gene Hoglan, Steve DiGiorio, James Murphy, what a great combination of death and thrash. Thank you so much for taking the time to answer my questions about your band and not so much about your life with Overkill.

See also: review of the gig the same night 2006 06 06 »»

Related links:
www.speedkillhate.com
www.davelinsk.com