Interview conducted September 01 2007
Interview published January 18 2008
Things have been moving fast for this young band from Falkenberg. After making themselves a big name in their home country Sweden they are now ready to conquer the world. Metal Covenant had a chat with bassist Karin Axelsson prior to their show on Swedish Metal Expo to find out all about it.

Niklas: I actually saw you perform here exactly one year ago. Can you sum up what has happened with Sonic Syndicate since then?
Karin: Well, first we won this contest that gave us a record deal with Nuclear Blast. Then we recorded an album rather quickly and released it in May this year. After that there has been lots of touring for us, on festivals and so on. Then of course we have all the interviews. I flew over to Nuclear Blast's head office in Germany and made promotion for four days, for example. There's been very much going on in a very short period.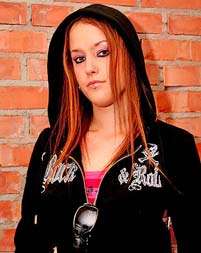 Niklas: When you entered the Nuclear Blast-contest, did you actually think that you had a chance of winning it all?
Karin: No, we didn't. You never think you're going to win something like that, you know? But it just happened that way that we had recorded a pre-production on three new songs, so we thought that it didn't hurt to send it in. And suddenly we heard from them, and they said that they really liked our material. So they asked us if we felt like having a record deal with them. We thought it was a joke at first, of course! (laughs)

Niklas: Are you pleased with the way Only Inhuman has been received by the fans and the media?

Karin: Oh yeah, it's been really great. Even the owner of Nuclear Blast came up to me and said "I love your album". When I heard that I felt that it's probably rather good, actually.

Niklas: How would you describe your sound to someone who has never heard you?
Karin: I would describe it as modern metal. I prefer not to put a stamp on us, because then you suddenly have to maintain within those boundaries. We have many melodies, lots of clean vocals, rather simple actually. It has certain bits of Gothenburg-death in it, as well.

Niklas: Speaking of which, you have been compared to bands like In Flames on a few occasions…
Niklas: I actually read this review that said that you should change your name to In Flames Teens. How do you feel about that?
Karin: In one way it's really fun and honourable to be compared to bands that you look up to very much, but at the same time we feel that this music is still our own. Just because our sound reminds of theirs doesn't mean that we have stolen everything from them.
Niklas: Did Nuclear Blast have any demands when you recorded your album with them?
Karin: Almost all the songs were finished when we got signed, actually. At least half the album was completed, I remember. I don't think Nuclear Blast actually listened to it before it was all done. And then they said that they really, really liked it. So they haven't been tampering with it one bit, actually.
Niklas: Those who have seen Sonic Syndicate live can often agree with the description of you being a very strong and energetic live-band. Why, do you think?
Karin: We have said this ourselves, that we always try to move around as much as possible up on the stage and keeping the energy at 110 percent. I can only speak for myself, but when I go out and see a band perform and they stand still no matter how good they play, then I get disappointed. It's not really that that you go out to see, you know? The key is to have contact with the audience, I think.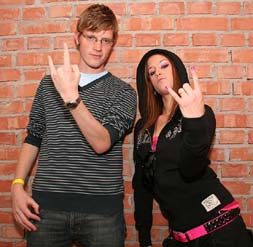 Niklas: You are soon going out on the road as a warm-up act to Dark Tranquillity, for two hectic months, around Europe. What's the best and the worst with big tours like this?
Karin: The best thing is that you get to see places that you have never been to before. New countries, new people, new bands, etc. And to play, of course! (laughs) The worst part is that you never get to be home and spend time with the family and your friends. It's hard to stay in touch when you're out on the road.
Niklas: Will you just play songs from Only Inhuman on this tour, or will it be time for some old favourites from your debut album Eden Fire as well?
Niklas: And after this you're going to America to tour for the first time?
Karin: That's true, we're going there in November. It's really exciting since it's our first time. We're not going back here until Christmas, I believe.
Niklas: You participated on a videogame-expo in Leipzig last week. Was that a different experience?
Karin: Yeah, that was probably the biggest gathering of nerds I've seen in my whole life. (laughs) I don't play any games myself so for me the whole thing wasn't that interesting. But it was still cool, because the whole thing was so big! It's like five big warehouses next to each other. I think there had been around 200.000 people there during the time it was opened. We performed on the Guitar Hero-stage, of course, and the funniest thing was that nobody had a clue that we would play on this expo. So I can imagine that people got surprised when a band suddenly started playing on that stage for real. (laughs)
Niklas: You'll obviously be busy with touring for the rest of the year, but have you started planning for the next album yet?
Karin: We have slowly started working on some ideas for new songs, and the plan is to enter the studio in March next year, so we're a bit in a hurry. (laughs) We hope that the next album will be out in the autumn next year.
Niklas: Do you have any ideas about how it will sound?
Karin: It certainly won't be as commercial as Only Inhuman. We have to draw the line somewhere, you know. (laughs) We're not going to repeat ourselves, that's for sure. I believe that almost anything could happen on the next album.
Niklas: Any last words to your fans?

See also: review of the gig the same night »»
Related links: