Interview conducted September 30 2007
Interview published February 04 2008
(This is a delayed interview with Soilwork's Ola Frenning which was conducted in the end of September 2007, hence the occasional misguiding and confusing timelines in the text. //Tommy)

Niklas: There have been almost two and a half year between your last release Stabbing The Drama and the upcoming new album Sworn To A Great Divide, a relatively long time compared to the days when you recorded one album each year. Why the long wait?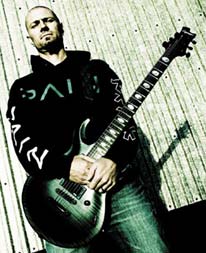 Niklas: This is the first album you have made without Peter Wichers, who was the main songwriter in Soilwork before he quit the band. Has this resulted in any drastic changes during the recording of the album?
Ola: Not really, because we have always known that there are others beside Peter in this band that know how to write music. The main reason that Peter has written so many songs in the past is that he works so incredibly fast. During the time it takes me to write one single song, he writes seven songs, you know? On this album it is myself that is responsible for most of the tracks, but every single member have actually contributed with something. Then there are a few songs that we have worked closely together on. Daniel, our new guitarist, and me have written one song together, for example. I have also written one song together with our vocalist Björn, and he has written two tracks on his own.

Niklas: If you would compare the new album to Soilwork's back catalogue, what are the differences and similarities?
Ola: I would firstly say that the sound and production differs a bit from our two previous albums, Stabbing The Drama and Figure Number Five. Those albums had a really polished sound, but on Sworn To A Great Divide we wanted a grittier and more down to earth-sound. On the other hand I have listened a lot on our first two, three albums to try to retain the feeling from them. I wanted to have more twin-guitars on this release, for example.
Niklas: When listening to the solo on the first single Exile, one immediately starts thinking about Natural Born Chaos.
Ola: Interesting. However, there haven't been any deliberate influences like that on our side. One reason for the Natural Born Chaos-comparison might be that Björn did the vocals in Canada, with Devin Townsend, who also produced Natural Born Chaos back in the days.
Niklas: Why did you choose Exile as the first appetizer for the new album?
Ola: Well, we have also shot a video for that song, and in videos there are certain restrictions. Exile has a bit of twin guitars, for example, and makes it possible for all the band members to be in the spotlight. It seemed like the perfect choice for a video. It also turned out really nice, especially considering how little time we had to shoot it.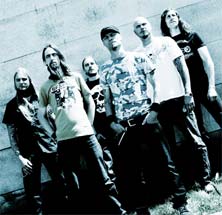 Niklas: Do you have a particular favourite track on Sworn To A Great Divide?
Ola: I do have a bit of bad experience on certain songs, because they were so hard to nail in the studio. But when listening to it all afterwards you really feel that there are several songs that work great instantly. My favourite is probably Breeding Thorns, a song that I am pretty positive that we will perform live as well.
Niklas: You will soon hit the road as a part of the Eastpak Antidote Tour. What are your expectations?


Ola: I don't have any real expectations, more than to come out and play and have a good time. This is not a proper Soilwork-tour; we are instead part of something that is arranged once every year. And since the new album isn't out until we're halfway through this European tour, there is no point to play too many new songs, since the fans won't have heard them yet. But will try a few of them, at least.
Niklas: Will you come back for a real Soilwork-tour in Europe next year?
Ola: Yes, definitely. The only tangible show yet in Sweden is the Close-Up Boat in February 2008. We might do a turn through Scandinavia at the same time. I do know that we will tour in America from November up until Christmas, together with Killswitch Engage and Lamb Of God. We haven't really made up the plans for 2008 yet, but we hope to go back to Australia and Japan, since we haven't been there in a while.
Niklas: Finally, can you name your personal favourite out of all the Soilwork-albums? And you can't say Sworn To A Great Divide, since that one isn't out yet.
Ola: (laughs) I believe it is Natural Born Chaos, after all. Musically it sounds really great of course, but the main reason is rather all the good memories I get from listening to it. It makes me remember how much fun we had making it. It was the good old days, you know?
Related links: