As the last metal band in the world (probably), Soilwork finally came to the Hultsfred Festival to perform. About bloody time, we thought. Prior to the concert we met up with Soilwork's front man Björn "Speed" Strid. He thought it was about bloody time, too. But apparently this wasn't his first visit to the legendary rock festival…

Niklas: The last time we talked to you was in October when you were playing at Klubben in Stockholm. Can you sum up what you have been doing since then?
Björn: Shortly after that European tour, we went to America for a tour with Fear Factory, which was really great. Then we actually had a four-month break, which is very rare for us. This had a lot to do with Peter (Wichers) dropping out, so it took some time to find a new guitarist. We're still trying to find a permanent substitute to fill Peter's spot, but at the moment it's going fine with our session guitarist Daniel (Antonsson). We have also started writing some new songs.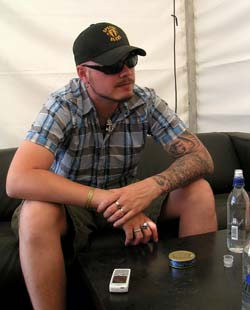 Niklas: What kind of relation do you have to Hultsfred? Have you visited the festival before?
Björn: Yeah, I came here the first time when I was 15 years old. Then I came back for three more years in a row, but I haven't been here since 1998, I think. That's eight years ago, so there are a lot of memories that are coming back. And I must say that it's about time that Soilwork plays here.

Niklas: You've been touring with Stabbing The Drama for about a year now. Have you noticed any particular songs from the new album that works extra well with the audience?
Niklas: Have you made any progress with the live-DVD that we talked about last time?
Björn: With all that has happened, with the new guitarist and everything, we had to put that on hold. But we have definitely not forgot about it. We have contacted a producer who is interested, and we have an idea about doing it in a hangar with lots of fans in it. We'll probably shoot it in America, too. We'll see what happens, but it's definitely coming in the future.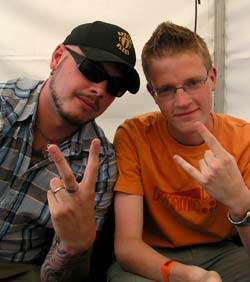 Niklas: How do you look back on your albums that you made prior to Stabbing The Drama?
Björn: On our debut Steelbath Suicide (1998) we were both young and go-ahead, and that album has riffs and riffs stapled on each other. But I'm not ashamed of it; I think we already wrote good songs back then. But on The Chainheart Machine (2000) the songs were more structured, and it also has a more thrashy feeling, with solo-adventures and powerful arrangements. We kept building from there on A Predator's Portrait (2001), which I think is our most progressive album. The arrangements are kind of crazy, but sounds great. Natural Born Chaos (2002) is a continuation of that album; we kept the melodies but made it a bit heavier. And to work with my personal hero Devin Townsend, who produced the album, was a great honour. On Figure Number Five (2003) there are more mid-tempo songs than before, and even if there are many great tracks, I feel that we lost some of the intensity from earlier albums there. However, we won it back on Stabbing The Drama.
Niklas: You have also released an EP with just five songs, called The Early Chapters. Given that there are still songs that you haven't released outside of Japan, like Killed By Ignition and Bursting Out, is there something you might consider in the future?
Björn: Absolutely, those songs will be released outside of Japan eventually, in some way or another. The thing with releasing albums in Japan, you have to put some extra material on it, like bonus songs for example, otherwise they won't sell it. They want something that is exclusive to their buyers.
Niklas: Let's talk about your other projects; during the two upcoming weeks your other bands Disharmonia Mundi and Coldseed will release new albums. What can you tell us about them?
Björn: The new Disharmonia Mundi album, which is called Mind Tricks, is best described as a mix of Soilwork and In Flames. There are many great tracks on that album, and I love working with those guys since they are close friends of mine. About Coldseed's debut album Completion Makes The Tragedy, I can say as much as there is a wide range of genres involved. However, there won't be any touring with any of these bands. I came to a point earlier when I was so fatigued from all the touring that I just had to slow down a bit. Otherwise it's not healthy for me.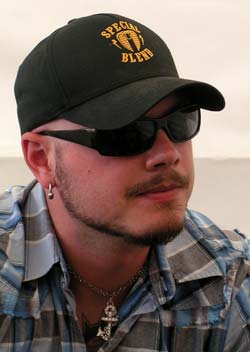 Niklas: Can you a name a favourite song out of your own catalogue?
Björn: That would have to be the title track from The Chainheart Machine. It felt we were really onto something there, and in many ways that song defines what Soilwork is all about. The same thing can be said about As We Speak, that's another song that I hold close to my heart. Then off the new album I have to say Nerve. All these tracks mean a lot to me personally.
Niklas: What's coming up in the near future for Soilwork?
Björn: We're right in the middle of the festival season now, so we'll be doing lots of those, including two in Sweden, Metaltown and Peace & Love. Then we'll be going back to America for a longer tour this autumn. After that we'll hopefully be able to complete our new album.



Niklas: Can you tell us anything specific about the new album? How do you think it will sound?
Björn: We have completed four songs so far, but we have loads and loads of material to work with. It's impossible to say at the moment how the album will sound, but I have this idea about making it heavier and with more guitar harmonies. I hope it will be a mix of everything we've done in the past.

See also: review from the gig in Hultsfred the same night
Related links: