Prior to the gig at Klubben in Stockholm on the 11th of October 2005, Metalcovenant took the time to catch up with Sweden's hardest working metal-man - Björn "Speed" Stridh of Soilwork.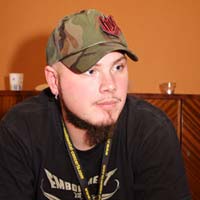 Metal Covenant: This is your first own tour in Europe, and right away you managed to sell out Klubben. How does it feel?
Björn: Firstly, it's amazing that we managed to do this with all the competition this week; Nevermore and Nile have both played here in the last few days, and Arch Enemy is coming up. We actually sold out without any posters or such, which is incredible. On the same day the posters finally arrived, there weren't any tickets left.

Metal Covenant: How would you like to describe your latest album, Stabbing The Drama? How does it compare to your previous albums?
Björn: It's always easy to look at the album we did prior to STD. Personally, I feel that we might have lost a little intensity on Figure Number Five, but we've got it back now. It feels stronger and more hard-hitting in a way, but we've also kept the good melodies that we had on the last record. This might sound like a cliché, but I think STD mixes old and new Soilwork. That's the way it feels to me.

Metal Covenant: You've released two singles from the album, "Stabbing The Drama" and "Nerve", and they have both been played a lot on the radio here in Stockholm. You've most likely got many new fans this year, since the venue is sold out tonight. Do you believe that you will look back on 2005 as the year when Soilwork got their big breakthrough?

Björn: Certainly in some countries, yes. It seems like something of a break is going on in Finland, for example, and possibly in Sweden too. STD did well on the Swedish charts, and we're not the only ones who've been doing well. You can tell by all the kids that come to the concerts that a new generation is starting to discover metal, which is a development I really like.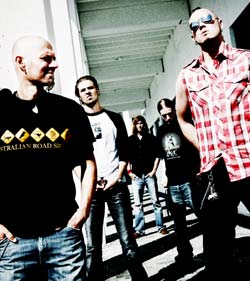 Metal Covenant: You spent the whole summer of 2005 on Ozzfest in America. Tell us about it!
Björn: Ozzfest felt a bit like Groundhog Day, (the 1993 comedy starring Bill Murray) when you wake up to the same day all the time. All the concerts were held outside the cities, mostly. They had these big amphitheatres were Black Sabbath and Iron Maiden played, then the smaller stage where we played was found on the parking lot, sort of. All these amphitheatres had the same sponsor so it looked the same every time. We shared the stage with Arch Enemy, The Haunted and almost all of the American bands, with a rotating schedule. Some days we played as early as 9:15 AM. We were always done for the day at around 1:00 PM, so there wasn't much to do afterwards. But it was also a very fun experience, I must add.

Metal Covenant: Before Ozzfest you did a tour in America this spring, and after this tour you are going back across the Atlantic, making it your third visit this year. At the same time there have been many disappointed European fans complaining about this tour being so tiny in comparison.
Björn: I do understand that some fans might feel that we've let them down. But at the same time, you have to understand how the scene works. America is so much different than Europe. You have to tour much more in the States to build a hype. In Europe, there's always much more intense when the album's been released and you go out and present it to everyone. After that, the album doesn't sell that much more in Europe. In America, on the other hand, you can tour as much as maybe two years if you want, and still sell records. But sure, the fans are right to complain that this European tour is too short. It had a lot to do with timing, and also some misunderstandings between the band and the management. But hopefully we'll be able to repay the fans with a longer tour in the beginning of next year instead.
Metal Covenant: Some think that the big Swedish metal bands, like the four of you who went to Ozzfest, have been modifying your sound slightly, to suit the American market better. What's your comment to that?
Björn: That's difficult to say for me, since I can't really listen to the music as a fan. Even though we've been touring a lot in the US, but we've never really sat down and said to ourselves, "Hey, let's try to break the American market, let's make American music!". It's quite the opposite. There's been way to much with the trend in America lately, with all the metal core-bands. To me, 90% of them are pure garbage. Killswitch Engage are probably the only ones I really like. Soilwork have, and will always have, many influences from everything we like in heavy metal. It doesn't really matter if it then sounds American or European.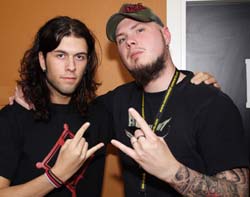 Metal Covenant: Let's talk a bit about your other projects. Just a few days ago, the third album with Terror 2000 (which consists of members from Soilwork, Darkane and Construcdead) was released. How would you describe this constellation?
Björn: It's probably as if the members of Soilwork, Darkane and Construcdead all went to kindergarten together. As much as I like to write deep lyrics in Soilwork, sometime I just want to go crazy, you know? With Terror 2000 I can write stuff that is normally taboo in the metal society. We had a real blast when we made this album and we're really proud of it. We make fun of everyone and everything, including ourselves.
Metal Covenant: Then there is the upcoming project Coldseed, together with Savage Circus (and ex-Blind Guardian) drummer Thomen Stauch. Can we expect an album soon, and how will it sound?
Björn: The album will be released pretty soon, I hope. When we formed Coldseed, we were curious how it would sound if you mixed Soilwork with Blind Guardian. It's fun to work with other musicians and see what you can come up with. This particular material is pretty diverse, on one hand is sounds like German industrial metal, like Rammstein. But it also has a thrash feel to it, and also some shades of Paradise Lost. The songs are really nice.
Metal Covenant: One has to ask himself how you find the time?
Björn: I don't. I will probably get burnt out if I don't de-escalate. I've made a New Year's resolution already, that I won't work as much during 2006. I will only do stuff that are close to my heart, like Terror 2000. I will also go down to Italy in December, to do the vocals on the upcoming album with Disarmonia Mundi (a band Speed joined recently, making it his fourth). After that, I do have to slow down. I love all this, but in the end I have to take care of my health.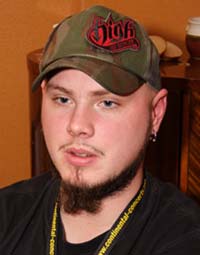 Metal Covenant: What do you like to do on the little spare time that you have?
Björn: I'm a restless person, really. It's hard for me to just take it easy. I just want to do stuff all the time, like go out and see friends, watch movies and I also try to go out and run if I can, even if it's boring. It feels good afterwards, though.
Metal Covenant: How will you balance the set list for the forthcoming gig? There will be lots of new fans that discovered you this year, but also old-school fans who want to hear the classics. How will you make room for everything?
Björn: We will try to make as many as possible happy, that's why we play songs from all of our six albums so far. And tracks from STD won't necessarily dominate the set list, we actually play just as many from Natural Born Chaos.
Metal Covenant: Most well-known metal bands today have released at least one live-DVD. When will Soilwork do the same?
Björn: Our plan is to release something next year, which is definitely about time. We want to make it special too, not just taking a plain concert and putting it on the DVD, but also filling it with extras for the fans, like videos and other kinds of bonus material. That's what I like the most and I hope the fans feel the same.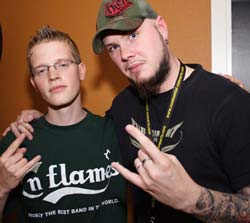 Metal Covenant: Soilwork is probably THE most productive metal band in Sweden. For example, during the four years between 2000 and 2003 you released four albums. This should mean that the next Soilwork-album isn't too far away??
Björn: We actually feel that we released Figure Number Five too early; we could have toured a lot more on Natural Born Chaos. But it wasn't until much later that that record became such a cult-album, especially in America. We haven't really started working on any new melodies yet, as far as I know. But I think that at the earliest we will start recording the next album in the end of 2006, and release it the following year.
Metal Covenant: Finally, is there one question you've never been asked, but you wish you had?
Björn: Hmm, well… I often get the question which the best metal album of all time is, but I've never been asked which my top-five non-metal albums are.

(Speed then starts pondering about which albums to choose. When he can't decide, he asks if he can go and get his iPod, which is located in another room. He then comes back and thinks a bit more, until he's finally ready to present his top-five, in non-chronological order.. )

Speed's top-five of non-metal albums of all time:
1) Seal - Seal II
2) Rush - Grace Under Pressure
3) Beatles - Sgt Pepper's Lonely Hearts Club Band
4) New Model Army - Impurity
5) Social Distortion - White Light, White Heat

The interview is over, but Speed stays put a while to talk a while longer. He's obviously a big music fan, and wants to tell us about a few bands before he goes. For example, he enjoys Japanese music, something he picked up due to his wife Nanami being from Japan. He especially likes Hikaru Utada ("Japan's answer to Britney Spears!", according to Speed) and a kamikaze thrash-band called Terror Squad, which he played with during a tour with Terror 2000 in the Far East.

Read about the following concert here: Soilwork live at Klubben 2005 10 11
Related links: