Interview conducted April 17 2009
Interview published April 29 2009
I'm no slave to the grind, but I've always viewed Skid Row as being true metal. When I found out they were coming to our town, I knew this would make the perfect birthday gift for the wife. Thankfully, I secured an interview with - Rachel Bolan - for us both. These rattlesnake shakin', thickskin tight-knit rockers waste no time; exhibiting real power mettle and ambition. After twenty years, even without Sebastian Bach, they are still makinn' a mess, all the while delivering the goods. After speaking with Rachel, we learned even more about the band...read on and see why!

MettleAngel: Hey Brother, We are so excited to meet you. We have both been fans forever.
MettleAngel: I want to let you know that we've both supported Skid Row, through thick, and thin. In the '80's I was a huge thrash fanatic, and I still am. I did not care for most of the "Big Hair" bands. I always considered Skid Row, Tesla, Warrior Soul, Lillian Axe, Leatherwolf, and a handful of others, as being true metal, and not glam fags.
Rachel: (Laughs) Yeah, we tend to get linked in with some shitty bands, but Oh well, that is how they marketed and packaged us back then.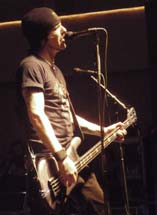 MettleAngel: Back then, I was not into bands like Danger Danger. I was not even aware of the Monkey Business controversy. For me, Skid Row has always been a metal band. After all, in 1991, you were the first metal band to ever debut at number one, on the Billboard charts; even before Metallica did with the Black album.
Rachel: Yes, this is true. Wow, that was so long ago, we tend to not dwell on these things.
MettleAngel: That is quite an accomplishment in my book. Unfortunately after Bach's exit, many loyal fans gave up on the band. However, Wendy and I never did, because, we knew you had more to offer. Personally, I feel Thickskin, and Revolutions Per Minute are excellent albums, perhaps even better than Subhuman Race.
MettleAngel: John Solinger is an excellent vocalist. When I reviewed RPM, a few years ago, I pointed this out. I elucidated the punk meets Southern Rock vibe similar to Dangerous Toys, and D.A.D. The Michael Waegner production, was a plus too.
MettleAngel: It's been a few years, but you can still access it at the site, and I'll link it with this interview. I may have been a bit over the top, and too zealous, but I still stand by what I said, in as much, as it is a kick ass album. So, are you busy working on new material for a new album, or perhaps making a DVD?
Rachel: The writing process for us is very slow, and it has always been this way. We all moved away from Jersey, so now we are all spread out. I'm living in Atlanta. Yes, we are writing some new songs. We strive to get together when, and if we can. We are already coming up with some new ideas. We have not made plans for a DVD, yet.
MettleAngel: Are you planning to perform some newer songs this evening, or a few from RPM?
MettleAngel: Yeah, I understand that you are not feeling too well.
Rachel: Yeah, I've been really ill. I'll only be singing on Psycho Therapy. Our set list is focused on the classics from the first two albums. We want to give fans what they came for, and expect to hear. Many in the audience have not heard Johnny sing the older material.
MettleAngel: This will mark my first Skid Row show ever. I've seen Bach solo, and heard him do the classics. I was planning to see you in '92 when Pantera opened for you in Dayton, but I was in graduate school, and broke.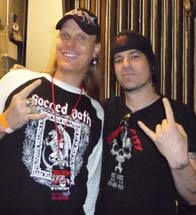 MettleAngel: Who would have thought Pantera would go onto achieve such notoriety, and now be regarded by some, not me, of course, but many young metalheads, as the best metal band of all time. Am I correct to assume that you are one of the original founding members of Skid Row?
MettleAngel: You were known as Nirvana, before this. My first experience of Skid Row, was on some Atlantic Records cassette sampler. I'm not sure how I got this. I must have picked it up at Camelot music, when I bought another tape.


MettleAngel: Anyway, it had the song - I'll Remember You - on it. I really like that, so when the cassette came out around Christmas, I picked it up, and was blown away. I was in college at the time. During the break, I took this tape, and my Vendetta - Brain Damage home, and I played the shit out of them. Maybe this explains why Brain Damage by Vendetta is my favourite album of all time, and I so avidly support Skid Row.
MettleAngel: Getting back to the present moment, with RPM, I noticed that there was an almost punk, meets true New York Hardcore vibe to it. I cited T.S.O.L, Sex Pistols, New Model Army, as influences.
Rachel: This is true, because we took a totally different approach with the writing of RPM. We thought to ourselves, what do we do now? We've been around 20 years, so let's take a complete left turn, in the writing process.
MettleAngel: Yeah, but you did not go modern, like so many '80s acts felt they were supposed to do, to keep up with the changing, and fickle music trends.
Rachel: No, we were still going to maintain the Skid Row vibe, but we decided to not put any ballads on the album. We knew the songs would be something people would love or hate.
MettleAngel: Well you have the thickskin to do just that. What inspired you to cover the Alarm song - Strength?
Rachel: Actually that was all Johnny's idea. There we were sitting in this Italian restaurant in Sheffield, England, when out the blue he suggested we cover - Strength. I actually thought this was a U2 song, from their early days, like off October, or Boy, or something.
MettleAngel: I know what you mean. In the early '80s, bands like The Alarm, Big Country, and their ilk, all had that sort of U2 - War sound, with a real Scottish or Irish appeal.
MettleMaiden: Do you find that you have a great deal of artistic freedom? Do you have a proper say in what you desire to go on the album?
Rachel: Definitely, even back in the day, we have always taken a stand on having, and maintaining creative control. We never want to be pigeonholed into doing anything that we did not freely choose to do. There have always been a few minor things here and there, where we have to allow for some leeway; but, essentially, we have always called the shots, overall.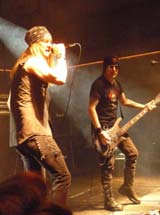 MettleAngel: You are signed with SPV, who are an awesome label. They really support Metal Covenant, and I them. They even sent me a Christmas card. I have been into SPV bands, ever since the '80s, where they were mostly concentrated on German metal, and thrash. Now they have a variety of artists signed to their label ranging from Alice Cooper to Kreator, or Saga to Holy Moses.
MettleAngel: On Thickskin, you wrote - I'll Remember You Too - a faster, heavier version of the well-known power ballad.


Rachel: Yeah, and we took a lot of flack from fans for that one. We did it for fun, and to gauge the fan reaction, which was not always too favorable.
MettleAngel: I loved that song, and the original. Did you know there are some quality metal acts out there who have covered Skid Row, and also taken some serious shit for it?
Rachel: Like who? I'm familiar with the punk band The Ataris, but who is getting criticized? Carrie Underwood also covers us, but she is not even rock.
MettleAngel: Two major Eurobands have recently covered Skid Row. Headhunter from Germany, and Hammerfall from Sweden.
MettleAngel: They cover - Youth Gone Wild - they have made it a single off their all covers album called - Masterpieces. They even made a video.
MettleAngel: Are you familiar with the German thrash act - Destruction?
MettleAngel: Their main man: Schmier, has a side project called Headhunter. They chose to cover - 18 And Life. Since Schmier comes from one of the premiere German underground thrash acts, along with Kreator and Sodom, he has received death threats for even considering covering a "glam band", no less choosing to do a 'gay ballad'. However, when I spoke to him about this, he stood his ground, and has no remorse, or regrets.
MettleAngel: I'll send you the MP3's so you can hear them. Many people, and metal bands do sincerely view Skid Row, as being true metal.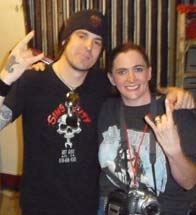 MettleAngel: After you hear the Hammerfall cover, contact them, and tell them what you think. I know they would love to hear from you!
Rachel: I will, I can't wait to check that out! I'm so glad the bands are keeping it controversial. People fear change; especially, the longer you have been around, they don't want you to deviate from the norm.
MettleMaiden: This is why I like the Children Of Bodom covers! In 2007 you produced The Luchagors, a punk band, tell me more.
Rachel: Actually, I do a great deal of producing when I can create the time to do so. I work in a studio just outside Atlanta. The singer of The Luchagors is a former, famous professional wrestler named Lita. Everyone in this band are friends of mine.
MettleMaiden: You also have your side-project band - The Quazimotors - what a great name! Tell me a little about them.
Rachel: Yes, this is a punk, biker rock project I have with a few friends of mine in Atlanta. We sound a bit like The Dead Boys. We are always writing music. We plan to go into the studio, once I have a second to breathe. We only get to play a handful of shows a year, due to my schedule. We played a couple of gigs with Skid Row, and that turned out to be productive, and worked well for us. This really helped to promote the band. You can check out both bands at their My Space, or on my own My Space Friends list.
MettleMaiden: I have a really crucial question that I want to ask you. In the past 20 years, or so with all you have accomplished with Skid Row, your other bands, the ones you've produced, your work on the Ace Frehley Tribute, playing Moscow Music Fest, debuting at number one, etc., what do you think most defines you as a musician?
MettleAngel: Don't forget the nose-earring chain he wore, which was quite uncommon for a metal band in the '80s. I mean everyone new Rachel by that 'painful' piece of jewelry.
Rachel: Oh yeah, (laughs), I did have a lot of people question me about that, and whether or not it hurt. Anyway, it is like what Scotti says, "We are watching our life on television." All the major accomplishments of Skid Row have been filmed, like Moscow Music Fest. Sometimes it all seems so surreal. I've decided that the best way to catalogue all these moments, some of which I tend to forget, but fans eagerly remind me of, is to write all this down, and make a book about my life.
MettleAngel: You mean like the published memoirs of Rachel Bolan?
Rachel: Exactly, it is just a matter of time, that I take this project seriously enough to do this. There are so many odd and funky stories to retell.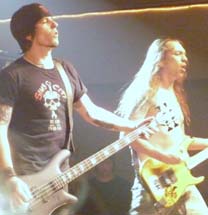 MettleAngel: Like The Dirt, but probably not as sleazy, debaucherous, or drug-crazed?
MettleAngel: Well one point you should include, and one that I want to personally commend you for, is bringing Rob Halford back into metal. By 1992, he had almost abandoned metal. After the fall of Fight, he was working with Trent Reznor on the horrible Two Project, and he was ready to denounce metal. You got him to sing with Skid Row on - B-sides Ourselves - Delivering The Goods. Then, not too much later Ugly Kid Joe convinced him to sing on - The Godamned Devil - and after a few years, he realized how much metalheads missed him. We did not care that he took it up the ass, we just wanted him back to being a metal god. His Halford project set the wheels in motion for his Priest reunion, and now this summer we get to see him play British Steel in its entirety, while on tour with Whitesnake. I am convinced that you had a role to play in his re-conversion.
Rachel: I guess, I never saw it like that. With B-Sides Ourselves, we just wanted to pay homage to the bands who inspired us. It will be killer to see that tour this summer, though!
MettleAngel: You did a fine job with this. The cool thing is this album was available everywhere, when it first came out, and even more so, once it became a cut-out. I think I bought a copy on cassette at my grocery store.
MettleAngel: I'll never forget the time the band hosted Headbanger's Ball, and you got to share the set with Alice Cooper. I appreciated Alice Cooper, back then, but I did not know a great deal about him. Once I saw him in Wayne's World, I became a huge fan, and I still am. What I'm saying is that Skid Row was really an instrumental band for me, and still is. I just want to truly thank you for all you have done over the last two decades! (MettleMaiden): As do I! I've always supported the band, and I'm very excited to see you with Johnny on vocals tonight.
MettleAngel: We are so excited for the show tonight, a great way to celebrate Wendy's birthday.
Rachel: Well I hope you do, and happy birthday Wendy! I guess we go on in about 15 minutes, so we better wrap this up.
MettleAngel: Thank You again for everything.
Related links:
www.skidrow.com
ww.myspace.com/skidrow
www.myspace.com/therealrachelbolan