An interview conducted after the gig at the release party at Pub Anchor, Stockholm, with Andreas Blomqvist (bass) and Johnny Sandin (drums)


Download entire interview in mp3 format (in swedish - 4,5 minutes, 0,77 Mb)
Michael: Tell us about yourself, how long have you been around as a band? Do you feel like this is the first step out on the market?
Andreas: We have been around in different constellations since 2000. We have mainly been having problems finding a singer, we have had Ola Halén from Insania and Andi Kravljaca from Heave, he sings on the record (Become, 2005). Then there was trouble and now Tommy is in and this was the first gig with this setting. Johnny: Except for yesterdays gig on radio, RockKlassiker. (swedish rockradio)

Michael: So Tommy does not sing on the record?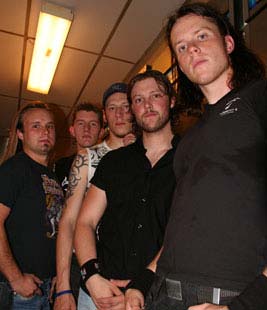 Michael: How long ago was that?
Andreas: We left the studio in the end of december and he left us sometime in January. Tommy have been with us since March, so he is pretty fresh, he has learned 10-12 new songs since. Commendations to him.
Michael: What do you want to do now? Is there a tour coming?
Andreas: We are talking with a management company, what we want is to get out and play. Our biggest dream is to play in Europe. If we get an offer we will take it, anytime, anywhere. We have nothing planned right now, though.
Michael: Tell us about the new cd.
Andreas: 8 tracks, 4 of the tracks were recorded previously as demos but we have freshened them up for this release. We saved some material for a coming release which was pretty good as we now have Tommy and can really make a fresh new start. But this record has good balance. There are a couple of power metal inspired tracks even if there is much prog in them. Also some heavier and calmer tracks. But we are not like other proggresive bands which have speed and power metal in their foundation, we are more founded on 80's rock.
Michael: Tonights gig, how was it?
Andreas: I have always left the stage feeling like a king and even did so tonight. It was awesome! In our genre people often focuse more on the misses which is a disadvantage. But we managed to keep the errors down and made a good impression, so im pretty satisfied. Johnny: We are very self criticizing too. We are never really satisfied to 100%, there are always ways to improve until next time.... Andreas: But there were some trauma parts that we nailed so we should be happy.
Michael: Next album...?
Andreas: We are writing and have a big part done or at least half done. Then we have to polish them to finished songs, obviously.
But we have a go from the recordcompany to record a new album so it should be out in...a year, maybe? Hopefully we have toured a bit before that.
-------------------------------------------------------------------
See also: live review and photos from the gig, both done by Michael.
-------------------------------------------------------------------

Related links: