Interview conducted January 26 2011
Interview published February 01 2011
Having been a member of Tyran' Pace and Gamma Ray and as a current member of Primal Fear, Ralf Scheepers is a renowned and respected vocalist in the metal scene. When he now is about to release his first solo album in early 2011, Metal Covenant is not late to approach him via email for some answers to how and why it all came to life, as well as some questions about his main band.

Tobbe: Your self titled solo debut, Scheepers, will be released February 18th. What can the listeners expect from a man who's associated with bands like Primal Fear and Gamma Ray?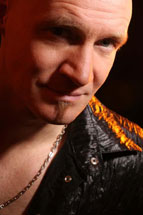 Tobbe: This album is released when illegal downloading is something we have to deal with every day. It will reach a lot of listeners, but the sales figures will probably be modest, comparing to last century. Any thoughts?
Ralf: Yes, the illegal downloading is killing music, musicians and the whole industry, that's true! The internet has brought many advantages but also many disadvantages. The music industry slept in the beginning of the 90's just to wake up too late and they did not react to this new market and possibility! They were not aware of how to protect our music and they have done nothing to prevent this modern kind of robbery! Still I hope and I also know that there are true people out there and real fans who will buy the album with it's entire shape of booklets etc. And I'm also very positive about the development with the iPhone Music Store which makes it possible to buy single tracks or the whole album. The industry and the musicians will get payed in the end and that's a great thing to get at least a bit of a balance for this hard kind of work!
Tobbe: A solo album is usually something you have had in your mind for a long time. Is there a reason why you recorded Scheepers now?
Ralf: First of all it took so long because we didn't have any pressure and we are and were all very busy with our main jobs! I have expected a lot but this final result is definitely killer! Starting from the performances by my guests, continuing with the sounds and the recordings and ending with the sound! I am very proud and also very grateful!!! The whole team has done a great job! Cool!! There is never a particular time to pick to release an album, but now the product is finished and it's about time to release it! :-)
Tobbe: There are several guest musicians playing on the album. Were all musicians you asked to join the recordings positive to the project, or did some guys turn this offer down?
Tobbe: Your current bandmates from Primal Fear play on the album, either as guests or, like in Mat's case, on the whole album. They are also mentioned in the songwriting credits. Is there any chance that the fans will feel that Scheepers could have been released as a Primal Fear album?
Ralf: No! The songs are too different! Of course there might be two or three which could have made it on a Primal Fear album but on the other hand it would also have been very stupid to release a ballad only album! I love metal, I live metal and I play metal! On this album I have way more different facets than you could find on any Primal Fear album.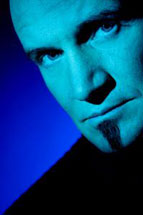 Tobbe: With your bandmates playing on the album, will Primal Fear ever play something live from this release, or do you have some ideas for a solo tour, or perhaps playing a couple of festivals to promote the album?
Ralf: Actually it's 3 bandmates playing on the album yes, but in the time when the songs were recorded Alex Beyrodt was not a fixed member of Primal Fear, so you can say that there were two members of Primal Fear really helping me for my album; it's Mat Sinner and Magnus Karlsson. So far we have never talked about touring for my solo album or doing a single one off show for it. We are very busy guys and everyone is also involved in different projects and bands but most important will be the work with preparing our next Primal Fear studio album! I also think we should wait for the reaction of the market before discussing this issue. Primal Fear was, is and will always be top priority! If any side work would run me into a schedule conflict, I would rather postpone these side activities rather than the duties for Primal Fear. We might play one track of my solo album with Primal Fear when we head to South America in the end of February.
Tobbe: Which song or which moment on Scheepers are you most proud of and which musician, in your opinion, did the best part?
Ralf: That's a tough question! It's somehow like asking: Which part of your woman do you love most! :-) I like the lower sung voices pretty much but also the re recording of my song from the Tyran Pace era is a great moment for me. This time I did the entire vocals on it (including the choir for the chorus) and I'm very proud! :-)
Tobbe: You're still touring the world with Primal Fear promoting 16.6 - Before The Devil Knows You're Dead and Scheepers is released just one week before you leave for South America. Record company tactics?
Tobbe: This leads us to your main band Primal Fear. Do you have any new ideas yet and when can we expect another release from the band?
Ralf: First we will go to South America for one week at the end of February, then we will focus on composing and recording songs, then we will do some summer festival shows and after the release of our next album (maybe fall this year) we will be touring again.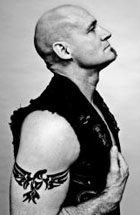 Tobbe: There has been several lineup changes in Primal Fear over the years, especially the guitarrists have left the band. Some of them have been in the lineup more than once. Are you and Mat hard to work with and do you have certain rules for the band. Either you're in or you're out?
Ralf: It's not only a talent or a business question! It's a human being question. Sometimes people don't fit together in a long term... Enough said, lets focus on the future, not on the past!
Tobbe: 16.6 was Primal Fear's eighth full length studio album. It obviously gets harder and harder to pick a setlist for your shows. How and when do you choose which songs to play? Do you vote or do you have a designated member who's handling that?
Tobbe: About twenty years ago you recorded three albums with Gamma Ray. Do you ever regret leaving or are you still satisfied with your decision?
Ralf: I'm still ok with the way things have developed... I'm still good friends with Kai and all the other members from Gamma Ray and I'm happy and grateful about the time I had in Gamma Ray. Things were difficult at the time I had left the band but it's been sorted out straight after our split. Still we have decided to go separate ways and everybody is doing well in their positions.
Tobbe: You also recorded three albums with Tyran' Pace in the eighties and 25 years later you have chosen to re-record the song Saints Of Rock from the album Watching You. Why did you choose to re-record it?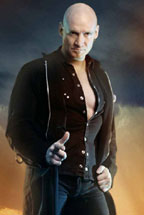 Tobbe: There was three years between the last Tyran`Pace album and the Gamma Ray debut, and there was five years between your last Gamma Ray release and the debut album of Primal Fear. What were you up to those years? Were you writing stuff or were you just waiting for the right musicians to show up and the right time to form a band?
Ralf: It's different backgrounds. In the post Tyran' Pace years I was doing cover music in a live band to earn some bucks to get rid of the debts which have been caused by so called managers. In the post Gamma Ray time I was preparing for the possible Judas Priest job as I was waiting 2,5 years to get an answer from their management. I also did some gigs with a Judas Priest cover band at that time., and of course I have also been writing some songs.
Tobbe: Back to Scheepers again. Tell us something about the recording sessions, the studio and the location of the studio.
Ralf: The album was recorded at different locations. The drums were recorded in Sweden at the Studio Seven by Ronny Milianowicz and played by Snowy Shaw. What a fantastic job they did! Everything else like bass recordings, guitar recordings, vocal recordings, keyboard and effect recordings was recorded at different home studios. Over the years everyone of us have bought some good studio gear and recording software. That's a great thing, and the internet makes it possible to send big files on one server to consolidate all files into one session in the end. Achim Koehler who has worked for years on our Primal Fear album has done a great job to mix down and master all of these files in the end. Very cool!
Tobbe: Last question. If you could delete three songs from your catalogue. One each from Primal Fear, Gamma Ray and Tyran`Pace. Which three songs would that be, and why?
Ralf: Oh, my god! How could anyone answer such a question? :-)) Those songs which have been deleted never made it on an album, so all you hear out there is already the best we have to offer! No need to delete a single tone! :-)
Tobbe: Thanks for taking your time, Ralf.

See also: review of the album Scheepers
Related links:

www.primalfear.de
www.myspace.com/rs05