Interview conducted September 29 2018
Interview published October 21 2018

"There's no plans to stop at the moment."
Legendary heavy metal outfit Saxon made one of its numerous appearances in Stockholm, Sweden and Metal Covenant sought up guitarist Doug Scarratt for some questions about his career and before joining this iconic institution.

Tobbe: If you look back at the Thunderbolt record [Out February 2018]. What has that record been able to bring to the overall Saxon catalog?
Doug: It is amazing, 'cause we've made another one that people love, you know. So, what can I say? I think it's one of our biggest selling albums in quite a long time, so. This is what people are telling me. I think we're doing pretty much the same as what we've always done, but at the moment we seem to be rising.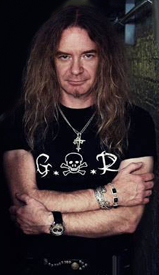 Tobbe: Out of your own records with Saxon, and you can't pick Thunderbolt, which is the best one, and why?
Doug: The best one? It's pretty difficult to do that. Personally, I really enjoyed the Lionheart album [2004]. I wasn't a new member to Saxon by then, but, you know, creatively I think I was probably at my strongest at that point. I think that was my 4th album. [Unleash The] Beast [1997], Metalhead [1999], Killing Ground [2001] and then Lionheart, yes. It was a lot of fun. They all have been, but I just specifically remember that one as being a good time.
Tobbe: Tell me a good story about something from that period in time.
Doug: A good story… From that tour… I think when we toured America we left our tour manager and Paul Quinn [guitar] at a service station in Albuquerque [New Mexico] and didn't notice for 7 hours. I think it was nobody's fault. The bus driver was just "Okay, everyone's on. Let's go.". And we were driving to San Antonio [Texas].
Tobbe: What did you do before you joined Saxon in 1995?
Doug: I was basically a session musician and I was in a band in my hometown in Brighton with Nigel Glockler [drums]. We played together quite a few times and, you know, became friends. We like the same music, so. I mean, at that point in time I was open to playing pretty much anything that I could make a living at. I grew up listening to rock and metal, so.

Like I said, I was playing almost anything I could then, and it was just literally a phone call from Nigel, you know. We'd done quite a lot of gigs together and I think it was December '94; Nigel phoned me up and said, you know, they've had a problem with Graham [Oliver] and, you know, "Did I wanna audition for Saxon?" and that's where it all started.

I mean, I was playing a lot of gigs. I was 35 then, so the 10 years leading up to that, I was playing a lot of gigs up and down the U.K., with different bands and, you know, just trying to earn a living as a musician, really.
Tobbe: When you joined Saxon in the mid '90s the band had quite a hard time and what were your initial thoughts when you joined the band at that moment?
Doug: I mean, the first gigs I ever did with Saxon were in Czech Republic, Slovakia and Germany and they were still pretty big crowds, they were still quite big gigs. Bigger gigs than I'd done before. I mean, before Saxon I was either working in a studio or I was playing clubs, you know. So they were still big venues; it was still quite scary, you know. And with almost no rehearsal actually. You know, there was no time really to rehearse before the tour, so I just learned everything at home and went out on tour.
Tobbe: 5-10 years later Saxon once again hit the bigger stages and how did that situation affect you personally?
Doug: It was just great to watch it rise. We put a lot of heart and energy into making albums, because we believed in the records, you know, and some people got it. I mean, the albums did get good reviews and were liked, but on a smaller scale to now. It's gone up and up and up. A lot of it is obviously down to hard work on our part, but this music has suddenly become fashionable again. It's happened over the last 10 years, really.

You know, you can actually see it grow. People are just buying into the history and the fact that we're still here... And we still seem to make albums that are relevant. We're not only touring on back catalogue. Well, obviously there are all the hits from then, but we do have a new audience and albums that go into the mainstream charts, which is fantastic.
Tobbe: And when you joined the band, could you even remotely imagine you still being here, 23 years later?
Doug: No, probably not. I mean, I didn't really know what longevity the band would have and obviously I knew how big Saxon had been. I don't think anybody really knew that we would go and go and go. But really it was driven from: we love writing and recording. Touring was fun; it's really hard work sometimes. But we just kept on making records; we just wanted to write songs, you know.
Tobbe: Next year Saxon will celebrate 40 years since the first record was out and have you guys planned anything so far for this occasion?
Doug: I think we are planning some 40th anniversary shows, yeah. They're kind of trying to put it together at the moment, so there's no details or anything. But there is a plan to do some specific 40th anniversary shows.
Tobbe: Tell me a little about how you guys look at the future, in maybe 5-10 years, because some of the guys are getting older.
Doug: Simply honest, I don't think we think about it, really. We do, but we choose not to, you know. If you start thinking about that too much… There's no plans to stop at the moment. Let's put it like that. Beyond a certain age it's down to health. You know "Can we still do it?". And as long as we're having fun and we can deliver the way we want to, well I think we'll just keep doing it.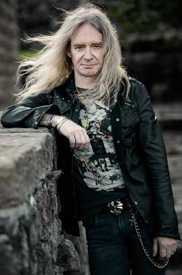 Tobbe: Which riff out of all the classic Saxon riffs do you enjoy playing the most?
Doug: I love playing Power And The Glory. And Wheels Of Steel is just great rock 'n' roll fun; it's just a great guitar thing to play. It's totally cool. What else? Crusader riff is really cool to play as well. Motorcycle Man. Power And The Glory has got like a great… From the music I grew up listening to, it's just got this kind of… Just a classic rock/metal feel.
Tobbe: Would you personally prefer that Saxon would play less classic material and focus a lot more on the stuff made since you joined the band?
Doug: I like the mix. I like it when we mix it up. It does get difficult because there are so many songs now. You know, when we talk about stuff like that it's like "Oh yeah, why don't we play that? That's a great song.". And you suddenly remember songs on an album that you've nearly forgotten about, you know. So it is hard.

I think there are a lot of great songs from the last 20 years. We could tour on just that, but obviously I love the hits as well. So I like it when it's well-mixed; when it's a balanced set, definitely.
Tobbe: What do you do besides playing in Saxon today?
Doug: When I'm not on tour I buy and listen to music a lot. I run, every day, if I can. To be honest, I run and listen to music. And I have a studio at home now, which I've only built in the last couple of years. My son is a drummer and plays bass and keyboards and we have started to write and work together a bit. So, I play at home as well. But usually we're so busy that there's not that much between tours, so. Well, I run, relax, buy and listen to music… And I like decorating my house as well. I mean, interiors.


See also: review of the album Thunderbolt
Related links:

www.saxon747.com
www.facebook.com/saxon