Interview conducted September 30 2015
Interview published October 25 2015
"Would it be a great album if a new band made it? And the answer is; It fucking would be, yeah!"
With Saxon's new record Battering Ram coming out October 16th, the band's undisputed main man and vocalist, Biff Byford, visited Stockholm, Sweden, for a quick stop on his promotion tour in Europe. Metal Covenant naturally wanted to get a piece of the action, in order to listen to his views of the album and, among other things, to find out a little bit of what's happening with the European leg of the Motörhead tour later this fall and what their individual plans are when, or if, they someday decide to put the band to rest.
"Younger bands should listen to this album."

Tobbe: What do you think that Saxon can gain, in the long run, from releasing another record?
Biff: Well, apart from the fact that it is a masterpiece of metal. Yeah, we like making music, we like writing songs. You know, we support the record companies, we support the industry. You know, we're not a band that just relaxes and play hits. We're a live rock band.
Tobbe: What do you do at this point to try to come out fresh?
Biff: You just try and write cutting-edge music that's better than our contemporaries. That's what the name of the game is, yeah.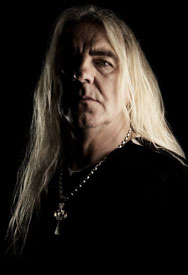 Tobbe: Is there something you have intentionally really changed from the last record to this one?
Biff: Yeah, I wrote quite a few songs with our bass player [Nibbs Carter] before the other guys came along and got involved, so that's a big change. So the album is probably more focused and probably stylistically the same, which is a great thing, I think, for this album. You know, I wanted to basically make a more of a British album, which I think it is.
Tobbe: Do you at some point listen to your earlier work before you enter the songwriting process?
Biff: No, because our earlier work lives with us every day, you know, so I don't need to listen to Wheels Of Steel.
Tobbe: I mean like stuff from all your past work, from the beginning up to now.
Biff: I know it anyway. You know, we created a style along with Maiden and a few other bands and that style still remains with us. You know, we write songs the same style. Maybe the sound's a bit modern, I think, but generally we are writing in that British classic rock style.
Tobbe: Do you release albums at this point to keep yourselves current so that you can tour a lot still?
Biff: We make albums because we like to make albums, and I like to write songs and I like to be creative. And we had a lot of time on our hands, because Lemmy got sick in December 2013 and canceled the European tour and the one in January 2014, the same. So we had some time on our hands. This album has come back really quick after Sacrifice. So yeah, I wanted just to do something, rather than just vegetate. And it's a good space now, coming out in a period where there's a lot of other albums coming out, so it can be listened to in an environment of new releases, and I think ours is the best release. That's not to say other bands haven't great albums as well, but I think ours is the one to beat.
Tobbe: It's a huge competition out there today. Not like when you started.
Biff: Yeah, it is competition, but it's good, you know. It's good that Slayer are still making albums, and Motörhead, and Maiden, and Saxon. I think it's great.
Tobbe: I think it keeps the classic rock bands fresh too, because they have to beat the younger bands.
Biff: Younger bands should listen to this album. And if they're gonna recreate a certain classic rock style, they have to listen to this album, because it's really cutting-edge. It's got a really slicy, modern side to it. It's not pretending to be 1980's, you know. It's current. It has a flavor of the 80's and the spirit of the 80's is in there. I mean, Destroyer could have been written in 1983, you know.
Tobbe: What made you come up with the idea to having such a song as Kingdom Of The Cross on the album?
Biff: Well, it's my idea. I wrote a poem last year and put it online and then I thought it'd be nice to put it to music. And I had this wacky idea of just using one of Nigel's ideas on synth, with no guitars. I didn't want to do a rock ballad, because the subject matter is too serious. It's too sad to make it a commercial rock ballad. So I just wanted it to be an ambient song with a poem, you know. So we got a couple of actors to do the reading and Dave [Bower] from Hell worked for me. The rest is history. We weren't gonna put it on the album. It's actually a song that I was gonna put on my solo album, but I moved it across, 'cause it sounded cool.
Tobbe: I really dig that song, and I like the atmosphere of the whole song.
Biff: Yeah, the atmospheric is fantastic. A lot of people are really digging that song. It's off the wall, but people like it. In America, people were like "Woh! That really made us think about the First World War and all of our young guys that died.". The Americans were going nuts for it. "This Kingdom Of The Cross, man. Do you have any more songs like that?". I was like "I don't think so.". We're not gonna turn into an ambient band or something, but, you know, it's nice to do it.

I wanted to make people think. It's a sad song. It's something we should know about. It's a really, really strange war. It was an argument between cousins and uncles and millions of young men died. It still resonates today. In some of the towns in England, the people's fathers and grandfathers lost their lives in the First World War, and they don't even know. It's a part of history and everybody's family in Europe has a connection to the First World War.
Tobbe: So how are you guys able to find melodies that haven't been made before?
Biff: I'm a melody machine. I sing melodies all the time. It's like Battering Ram. It has to be anthemic for me. It has to be… you know, 50000 people can sing it. And Battering Ram is one of those songs, I think.
Tobbe: Aren't you a little bit afraid of coming out, a little bit, too similar when you have done now, like, over 20 records?
Biff: I don't think this is similar. That is the whole point. I don't think this is like Sacrifice. You know, it's just another great Saxon album, as usual. But I think, especially with this album, you should listen to this album and try and pretend that we didn't do it. Try and listen to the album, and it's a new band that made it. "Would it be a great album if a new band made it?". And the answer is "It fucking would be, yeah!". And that's my point. You know, listen to some of the other albums and do the same test and see what you think, and that's my point. So I don't want people to say "Oh, it's just another great Saxon album.". I want people to listen to the album and think "Actually. This is cool.".
Tobbe: A lot of classic metal bands release albums every 5th or 6th year. Have you ever thought of ever going to a point where you don't release an album every 2nd year? Even though you just told me that you like making albums.
Biff: Not at the moment, but we don't make plans for the future albums. We write when we feel like it, you know.
Tobbe: What about the European tour leg with Motörhead? Have you been in touch with them or their management to see if the tour is gonna happen?
Biff: We just finished playing America with Motörhead.
Tobbe: Yeah, I know, but Lemmy took a couple of days off here and there.
Biff: Well, you know, it's in the lap of the gods. He wants to do the tour. He is strong to do the tour. He got ill for a few days, but he got over it. So, keep our fingers crossed. I can't give any guarantees, you know. I mean, we'll be there, and Lemmy will be there, and Girlschool will be there. And if we're there, we're doing the show, you know.
Tobbe: So what inspires you lyrics-wise at this point in your career?
Biff: History, future, fantasy, myth. Same things really.
Tobbe: Do you think that the lyrics are very important, or just important?
Biff: I don't know. I like to think they are. I think, if the song is light enough, people will know the lyrics. I think people tend to know the choruses first, or maybe the first line of Battering Ram "Come worship at the metal church. Let your voices rise as one.". You know, people might remember that line. I mean, I'd like to think that people read the lyrics and learn the songs. I think, also, you have to come up with great lyrics for great, great, great music. The two have to go together.
Tobbe: Is it difficult to remember the lyrics to the new songs, when you play them live for the first times?
Biff: It was quite difficult to lock them into the computer, the brain. You know, sometimes I'll have key words on notes. I haven't used an autocue yet, but you know, there's still time. But no, I try to remember everything and rehearse it. You know, it's difficult to remember all the lyrics, all the time. Some of the songs are quite different and so nuts. [Laughs]
Tobbe: Your live shows are still intense. I saw you a couple of months ago and you're still headbanging and stuff and Nibbs is crazy of course. But for how long can you actually keep the performance on this high level?
Biff: Until we stop. We're fairly fit. We've just done a long, grueling tour of America, with long drives and long shows. I think the first 2 or 3 shows may be quite hard, psychically, and then your body sort of get used to it, and then you just go.
Tobbe: Is it sometimes annoying that a lot of people still compare your new albums to work you did over 30 years ago?
Biff: I think that's inevitable though. I think, if you listen to Wheels Of Steel and then listen to Battering Ram, you'd like it. It's not a massive move. I mean, we did do some massive moves in the late 80's. You know, Innocence Is No Excuse and Destiny were definitely we on a different track. But, you know, we've kept the band on track for quite a long time now. Actually since Graham Oliver [guitar] left in 1995, 1996. You know, Unleash The Beast, Metalhead, Killing Ground, they're all great albums now. But I think Battering Ram is particularly special, because it's the first time I've let somebody produce the album since then. I've always been in control myself, because people took us to different places in the early days. I mean, Andy [Sneap] has done a great job there.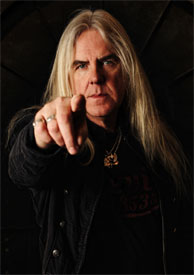 Tobbe: So what did he actually bring to the table, that wasn't there earlier?
Biff: Well, the songs were more or less written. I mean, me and Andy worked together quite closely in the pre-production. He played some of the songs along with us, when Paul [Quinn] had to go to the dentist or wherever. He picked a guitar up and played the songs with us, you know. I mean, we're all fucking crazy in Saxon. You know that, don't you? We're all absolutely nuts. So he brought a great deal to it. He brought a style to us. He's very modern, but he loves the 80's, so he retained the 80's feel.

Andy is different, working with us and, say, Accept. Accept are more old school and, you know, that's where they wanna be and that's what he does for them. You know, we are a metal band and we're not a rock 'n' roll band. We do have rock 'n' roll ornaments in our music, but we're much a heavier band and we always have been. Although Balls To The Wall is out there. But what I'm saying is I think their mindset is different than ours. I love Accept. I'm a big Accept fan. I love them. I'm not really all fair with their last album. I haven't really heard it very much, but I think the one before that, Stalingrad, was great. But Battering Ram is a different beast and Andy works with Saxon differently than Accept, so you can't really draw a parallel there. I know you haven't done, but some people have tried to draw the parallel there, but there isn't one. He loves the 80's. I mean, Andy would love to do Judas Priest. It's a dream of his. So I was talking to them and said "You should let Andy do your albums!", you know, but whether he will or not, I don't know.

But he did a great job. It's got the cutting-edge, the modern guitar edge sound, you know, on the riff side. Really quite intense riffs. Great guitar riffs actually. And he kept that together, and we didn't go off with the keyboard thing. So there's no Guardians Of The Tomb or Valley Of The Kings on this album. I suppose Kingdom Of The Cross is the wacky song that throws everything into like "Woh. What's this?". But that's typically Saxon. That is because I'm just a mad fucker who, you know, has this idea to put on this ambient thing with a poem.
Tobbe: I know it's early, but we're talking about Andy Sneap, but for the next record, will you perhaps bring Andy back?
Biff: [Laughs] Well, the next record I'm gonna do is probably gonna be my solo album. I have used some ideas on this album that were on my solo album. So yeah, I'll probably let Andy do the album. I might even write a couple of songs with Andy. That would be cool. But I'm not gonna sing like Dave. I'm not gonna turn into like, you know, some demonic, satanistic monster. I'll leave that to Dave. He's very good at that.
Tobbe: Yeah, he is. He's a good frontman, just like you, but you're very different still.
Biff: Yeah, he's more theatrical and he plays the setpieces, you know, like theatre, which is great.
Tobbe: Do you sometimes get a little fed up with your own musical ideas? Like "Oh, I'm sick of this sound.".
Biff: Well, sometimes we'd like to do different styles of music. You know, everybody would, but it's only a fleeting moment you think that, you know what I mean? I was brought up on blues music, so, you know, I could quite easily do a blues album.
Tobbe: But to whom would that address to?
Biff: No idea. Me! It will be self-indulgence in big-time. But I might do a blues track on the solo album, you know. I might write something or I might do a traditional one.
Tobbe: It would be cool, I guess, to get some variety in the record. And it's your own record still.
Biff: That's right. My own record and if I wrote any songs with anybody else, I want to write it in a slightly different style.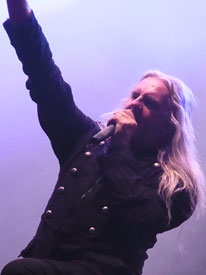 Tobbe: Will you do something in the future with The Scintilla Project again?
Biff: I like The Scintilla Project. I don't think it was uber-successful as elsewise. It was all right. I'd like to do another one. I mean, I didn't write any songs for Scintilla. It was cool and, you know, it was very easy. I got Andy in, to sort of co-produce and do the mix. We had a good fun and it only took us 6 days.
Tobbe: There's another Avantasia album in the works. Will you ever participate on that project again?
Biff: Well, if Tobias [Sammet] gets in touch, I'll sing on there, yeah. He always wants me to play live, but we're always too busy. He always asks me "Oh, Biff, we're doing this show in Wacken. Can you come and sing your parts?". I'm going "Yeah, I'd love too, but we're playing Wacken the day before and then we go to Finland.", or somewhere.
Tobbe: You know, Innocence Is No Excuse and Destiny and Rock The Nations. Are you aware of that there are actually quite a lot of fans that love those records?
Biff: In Sweden, Innocence Is No Excuse was a huge album. You know, I'm aware of that. I'm really aware of that and when we play in Sweden, we always play a couple of songs off that album, especially for them. You know, like Rock 'N' Roll Gipsy, Broken Heroes maybe. Things like that. We've sometimes played Ride Like The Wind as well. We've been playing Rock The Nations in America.
Tobbe: If, or when, you eventually decide to put this band to rest, do all the guys in the band already have a plan B, like a retirement plan?
Biff: No, I don't think they do. I think maybe Paul might have a blues band thing going. He's a fantastic blues player. That would be cool, to go out and just do a few club shows with a blues band. I think he'd like to do that. I think he'd like to do that now actually, but we're a bit too popular at the moment. Nigel [Glockler, drums] is gonna do some bit of writing with the guy from Metal Church [Kurdt Vanderhoof], but I don't know where that's going. Nibbs is talking about releasing some of his material, 'cause he has tons and tons of stuff. So I might help Nibbs with that.

Do a solo project with Nibbs maybe? Maybe help arrange it for him and produce it for him. That would be cool. And Doug [Scarratt, guitar] is a bit like me. He's got a son [Jamie] who is into music now, so he may well start to get involved with his son, you know. I mean, his son played on the album. He played the Moog parts on Stand Your Ground and my son [Seb] sang backing vocals on 3 tracks. He's in a band now, writing songs, so maybe I'll get more involved with him over the years. I don't know. We shall see.


See also: review of the album Battering Ram
Related links:

www.saxon747.com
www.facebook.com/saxon