Interview conducted August 06 2015
Interview published September 22 2015
When beloved heavy metallers Saxon returned to Getaway Rock in Sweden this summer, Metal Covenant arranged a meeting with the band's charismatic frontman, Biff Byford. Winding down with a well-deserved glass of wine after another successful gig with a storming response from the audience, the Englishman was in a merry mood. As both Biff and I wanted to watch Status Quo's performance, we kept it relatively short but an enjoyable chat was had.

Mozzy: You played quite early (at 17.30) today; you sounded a bit bothered by that.
Biff: No, it was good, the crowd was great. I was winding the promoter up (laughs).
Mozzy: But it was earlier than usual for Saxon.
Biff: Well, we play at all times really. I was just winding the people up.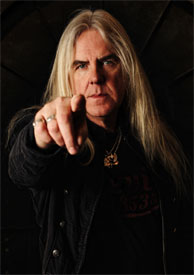 Mozzy: It was another quality gig. People often call Saxon one of the most reliable live bands.
Biff: Well, we are live - just like Quo (Status Quo, performing during our interview so we can hear them through an open window.). There's no click track of reinforcements with Saxon; what you get is that every show is different.
Mozzy: The band work very hard onstage as well of course. I think it would take a serious technical problem or something for a Saxon show to be bad.
Biff: Yeah, I think so. And the crowds are really with us, you know. They love us. Tonight it took just two or three songs and then it was great.
Mozzy: Yes, from Power And The Glory and onwards, I think.
Biff: Yeah, I think so.
Mozzy: And your voice is always impressive, it never fades.
Biff: Yeah it was very good today, my voice. It was fading a little bit after my scream in Heavy Metal Thunder, but it was good.
Mozzy: You have a new album coming out. I saw the video for the title track, and that track was a bit more muscular, a bit more metal.
Biff: Well yeah, but it's still melodic. It's more into our heavier side like Heavy Metal Thunder or 20000 Feet. It is Saxon, but the album is more focused. But yeah, maybe a bit more rock and metal. But I think it's very catchy though, so in that respect it's maybe a bit more rock ´n´roll as well, you know.
Mozzy: Do you try to change the sound just a bit with each album, compared to the last one?
Biff: We don't like to be predictable. We like to move not too far away but still not be predictable. Just a bit dangerous, you know.
Mozzy: The last couple of albums have been really strong. You are one of the old bands that still produce great albums.
Biff: Yeah, we do. We do work hard at it as well.
Mozzy: In today's business, you must tour more because of income and so on.
Biff: Yeah. And we're more popular now than we were ten years ago, so we do tour a lot. Plus we get offered a lot of shows.
Mozzy: Do you enjoy it? And is it hard sometimes as well?
Biff: Yeah it's good fun. We had fun today, the crowd was great and the sun was shining, it wasn't fucking raining (smiles).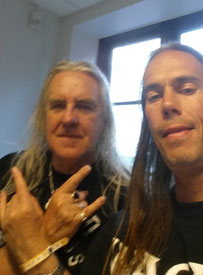 Mozzy: What about being away from family and those things?
Biff: Well, festivals are not too bad. When you're doing a long tour, it's crap. I just had three days at home; we did two shows in Sweden last week and then I went home for three days. Tomorrow we're headlining in Oulu, Finland (at the Jalometalli festival) and then we're going to Germany the next day.
Mozzy: I come from Northen Sweden, and in 1999 you played up in Sundsvall. Your bus skidded off the road then, do you remember that?
Biff: Right! It nearly crashed, that's right. We were very lucky actually, because it was very steep.
Mozzy: We saw a bus on the side of the road on our way to the gig, and it was actually your bus!
Biff: Yeah. We played the gig though.
Mozzy: Yes, I remember it well, a great night. But in those days, metal was not really as popular.
Biff: Well, we were keeping the flag flying.
Mozzy: Yeah, you certainly were.
Biff: Us and Maiden and a few other people, through the bad times.
Mozzy: Were you confident that things would turn around, like they did?
Biff: I think so. We kept playing and writing great songs and hung on.
Mozzy: Another scary thing happened recently, with Nigel (Glockler, drums, who had to have brain surgery). That must have been frightening.
Biff: Yeah it was quite frightening. More for him, obviously. He has come back really strong though, his drumming is great.
Mozzy: Does something like that make you reflect on your own health?
Biff: You always look at your own mortality when close friends or family die or are sick. It's natural.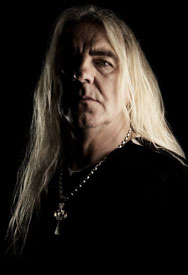 Mozzy: You released an album with The Scintilla Project, was that fun?
Biff: Yeah, it was great fun! I just got to sing on that and concentrate on performing on the album. I didn't really write any songs although I changed some lyrics here and there. Mostly, it was all written so I just changed a few things. I really liked it, yeah, and people who have heard the album liked it. It's more prog, the newer prog obviously.
Mozzy: Is this something you wanted to do before as well; do a side project?
Biff: I don't do a lot of projects, but I liked that one. And my friend (Lionel Hicks) was the drummer.
Mozzy: To go back to touring, you have obviously been around the world to loads of different places, but are there some territories you haven't been to and would like to go to?
Biff: We've never been to China. And we haven't been to New Zealand, or India yet.
Mozzy: India is huge for metal it seems.
Biff: Yeah, we have been asked but it has never really worked out.
Mozzy: So there are still territories to conquer, then.
Biff: Yeah, we would like to conquer them (smiles).
Mozzy: I think that's pretty much all I had. I guess you're busy as well, are you leaving Sweden tonight?
Biff: Ok, cool! No we're leaving tomorrow morning, early. It's is the same thing; we have to go to bed, or stay up drinking. You either stay up drinking or you go to bed, there's no in between (laughs).
Mozzy: (laughs). Thank you very much!
Biff: Thank you!

See also: review of the gig the same day
Related links:
www.saxon747.com
www.facebook.com/saxon