Interview conducted November 08 2014
Interview published November 29 2014
Usually lead vocalist Biff Byford answer most questions about Saxon, because he undisputedly is the band's main man. To get a different perspective of things surrounding the veteran band, Metal Covenant therefore took the opportunity to instead have a chat with bass player Nibbs Carter, a couple of hours before Saxon's gig in Stockholm, Sweden.

Tobbe: You're considerably younger than the rest of the guys. In all honesty, when you first joined the band, what were your thoughts back then, joining a band with guys like 20 years older than you?
Nibbs: I was always, well, from about the age of 14 I was a Saxon fan. I'm born in 1966, so from around the age of 14. In my secondary school, we used to have a school disco quite often and a few of my friends used to bring AC/DC, Ozzy Osbourne and Motörhead to the disco and it got me into the sound of like the loud guitars and then on the radio I began to hear 747 by Saxon. So the first two real songs that got me interested in, for me, heavy metal was 747 by Saxon and Whole Lotta Rosie by AC/DC, live from If You Want Blood. So I went and bought those two vinyl singles and that was the beginning of me to buy music by Saxon and I was also beginning to play bass guitar at that time.

As I got better with bass guitar, I got an offer to play with a band that was based in the studio. I was beginning to do a little job, working for kitchen, bathroom, plumbing, gas, water and I was just put mainly in the warehouse and I would help a little bit with installation. But after a year, I got this offer to be with the band and I would just basically not go to work and I would stay at the studio and then they called me and said "You better stay at the studio. You don't need us anymore.". So I did. I used to just live at the studio. No money, no food. Very minimum food.
Tobbe: Tough times.
Nibbs: Yeah, it was tough, but we were in a studio, so for someone who's listening to music all the time and thinking about sound all the time, to be based in a music studio is the ideal place to be, so you don't think about anything else but playing and recording and just checking out different sounds. And Saxon used to use that studio. They used to use it for demo and rehearsal, so they came through the studio a few times and I met them, so that was a big deal for me 'cause I was a fan. I hadn't even been listening to Saxon for about 3 years and they were coming to the studio where I was hanging out.

Then I got an opportunity to work with them in the studio and Biff [Byford, vocals] said to me, you know "You did a great job and we're gonna make a new record soon. Would you like to record with us on the record?" and of course I said "Yes, please.". But it was funny, because they were being really friendly and not making me feel nervous. They made me feel comfortable and because it was also like a professional introduction, it made it feel not so much like a fanboy joins big rock band, you know. But it does feel like that and you can't turn that off. I'm not a robot, completely. So every now and then I would think "Wow, this is Saxon. This is crazy.".

Oh yeah, that's right. I can remember my first shows with Saxon. You know, you're suddenly in a big band. You go on stage, you play and I can remember, to me, it just felt like being back at school, with school disco, playing air guitar, but with a real guitar and that just felt the most natural thing in the world and still feels the same now and I enjoyed it from the first second and it didn't feel like I had to really try very hard to fit in. They made me feel very welcome and we got a good relationship. There is an age difference, but even though we've grown up listening to different kinds of music, we meet very well in the middle and we write really well together. It's like professional respect, in both ways, but I also have big respect for a band that's been successful and still try to keep that spirit alive and it's great to be part of it.
Tobbe: You know, you remember that Saxon struggled a little, like every other metal band, through the mid 90's, so did you ever regret your decision, just a little bit, to join the band?
Nibbs: No, I can't say that I regretted it, but it was difficult times. If you decide that you're gonna stay with your original intention, classic metal, and not try to change, just to go with the trend, then it's gonna be difficult. And it was difficult, but it depended where we went. If we went to South America to do a few shows at that time, nothing had changed. You know, the crowds were still as happy to come and see Saxon. But in North America and in Europe there was a big, big change and you just had to say "Okay, it's like a hurricane. We wanna survive, so we're just gonna stay where we are and we're just gonna stay how the people know us and we're just gonna keep trying.".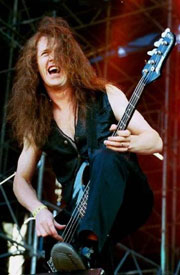 Tobbe: Then you were back with a vengeance like 5-7 years later.
Nibbs: Yeah, with the mid 90's to the end of the 90's, we were already changing our approach. We began to play a lot more festivals and that showed us that crowds appreciate traditional Saxon and also some of the heavier riffs. You know, more like darker, heavier riffs like [Black] Sabbath style riffs or something like that. They liked this direction that we tried with a few times on records like Dogs Of War and Unleash The Beast, so then we tried making it a little bit more in that direction. Keep it melodic, but just add a little bit more bigger boots.

We found ourselves playing festivals and we could see that this thrashier, heavier and darker element of the crowd were enjoying the show more than they used to. So we stayed in that stratum or vein and ever since, we've pretty much stayed there and every year it's grown and grown and grown and it gives you confidence with your writing. You feel like you've found yourself again and the people like it, so continue, and that's how it's been for like the last 10-12 years, I would say.
Tobbe: Well, you're still in the top of festival billings, if you look at the posters.
Nibbs: Yeah, we're in there somewhere. We get invited to play festivals and we tend to be more towards the top of the billing in the last 10 years. It's really good.
Tobbe: Are you still considered to be the new guy or has Doug [Scarratt, guitar] inherited that title?
Nibbs: We don't really think of it like that anymore. It's logical, but if you think about it, I've been around since 1988 and Doug's been around since 1995, so you're talking 19 years with Doug and 26 with me.
Tobbe: I mean from the fans' point of view.
Nibbs: From the fans? I don't know. I don't ask that question myself. "Do you think I'm the new boy?", so I don't really know. In the band, I think we really disregarded that angle already quite a few years ago. It has something to do with what you achieve while you're in the band and Dougie and I have been writing with the band now for a long time and we've contributed a lot, so nobody refers to us like "Hey, young boy. Go make me a tea!" or anything like that.
Tobbe: You guys have just released a new DVD again, Warriors Of The Road - The Saxon Chronicles Part II [Released November 7th]. Why was it time to release a sequel?
Nibbs: We were thinking of coinciding with 35 years of the band's career. Some kind of product. It would have been great to release a new studio record at that time. But we didn't plan Sacrifice to be at the time it was, so it just happens that the time between Sacrifice and another record is naturally gonna fall a little bit later. So we thought, after we had to cancel the tour with Motörhead in autumn last year and spring this year, we decided to call the tour Warriors Of The Road and the DVD has the same name, so let's make that our celebration for 2014, 35 years. In that respect it works with the anniversary. There was plenty of material already there, collected over the last few years, to automatically have a DVD, that just needed to be compiled, edited and put together and there's plenty of material in there, for people to see what's been going on in the last 10-15 years.
Tobbe: In that video, you mention something about drinking less. Has your plan worked out?
Nibbs: It's really good. We did a show last year. We were playing on a ship that goes from Stockholm to Finland and we had a great show. It's strange, because even when you get drunk and you fall asleep or something, you can remember a lot of details. Some people can, some people can't, but I remember that night quite well. I'd been having quite a few problems with my family at home. Without being too specific, there's been ill health in my family and basically I guess I was quite tired. I got drunk and fell asleep and was more tired than I thought and they couldn't find me on the ship, so that was pretty scary for them.

But we got together in Germany and played a show that night and I said to the guys "It was a stupid mistake, to make you feel scared, and when we're on the road together as Saxon, I'll show you that I don't need to be drunk all the time.". That was a year ago and it's been really good, you know. I don't think it's affected the way that I write music or anything. I've always been heavily involved with composing with the band and this year's been just a particularly good year for me with composing. Biff invited me to his place in January and said that we need to get writing for the next record. I had already been writing. As soon as we canceled the Motörhead shows, I thought "What am I gonna do?", so I started writing immediately for an expected new Saxon record.

You know, people enjoyed the last one and if you've got your shit together, then you usually use that success, like riding on the wave. I was making sure that I got my ideas already into shape. And Biff invited me over and he was already "Wow, this is good. You've got a good start.". So I was at his place in January, February and April. As far as the writing goes, nothing's really changed that way, but I think it affects the way that you respect each other as people as well when one bandmember says "Okay, I've been drinking too much, but I'll cut it out. I drink maybe when I'm at home, with family, with friends. Just so you don't have to feel nervous about one bandmember being sick or disappearing or something crazy.".
Tobbe: It's takes some guts to say that too.
Nibbs: Yeah, but we're family people, you know. In the end you gotta show people around yourself, you gotta show family and your friends that "Okay. I made a mistake. I was tired and I've got problems here and there in my life.". It doesn't mean that you got to continue drinking and hurt yourself even more. Alcohol is always gonna be a difficult subject, always has been, and probably always will be, so it's just about respect really. You know, I still love to have a beer, but it's more of a family thing nowadays.
Tobbe: So when you have written new songs now, is there gonna be any experimental shit or is it like straight in the Saxon vein?
Nibbs: Personally when I write for Saxon, I take the first thing that comes in my mind when I wake up, and then I begin playing with guitar, and then I add some drums, and then I fool around with that for an hour or two, and I let it take its own natural way, and if it starts to sound traditional style, then I just go completely with the traditional style. If I listen to it and it sounds a little bit more progressive, then I think "Okay. Now I should allow myself to be more experimental with this idea.". I got, say x amount of traditional style Saxon ideas and then I have like a library of something that's not so traditional. I keep that for myself or that's also for Saxon when they want to write something that's a little bit different.

If you think of a record like Unleash The Beast, it's got experimental stuff on there. I mean, experimental, it's just a different way of arranging like a heavy metal song and I think we should allow ourselves to freedom. You know, don't restrict ourselves, feel free, don't go too far away from what people expect. This is the secret. Give them what they want, but show them that you've also got something else in your armory. Biff likes that. You know, when I get together and write with him, he'll say "That's crazy what you did there. I didn't expect the song to go in that direction, but I like it.". Then we'll break it down and then build it back up again and see if we can keep it in Saxon or if it needs to be used for something else. He was talking about doing some kind of side project on his own and I wanna do something on my own. I've got so much stuff that one day I'll just compile something of my own. It makes sense, there's so much material there. He would like to do that kind of thing as well.

I guess the next record is gonna be pretty much like the last ones. I would say "Expect the same kind of stuff that you've been hearing on the last couple of records.". It has something to do with confidence, you know. We're feeling confident about ourselves and the press and the public have shown us that they're happy with our progression, and that kind of allows you to be a little bit experimental, so maybe we could be a little bit less predictable with the next record. Who knows? But we're doing really well and we've got plenty of material already, but it has something to do with timing as well. We've got a tour right now and I would think that we're probably be going to America in spring. Maybe Japan. So if you wanna please your fans as well, then you wanna concentrate on some touring and then get back to concentrate on recording.
Tobbe: So when can we expect to see the new record?
Nibbs: I would say it will probably be in autumn of next year.
Tobbe: That's almost a year.
Nibbs: Yeah, but we didn't begin recording yet. I would say that we'll probably begin recording in January and then realistically you're talking about this time next year.
Tobbe: Are the other guys hard to work with sometimes or do you just get along all the time?
Nibbs: Well, it would be boring if we got along with each other... In the respect of music, do you mean?
Tobbe: In the studio, I guess. Like if you have an idea or something.
Nibbs: In the studio you have to be a little bit like a parent. You have to say "Nibbs. I think you're playing great there, but that's a little bit lazy. Go to bed earlier! Wake up a little bit earlier! Practice a little bit, Nibbs!". But that's what it's all about. That's the team. You just gotta tell each other how it is. You know, we've been around with each other for a long time and we know we're not joking when we say these things. We're funny with each other and we're straight with each other. It's not just in the studio. It's in all directions of the band and that's family basically.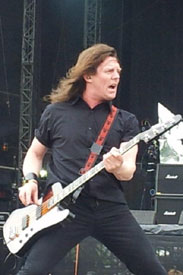 Tobbe: You have a huge amount of experience too.
Nibbs: Yeah, we're lucky to be still in the game. To still be able to play on the level of, you know, current, like action, and not just seen to be like a celebration or a heritage. You know, some people like to categorize what kind of band you are. We are a heritage, you know. We have been around that long that basically you are and people see you for that kind of thing, but also, we got new fans with every record, so, you know, we're kind of current.
Tobbe: Saxon is well known in the metal community for its explosive gigs and you're actually named a great live act. So where do the energy and the chemistry come from on stage?
Nibbs: I think the band has always enjoyed trying to be exciting, not just with lights or sound, but it's an attitude. It's like almost a little bit hyperactive, but it doesn't always translate into a fast song. We just wanna show the people that it should feel exciting and it shouldn't just be played because we know it. Each time you play something, it should feel like it's possibly the last time you're gonna play it. If you play for a crowd, it needs to be performed in such a way that the crowd really see that you mean what you play. I believe that we have the confidence to do that without fear and that also comes from the experience, being around so long, and looking down into the crowd seeing new faces, young people, as well as our fans that have been around for 35 years. We're seeing people in the crowd that have never been there before and they dress like they believe in like this heavy new wave of British heavy metal movement from 35 years ago. It is great to see and it shows you that you get something right and it can stay. It doesn't have to change.
Tobbe: Why does Saxon have its career longevity, do you think?
Nibbs: Well first, you know, Biff is such a strong character that he's just got in himself to continue as long as he's able to. It comes again with this confidence, when you make one record after the other and it seems to have a tendency to improve and impress each time. It just boosts your confidence. Like you said, in the mid 90's, it was difficult to show this character or confidence, but we continued through that and in the beginning of the new millennium we began to get recognition and it builds you a faith in what you're doing. And so like the last 14, 15 years, that's basically the medicine. You know, we made our own medicine and it's confidence and faith. We've really pushed ourselves into this like, I don't know, it's like rock fitness.
Tobbe: Do you guys ever think about slowing down a little? You're still intense with touring and recording.
Nibbs: Yeah, we think about slowing down a lot, but I don't know why, because we never do. We do think about it and it's good to think about slowing down, because then you realize that it's not worth it.

See also: review of the gig the same night
Related links:

www.saxon747.com
www.facebook.com/saxon