Interview conducted May 07 2012
Interview published May 30 2012
Sacred Oath are currently working on new material with their original line-up from over 25 years ago, but until that album is released next year, Oathbangers will want to pick up 'Spells And Incantations: The Best Of Sacred Oath' due out in May.
As is my honour and privilege, I was graced with the talent of Rob Thorne (Rob Volpintesta) vocalist and guitarist extraordinaire. As our two powers became entwined in the arc of the coveted conversation another crystal revision was elucidated and acknowledged, making the darkness more visible.
So come heed the message for the mettle children of the light and all who swear by the Sacred Oath.

MettleAngel: Hey Rob, it is so great to touch base with you again, and discuss your new 'Spells And Incantations: The Best Of Sacred Oath' release. I have included an excerpt of the press release for this interview: "Sacred Oath - the American power metal pioneers who made their debut back in 1987 on Mercenary Records - will release a 'Best Of' compilation album celebrating their 25-year history exclusively with iTunes May 15th. The CD digipak will be made available worldwide on their Angel Thorne Music Label through Super D distribution two weeks later on May 29th. Sacred Oath is also selling a limited number of signed copies directly through their websites".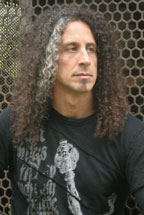 MettleAngel: I was very surprised with the song selections for the collection. I noticed that you favoured 'Darkness Visible', and leaned more on the newer material, rather than provide more cuts from 'A Crystal Vision' ('Crystal Re-Vision').
MettleAngel: I can understand why you chose to do this as the newer material is far superior. What went into the selection process for picking the tracks? Did you converse with older as well as newer members, or was it perhaps fan generated?
Rob: I will tell you, it was a combination of conversations with the newer members of the band and reviewing the download statistics. We must have picked 20 songs for the track list, but there was no way they were all going to fit onto one disc.
MettleAngel: I can only imagine...
Rob: Then we took a long hard look at what the popular single downloads were, and of course "Counting Zeros", "Two Powers", "Words Upon The Stone", they were all there. But surprisingly, so were "Calm Before The Storm" and "Death Is Inevitable".
MettleAngel: Wow, "Calm Before the Storm" was a popular choice?
Rob: Yes it was! I spent a couple weeks messing around with track flow, and slowly eliminated tracks one by one until we got it under 80 minutes. It was difficult letting go of certain tracks that deserved to be included, but what can you do? We could not make it a double album. That was out of the question. I would say we are all pretty content with where it ended up, overall.
MettleAngel: I was quite surprised, however, to realize that you did not include the amazing song "Sacred Oath". I guess that just did not make the cut! What is your favourite Sacred Oath release to date?
Rob: Man, that is a tough one. Usually my favourite is the newest one released, but it has already been a year and a half since 'World On Fire' came out, and that gives me enough distance to think objectively. Probably the 'Self-Titled' is my favourite. I like the variety of songs on that record - some of the new directions we pushed in - and sonically I am always pleased when I hear it.
MettleAngel: That is my favourite Sacred Oath release, as well, especially the digipak version with the exclusive track listing. I have, unfortunately, never seen the band live but are the songs from the new compilation the ones which are most commonly represented in a live setting? If not what "Hits" do you always play?
Rob: Most of them are on our standard set list material, but some we never do, like "Calm Before The Storm" and "World On Fire."
MettleAngel: You never play "World On Fire" live, now that does surprise me! I think it is awesome that you included two new tracks on the new 'Best Of'. I was amazed how crushing and brutal the song "Posers Must Die" is. What inspired this song? Are you doing all the harsh vocals? I have to admit when I first opened the CD, and saw the song title, I briefly wondered if you had perhaps chosen to cover the song by Thrust from Chicago.
Rob: Ha! No, that is not me singing "Posers Must Die". Pete Altieri, our original bass player, sings on that one. He has sung a few songs on Sacred Oath records, namely: "Shadow Out Of Time", "The Invocation", and parts on "Darkness Visible," so it is nothing new for him to be out front on that one.
MettleAngel: Oh, I did not even realize he was back with the band.
Rob: I will get to that "news" in a moment. Pete tends to gravitate toward the more brutal thrash numbers. His voice has that kind of energy. I felt it was important for that side of the band's sound to be represented in this collection, and having it as a bonus recording of a live anthem like "Posers" will mean a lot to the old Oathbangers from back in the day.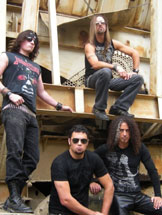 MettleAngel: Oh I agree!
MettleAngel: I am not exactly sure, but I do know the song by Thrust very well, ever since I heard it on "Metal Shop" in 1984. Speaking of covers, the band has not ever included one on any of your CD releases. If you were to pick one or two to perform, what would be your choice? Do you ever do any covers live?
Rob: Well, in the early days we used to cover a lot of bands just to fill up our set list when we did not have enough material. Mercyful Fate's "Nuns Have No Fun" was a good one for us to play. "Wake Up Dead" always went over really well too. Also we probably did three or four Metallica songs, like "Whiplash" and "Damage Inc".
MettleAngel: Man, I would love to hear you do a Mercyful Fate cover, perhaps even "The Oath" or 'Dangerous Meeting".
Rob: If we were to ever record a cover, I would want to do a Mercyful Fate song for sure. I would select something off the first two albums. We have not done any covers in years though. Generally, our sets are not that long, maybe 90 minutes if we are lucky, and usually 45 minutes, so it is a challenge just to squeeze in the Sacred Oath songs our fans want to hear.
MettleAngel: Well, maybe on your next album you can record a Mercyful Fate cover. Your vocals are most befitting to attempt this. I have always been a fan of your amazing vocal range, what do you do to keep your voice in good working order? Do you ever have difficulty reaching those high octaves?
Rob: I will tell you, it is all about rest. I never have trouble with my high range, but sometimes I struggle with my mid and low range if I have been teaching a ton of music lessons because I am just talking and singing so damn much.
MettleAngel: So the secret is to rest your mind, body, and of course, your precious voice?
Rob: I typically teach around nine private students every day, and sometimes I am just plain tired out (vocally and physically). The last few years have been particularly challenging with babies in the house. I have got three kids, and you know how that goes.
MettleAngel: Yes I do, even though I only have just the one, but with him being autistic, that is challenging enough.
Rob: With all these young children I struggle to get adequate sleep in my room at night. It can catch up with you. So when we have shows coming up I make an effort to keep my schedule a little more under control, otherwise, I am a pretty healthy guy and it has not been terribly difficult to stay in shape.
MettleAngel: Have you ever been approached by other labels like say Pure Steel to license Sacred Oath material, perhaps pressing it on vinyl?
Rob: Oh sure. In fact, Metalizer Records (Germany) is pressing the entire Sacred Oath catalog on vinyl this year. They already put 'World On Fire' out, and they did a real nice job with it. I am sure the rest will be great. That makes me happy, because I collect vinyl.
MettleAngel: That is reassuring. I would love to track down those vinyl pressings, as well. Tell me a bit about your own label on which you have released most of the Sacred Oath material. How did you get this started, and what do you do to keep it vibrant?
Rob: I started Angel Thorne in 1994 so that I would have a vehicle for the music I was recording at the time, which was a lot of progressive music. The internet was just beginning to take shape and I could see that eventually labels were going to become less necessary, so I poured myself into creating my own label for my own music.
MettleAngel: It seems like all that hard work and effort has truly paid off for you in the long run.
Rob: It took years and a lot of trial and error to get where I am now, which is not exactly huge, but I am glad I have it. It has allowed me to focus on MY creative direction, without apology.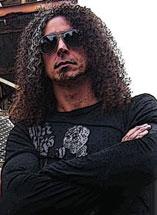 MettleAngel: I respect that you are your own boss, and your own worst critic. A few years ago you sent me a promo CD of your other progressive band called Soundscape. The album I have is called 'Grave New World'. Have you recorded another album with them recently, or is Sacred Oath now your main priority?
Rob: Sacred Oath is really all I have time for these days. Soundscape is a great, great band. There is just so much talent there, but what an uphill struggle to get anyone to pay attention to what we were doing. It was extremely frustrating and discouraging to have something so special with Soundscape and yet see it just wither and die.
MettleAngel: How disheartening! I really like the album, and I am not a huge advocate of Progressive Metal; although Steel Assassin does a killer cover of "Red Sector A" on their new CD - 'WWII: Metal Of Honor'.
Rob: With Soundscape we made two albums, and they are two of the best recordings I have ever done, but most people will never even hear them. It is a shame, really.
MettleAngel: Well, maybe after reading this interview a fellow Oathbanger may want to check them out?
Rob: It does make me grateful for the modest success Sacred Oath has been able to scratch out though. As an artist, I need to know that someone out there wants to hear what I have to say. God bless the Oathbangers.
MettleAngel: Amen! Rob, you are a very talented musician, but what is your favourite instrument to play? I know you also do all the recording in your studio for your band. Have you ever considered signing any other fledgling acts to your label, and producing them?
Rob: I do love the guitar, and I love to acquire guitars too. I am proud of my collection, and I am fortunate that I get to play guitar all day long while I am teaching.
MettleAngel: I assumed that your students were vocal advocates, but now I realize that you teach guitar, as well.
Rob: Yes, I love to teach, but on the other hand, when it comes to engineering I am not that fond. It is something I do mostly because I want to make sure my vision of a song materializes and does not wind up as something with which I am not altogether happy.
MettleAngel: I can understand that...
Rob: I started engineering so that I could produce my own albums. I am not all that interested in producing other people's albums, and when I do get that itch, it is usually a Jazz or Pop album, if you can believe it.
MettleAngel: Sure I can, as we never want to pigeonhole ourselves or our talents.
Rob: I like the freedom to be creative in a different genre like that, as an engineer / producer. It recharges my batteries for making Sacred Oath albums. At one time, many years ago, I considered signing other acts to Angel Thorne, but it is too much work that I am not really interested in doing.
MettleAngel: Fair enough. I missed you when you performed at "Ragnarokkr" last year, and unfortunately, I will not be able to go this year to see so many great acts like Wizard, Virgin Steele, Blacksmith, Brocas Helm, etc. What other festivals are you playing this year?
Rob: We do not have any plans to perform live this year, at all. That is not to say it will not happen, we just do not have any plans, right now.
MettleAngel: Wow, I thought for sure you would be playing some Euro Festivals, at least.
Rob: Right now we are focused primarily on recording a brand new album with the four original members that recorded the debut album 25 years ago. The song writing is going very well and I am excited about it, so that is where my energy is right now.
MettleAngel: Well that explains that to which you alluded earlier. Maybe then next year after you release the new album you can consider playing a US festival like "Warriors Of Metal" who this year will feature Manilla Road, and my friends in Exxplorer, Helstar, and Benedictum.
Rob: If the stars align we would love to play "Warriors of Metal" in the future. It sounds like a good festival. "Ragnarokkr" was certainly fun for us to participate. Most of all, it was great to get on stage with Pete Altieri again after more than 20 years!
MettleAngel: I can only imagine! What is the current line-up of the band as it stands to this day? It is still the same members who played on 'World On Fire'? Is this the line-up who recorded the two new songs for 'The Best Of Sacred Oath?
Rob: It is a bit complicated. Yes, the 'World On Fire' line-up is intact and available to play shows, but as I mentioned, I am in the studio with the line-up that recorded 'A Crystal Vision' making a new album. However, I do not expect that line-up will tour.
MettleAngel: Was not "Wings Of Salvation" previously released as an exclusive download last year as a benefit for something? If so, please elucidate more on this point.
Rob: "Wings Of Salvation" was included on a limited German release of the self-titled album, so you got me there. It has been unavailable in the US until now. "Posers" was recorded by the current line-up during the "World On Fire" sessions.
MettleAngel: Well that clarifies things a bit. Is there anything else that you would like to add? I am looking forward to viewing your retrospective video for "Blood Storm" at YouTube.
Rob: Michael, it is always great speaking with you. Thank you for your support, and keep an ear out for 'Fallen' - new Sacred Oath coming in 2013!!
MettleAngel: Well if we are all here, and the world is not on fire, then I swear by the Sacred Oath that I will prepare and embrace the 'Fallen'!
Related links:

www.sacredoath.net
www.myspace.com/sacredoath
www.facebook.com/sacredoathofficial