Interview conducted October 14 2010
Interview published October 27 2010
After only a year, you can count on your heroes Sacred Oath to deliver another high and mighty album of pure magick songs. Their new album 'World On Fire' is due out November 9th. Their last self titled effort to me was a masterpiece, and one of my favourite releases of 2009. The new album which deals conceptually with Frank Herbert's novel Dune is also equally exceptional.
The two powers who keep this mettle spirit alive are Rob Thorne and Kenny Evans. Since I conversed with Rob last year, I opted to speak with Kenny this time around. Come heed the battle cry, embrace the prophecy, join us on the front line, and be prepared to meet your maker.

MettleAngel: Hello Man, I want to congratulate you on another awesome album. I so loved the self-titled last year, that I was surprised to see you hammer out such a killer new album, so quickly.
MettleAngel: I should say so! The last album was excellent. Even the bonus tracks on the digipak were awesome. The new album is no exception. I am amazed how talented the band is. You are right up there with Aska, Cage, Twisted Tower Dire, Wiszdomstone, and their ilk.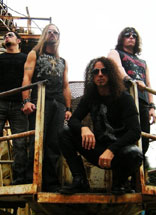 MettleAngel: Do you think it is better than the self-titled? That is a stellar album to rival.
Kenny: Oh definitely! We really busted our asses on this one. We worked hard in the studio. Rob especially gave it his all. He worked so effortlessly to secure that everything sounded just right, achieving the proper tone, focusing diligently on the instrumentation, and the vocal parts.
MettleAngel: Rob is an extremely busy man, and a perfectionist. He also released a new Soundscape album last year. I honestly do not know where he finds the time. I guess he seldom sleeps.
Kenny: Yeah, this may be true. he is always in the studio. He pretty much had the whole album in his head, and wrote most of it himself, with the exception of a few songs. Once he got started, the album pretty much wrote itself. He felt so inspired. Now he likes to just step back and really listen to it.
MettleAngel: I am glad that he can take the time to appreciate all his arduous effort. I understand that the album is a concept based on Dune? Is it your noble attempt to make a whole album in the vein of "To Tame A Land"?
Kenny: For the most part, obviously Maiden is always an influence. The song "When The War Is Over" is a tad more political, and not altogether in the Dune concept. Basically, we used the Dune as a springboard for the lyrical stance. Rob wanted to address many of the world issues through this storyline, but not get too deep into it.
MettleAngel: Clearly an excellent track like "Sandrider" and the wicked opener "Sweet Agony" deal with the Dune themes.
Kenny: Yes, but the subject matter overall, if you read between the lines, addresses the important world issues.
MettleAngel: I do not have the lyrics, as of yet, but I have been playing my burn of the digital promo I received. I understand that you are working with iTunes again to secure a
special promotional release.
Kenny: Yes, iTunes has been so supportive of the band, and we will have the album exclusively available from them for Oathbangers on October 26th. The digital version will include the whole PDF bundle with everything pertinent like the lyrics, artwork, etc.
MettleAngel: That is excellent! I know that iTunes was a real boost for the self titled last year.
Kenny: Yes, we are so grateful. this is another reason why Rob wanted to create such an remarkable record. The maestro strove to make it more pronounced, and crisp, if you get my meaning. We have a new bass player, and you can definitely hear the gallops going on, all throughout.
MettleAngel: I guess to a certain extent the last album did have a slight proggy feel, but it clearly was not in the least bit self-indulgent. Even Rob's band Soundscape never gets boring. The songs were longer and more enduring, but epics like your video for "Counting Zeros" are so catchy and fun to hear. This time I do agree that there is a bit more speed and uptempo consistency, like the music found on 'Darkness Visible'.
MettleAngel: Tell me about your new bass player Brendan Kelleher who replaced Scott Waite.
Kenny: It is like you suggested, the last album was more progressive, because that was Scott's style. There were also some modern elements present. With Brendan there is much more of an '80s Power Metal vibe, like the early Mercyful Fate material. The album is also more layered.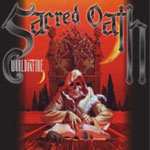 MettleAngel: Rob does have a very unique voice, and unlike Warrell Dane with Nevermore and Sanctuary, or Russ Anderson from Forbidden, he can still hit those high notes. I never compared him to King Diamond though.
Kenny: This band is heavily influenced by Mercyful Fate. We have covered songs like "Evil", and I would love to attempt "Satan's Fall", as well.
MettleAngel: Hmnnn, I never made the connection with the name of the band, obviously a reference to 'Don't Break The Oath', I assume.
MettleAngel: That is funny, because my wife and I went to a Renaissance Festival on October 10th, after having seen the Accept reunion on October 8th in Cleveland.
MettleAngel: They were amazing. I love their new album. They played a few new songs. I was just grateful to hear "Monsterman" from my favourite Accept release 'Russian Roulette'.
MettleAngel: You should, and you will not be disappointed. I am sure you are familiar with TT Quick?
MettleAngel: Anyway, at the Renn Fest we renewed our wedding vows, because we are celebrating our 10th anniversary. It was really bizarre, because the date was 10/10/10. After we recited our vows from a 16th Century Marriage Tome, I told my wife that we are swearing a Sacred Oath. Then the jeweler placed ten small rings on my eye ring.
MettleAngel: My point was that up until now, I never equivocated Sacred Oath, with Mercyful Fate, but now I finally see the connection. I must also comment on the top notch quality of the production values. I assume Rob does everything himself, and examines all aspects down to the last detail.
MettleAngel: How did you get into being a Traditional Metal drummer?
MettleAngel: Wow, that is cool!
Kenny: It was right around 1980 when all those great albums by Priest, AC/DC, Sabbath, etc. came out that I knew I wanted to be a drummer in a Metal band. The '90s were a tough time for us all, but we stuck to what we love, and now Sacred Oath is better than we ever were.
MettleAngel: I agree with that. Maybe you can audition for Michael Portnoy's empty seat in Dream Theater?
MettleAngel: I know Majesty and Dream Theater were his bands! Did you know that the band Firewind will also be releasing a new album called 'Days Of Defiance' in a few weeks?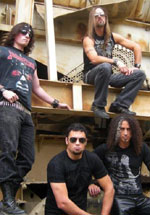 MettleAngel: The reason I say this is because their new single and video is called "World On Fire". Trust me, the Sacred Oath song is way better! I really like Firewind, and am curious to hear the whole album. It is just that whenever I am playing your new CD, Rob's vocals really stand out on this track. This is also when I realize that the album is over, and I need to play it again.
MettleAngel: That is so cool you remember getting into music at such a young age. Our son is seven. We took him to Maiden when he was only four. He loves to go to shows. We just took him to see Gwar on Tuesday. He loved being splattered in blood, and meeting the bands. He has met several famous musicians, and amassed quite an excellent drumstick collection himself. Who knows maybe he will also be a drummer for a great Metal band.
MettleAngel: He is a good kid. Thank You Kenny for taking the time to talk all about the new album. Please share my blessings with the rest of the band. I will promote you in any matter of which I am capable. I know you have played "Keep It True" which is where you recorded the live album 'Til Death Do us Part' in 2008. I will suggest to the promoters of "Warriors Of Metal" that they put you on there as well.
MettleAngel: Actually it is in Ohio, and this year we had Omen, Cage, and Aska, so it would be right up your alley. The word of mouth is spreading, and it is an awesome time.
MettleAngel: Alright Brother, I wish you all the best. Congratulations again on another excellent album, and over 25 solid years of sweet oath banging revisionistic mettle prophecy!
Related links:

www.sacredoath.net
www.myspace.com/sacredoath