Interview conducted March 26 2009
Interview published March 31 2009
Sacred Oath represents the blessed sacrament of choice, balancing between darkness and light. In life, one embraces the Crystal Vision, while enduring the Sacred Dawn. Once darkness is made visible, all good things are brought into the light. Two power mettle minds joined over the phone - myself - and guitarist/vocalist - Rob Thorne. We focused on the forthcoming new self-titled release by Sacred Oath; while also talking about the new line-up, the enduring qualities of the band, and the future to come.

MettleAngel: Hey there Brother, how are you today? I am so grateful that you created the time to call me. You are the Master of the Sacred Oath.
Rob: I am always honoured to speak with a loyal Oathbanger. After perusing through your E-mails, I can clearly see that that you have been a loyal follower, for many years.
MettleAngel: Yes, definitely, I have all of your releases, except - 'Till Death Do Us Part - Live In Germany CD. That was recorded at the Keep It True Festival in November 2007. I even have my original cassette of Crystal Vision on Mercenary Records. I was very fortunate to find the actual CD of this, a few years later at Camelot Records, for real cheap. It was brand new in a long box of plastic, so you could see the CD.
Rob: I'm very familiar with that. The CD version is very rare. We did not even know it was on CD, because the record company really screwed us over. I found a few copies, as you described, at Tower Records in New York. I instantly bought them up.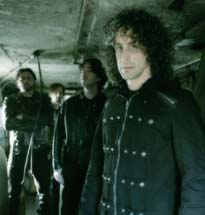 MettleAngel: When Denis Gulbey of Sentinel Steel Records re-issued Crystal Vision on CD, with killer packaging, and bonus tracks, I purchased this version, as well. Actually, I never did find the Meanstreak - Roadkill on CD, just cassette. They were also on Mercenary.
Rob: I don't think that was ever put on CD. Like I said, we did not know our album was available on CD. Mercenary really messed us up. Surprisingly, there also exists an alternate mix of Crystal Vision on cassette, just called - Two Powers. When we went into the studio to record this album, Mercenary was in dire straits, and serious financial failings. We were not aware that when we signed with them, they were on the verge of bankruptcy. Those extreme financial concerns, led to them continually postponing the release date. They provided no financial backing for our limited tour, either. This remixed cassette version is ultra-rare. I have a copy, myself. Since we never possessed the master tapes, we have not released it on CD.
MettleAngel: So, what it with this Crystal Re-vision (Official Bootleg)? I have this, as well.
Rob: Well, that is an interesting story. After we had already all gone our separate ways, most of us living in California; Denis Gulbey tracked me down about putting out Crystal Vision properly for the fans. We were all living apart, with Pete Altieri living in Illinois. All this was way before the internet explosion. This was when Metal was still underground. I guess Denis had heard me sing with American The Beautiful, and Soundscape, and wanted to talk with me about a quality re-issue. He was just getting the Sentinel Steel label established. He really wanted us to be part of his premiere releases.
MettleAngel: Everything Denis put out on his label was high quality. I purchased the majority of those releases. So was it because of those bonus tracks, that inspired you to just release the Crystal Re-vision CD?
Rob: Basically, yes. Once we were in the studio re-recording those songs for Denis, we realized that they sounded good, if not better than the original mix. Bare in mind, we have always known these songs, they are in our blood. Even though we had disbanded, we had not forgotten how to play these songs. Once I established my Angel Thorne Records label, we decided to release these re-recorded cuts for our fan base. Honestly, the bootleg aspect is pure tongue in cheek. It was just a CD-r, after all.
MettleAngel: I'm well aware, and it comes in a sleeve, with different artwork than the Mercenary and Sentinel Steel versions.
Rob: With Sacred Oath, it is a conscious effort to create the best music we can. We always do what we will, at our own pace. Our mainstay drummer - Kenny Evans convinced me to release the re-recordings, because they were damn good.
MettleAngel: My friend actually gave this to me as a Christmas present. I had introduced him to the band, and he surprised me with this version.
MettleAngel: He knew I was a fan, and wanted to award me with something special. I have a few mettle friends who like to do this, which is so damn cool. He bought Darkness Visible before, I was able to get it. I was not floored by this album initially, but now I really celebrate and treasure it. There is such a strong Maiden / Priest vibe, as well as Rush and Metallica. Recently, I just discovered your band - Soundscape - through their My Space. I assumed they would be too progressive for my taste; but, I enjoyed those songs, as well. I can detect a strong John Arch era Fates Warning feel, along with classic Queensrÿche and Rush influences.
MettleAngel: Honestly, I was disappointed overall with Mindcrime II. I respect the sincerity, and honest intent behind American Soldier, but without Mike Stone on guitar, the songs just fall flat. They have devolved back into that Tribe/Q2K sound.
MettleAngel: This is why Sacred Oath are the elite, as far as being True US Classic Power Metal. The new album is awesome! I am so grateful that you sent me the digipak! I've played it with lyrics, and I assert that it is your best work yet. It is such a strong blend of the old, with the new. All the Classic Metal elements are there, with a more updated, mature sound. This new S/T release and new Total Eclipse - Spellcaster - are two of the finest examples of quality metal being distributed.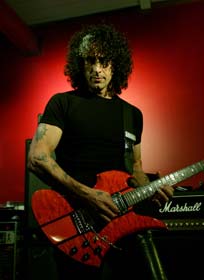 MettleAngel: Thank You! I really mean it, I'm not just patronizing you. There is such a diversity of songs, each with their own characteristic, and infectious flavour. There is an abundance of quality songs, representing a varient of metal styles. One reason for this, is that you have a fresh, new line-up. Your young guitarist - Bill Smith - was a guitar student of yours, correct?
Rob: Yes, and since I taught him to play, he knows how the Sacred Oath structure works. I have known him since he was 13, when he began to take lessons. There were many other guitarists who auditioned for us, but none of them really had the tenacity, or feel of what Bill brings to the band. He just fits, bringing new life into Sacred Oath. I've played with Scott Waite in Soundscape, so we are old friends.
MettleAngel: I'm really impressed with the songs which Bill wrote for the new album. They have a different feel, altogether. A song like - Mistress Of The Setting Sun - demonstrates the progression for this band.
Rob: I agree, as I write the majority of the music, and lyrics, as well as doing all production, and engineering. It is cool to step outside my comfort zone, and give the guys a chance to experiment. Kenny, has also contributed some killer cuts. Rob, also wrote lyrics for those two songs, which is unprecedented. It felt right, and comforting to let go, and give the others some artistic freedom and space to create. As the main songwriter, I just know and feel how a Sacred Oath song should be sung. When Bill wrote his songs, I had to step outside myself and arrive at a place which fit his design.
MettleAngel: My digipak includes 14 songs. There will be ten on the jewel case edition, arranged in a different order. I feel the songs flow well. Your singing is excellent. You still have the falsetto, but not the piercing shrill. Your enunciations fit the reverberations. Already, I have a few new songs playing in my head.
Rob: Well, I know what I sound like, and what Sacred Oath fans expect. You are right, my singing is slightly different on this album, and more polished. I'm a workaholic, so I want to create the best music possible.
MettleAngel: Lyrically, the dualistic "Two Powers" theme remains in tact. The light / dark elements still persist with the subject matter focusing on war, corruption, oppression, and personal choice.
Rob: Yeah, the "Two Powers" aspect is crucial to the band. We have matured over the years, but this struggle between good and evil, will always be a theme in Sacred Oath lyrics.
MettleAngel: I consider myself to be an info maniac, I love to learn about new things. I hunger for the noetic truth. I'm reading this new book on gnostic philosophy, which is awesome, and so illuminating. Organized religion, and dogmatic tradition is pure bunk and B$!
Rob: We always view ourselves as being somewhat, moderately intelligent, and we want our fans to recognize this quality in us, and our music.
MettleAngel: That is why the songs are longer, and more in-depth lyrically and musically. With Sacred Oath, the dualistic nature also pervades in the music. There are slow parts, which then become really fast. I assumed that - What The Dark Will Undo - was going to be a ballad, but then it really picks up, and crushes. I'm grateful that there is finally a song called - Sacred Oath. The song - Caught In The Arc - is killer, too!
MettleAngel: I understand that you are doing a video for - Counting Zeros.
Rob: Yes, we just finished filming this. We are very proud with what we've accomplished. This is also going to be part of the I-Tunes promotional package deal. MTV has called me, and they have agreed to play this video. Did you know that Arc almost did not make it on the album? Go figure, the song we were going to cut, and critics love it!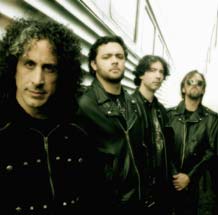 MettleAngel: Yeah, that is strange, but I am grateful you opted to keep it! Tell me more about this I-Tunes promotional deal.
Rob: Dude this is awesome! In the past, I-Tunes has not been too successful with Metal; especially, the smaller, lesser known acts, like us. They chose us to be part of their new campaign to make Metal more accessible. The album will be available for download April 7th. That is five weeks, before the CD is released! Get this, it will only be $5.99, does not that blow your mind!
MettleAngel: That is awesome! I'm telling all my friends and contacts about this.
Rob: It all began last year with the live album. This sold very well at I-Tunes. We were even listed as one of the best Metal bands live along with such icons as Maiden, Priest, Scorpions, Sabbath, Motörhead, etc. I mean, can you believe this? Apparently this guy at I-Tunes is a fan of the band, so he has supported us, going all the way, over and beyond what is expected. I'm confident that this new album will bring us to the forefront of our success, two decades in the making.
MettleAngel: Well, you definitely deserve this!
Rob: There seems to be a strong following among the youth for Sacred Oath, too. At our shows, there are more 12 year olds in attendance, than adults. The kids really love us, and what we are doing. They are drawn to the Halford/Dio type vocals; even though it seems like here in America, everyone is into Death Metal. Bands like Unearth and Lamb Of God are excellent musicians, but those harsh vocals just don't appeal to me.
MettleAngel: I can identify with that, we are both stuck in the '80s.
MettleAngel: That is so cool to hear. I'd love to see Sacred Oath sold in Hot Topic.
MettleAngel: I love the manner in which you sing. I like my vocals clear, and my music melodic and memorable. Those very hair bands I dismissed in the '80's as being too glam, like Whitesnake, Def Leppard, Europe, or TNT, I now enjoy more than the newer successful American acts. Have you seen the line-up for Rocklahoma with Twisted Sister, Icon, and Keel?
Rob: Sacred Oath have always been true to their metal. I will always sing clean, and melodic. Being true means that we are true to our hearts, and what we believe. Over the years, I've sacrificed everything for this band. Hell, I spent 325 hours just recording the new album. This in addition to teaching, running the label, producing, working in the studio, etc. I'm very diligent, because I love doing this. Essentially, this is who I am, I make no excuses. Back in the day, Sacred Oath were very much against the poseur bands, and what they stood for, overall.
MettleAngel: I was too, I always mocked the Headgivers Ballers in the '80s. They were all concerned with chicks, drugs, and making fast money, so they could get more chicks and drugs. When I met my wife Wendy, I dismissed the bands she enjoyed like Slaughter, and Warrant. I only listened to Slaughter from Canada and Warrant from Germany. I would quote the Chicago band Thrust, "Tonight's the night...the Posers will die!" Or MX Machine's - No Glam Fags!
Rob: Sacred Oath actually performed a song called - Posers Must Die. Pete would put blood on his bass, adorned in human teeth. We went all out, and this was a crowd favourite. Authentically, in our hearts, we never felt this song was worthy of being on a conceptualized Sacred Oath album, as it did not fit with the "Two Powers" motif. We like to think we uphold a certain level of intellectual class.
MettleAngel: Man, I would have loved to have seen and heard that. So elaborate on this "Two Powers" concept. You use those terms on every album. Even the artwork on Crystal Vision (Re-Vision) embraces this "As Above, So Below" mystical concept. It is evident with the early logo positioning the angel above the demon. The Sentinel Steel cover has an image with the Arthurian dragons in a circle, devouring one another in an alchemical portrait.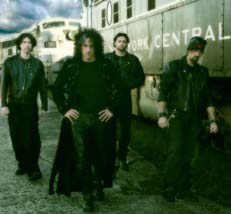 MettleAngel: The new album artwork, is divorced of all this mythic imagery, and more simplistic. Johannes who painted the classic Fates Warning album covers did the artwork with its "Aces High" pilot in cockpit, during war concept.
Rob: We wanted to keep the image of war and violence with the cover art, as it is a strong part of the album, overall. This is the image that Johannes conjured after hearing the music and lyrics. The "Two Powers" concept is still relevant and present, but more shadowed, and less epic.
MettleAngel: Which is as I previously alluded to the updated, more mature, re-awakened, re-vitalized - Sacred Oath sound of the present.
Rob: Sacred Oath will always be, for me, my creative outlet. We don't just want to stay in the past. We are always moving forward, expanding, and learning. The reason the cover art has dynamically progressed, and the songs have a light and shadow reflection, is because, they are a reflection of me, who I am, what I'm doing, and how I feel. The songs I create are an extension of my personality, and soul.
MettleAngel: I can truly envision this, because you do it all on your own - you are you own boss, and consequently, your own worse critic. There is no overarching obligation for you to perform. You do it because it is what you love. You strive to create the best mettle imaginable. Since you own Angel Thorn Productions, you have complete control. This is why I willingly champion all your endeavours, and noble efforts.
Rob: This I do appreciate very much! Michael, you are right, I am a very busy man. Sometimes I feel great, other times I don't.
MettleAngel: These vicissitudes are normal. Your emotions are tell tale signs of whether you are connected, or not with the source of all that is.
Rob: Yeah some days I feel like the song Paradise Lost, others like Blood Storm, or What The Dark Will Undo.
MettleAngel: This is why the music you create is so sincere. There is such passion and intensity in every song. The new album is so vivid, connected, presently powerful, and inspirational. Even the packaging and layout is professional.
Rob: I have such a deep love for making this type of music. Sacred Oath is my life.
MettleAngel: Honestly I don't know how you pull it all off. I commend you for your motivation. In addition to the music, you are a father of two daughters, and you have a new child on the way.
Rob: My wife is a saint! She accepts the fact that I might go on tour right about the time the baby is to be born. She deeply understands, that playing Metal is what truly makes me happy. She corroborates all my efforts with patience and understanding.
MettleAngel: My wife is the same way, she keeps me sane, while handling all the major concerns. Our son is almost six, and he is a handful, a total ball of never ending energy.
Rob: I can relate, the funny thing is I'm so excited that the CD is finished. In reality, the work is just now beginning, and there is no time to rest. I realize that we have only just begun to break ground. It is my dream to make this the album that really gets Sacred Oath recognized, and acknowledged for all those tireless years. I know in my heart this is the right time for us to ascend here in the States. We already have such a loyal following in Europe, and abroad. I want to make my mark right here at home.
MettleAngel: Well, I'm truly confident that you have the mettle and might to accomplish this. I'll support you in any manner I am able. I'll be reviewing the new album next month.
Rob: I am anxious to read that. Michael, thank you for everything. Myself, and the whole band truly appreciate it. hail to a fellow Oathbanger!
Related links: