Interview conducted July 11 2010
Interview published July 23 2010
After many years of absence, Rhapsody Of Fire has been openly welcomed back with an excellent reception to their latest masterpiece: 'The Frozen Tears Of An Angel '.
Given that I am a strong supporter of the new album, myself, I was excited when asked to interview co-founder and keyboardist Alex Staropoli. Not only did we speak about his feelings and the overwhelming positive response to the new album; but, with conspicuous probing, I was able to find out what happened with his defunct solo project.
After a very enjoyable conversation with Alex, I found him to be not only friendly and down to earth, but extremely enthusiastic about finally getting a chance to create new music, and thereby do the very thing that makes his soul soar.

MettleMaiden: I want to personally thank you Alex, for taking the time to do these phone interviews, with your American fans, and critics.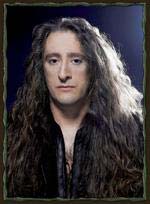 MettleMaiden: There has been a lot of excitement circulating with the 'The Frozen Tears Of An Angel' release. It has been debuting on all the European charts, and now it has even appeared on the US Billboards.
MettleMaiden: I observed that Sascha Paeth did the mixing, how long have you worked with him?
Alex: We have worked with him since the beginning of our career. Initially he was not only the engineer, but also the producer. As concerns the last few albums, Luca and myself have became the primary producers. It was Sascha's idea to mix the album; he is still the engineer.
MettleMaiden: I think that it is noble that you have such a good relationship with him. In keeping with fan's expectations, you once again worked with Christopher Lee for the narration. How did this whole relationship commence?
Alex: It was a very simple thing. We knew we wanted a special character, with a unique voice, and a recognizable sound. We soon learned that he is multilingual, and has been credited with many famous voice-over roles. We realized that his beautiful voice would thus be perfect for doing our type of narrations.
MettleMaiden: He has such a recognizable, almost sinister trademark baritone vocal tone.
Alex: I agree, so we contacted him and asked if he would be interested in working with us. We sent him some music from Rhapsody Of Fire and he liked the idea. He was excited about the idea of working with a metal act.
MettleMaiden: This is what has led to his 'Charlemagne' Metal Opera Project.
MettleMaiden: The intelligent review that our fellow writer Nate wrote at Metal Covenant is definitely worth a read!
Alex: Actually, he asked us if we would like to have him sing on the album. I also knew he was a well-respected vocalist, so it was his idea to do a duet with Fabio, which is a very nice vocal comparison between the two singers.
MettleMaiden: I have only listened to the 'Charlemagne' briefly, as it was more opera than metal, like an epic piece by Wagner. It was fascinating to discover that he is, in fact, a direct descendant of the tyrant. When you worked with him, were his vocals recorded separately, or did you work together in the studio?
MettleMaiden: I must admit this makes me a tad bit envious! I love Christopher Lee, he is one of the best screen villains, ever!
Alex: We also met him here in Trieste, because he was invited to a Sci-Fi convention, which was great for all of us.
MettleMaiden: I am so happy for you! I would love to meet Christopher Lee and attend a Sci-Fi convention. I never had a chance to go to one of those!
Alex: Well, it is a small one, but unique in Europe. It is something special that they have here in Trieste.
MettleMaiden: It sure sounds like a lot of fun! I am a big Sci-Fi buff, especially with Star Wars!This is your debut release with Nuclear Blast, how well has this worked out for you?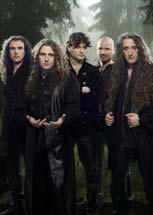 MettleMaiden: They sure do treat my husband and I well, with offering us prime interviews!
Alex: We have a great relationship with them, and they are so pleased to work with us. We are truly grateful to be in league with such professional people. Since we have been supporting each other, we wanted to release a very special album that would truly serve their interest in us.
MettleMaiden: My husband, and I, as well as the majority of the Metal Covenant staff feel you have written your best album since 'Power Of The Dragonflame'.
Alex: Yes, the response has been so favorable. This is why we endeavoured so diligently to create the very best album we could do, and it is really fantastic. We all feel that this is the beginning of a new era for Rhapsody Of Fire.
MettleMaiden: I agree, 'The Frozen Tears Of An Angel' is now my favorite Rhapsody Of Fire album. This is a real return to form for you. I am sure that is why the response has been so positive.
MettleMaiden: When it first came out in Europe, even before we received a podcast copy digitally, my husband had purchased the import CD on line, and we played it for a week straight in the car. I have to admit, we were skeptical at first; since the last album was nothing too special.
MettleMaiden: We wanted to see you in Cleveland with Manowar, but our son was too young to attend, then. I am amazed that he is almost seven, as his birthday is in just over a month! I am curious about the writing process for your songs. "Sea Of Fate" was written by you, Luca, and Fabio. I understand that this actually is a first for Rhapsody Of Fire. Explain to me the normal writing process.
MettleMaiden: That is an interesting analogy...
Alex: With this as a starting point, we then decide what kind of songs to compose. Of course Luca provides plenty of input. He comes up with great ideas for riffs and culls everything in being, which then makes the song great. Then as we begin to put together all these ideas, we will move forward, and begin writing the drums and the bass parts. Sometimes we may start with just a simple guitar riff, so it is never the same process.
MettleMaiden: This sounds like a very collaborative effort.
MettleMaiden: It sounds like you both put a lot of thought into your music.
Alex: Yes, and with Fabio as you said contributing, it was the first time for this type of communication, which was very good. It turns out that Fabio had some melodies, and some parts in his mind, and we developed these ideas together, which was very helpful. This allowed for the three of us to become even more connected.
MettleMaiden: That is always important with bandmates to share in the whole metal milieu and writing process. Who would you say is your main musical inspiration, be it metal, classical, etc.?
Alex: This is always a difficult question, because we all like different kinds of music. We enjoy a wide variety from Classical, Instrumental, Heavy Metal, and Rock bands.
MettleMaiden: As do we all...
Alex: I guess it is really a mixture of all this that inspires the music. We do not have a favourite band or composer, per se. Today, there is just so much good music out there, and way too many awesome metal acts, which we could name.
MettleMaiden: So many of these bands stretch the line of labelling, like yourself or Therion, for instance.
Alex: We have always said from the beginning that we set out to do something that never existed before. We always try to do this, by blending all of our influences to create music we would really like to listen to ourselves.
MettleMaiden: Well you certainly have accomplished that! Rhapsody was essentially the first Symphonic Metal band, although it was not viewed as being that, at the time. Many of us did not know what to think; especially, since you incorporated so much Italian style musicality into the mix. Your style, and that early to mid '90s Italian scene punctuated by yourselves, Labyrinth, Domine, and their ilk, in time paved the way for other great acts.
MettleMaiden: I am curious though, how many instruments do you, yourself play?
Alex: I just play the keyboards, but with the technology today, thankfully I can imitate any type of instrument. This is a good point for being a keyboard player. I like a lot of guitar, but I cannot play guitar. My brother played the recorder.
MettleMaiden: I played piano when I was younger, and some keyboards.
Alex: Really? Because of our individual talents, this allowed Luca and myself to produced the album, incorporating our own expertise. Since we both know so many other instruments, every instrument started from a ground bass. So, it is not only important for us to know our own instruments, but how other instruments will fit into the mix. For us, this is where it counts most.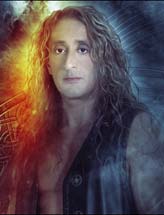 MettleMaiden: I can understand that, I started playing piano when I was five. I also tried to play flute when I was older, but could not reach my potential. Speaking of your brother, you were planning to do a solo album with him, what happened to that project?
MettleMaiden: Wow, The Midnight from Crimson Glory! John "Midnight" McDonald is quite a hero to you Italians.
MettleMaiden: I know he released a solo album, a few years back, but I never got to hear it. I am still wondering whatever happened to the Crimson Glory box set that was suppose to come out in 2005.
MettleMaiden: Oh my God, you had Midnight in your home, that's so transcendent!
MettleMaiden: I know that was quite a tragedy.
Alex: My dream was to make something special with Midnight, not to just do a solo album. I was utterly devastated when I heard about his death. I then realized that this new project would cease to happen, and I would not get to have him on vocals.
MettleMaiden: I am really sorry to hear that it did not work out for you. I know how it feels to have your dream shattered. His death was a tragic blow to the whole metal world; well, that is before the death of Dio.
Alex: Even though I was friends with Midnight and we worked so hard and it was my dream to record music with him, I knew that after his death this project would no longer exist. I feel lucky to have worked with him, he was a great person.
MettleMaiden: I can understand that. It sure does seem you Italians idolize Crimson Glory. You have my sympathy and condolences. So with Rhapsody this is the third installment of the Dark Secret saga, will there be a forth or will you have a different theme?
Alex: From what I can foresee there will be one more chapter for sure. Then it will probably be changed into different things. For us it will be interesting to make music that is not connected to the saga, which will give us more freedom musically.
MettleMaiden: I can understand that because many Rhapsody fans are growing tired of the same old story line and are probably wanting something new, fresh and different. The good thing about Rhapsody is the sagas are well thought through and engaging, as far as story telling goes.
MettleMaiden: When I close my eyes and listen to the new album I feel like I am transported into another world like the atmosphere presented in the movie Dragonheart. I feel like I am in a parallel world or universe because it is so very well done.
Alex: Thank you, this is always the first goal, the aim is to connect the music with lyrics. With the graphic aspect and the atmosphere of the music I can imagine you finding yourself in the middle of this landscape. It is the same for me, and after having written this music and worked in the studio we shared the same feeling.
MettleMaiden: One of the new surprises is the use of the harsh vocal style in "Reign Of Terror". Even after checking my booklet I did not see a guest vocalist. Is that really Fabio creating those growls?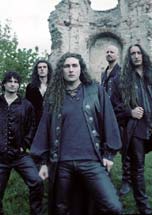 MettleMaiden: Wow, I do not believe it. That really shows his vocal versatility and capability.
MettleMaiden: You have every right to be, he is an excellent vocalist, as evidenced by his work with you and his work with other bands. Since I missed you when you toured the US with Manowar are their plans to return to America anytime soon?
Alex: Oh My God, that would be fantastic! We will start touring in autumn in Europe and in 2011 we hope to return to the US. We are currently waiting for offers and contacts in the US. When we do come I hope we get to meet in person so that you can experience the awesomeness of a Rhapsody Of Fire show.
MettleMaiden: That sounds phenomenal. I know you have probably been beleaguered with people interrogating you about the name change, but it is interesting because it forced that Italian silly band Nanowar to change their named to Nanowar Of Steel.
MettleMaiden: Really? They are like the "Weird" Al of Italian metal. They have taken your brilliant song "Emerald Sword" and written a clever spoof about fast food called "Emerald Fork".
MettleMaiden: They do not just pick on Rhapsody, they also take on Manowar, with "Tricycles Of Steel", Metallica with "Master Of Pizza", and even Maiden with "Number Of The Bitch". In fact, to my recollection, I think they have a song referencing one of Luca Turilli's own solo projects.
MettleMaiden: Wow, I see our time is almost up. So I want to thank you again for taking the time to indulge me. I am very grateful that the band has found its sound again, and I feel with the new found passion for metal pervading in America, Rhapsody Of Fire will open new avenues of possibilities for your younger audience, many of who many be hearing you for the first time.
Alex: Yes, thank you, this is why we do what we do and we really are excited about returning to America in 2011 and bringing the Rhapsody Of Fire experience to you. Thank you,Wendy, it has been very pleasant speaking with you, on behalf of myself and the whole band, we really appreciate your strong support.

See also: review of the album The Frozen Tears Of Angels
Related links: