Interview conducted July 21 2010
Interview published August 04 2010
I am a fan of most female fronted metal. Therefore, I, could not pass up the chance to talk to Floor Jansen about her new band ReVamp. I soon discovered that like me, she was disapointed that After Forever disbanded. I was however very pleased to learn that she is strongly determined to keep making Metal. With her accomplishments behind her, which include work with Doro, Ayreon, and Star One, this Metal Mistress proves that women not only have a place in Metal, we belong there, and we are leading the way.

MettleMaiden: Thank you Floor for taking the time out to do this interview, given your busy schedule. I was wondering if ReVamp was a project you had in your mind before you parted ways with After Forever?
Floor: No, it was never something I thought of when After Forever were still together. I really had hoped everyone in the band would want to continue with After Forever. Everyone was just getting burned out and wanted to take a break. I always had hoped to continue. It was very disapointing for me when this did not happen.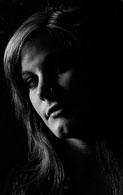 MettleMaiden: It was for me too. I actually interviewed your former bandmate Mark Jansen about the new Epica album.
MettleMaiden: I am glad that you carried on. I really appreciate your vocal style. ReVamp is on Nuclear Blast, as was After Forever. Did being on this label previously help you to get your new band signed?
Floor: No, we had to submit demos, just like everyone else. Nuclear Blast picked us up because they acknowledge my dedication, and over 12 years of music experience.
MettleMaiden: I find that the choice of the band name is quite clever. Did you choose this name as a reference to all the Vampire movies that are out now, or is it simply because you are "revamping" your career?
Floor: It has nothing to do with vampires, I actually do not like them. The word vamp carries the meaning of a strong woman, but it has the pejorative sense of harlot or courtesan.
MettleMaiden: Oh, I see what you mean, like a tough vixen?
Floor: The word can be viewed both positively or adversely. I like that contrast. It had a certain tone to it that I really adored. I wanted a simple name for the band, and nothing mystical. I needed it to be clear and concise. The name thereby states that this is what it is, and I am the lady in charge.
MettleMaiden: I get it now. A vamp can be like a madame, or a woman of the world. She definitely has a stronger presence, and dominant nature.
Floor: Yes, indeed, a vamp is a woman not to be messed with, so to speak.
MettleMaiden: I find that the artwork on the album has a very Gothic look to it. I know the music does not reflect this. You still sing with the classical soprano touch. Why did you choose this image?
MettleMaiden: Well, I agree it does have that menacing visage, and tribal effect, which threw me off, before I actually heard the album.
Floor: I do not think it is Gothic, at all. I agree that it is dark and brooding, but what do you find to be Gothic about it?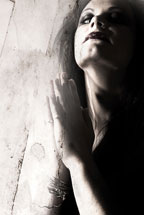 MettleMaiden: Maybe I am not using the right term to describe the artwork, and your portrait.
MettleMaiden: Oh now I see...
Floor: The shades of pink and grey give rise to a women's touch. It is my vision of how we can look, and to me there is nothing Gothic in it, especially since I loathe the term Gothic.
MettleMaiden: I apologize for using this term. If you see it from my perspective, here in America, we are surrounded by Hot Topic poseur Emo kids who paint their face and try to look like vampires.
MettleMaiden: They all watch that horrible "Twilight" Trilogy and try to be like them. I am so glad South Park spoofed this! I appreciate how you are creating an image that portrays women of power, strength, ambition, and perserverance.
MettleMaiden: I am a woman who will not take shit from anyone. The way you have described the method behind the name ReVamp makes me proud. I respect how you are rising from the ashes, of a band like After Forever and you are putting your pieces together, doing what you want.
MettleMaiden: You are the Alpha and Omega. I like the use of the Omega symbol on the cover, as well. The recording musicians in the studio, are not the live members, right?
MettleMaiden: Yeah, because Waldemar Sorychta just joined Therion as their new bassist. One of ReVamps touring members was in a band called Dreadlock Pussy, what a name! How did you go about creating the line-up for the live aspect of the band?
Floor: First I checked my own network; the people I knew and then the people who knew friends of mine. I also put out an ad of mine basically stating, "Hey I'm looking for new band members and here's the list of demands; so, if you think you fit the bill send, please me an e-mail with some audio, video and pictures." Then the ones I thought were cool I brought in for auditions.
MettleMaiden: That is an interesting way to do it. What about the guests you have on the album, how did that occur?
Floor: Actually Russell Allen is a good friend of mine. We toured together in 2002 for a project called Star One, and ever since we have stayed in touch. We did some more things together, and always had an idea to do a song together. So when I was writing "Sweet Curse", he was the first one I thought of for the vocal parts. Thankfully, he was only one phone call away.
MettleMaiden: How about George Oosthoek from Orphanage?
Floor: George is also a friend with whom I have worked for many years. He joined us many times on stage with After Forever. So when "Here's My Hell" was done, it sounded like we missed something in the mid part that should include growls. When I gave him a call, he was very enthusiastic, and totally cool about contributing.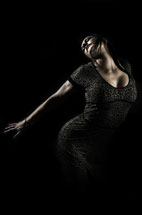 MettleMaiden: What about your labelmate companion Björn 'Speed' Strid, who just released a killer new Soilwork album?
Floor: Actually, Speed did get asked through the record company. I was looking for a voice like his, because I am a huge Soilwork fan. So when Nuclear Blast suggested him, I immediately accepted. I was a bit concerned because this is an unknown band, and I was not sure if he was familiar with my work in After Forever. As it turns out he really liked the song.
MettleMaiden: That must have been very exciting for you. You mentioned Star One, that was also with Arjen Lucassen from Ayreon right?
MettleMaiden: I loved your characterizations on the Ayreon albums. How did the two of you get involved in that project?
Floor: We were label mates back in 2000. The label introduced me to Arjen. I actually sang on two albums, the first one being 'The Univeral Migrator Part I: The Dream Sequencer'. So, that is how I was introduced to him.
MettleMaiden: I also understand that you contributed vocals to Doro Pesch's single.
MettleMaiden: I agree, we have interviewed her before and she is really sweet, and so professional. I am so grateful that with ReVamp, unlike After Forever, you are the one calling the shots, and that this is your band.
Floor: Right now it is all me. However, I am open to collaboration. I do not believe that you can have good chemistry unless you let everyone do their own thing. I believe that it is the chemistry of people that makes things work, and this always makes things more interesting. I really hope it will grow into that, this is my ultimate goal.
MettleMaiden: I feel that this is a good attitude to have. Besides playing Prog. Power a few years ago, did After Forever tour in the US?
MettleMaiden: Do you think ReVamp will tour here any time soon?
MettleMaiden: That makes sense, so that you can introduce your new band to your fans. I assume you would love to play Prog Power again?
Floor: Yes, that would be a good idea for next year. After Forever played Prog Power in 2007 as a headliner. Glen is a great person, and he is such a fan of After Forever. We were so grateful that he offered us this great spot.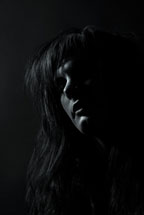 MettleMaiden: He is really good at introducing female fronted metal to the fans here, so that would be very apropos for you to start a ReVamp fan base here with that festival.
MettleMaiden: That is definitely true. I find it fascinating that you are not the only musical person in your family, you have a younger sister, Irene, who is also a vocalist. Do you have any plans on working with her?
MettleMaiden: Did she do any work with Metal albums before?
MettleMaiden: Oh, That is right, she was on 'The Human Equation'. Well, I know you are under the gun to continue with your interviews, even being a bit late on this one, so we will wind this up, right now.
MettleMaiden: I do wish you the best of luck with ReVamp, it is a good album. I strongly encourage you to keep showing the world that women can make real metal through their true mettle, we really need that.
Floor: As one woman to another, I appreciate your positivity. I want to sincerely thank you for supporting me in the States that is really cool. I really must run, but I do hope to meet someday. Thank you again!
Related links:

www.revampmusic.com
www.myspace.com/revamp
www.floorjansen.nl