Interview conducted May 28 2010
Interview published June 21 2010
On the very same night as we witnessed Primal Fear play live in the USA, in Louisville, Kentucky, Wendy and I were granted a full band interview and permission to board their bus, in order to discuss everything related to all members. I was even blessed with sharing a few words with Pamela Moore, which initiates the sacred gathering.
After we would willingly break the chains, we enjoyed some good German beer, and some great conversation with the boys back in town. I mostly spoke with Hendrik "Henny" Wolter and occasionally with Mat Sinner; however, each member did contribute his input, here and there. I invite you all into the cherished time we spent together, our vital embrace, Metal is forever!

MettleAngel: Pamela, I was so surprised to learn that you are touring with Primal Fear. How did all of this come about?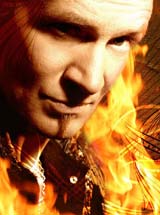 MettleAngel: Oh really, was this your first experience seeing them?
Pamela: I was familiar with the band, and Ralph's singing, but at that show we really became close friends, and discussed our working together.
MettleAngel: This then became a reality with last year's Prog Power, right?
Pamela: Yes, it worked out so well. I was in the studio working on my solo material in Atlanta, and it was right about the time of the Prog Power Fest. Ralph contacted me and asked me to come join them and to perform a few songs at the festival.
MettleAngel: I am sure fans were blown away. Primal Fear worked with Simone Simmons on their last album for the song "Every Time It Rains". You, however, did not perform that song, instead you did "Fighting The Darkness".
MettleAngel: That song includes everyone in the band singing along. For this US jaunt, you are also performing "Seven Seals" with Ralph, as a duet. I imagine your being on this tour is quite a surprise to many fans?
MettleAngel: So tell me, Pam, who is a better vocalist, Ralph Scheepers or Geoff Tate?
(Ralph jumps in)
MettleAngel: I agree, he had the pipes about 20 years ago, but now he is bald, and no longer a beautiful singer, as I feel that his voice has become so strained.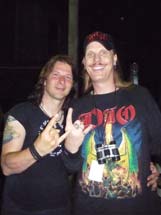 MettleAngel: I sort of assumed that. Pamela, thank you so much for adding a few words before I begin my conversation with Henny, here. I want to go on the record that 'Operation Mindcrime' is still the best concept album of all time, and you will always be "Sister Mary" to me.
MettleAngel: Your voice is truly amazing! (I now turn to Henny who offers me a Heineken), hey brother it is an honour to finally meet you. I really like your guitar playing.
(Just then, Alex Beyrodt interjects)
MettleAngel: I love your style too, dude. I have all the Silent Force albums, and I paid a pretty penny for the debut. I reviewed your Voodoo Circle album last year.
MettleAngel: Yes, but not as much as the Silent Force material. I was so pleased to hear that you were on this tour, as well. You and Henny make such a good team. You two really ham it up on stage. I love your work with Sinner, as well!
MettleAngel: I will, please send me a copy. Henny, you have been with Primal Fear for quite a while, right? You left in 2003, and then returned in 2007.
Henny: I first joined the band for the recording of 'Nuclear Fire', which is still my favourite album by the band; although, I am very fond of '16.6', as well. (Mat, who is right by Henny's side, takes a swig of beer, smiles, and comments) (Mat:) I second that notion! These two albums are at the bookends of our career together in Primal Fear. They really solidify and define the history of the band, and set the direction to where we will go in the next few years.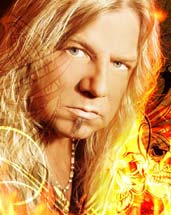 MettleAngel: I love 'Nuclear Fire', but '16.6 (Before the Devil Knows You're Dead)' has really grown on me.
Henny: 'Nuclear Fire' is still our best selling album too. It reached # 37 on the German charts. '16.6' is doing very well for us, though, I might add.

MettleAngel: Wow! I thought 'Black Sun' did better than 'Nuclear Fire'; especially, since you made the video for "Armageddon", which you dropped from the set list.
Henny: We thought so too, but since this was our only concept album, it did not go over as well as we had anticipated.
MettleAngel: That sucks! Mat, what do you feel is the best Sinner album?
Mat: 'Crash & Burn'! This is our best work, our finest achievement, so far! (Henny:) I agree, this album really shines.
MettleAngel: I have the cheesy promo copy, which is a glorified CD-R. It comes in a plain manilla slipcase. I was not overly impressed, with my initial listens. I mean, sure, it is a good album, with plenty of Thin Lizzy worship, but I prefer the Nuclear Blast era albums like 'Judgement Day', 'Nature Of Evil', 'End of Sanctuary', 'There Will Be Execution, etc.
MettleAngel: Those albums are just heavier and more melodic, like Primal Fear. I really like the early Noise Records albums too; especially, 'Fast Decision' and 'Danger Zone'. Those had a more Running Wild, Scanner, Priest, Accept, feel.
Mat: I have recorded so much music over the years, but I still think 'Crash & Burn' is my crowning achievement with Sinner. (Henny:) We are big fans of Thin Lizzy, and so we do what we want with Sinner, and just have fun. With Primal Fear, we are far more focused on writing the best music, so that we remain faithful to our loyal fans.
MettleAngel: I was surprised that you left Nuclear Blast Records. I understand Mat, that you used to work for them, as a label representative.
MettleAngel: I felt that Primal Fear were up there with Hammerfall and Edguy. I assume that everything is working out for you now with being signed to Frontiers Records?
Henny: Yes, we are very happy with the label. He gives us the money, and allows us plenty of freedom to do as we see fit. We always want to honour our fans, so we take everything very seriously.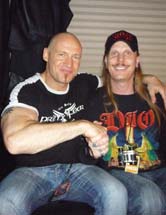 MettleAngel: You are also the heaviest band on the label. They mostly deal in Hard and Classic Rock, and those has been "Big Hair" bands of the '80s.
Henny: Yes, we are a bit different from most bands on the label. This is what makes us unique, and it is good promotion for the label. It is like when Ford Motors bought Jaguar, it helps us to stand out. The owner is very supportive of the band, and wants us to succeed in every way.
MettleAngel: Nuclear Blast were very good to you though, right?
MettleAngel: I do appreciate Frontiers, and I am so glad they dropped the voice over promos, when they converted to podcast. I just got the new Y&T, who are now signed to the label.
MettleAngel: I like it, even if it is more bluesey, than their Classic material. It is definitely their most X rated album. They must be taking their cue from Steel Panther.
MettleAngel: Well let us just say, Dave Meniketti is now stealing musically from Foreigner and singing about chronic habituation.
MettleAngel: Here's the deal, I know Y&T like to sing about sex, and that is cool, but to write a song about the joys of masturbation, like Anvil did with "Five Knuckle Shuffle", is just a bit much. When I see Y&T with Icarus Witch in August, I plan to ask him about this.
MettleAngel: Another thing I find interesting about Primal Fear is that you are often labelled as being Power Metal, but you really are not, are you?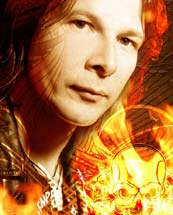 MettleAngel: You are pure Traditional German Metal. You are Teutonic Steel with Accept and Scorpions as your main influence. Ralph, you are Germany's answer to Rob Halford.
Ralph: Oh I don't know about that, I try, but Rob is amazing. I sure hope I can sing like he does when I am 60.
MettleAngel: Maybe so, but you do not use a teleprompter when you forget the lyrics to "Freewheel Burning", "Hell Patrol", or "Dissident Aggressor". Sometimes I think Rob should ask the bands who do amazing covers to help him out with remembering the words. Ralph, when you were with Gamma Ray, you did a killer version of "Exciter".
Ralph: You liked that, then? (Henny:) We feel we have never been a Power Metal band. We stick with that label, because this is how we are best known. We just consider ourselves to be old school German Metal.
MettleAngel: I agree, and Ralph, or Mat, you might find this amusing, but when I first heard the single for the forthcoming new Accept album, and once I watched the video, I told all my friends to check it out because Accept now sound like Primal Fear and Sinner, even without Udo on vocals.
MettleAngel: Can you believe that things have come full circle, and now Accept are influenced by the sounds of today, popularized by both great aforementioned acts, and many more? It is like when Priest took their cue from Pantera and created 'Painkiller'.
MettleAngel: (Ha, ha) I am always watching you. I love your work with Tyran Pace. I think you would have done a great job in Priest, but in a way I am glad that you did not get the gig, because Ripper added new levels to the Judas Priest sound, and thankfully, you and Mat decided to form Primal Fear.
Ralph: I am grateful for all the bands I have been in, even Gamma Ray, and we are all friends, having buried the hatched years ago.
MettleAngel: I am so glad that this is the case, just as Kai Hansen from Gamma Ray did with Helloween. This is so important to the fans.
MettleAngel: I assume it will have a variety of musical styles. Hell, even Halford just did a Christmas album! Do you plan to do any covers?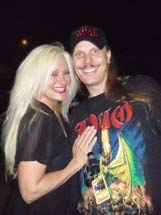 MettleAngel: Man, that sounds awesome. This is another thing I love about Primal Fear, is that some of my favourite songs are the slower ones. They are not necessarily ballads, but they are so emotional and evocative. Take a song like "Tears Of Rage", I mean, WOW!
Henny: I agree, my favourite song is now "Fighting The Darkness". I really enjoy when we play these songs live. This is also what Primal Fear is all about, we always want to shake things up a bit, and try something new for our fans.
MettleAngel: I'm so glad that you do. I really like Edguy, Avantasia and Hammerfall, but some of their ballads are so lame. Sometimes they remind me of the Swedish act Europe who wrote horrible ballads in the '80s.
MettleAngel: This is even more incredible, since you do not have a full time keyboardist. Who may I ask writes the majority of the music, and/or lyrics?
Henny: We all do, and we all contribute equally to the band. (Mat:) We like to write about topics which make people think. (Henny:) Like the name '16.6'. We had a big contest to see if fans could figure this out. The winner was rewarded with a signed guitar.
MettleAngel: I always wondered what was the meaning of this song. I assumed it was apocalyptic, as several of the Primal Fear songs deal with eschatological themes.
MettleAngel: Definitely! Songs such as "Armageddon", "Seven Seals", "Nuclear Fire", etc. all deal with this. All those Nuclear Blast Sinner albums seemed to have had an "End Times" aspect as well.
Mat: Hmmn, I think next time we will write an entire album all about Peace and Love, OK? (Henny:) The '16.6' contest did have fans thinking it had some level of religious content, or meaning, but it is really so simple.
MettleAngel: I assumed they were coordinates on a map or something.
MettleAngel: It figures, as this is another textbook example example of Occam's Razor, I should always go with the most likely solution. Henny, how do you balance your time with playing in Sinner?
Henny: It is really simple, as well. Once you are in Primal Fear, then you also are going to play in Sinner, no questions. This is what happened when Tom Naumann left, and I rejoined the band.
MettleAngel: Primal Fear did an excellent version of "Question Of Honour" on the 'New Religion' album. Mat, I am so pleased that you are keeping Sinner active as well.
Mat: Cool... (Henny:) With this band, and Primal Fear we have the carousel of rock going on, like what happens with Thin Lizzy.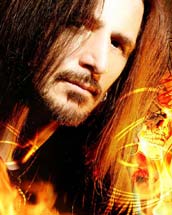 MettleAngel: I see what you mean, the "revolving door" effect. Dio and Whitesnake had this ongoing frustration, as well.
Henny: Exactly! Our guitarist Magnus Karlsson is from Sweden, but his wife just gave birth to twins, so he could not do this US tour with us, but we are grateful that Alex was able to step in.
MettleAngel: Alex, I am sure you are happy you made this choice?
Alex: We never know what to expect, but we are really having fun. (Henny:) The audience is very enthusiastic, and we are so surprised how well they know the music.
MettleAngel: The crowds are not as big as I am sure you are accustomed to overseas?
Mat: The last few shows in Cleveland, Detroit, and here have some really dedicated fans. We make it a point to give them a good show. (Henny:) We are also amazed to find out that over 60% of the fans in attendance are not from the city where we are playing. Now that is true dedication.
MettleAngel: We drove down here ourselves, and we often drive to see our favourite bands, who seldom play in Cincinnati. However, this also makes the show so much more worthwhile.
(Suddenly we hear our dog barking in the car, and prepare to exit the bus, when the band asks us to bring her to them, so they can meet and play with her)
MettleAngel: I am so grateful that we got a chance to meet the band, and hang out. Thank You for welcoming our dog Lady Maggie Beth with open arms.
Mat: I love dogs, and I was so pleased to see that you brought your little puppy, she is so precious.
MettleAngel: Maggie is almost six months and she is mixed breed between a Border Collie and Beagle...
(Just then drummer Randy Black, the only "American" comes up to pet Maggie, and joins in on all the fun, or is it pure chaos?)
MettleAngel: Dude, it is an honour to meet you as well. You are an incredible drummer. I love your work with Annihilator. I am amazed that you have stayed with Primal Fear for almost seven years, after the departure of Klaus Sperling, who is now also in Sinner.
Randy: I have met a lot of Annihilator fans on this tour, I am glad to see that Jeff Waters is keeping the band alive. They have a new album out soon, right? What is it called?
MettleAngel: You mean, 'Annihilator'...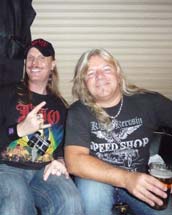 MettleAngel: Well before we fall into a "Dude, Where's My Car?" moment with "Dude" and "Sweet" new tattoos, let me clarify, the new Annihilator album on Earache Records is called 'Annihilator', it is self titled.
Randy: You have got to be kidding me! The last album was called 'Metal', right, and it featured a ton of guests. Is it any good?
MettleAngel: It is decent, like the last few. Critics think it is a return to form like the new Megadeth. I do not think it is nearly as good as 'All For You' or 'Schizo Deluxe'.
MettleAngel: You played on 'Waking The Fury' and 'Double Live Annihilation' before you left the band.
MettleAngel: You mean 'Master Control'. I love the albums he did with Overkill too. I never did get a chance to hear Ramrod though.
MettleAngel: Joe did a demo in '94 with Sebastian Marino who also played with Liege Lord, and of course Anvil. This is what they decided to call the band. This demo is how they got the Overkill gig.
MettleAngel: Primal Fear have a new DVD coming out in June, why did you choose to call it 'Live In The USA'?
Henny: We had such a great time playing Prog Power, that we wanted to honour that experience. (Mat:) Yeah, we had no idea how the US would receive us, we are so grateful for the support!
MettleAngel: On this tour you altered the set list a bit to include some older songs, like "Running In The Dust", a song of which I am not a big fan. Ralph this is your version of Gamma Ray's "Space Eater" or Priest's "You've Got Another Thing Coming".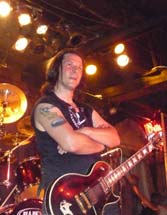 MettleAngel: I like the video on the "Doomsday News" VHS. You had curly hair back then. I am grateful you are playing "Seven Seals" on this tour; especially, with Pamela singing with you!
Henny: We love to play that one live too. We just wanted to mix it up a bit more for fans like yourself who are seeing us for the first time. We really wanted to play "Hands Of Time" where we all sit down and sing and perform acoustically, but the last few shows have been small venues, and we have been having some technical difficulties with using our equipment. The version on the DVD is really worth watching though.
MettleAngel: I was hoping you would have the DVD at your merch booth tonight, but I know you cannot break street date. I did purchase the last two albums on CD, and I bought a shirt to show my support.
Mat: Thanks for your support! (Ralph:) It is always a good thing to meet our loyal fans, and one like yourself, who has followed my career for such a long time.
MettleAngel: I am dedicated. I think I spent half of my paycheck to get those Tyran' Pace albums back in the day. I just wish I had the lyrics to those albums.
MettleMaiden: We want to send out our appreciation to everyone. Thank You for this interview, and for taking the time to indulge two fans of all of your bands. We love the new album, and are so grateful that you came close enough for us to see you live.
Henny: We are so grateful too. We know that you and our fans will spread the good word, so that if you missed us this time, we will be back next year. (Mat:) (smirks) We will try to come closer to your town, and save you the drive (Ha, Ha).
MettleAngel: Thank you, Mat, I look forward to the new Sinner album which is all "Peace & Love" type lyrics. You should check out the new Pretty Maids, as it seems they too are now influenced by you, well that and The Who, of course.
Henny: We love Classic Rock, and we are grateful for your knowlege of so many bands, and even our own music.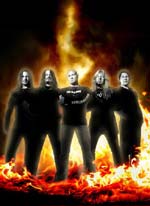 MettleMaiden: When I hear Sinner, I hear Alice Cooper. (MettleAngel:) I love Primal Fear, Sinner, Silent Force, Gamma Ray, Tyran' Pace, etc. Pamela, I will have to check into your solo work. I know my friend bought both of your CDs.
Pamela: Thank you darling, and I am so glad to have met you and your lovely wife, and adorable puppy.
MettleAngel: We had a blast! We will always treasure this moment! (MettleMaiden:) Yes, thank you for everything. I am new to both Primal Fear and Sinner, but ever since Michael introduced me to them, I have become a big fan. I love the title track to the new album, it is so catchy!
Henny: Thank You Michael and Wendy, and we will see you next year, OK!
MettleAngel: Definitely, and I plan to write a live review to promote the band even moreso.
MettleAngel: We would have loved to see you in 2003 when you toured with Halford, but Wendy was pregnant. I would love to see Sinner live too.
Mat: (ribbing me) Yes, thanks for coming this time, and no excuses to not come see us next year. Just keep it in your pants, and go back and play 'Crash & Burn' and soon you will agree.
MettleAngel: I will, I promise, but I seriously doubt that I will choose it over 'Nature Of Evil' or the guitar duo stylings on 'End Of Sanctuary'.
Henny: Fair enough. Thank you both of you for driving out to see us, and for this fun interview, which was very relaxed, and no pressure.
MettleAngel: You are all welcome! After all, as you well know, "Metal is forever, in every single matter!"

See also: review of the gig the same night
Related links:
www.primalfear.de
www.myspace.com/primalfearofficial
www.matsinner.com
www.myspace.com/sinnerofficial