Interview conducted October 18 2013
Interview published November 23 2013
When Danish masters Pretty Maids visited Sandviken in Sweden, attending was obligatory for yours truly. An interview was arranged as well, this time with the band's renowned vocalist Ronnie Atkins. It was very nice to meet the likable singer again, and the conversation included not only topics about Pretty Maids but also Ronnie's participation in Avantasia.

Mozzy: So, you've had a week off from touring. Was that well-needed, perhaps?
Ronnie: Yeah. It takes like a week to get out of the whole thing anyway. You're living on a bus for four, five weeks. It becomes very tight, it becomes like a family, you know. There's less time and space, you eat at the wrong times, and so on. It's just life on the road. I know what it's like; it always takes a while to get back to the old routine. So the rest of the year will be like a weekend-warrior thing. We're going to Japan, for example. It's two gigs, we will be there four or five days. Plus everyone will also have different stuff to do, like studio work and stuff like that.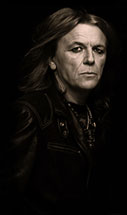 Mozzy: How was the recent European tour, then?
Mozzy: Like London, I noticed, at the Underworld. That's a cool place.
Ronnie: Yeah, we hadn't played London since 1985 actually. We have been to England though. That was great, the stage was really small but it was a great gig. Those who were there were fuckin crazy. It was a lot of fun. I mean, we toured with some good bands. We did a couple of shows with Pink Cream 69, for instance. We had a lot of people at some of the shows, so it was really good. And the new songs got a very good reception.
Mozzy: Cool. Now, the last time I interviewed you, in Jönköping in 2010, you had released Pandemonium a few months earlier and you had a good momentum going, with great reviews. Has it been similar this time with Motherland?
Ronnie: Yeah, it's been great reviews and reception from the fans, and whatsoever. I mean, when we did the Pandemonium album, we knew that we had done something good, and obviously it was a success. It is difficult to follow up something like Pandemonium, but we managed to come up with something that… Well, I don't think it's the same as Pandemonium. It's the same band and the same producer but it's still a little step further, you know. It's a little bit darker, a little more melancholic or whatever. It's just something else, I don't know what it is (smiles). Maybe a bit more commercial too, but I don't know. It's difficult for me to judge. But it has had a great rapport, which is the most important thing.
Mozzy: You did a show in the US late last year, how was that?
Mozzy: Your first real gig ever in the US, right?
Mozzy: Yes, I was there too!
Ronnie: Oh, yeah! Well, that (Prog Power) was good! I didn't really know what to expect, though we've toured with a lot of American bands. But it was good!
Mozzy: Did you notice that many people had been waiting a long time to see you?
Ronnie: Well, of course we've gotten a lot of correspondence and feedback from America and American fans. It's just that these days it's very difficult to do a proper tour of America, you know. I mean you could play in America for two years, and you have still not been everywhere. A lot of people have asked why we don't come and play here and here, not only in the States but everywhere. But it has to be decent money too, you know, and apart from that it's just difficult. You have to have some support and probably play with other bands in a package.
Mozzy: And it's a long way to travel as well.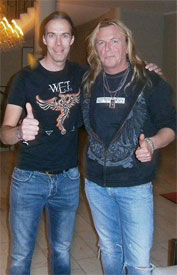 Mozzy: Going back to the 70000 Tons Of Metal cruise, then - what an experience that was.
Ronnie: Yeah, that was fun! Especially since it was at the end of January. You know, going to the Caribbean at that time was nice.
Mozzy: Oh yeah. I thought you got a good response there as well.
Ronnie: Yeah! I mean, it was… Compared to a lot of the other (more brutal) bands, we were a bit like Smokie (laughs). Like, perhaps the most commercial one of the whole trip, you know. I think maybe Pretty Maids would fit more into the kind of… that Monsters Of Rock cruise that goes every year with all the 80's bands. But anyway, we did what we did and that's it.
Mozzy: Yeah, it was great fun indeed.
Ronnie: Yeah! It was. The cruise was five days or something, and then we stayed for another five days in Miami, just having a good time.
Mozzy: And you went down to Key West (Southernmost part of Florida, and the US) as well, I heard? We did that before the cruise.
Ronnie: Yes, that was cool. It was wonderful. In fact, I had been there not long before, with my family, so I was a bit familiar with the surroundings. I think it's great.
Mozzy: I thought I should ask you about the setlist; with all your quality songs, it must be really difficult to choose songs nowadays?
Ronnie: It is more difficult, it is. I mean, even finding out what songs you want to play from the new album. For most songs, there's like five different opinions in the band. I mean, me and Ken will usually agree on what we will play, but it takes some kind of diplomacy, you know.
Mozzy: I've noticed that you switch the set list around sometimes and play different songs.
Mozzy: What about playing songs from your first release, the mini LP? There are a couple of really good songs on that one.
Ronnie: Oh…(smiles) Well we've played them a few times. At the 25th Anniversary show in our hometown, we played one, I can't remember. We have played songs from that album, but it's a long time ago, not since the Red Hot And Heavy tour, really. I mean, personally I feel we have a lot of better songs to play.
Mozzy: True. The DVD you released, It Comes Alive (Maid in Switzerland), was excellent. Are you happy with it as well?
Ronnie: Thanks. Yeah! I think it pretty much shows what the band is all about. It's not any big production or anything like that. We recorded it at the Z7 in Pratteln where we've played a lot of times, and it was a great night. We had a great crowd, and people came from all around.
Mozzy: Yes, I think the atmosphere really comes across on the DVD.
Ronnie: Exactly. What you see is what people got. I think the DVD shows what that night was all about. We were in a kind of anniversary phase, and we had been asked to do a DVD for ages. But we hadn't really been into neither videos or DVD:s before. But we thought that now is the time to do it.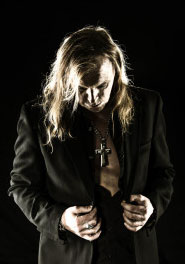 Mozzy: You were involved with Avantasia this year, how was that? And that was the first time with any other than Pretty Maids, right?
Ronnie: Yes. Well, it was the first time I toured without Pretty Maids. And also the Avantasia album was really the first time studio-wise… Although I did some backing vocals for Blind Guardian in the 90's. And some other stuff, in Denmark. Not much, very little. Actually, Tobi (Sammet) asked me quite many years ago to be part of Avantasia. But back then, I did not really know who he was and I would not consider doing something outside Pretty Maids. Actually, I met him on the 70000 Tons Of Metal cruise. It was the first time I talked to him and I thought he was a nice guy. So when he called me I said "well, send me a song and I'll listen to what it is", and I liked it.
Mozzy: And the tour must have been special?
Ronnie: Oh, I had the best time, it was great fun. I connected with a lot of people. With the big production, you know, it was like 30 people on the road for the European tour. And it was like pure luxury compared to what we do. We played to between 3000 and 5000 people, and the places were sold-out. And it was great because there was no ego shit or anything going on. Just a lot of nice guys; the band, the crew, everyone. I only have good memories. And on top of that we played a lot of festivals as well.
Mozzy: I saw you at Sweden Rock Festival.
Mozzy: I thought you had lots of energy when you came on, and you brought a metal vibe to the whole thing.
Ronnie: Well, that became sort of my part. Tobi picked the songs. He asked me before which ones I wanted to do, but I didn't know any of them, to be honest, apart from Invoke The Machine. Then I had to sing all this Jorn Lande stuff as well. Three songs or something. And he is a fuckin´ great singer! (laughs)
Mozzy: For sure (laughs).
Ronnie: And I thought "well let's see if I can do this", you know. I knew I had to do it my way and not the way he does it, you know. Basically, I went out there just trying to be myself onstage, and it became like… metal, you know. And we only had one rehearsal before the tour. But it turned out pretty good. And the thing with Avantasia, what is so interesting with it, is that it is so diverse. There is metal, some celtic stuff, more commercial songs, and so on - many styles.
Mozzy: Tobi is such a brilliant song-writer too.
Mozzy: And what did the others in Pretty Maids think of seeing you onstage with another group? Did they get to see you?
Ronnie: Oh, well Ken saw the gig at Sweden Rock. I think it might have been strange for him, I don't know (laughs). But I told the other guys, and we weren't touring, so I thought I would try and have a go at this.
Mozzy: Pretty Maids played at Wacken this summer, how did that go?
Mozzy: Yes, I saw the gig on YouTube the other day, and you can tell it was.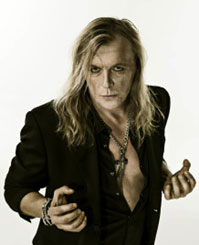 Mozzy: It looked like you got a good reception though.
Ronnie: Yeah, well it felt like we were dying a little up there. But I haven't seen the whole show to be honest, I'm not sure I want to watch it (smiles). But people were really happy and I think the reaction was good. But it really was steaming hot. It's a big stage, you have to move all the time, so it's kind of tough. Especially when you're not 20 anymore (smiles). But it was good fun. And Germany is the key market for Pretty Maids, I guess. Actually, Sweden is becoming better and better, like it used to be in the 80's and beginning of the 90's. For a lot of years, we did not play here much. But in these last couple of years we've played here more often which is cool. It's a great country, not least for rock n' roll and heavy metal, you know.
Mozzy: I agree. What do you think of the spirit in the band today? To me, it really seems like it is strong and that you're enjoying yourselves, also judging by the clips online from the tour and so on.
Ronnie: Oh yeah, we do, absolutely! I think that's one of the reasons why the band has been so… on a roll for the last four years or whatever. The spirit came back and that's why we did these two albums. We really wanted to do it again; play and perform and everything, you know.
Mozzy: And what about Shades' (Rene, bass player) arrival; has he been important too?
Ronnie: Oh yes, he's done a good job too and really wants to do this as well. So I think we've got a good combination of people.
Mozzy: I've also noticed that you have a good connection with fans, on social media like Facebook, but overall as well.
Ronnie: Yeah. We have a guy who runs our homepage and Shades is involved too with some things. Many people are into that kind of stuff, you know. I am a little private myself. It's not that I don't want to be in touch with fans, but I just don't want to spend my time sitting in front of the computer and so on.
Mozzy: Yeah, it takes up your time.
Ronnie: Yes, I think it's very time-consuming. I'm only in there sometimes to check what my kids are doing, under a different name (smiles).
Mozzy: Haha! Well that was all I had this time. Thanks Ronnie!

See also: review of the gig the same night
Related links:

www.prettymaids.dk
www.myspace.com/pmaids
www.facebook.com/prettymaids