Interview conducted December 04 2010
Interview published December 14 2010
Danish veterans Pretty Maids undoubtedly released one of the albums of the year in hard rock/heavy metal. When the band stopped for a show in Jönköping, Sweden, Metal Covenant sat down after sound check with founding members Ronnie Atkins (vocals) and Ken Hammer (guitar) for a chat about things past, present and future.

Mozzy: I have to say I'm really looking forward to tonight's gig. I have seen you at Sweden Rock two times but never at your own show.
Mozzy: It definitely is. But it will be good, it will surely be intimate.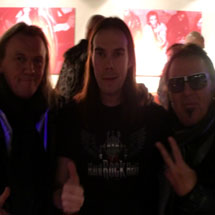 Mozzy: It's going to be very easy, I'm sure. Talking about Sweden Rock, how was it replacing Ratt (who cancelled some days before this year's festival)?
Mozzy: Me too, but I was glad to see Pretty Maids replacing them.
Ken: I don't know if that was a good replacement, but we really liked it. (Ronnie): We got some good gigs out of it you know; Sweden Rock and Hellfest in France, I mean. So for us, with a new album out, it was great.
Mozzy: So how has this tour been so far?
Mozzy: Have you been playing mainly smaller venues or bigger ones too?
Ronnie: Well, it's been everything from 400 to 2000. So, yeah, it's been great. And the line-up now is good, we're really satisfied.
Mozzy: What has the reaction been like for the new songs?
Ronnie: Fantastic, actually. (Ken): Surprisingly good, I would say. Because we play a lot of new songs. (Ronnie): Yeah, five or six sometimes.
Mozzy: I noticed that you change the set quite often; that must be more fun for you as well?
Ronnie: Yes, we do that all the time. (Ken): It is more fun. And it all depends on what we think is suitable. Plus now we have a new bass player, so we can now actually play whatever we want. (Ronnie): We're going to do a tour in the spring too, and probably put some other songs on there and change it a little bit.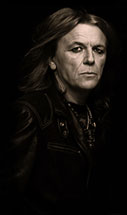 Mozzy: Your latest album, Pandemonium was brilliant. As I told you before, it was Album Of The Month in May at Metal Covenant. Even though your last albums were very good, it was a clear step-up I think.
Ken: Cool, man. Thank you. (Ronnie): We all think it's the best album we've done in 20 years. Maybe the best even, I don't know (laughs). So we're really happy with it, you know.
Mozzy: One main factor on the album is the great production. The last album you produced yourselves; this time you chose to enlist Jacob Hansen.
Ken: Yeah, because the result on the last album we produced ourselves was not as good as some things he could do. He really added a lot on this album. (Ronnie): He just gets a good sound, we think. (Ken): It sounds tighter, just better. (Ronnie): It sounds more updated, the sound really comes out of the speakers, you know.
Mozzy: I agree. Another thing which is notable on Pandemonium is the keyboards. They are much more prominent than in a long time.
Ken: That's the reason we didn't use the keyboards as much on the last a couple of albums; it was because we didn't have a keyboard player in the band. (Ronnie): We didn't have that for 20 years actually; not since Jump The Gun, so...
Mozzy: Was that because you didn't find a good one, or?
Ronnie: No, we didn't really try, I guess. We just sorted of rolled along, got a hired hand.
Mozzy: There are certainly some really good keyboard parts on the new one, so it was surely a good move.
Ronnie: I agree. That's part of the original set-up. And also, I think some of the songs are... even though the album sounds fresh and up to date, it was a good way to go back to the old sound.
Mozzy: Now we're going to switch back to the old days, if you don't mind. I have a large collection of old metal magazines, and I managed to find these, which include Pretty Maids...
(Ronnie and Ken are carefully studying the two Metal Hammer magazines, both from 1990, I hand them. Each of the mags has a large, 2-page Pretty Maids article, complete with various pictures.)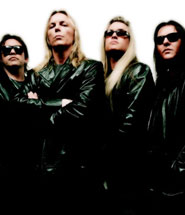 Mozzy: What do you think when you see those old pictures?
Ken: Hmm, I´m trying to remember! Fucking hell... That's a looong time ago... (laughs). Oh, that's from London! (Ronnie): I think this one is from Germany isn't it? (Ken): That was very interesting!
Mozzy: As I understand it, you had some problems during the period between Future World and Jump The Gun?
Ronnie: Oh well, I just think it took a long time to do the album (Jump The Gun). We had a car accident (drummer Phil Moorhead was involved in a serious car accident in the summer of 1989), and other certain things... There was just a lot of waiting; there were three months were we could do nothing. We had to wait for the producer and so on.
Mozzy: Jump The Gun therefore was quite delayed, wasn't it?
Mozzy: It turned out a great album in the end though.
Mozzy: Really, you should have made it bigger with that album.
Mozzy: Also, there are many who think that Pretty Maids is an awesome band who should have been bigger overall.
Ronnie: Well, we had the wrong management and things just didn't turn out the right way. Maybe it (Jump The Gun) came at the wrong time. The whole sleaze thing was on at the time, and then came the grunge and stuff like that, so...
Mozzy: That (the grunge era) was not the best period…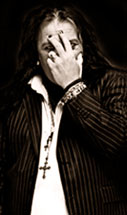 Mozzy: You had great success in Japan with Jump The Gun, and became quite big there afterwards, right?
Ronnie: Oh yeah, absolutely. It opened up a new market. That was the first album that got really big in Japan. And then the next one, Sin Decade, was a huge success. Actually, Japan was our second home country up through the 90´s. We toured there a lot.
Mozzy: Germany has been a great country for you as well, hasn't it?
Mozzy: Do you in some way regret that you, although you've still had a successful career, didn't manage to take that final step?
Ken: Well, regrets… There's nothing you can do about it. I mean, it could have been better, but it could have been a lot worse as well!
Mozzy: What about the US; did you ever tour in the US?
Ken: No, we never did, we've never played in America. (Ronnie): We've recorded there and did some videos, but that was it. In 1987, we had the chance to go there with Whitesnake, but we couldn't do it because we were already committed to do a European tour with Deep Purple, the Monsters Of Rock shows. That probably could have changed some things, because the band was hot back then.
Mozzy: In today's climate, with downloading and all that, can you still make a good living out of the band?
Ken: Well, thank god for live music. (Ronnie): It's not that bad at the level we're at, but it's still bad that you don't sell very much. I don't think anybody does, really. (Ken): People don't buy albums anymore. Or, not as they used to. It's so simple, you just have to press two buttons and then you have an album.
Mozzy: I agree, it's a shame.
Mozzy: But under all circumstances, you've had a long, solid career. What are you most proud of?
Ronnie: Hmm, it's all of it, really. I mean, I always say that the period from 1985 to 1992 was really successful. It's been up and down, you know, but you always look back at that time, it was a fantastic time.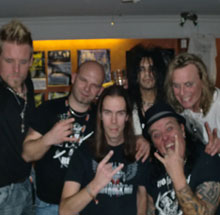 Mozzy: And I guess just still being around, that's a great success too?
Ken: Oh yeah. That's an achievement! (Ronnie): Yeah, next year it's been 30 years, that's a long time!
Mozzy: How about a DVD; didn't you plan to do one some years ago?
Ken: (laughs). We tried that for a lot of years... Actually, we were going to do one on this tour, but we ran out of time. Certain things just didn't fall into place. We will do one eventually, sooner or later.
Mozzy: I guess you must have lots of old clips as well?
Mozzy: Have you started to think about the next album?
Ken: We have started to think about it. It depends on how things are going touring-wise. If we get the opportunity, we'd rather go out and do more shows. Otherwise we will start writing as soon as possible I think. (Ronnie): I think the idea is to tour with this album in the spring and then in the summer do some festivals. That's the plan.
Mozzy: And what about the future of Pretty Maids; will you simply keep on going?
Ken: We'll keep rolling on! (Ronnie): Yeah, for as long as we can do it!

Without doubt, any Pretty Maids fan would wish to see the band continue for a long, long time yet, especially when they are still releasing albums as fabulous as Pandemonium. That there is a strong bond between the band and their fans was demonstrated after the triumphant show in Jönköping. Winding down backstage, the Danes were gracious enough to allow inside those who wished to get autographs and take pictures, and spend some time with the humble, laid-back members of the band. A perfect ending to a memorable night (which came to an end very late for your Metal Covenant correspondent and various other members of the party!), and one that displays that Pretty Maids are a class act not just on record and the stage but in private as well.


See also: review of the gig the same night
Related links:

www.prettymaids.dk