Interview conducted May 18 2010
Interview published May 25 2010
With a consuming impulse to thrash again with systematic destruction, Netherlands own Pestilence reunited in 2008 and released 'Resurrection Macabre'. Now two years later they are prepared to return to the US and finally tour again, beginning with Maryland Deathfest on May 30th (The same day of the funeral for Ronnie James Dio, which is open to all the world to attend).
I spoke with longstay musician Patrick Mameli recently to discover the secrecies of touring, and his vested truth. His testimony did not seem ancient, but rather a mind reflection of who he is now, what he has accomplished, and what his goals are for the future. Come join our devouring frenzy as we deeply explore the spheres of affluence for those lost souls stigmatized by the rhythm.

MettleAngel: Hello there Brother, I am so pleased that we were able to reschedule this interview.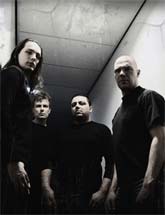 MettleAngel: Sadly yes, but this time slot works better for me, and I am more prepared. I reviewed your new album last year. I was planning to play a bunch of Pestilence today, but the tragic death of Dio preempted my doing so. Given the news of this disheartening situation, I have chosen to flood all my CD players with everything Dio.
MettleAngel: Yes, it has stigmatized the Mettle Milieu. I think that it is great that you are coming back to America. You will kick off the tour with playing Maryland Deathfest May 30th. This is the same day of RJD's funeral which is open for all the world to attend. Wendy Dio is even offering discounts on hotels.
Patrick: That is great to hear. Yes, we are very excited to return to the US. We had planned to play the last Maryland Deathfest, but mitigating and complex circumstances prevented it. We will now make all of our American fans happy by performing there, and then embarking upon a brief tour.
MettleAngel: I know, and I would love to attend, but the closest show is Chicago. Unfortunately, I have never seen Pestilence live.
MettleAngel: Well, the last time you were in the US was for the 'Consuming Impulse' Tour with Obituary. I was in graduate school, and penniless. You never did tour here for my favourite album - 'Testimony of The Ancients', correct?
Patrick: No, I don't think we did. We played a rough version of the song "Testimony" during the 'CI' leg, but I do not think our label brought us back for the follow-up release.
MettleAngel: You were signed to Roadrunner during the highlight of their existence, when the bands on there really mattered. I know they are a viable label now, but it makes me chuckle to think they once had Obituary, Sepultura, King Diamond, etc., and now they have Ratt, Meat Loaf, Dream Theater, Lynyrd Skynyrd, etc.
Patrick: Yeah, the labels back then were not really too concerned with promoting or supporting the bands. They only cared about making money. I am grateful that times have changed, and now with digital music made more readily available, it is a slap in the face to those record companies who profited off the hard efforts of others.
MettleAngel: Yeah, now a band has a great deal more autonomy, and can make use of My Space, Twitter, Facebook, etc to really get their name out there. Although, I personally loathe all those sites, save My Space and You Tube where I can hear music and learn about a band.
MettleAngel: I was impressed to see you have a thorough write up page on Wikipedia.
MettleAngel: Yes indeed, I just read through it before you called. I was really surprised how informative it was. Since you are relegated to a much smaller label, any coverage I am sure is appreciative. I am grateful that Earsplit represents Mascot Records, and allows you more publicity.
MettleAngel: Conductive criticism is also necessary, if used to assist the artists in achieving even better accomplishments. I know you did the C-187 album - 'Collision' for Mascot Records. That was such an amazing line-up with Tony Choy from Atheist, who played on the 'Testimony' album. It also featured Sean Reinert of Cynic.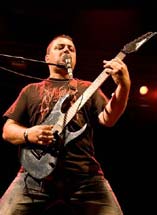 MettleAngel: I was not at all pleased with the modern feel of the music. With such great talent playing, I had such high expectations, but this album was lame.
Patrick: Yeah it did create some controversy, and my fans did not really like it. I am glad we did it, and I am happy with this project. The thing is that I am branded with being in Pestilence. Anything I do outside this band really upsets my fans. We only sold 2000 units, so it was not worth pursuing.
MettleAngel: So you did receive a great deal of backlash?
Patrick: Yeah, but this was a good thing because all these comments and E-mails from fans allowed me to realize how much they missed Pestilence. This inspired me to work on the music that became the album 'Resurrection Macabre'.
MettleAngel: Yes, and this is a really good album. I suppose you also received some slack for what you did with the 'Spheres' album?
MettleAngel: I actually like the album, and I still have my original copy on CD. It was at this time when your label mates Believer, Sadus, and Cynic, as was as Atheist were all really experimenting with different styles. Atheist went all out jazzy on their 'Elements' album, as well.
Patrick: Yes, and after hearing those Cynic demos, we were increasingly becoming infatuated with that jazz fusion feel; but, it really did not suit our style. Atheist, Cynic, and a few other bands really were into jazz from their inception; whereas, we were a thrash act. Although, we are better musicians now that we adopted that style, then. All that jazz did teach us how to play better.
MettleAngel: So you do consider yourselves to be thrash, or even deathrash?
Patrick: I do not like to assign any type of label or particular style to Pestilence, but when we first started out we were heavily influenced by bands like Slayer, Possessed, and Sepultura.
MettleAngel: I know because when I first purchased 'Malleus Maleficarum' on cassette, I was reminded of Slayer, Kreator, and Dark Angel. I was also very impressed with the songs, subject matter, and especially the lyrics.
MettleAngel: I interviewed Martin Van Drunen, who is now in Hail of Bullets. We definitely discussed Pestilence. He was a wordsmith like Gene Hoglan of Dark Angel. There was something about using big vocabulary words back then that fueled bands like Deathrow, Tourniquet, and Carcass.
MettleAngel: How so? It seems to me that Martin was fixated on illness and suffering with songs like "Chemo-Therapy", "Bacterial Surgery", "Chronic Infection". I must admit that with 'Malleus', I was very impressed, and I learned a great deal of vocabulary words.
MettleAngel: I was studying Classics at the time, so I knew my Latin, and I understand the lyrics, and the idea that the Malleus Maleficarum (Latin for "The Hammer of Witches") was the book written by Heinrich Kramer. This treatise inspired the Witchfinder General and his minions of the Inquisition on how to properly detect witches.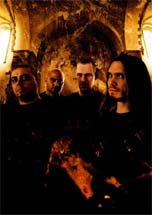 MettleAngel: I think you were more mature than the so-called Satanic acts. I truly loved the cover art painting with its Medieval depiction of Bubonic pestilence, evoking such horror and the plague of procreation.
Patrick: We were definitely more pretentious back then, I concede with our fascination with witch burnings, and whatnot, we may not have seemed too creative or original.
MettleAngel: I disagree, and when 'Consumin' came out, it was so brutal and intense. This allowed me to follow Martin into Asphyx. I still think you did an awesome job when you assumed vocal and lyrical duties on your crowning achievement 'Testimony Of The Ancients'.
MettleAngel: I love your vocals which are discernible, and yet harsh enough to affect the music. Is 'Testimony' a concept album, with all its atmospheric intros / outros and other impure acts?
Patrick: Thank You for acknowledging my vocal attributes, and how I choose to sing. Actually, no "Testimony' is not a concept album, but all those extras do tend to link together the songs, even if some selections like "Impure" are in bad taste, really.
MettleAngel: You have to imagine hearing this on cassette for the first time, as it was quite prolific, and a bit silly. It definitely flows better on CD, as I can skip the orgiastic endeavours.
Patrick: Of course! This is another reason why 'Spheres' failed for us. We knew the label would not give a shit for us, unless we made 'Testimony II', so we just did what we wanted, knowing we would be dropped, anyhow.
MettleAngel: I respect that. I also like the vocal nuances on 'Speheres' which make the songs more intense, and yet also more engaging.
MettleAngel: I mentioned that in my review, kind of like Metallica should have written 'Death Magnetic' after 'Justice'.
Patrick: Precisely! Lyrically, I am more focused on this album writing about what affects me personally. I am not concerned with the dark stuff, but what makes people think about the world they live in. I write songs about the current illness of modern society, based on greed, power, corruption, lies, drug abuse, and hate.
MettleAngel: Or as Hirax puts it ever so succinctly..."Hate, Fear, And Power!" This is the never ending downward cycle of our existence caused by hatred from within.
MettleAngel: Oh yes, indeed. I have also just discovered that you are working on a bramd new album tentatively to be called 'Doctrine'.
Patrick: You have done your homework! Yes, I have about five songs written and completed. This just leaves me a few more to finish. We will enter the studio in September, and plan to have the album out by February 2011.
MettleAngel: I assume it will follow the same pattern as 'Resurrention'?
Patrick: I am writing this album with our fans in mind, so it will not be a disappointment, by any means.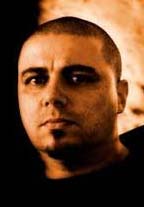 MettleAngel: If you reflect upon your fans, you will succeed. I really feel you found your niche with 'Resurrention', as it has the qualities of all your previous accomplishments. I also understand that you have welcomed back six string fretless bassist Jeroen Paul Thesseling who played on 'Spheres'.
Patrick: Yes, we are pleased to have him back with us, as he is such an excellent musician, and he is still with Obscura. His playing should really incite the crowd.
MettleAngel: Will he join you for this US Tour with Warbringer and Sacrificial Slaughter? I know Tony Choy is committed to Atheist and even Cynic.
Patrick: Indeed he will, and we are just about ready for this, as we have our Visa applications all filled out, and we will soon go to the consulate to finalize the paperwork.
MettleAngel: I assume fans who catch you live will be treated to all the classics?
Patrick: We have a decent set-list prepared which will incorporate the new material with the songs our fans want to hear. For example, we will play "Dehydrated", then move right into "Dehydrated II".
MettleAngel: Damn, I wish I could see you! Any chance you will play "Stigmatized"?
Patrick: Well, we will have to see. We do plan to play some of the older material with different song arrangements, to spice things up.
MettleAngel: So you will still invoke a bit of jazz fluctuations, beyond the secrecies of horror no doubt...
Patrick: (Laughs), Yes, and we will have all the T-shirts fans want with several covers featured, even 'Spheres'.
MettleAngel: The cover of 'Spheres' is killer. I like the way you chose to continue with that orb device from 'Testimony' and 'Mind Reflections', which I guess is your greatest hits, so to speak. The cover of 'Resurrention' is a bit more obscured, but I still see that the spiked spheric orb is present.
MettleAngel: I wonder if this is a reference to the orb in the "Phantasm" Movies. God, I wish that Don Coscarelli would make the fifth installment and finish the damn thing! It has been 30 years!
MettleAngel: You mentioned earlier that the early Pestilence albums were more dark, and political, but I also feel that there has always been a prevailing supernatural affectation present both lyrically and musically to the band. There is this sphere of elemental influence which is incongruent to the name, but ever pervading with the overall context.
MettleAngel: Consider songs like "Out Of The Body", "Lost Souls" or "Land Of Tears", it seems like there is a strong existential element ever present among the dread.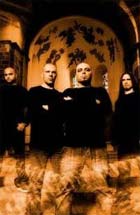 MettleAngel: I sure wish I could join you on tour, and hear you live, but my family is my priority.
Patrick: I totally respect that, as my family is the most important thing to me as well. My wife and children are why I continue with Pestilence. I made a choice early on to take care of my body and health, so I could continue writing music. Now my family is my inspiration.
MettleAngel: That is so noble, and endearing to hear. I think it is great that you choose your family first. Family are mettle! I know life on the road will be rough, being away from them.
Patrick: They are prepared. Last week we played a show with Testament, and I was so excited to see my son growling like his dad, and throwing the horns.
MettleAngel: I can relate, as my son keeps bugging me about seeing Maiden this summer.
MettleAngel: My wife and son totally support and respect my love for all things metal, and my wife is the coolest metal chick, ever!
MettleAngel: Well Brother, thank you for a great conversation. Best of luck on the US Tour, and the recording of your new album. I am sure you will like my honest review. I will always be a supporter of the band.
MettleAngel: Just keep writing albums like 'Testimony', and I am there!

See also: review of the album Resurrection Macabre
Related links: