Interview conducted October 24 2017
Interview published November 2 2017

"Sometimes I just laugh and if somebody comes up with a really good diss, it's like 'Wow! That's fucking funny.'."
American metal/rap-rock outfit Papa Roach put out their new record Crooked Teeth in May and as they made a stop in Stockholm, Sweden on one of their many European tours, Metal Covenant got an opportunity to talk to drummer Tony Palermo.

Tobbe: At this point you can look at Crooked Teeth with some perspective of course, and what was it like to kind of revisit some of the older melodies and put them on this record?
Tony: I mean, it just felt like the right time to do that and it totally felt deliberate and, you know, we didn't force it. Jacoby [Shaddix] really wanted to start rapping again, 'cause, you know, on the past few records he wanted to develop himself as more of a rock singer and prove to himself that he can do that and definitely we all think that he did a great job with that.

Yeah, it was definitely a conscious decision to go in and, like, kind of revisit some of that stuff, and especially working with our producers, Nick [Furlong] and Colin [Brittain]. They were like "Man!". You know, they're younger guys and they were like reliving some of their teenage years with, like, Infest days. You know, Last Resort and all that, so they kind of like spearheaded that as well. And also, no disrespect to some of the last producers that we've worked with, they're great in their own rights, but we wanted to kind of like break away from that. You know, the typical rock producer vibe, and we met Nick and Colin, and they were not that.

What's funny about using them is they hadn't done a full-length record ever and they just did tracks with different bands, so we heard a lot of shit from our management and the label and they were like "What are you doing? You can't use these guys. They don't know what they're doing. They're totally inexperienced.". And we just felt it was time to break away from that typical rock producer and that machine that happens in the studio.

Like I said, with no disrespect, 'cause those guys are great as well. But we felt we needed to, like, inject some youthfulness into the sound and the writing and then they helped us explore… You know, we're always pushing the boundaries, with songs like None Of The Above and Periscope. Periscope is a little poppier, obviously, so not a lot of big guitars. So that was cool and we found a place to go to where it's still Papa Roach. And we're always looking to do that. Even if it's a song that doesn't make the record, we're always trying to expand, and it might not fit on one record, and, you know, we'll save it and it might fit with the next body of work. So there's always that mindset as well.
Tobbe: I remember mentioning to Tobin [Esperance, bass] in May how diverse you actually are and… [Jacoby storms the room and is starting to show some pictures and then leaves just as quickly as he entered.]
Tony: I think, you know, having songs like Periscope now, people are starting to take notice of where we can go as a band and still be true to ourselves and still be relevant. That's a huge thing for a band, to actually stay relevant for this long. Some people are like "I'm gonna see Papa Roach." and "Wait. They're still a band?". So there's that too. So we're constantly trying to, like, reinvigorate people's mindset. A lot of people think "Oh, Last Resort. That's Papa Roach.", but we've come a long way since then, you know. And even people in the industry were finding that this record is changing a lot of their perception as well.

And streaming; obviously getting songs on different playlists, at Spotify, and everywhere else, it's helping. We got a lot of e-mails back from people in the industry, like "They're doing some cool shit.", you know. Older people in the industry, that kind of like wrote us off, you know. So you always encounter that, and it's like "Man, give us a chance. We're still here, and trying to be relevant.". And we've seen a lot of younger fans in the crowd now, which is amazing. It feels good to, like, look out and you see fresh faces. 'Cause we've played so much in the last, you know, 8 years. We've toured a lot.
Tobbe: It's very easy today for you to read on social media what your fans would like and does that in any way affect your choice of direction for an album?
Tony: I would say that: We don't sit there and look at the charts or whatever. You know, on iTunes there is, like, favorite songs, you know, for each record. We'll look on that initially, but writing the next record I don't think we dwell on that. We just feel things coming out and we'll write a bunch of songs and then pick out the really good ones that are album material and then kind of take a step back after we have, like, 6 or 7 of 'em and just go "Okay. We already have that style of songs, so we need to write something in this tempo, or something in this key.", or whatever. So we don't dwell on that.

And the funny thing now is we're trying to get used to all these, like, algorithms, which we don't really care about, but our management is like, you know, "This algorithm says this." and first we were like "What? We write music; we don't write algorithms.". Like "We create your algorithms with our music.". So it's been kind of a weird process with the initial release of the record as it's sort of like taking on a new time, you know, and with all the streaming, and the fact that bands are just making money on the road now. We love touring, but it would be nice, 'cause we all have families and kids, to not tour as much.

Like this tour is, like, 7 weeks. But with Jacoby's voice, and he had to have some surgery, we had to shift some stuff around, so it extended the tour. We don't normally do 7 weeks, but, you know. We're very fortunate and appreciative that we actually can come out and that people are gonna come out with us and see the show. We're pretty crusty right now, but I don't think the shows are suffering at all. We still leave it all on the stage and from the beginning to the end you just get us full force, you know.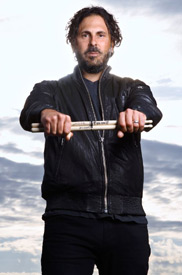 Tobbe: And just like any well-known band Papa Roach gets its share of negativity on the websites and do you ever read what people in general write about the band or yourselves personally?
Tony: Yeah, I do. I mean, if there's articles that come out, then I'll scroll down to some comments and what people are… , you know. It's interesting, and especially it's funny when you read stuff on, like, a metal site or something. You know, just people like "This band is not fucking metal. What are they doing on here?" and it's like "All right. Whatever. I get that, you know.". Sometimes I just laugh and if somebody comes up with a really good diss, it's like "Wow! That's fucking funny.". I can't think of one right now, but I know I've read those. At first you're like "Fuck You!" and then you're like "Whatever.". Not everybody is gonna like your band. We don't like every band, so.

I don't ever let that get to me and I don't think any of us really do, 'cause we're smarter than that. The internet is just a fucking worldwide shitshow. It's so easy for people to sit back and write whatever they want. So yeah, we can't dwell on that shit, 'cause we'd be a mess. Especially, like, Jacoby; he's pretty emotional already, so. I mean, he's like "Whatever. Fuck it! Like what you like.", you know.
Tobbe: Without coming out super cliché, is it possible to claim that a band's latest record is also their best one?
Tony: [Laughs] That's funny, we get asked "What's your favorite Papa Roach record?" and yeah, 9 times out of 10 it usually is the one that you just created, 'cause you feel so close to it and, you know, it's exciting, it's fresh, it's new, and I would definitely say the same for Crooked Teeth. I mean, it's not only because it's fresh and new; it's just the direction some of the songs have taken us. There's always a lot of meaning, truth, honesty and darkness in our lyrics, so there is always gonna be that. That's just a given for us, but the way that we present the music and the songs…

This new record; I think we're playing 7 new songs live and each one of them gets a great reaction. Normally we wouldn't play that many. I think we usually play maybe 3 or 4. But, you know, we're like "Fuck it!". We're having such a good time and we had such a good time making the record. It's gotten such a great response from people, our peers, as well as new fans, so we're like "Let's just throw some more songs in the set.". We play for an hour and a half, which is the longest we've ever played, and we can take people on a ride. We play something from every record now and it feels really good to look out and see the fans really getting into it.

And dude, we're playing shit, people are crying; it's all over the place. When people leave our shows now they're just like spanked. You know, I'll read shit online and like "I'm so worn out. I've got bruises and cuts and scrapes and it's so worth it.", so people are wholeheartedly feeling it, you know.
Tobbe: If we would look at a coming record at this early point, will you perhaps keep the older attributes in your music just like you did this time, or will you kind of visit unknown musical territories?
Tony: Well, I think all of the above. We've actually already started. We have 5 or 6 tracks that are demoed already. Yeah, 'cause we were supposed to do a tour with Of Mice & Men in, like, February and then their singer Austin [Carlile] had to go and get a bunch of treatment for his disease, and then he ended up quitting the band. So that tour wasn't announced, but it was about to be announced and tickets were gonna be on sale. So we had to, like, cancel that whole thing and that threw our initial push for Crooked Teeth off a little bit.

So we now had that time off, so we went in the studio, back with Nick and Colin, and just kind of like capitalized on some of that creativity that we had flowing from Crooked Teeth. Yeah, we've got some pretty interesting shit coming. You know, we don't know what songs are gonna make the record yet, but I think, yeah, all of the above, what you said. I think we'll revisit some of the old stuff again and just continue trying to push and evolve the band as we do.
Tobbe: Are you guys ever worried about that some day there won't be a market for Papa Roach's type of music anymore?
Tony: I don't think we're worried about that. I don't even know what would have to happen for that to be. I think we've set a path for ourselves in the rock scene and I think as long we stick to that... I mean, the path is always changing a little bit, but we still sound like Papa Roach. Yeah, if we can maintain that whole mindset and just kind of keep using different influences, I think it'll always find its place in the scene, you know.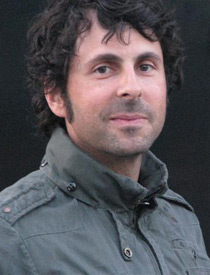 Tobbe: Well, it's hard to predict the future. Like grunge took over, or when you first started out it was a little bit different and some people assert or claim that rock is dead, you know, but I guess it's not.
Tony: Yeah, and then you see reports like "Oh, rap music is selling more than rock." and it's like "Well, fuck.", but we still have these huge festivals, so there's people that wanna hear rock music. I was watching that Foo Fighters documentary and Dave Grohl was talking about, you know, in the Nirvana days, that the first they noticed when they started hitting it with Nevermind was like "Oh, there's jocks coming to our shows now. Those fuckers beat us up at school and now they're coming to the shows. What?". You know, he was, like, perplexed.

So yeah, you can never tell what's gonna hit next. It's really hard to say. There probably won't be another [The] Beatles, 'cause they just came out of… I mean, there was a blank canvas and they just explored and created all these new musical endeavors. And I mean, it seems like everything has been done nowadays, but you never know, like I'd love to see the next breakout.

We've already been around long enough to not be that band, and we accept that and we just continue to do our thing. We were talking about that the other day, that we're kind of excited to see what that next huge thing will be. I mean, Twenty One Pilots kind of like took that a little bit, I guess, but I don't know how many older people know about them. I think they just took that to the younger kids.
Tobbe: But the competition is huge nowadays too.
Tony: It's so huge, yeah. You can't really think about that too much, as a band. Just do your thing, you know. But we always like to see who's coming out with what, and we're pretty proud that we have our own thing going. And even like meeting a lot of younger bands and bands that we like… You know, we'll meet them and they'll just be like "Man! Fuck. You guys are just…". There's always a story, like, you know "When Last Resort came out we were, like, 10.", or whatever. So there's that impression that's been locked into people's brains and that means a lot. That's huge, you know.
Tobbe: When you first started out you looked up to certain musicians too of course.
Tony: Yeah, and it's cool to even be playing with those bands. You know, like older bands and have them show their gratitude towards you, and you're like [Whispers] "Oh, man!". First of all, meeting, like, some older people, some older bands; you know, that's cool. 'Cause when you're young you don't think that's gonna happen. When you're young you don't think it's gonna happen like that; you just think "I wanna be in a band." and then you start touring and playing and you start meeting all these other bands.

I mean, this is a perfect example: Like, I joined the band, it's almost 10 years now, and I came from more of, like, the punk rock scene, Southern California punk rock scene, and yeah, we weren't playing with big rock bands; we were playing little punk clubs. But I always grew up listening to rock music, like, you know, Iron Maiden, Mötley Crüe, Slayer, all these bands. And when I joined Papa Roach we would play all these festivals with all those bands and I finally met, like, all these people that I just fucking looked up to and I was freaking out, like "This is amazing!".

And still to this day I'm friends with a lot of those people. You know, I was playing in Sixx:A.M., which is Nikki Sixx's side band, and I remember joining and the first couple of rehearsals I was just like [Whispers] "Holy fuck! That's Nikki Sixx.". You know, I went back to my teenage years, 'cause I used to see Mötley Crüe all the time. That was just surreal. You know, after a while it's like "All right. Cool. Yes, I'm over it.". Not over it, but the initial shock was gone. That was a proud moment for me too and playing with these guys allowed me to meet a lot of my idols and stuff. It's been really awesome in that sense.
Tobbe: As a musician, could you ever consider retirement, or is this something you will do until you drop?
Tony: It just gets tiring by the end of a long tour. You're just ready to take a break. But I'm never thinking "This is my last tour.". I can't. You know, I don't think that way, plus also: with the music industry there's no retirement fund, so you gotta keep working or you better figure some other shit out, you know. But I mean, look, this is what I've wanted to do for my whole life, since I remember being a kid and being exposed to music from my mom and my cousins. It's just ingrained in my blood; it's in my DNA. I love playing drums, I love being out on stage and creating that power and that emotion that people feel. I feel like, I know it's cliché, but I feel like I was born to do that, and it never feels forced, you know.
Tobbe: You can always go back to a day-time job if you would prefer that.
Tony: Fuck yeah. [Laughs] And I've had plenty of those dumbass… like, just weird day-jobs that I just… aahh. I just remember being miserable at most of them, knowing that I just wanted to play music. I was playing music; it was just at night, you know, 'cause I had to work during the day, which is fine, but… And that's another thing too that makes me appreciate doing this now; it's like I can honestly say that I've earned my stripes; I've done my time, you know. And touring, and fans; you know, just doing the whole ground up thing and building it to this… it feels good, it feels real.

Related links:

www.paparoach.com
www.facebook.com/paparoach