Interview conducted July 15 2016
Interview published October 23 2016
Having met Overkill vocalist Bobby 'Blitz' Ellsworth a couple of times in the past, it was great to see the thrash veteran again at Gefle Metal Festival in Sweden. The American is such a cool character with a strong, positive attitude and his distinctive laughter is just wonderful.
Discussing the band's longevity and success as well as present activities, there is no doubt that Overkill will keep on pounding and entertaining us for a long time yet. In this respect, they may well be likened to Motörhead, who Bobby warmly mentioned, having shared the stage the last time they were in the city.

Bobby: Have I met you before?
Mozzy: Yeah! At the 70000 Tons of metal cruise, actually, in 2012.
Bobby: Oh yeah! We've done that twice, in 2012 and 2014.
Mozzy: That's luxury! What an experience it was.
Bobby: Yeah, yeah! Andy (Piller, founder of the cruise) used to be our booking agent in Europe. He asked us to do the first one, and as I always take my wife on vacation in January, I said "where are you going to put us"? He goes "I can get you a room down below". I said "Can't come" (big laughter). I held out for a suite (laughs).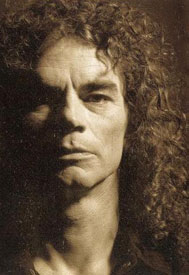 Mozzy: (laughs). Well that was an experience for sure. So, now you're back in Gävle for a festival. You played here, in the same location, at Getaway Rock Festival in 2010, do you remember that?
Bobby: Yeah, Motörhead were playing. When they are there, I never forget (laughs). That was a good time! I thought it was a really cool set-up. And I think it was one of the first times for the festival, right?
Mozzy: Yes, that was the first time.
Bobby: It was the first time? OK, well it was a cool set-up here, with the brick buildings and the shipyard with the water in the background.
Mozzy: Back then, you had just released Ironbound which was a great album. You have followed it up with another two strong albums, and to me it seems you've had a real momentum going these last years. Do you agree?
Bobby: Yeah, I think so. There's a bit of a trilogy there - The father, son and the holy ghost (laughs). I also think there's a great scene right now, you know. The scene is very accepting of what we're doing. And this has, for sure, always been a scene where we play off the energy of the people that are in the scene. So if the scene is healthy around us, you are probably going to get healthier records. If we're not artists, let's say we're more like craftsmen or workers, you're going to get more out of us.

But also, when Ron (Lipnicki, drums) joined us I think he kind of brought a new hop to the band. Plus we started understanding ourselves. Like 'hey, wait a second, there's a new scene coming up with kids doing the kind of stuff we were doing when we were kids'. It just infused more hope, more energy into the music and I think that's what happened. We didn't overthink it; the whole conversation was as long as yours and mine here.
Mozzy: I've also read that it's been quite good for you sales-wise. The last one did well, didn't it? Although the record sales are not the same today, of course.
Bobby: Yeah! In relation to what sales are now, it's one of our best selling records. So that's another indicator of a healthy scene, and a good record. To be able to chart as high as it did in countries that have carried weight with regards to sales, like US, Germany, Canada and some other European countries, charting in the top 50, that is pretty good.
Mozzy: As you mentioned Ron, he has been with you since 2005 now. Do you feel like you've had a stable unit since then, with the same guys?
Bobby: Yeah, I do, but he just left the band (laughs)
Mozzy: Oh really?! I read something about the drum tech replacing him but I thought that was temporary.
Bobby: Well, Eddy (Garcia) who replaced him, he's been in the band Pizzing Razors from El Paso, and he's been our soundman for the last 12 years. Eddy and Ron are peas in a pod, so we thought that instead of trying to find someone and change the approach, Eddy was the right one, to keep the approach.

So he's been around and has been mixing Ron ever since he got in the band and sets his drums up. Eddy, I and Dave (Linsk, guitar) jam during soundchecks, you know, so there's certain normality to having Eddy there. And there were no problems; Ron just needed time to work out some financial issues in the business he has.
Mozzy: I saw you at Graspop in June. You said in the microphone that "my heart is beating like a motherfucker". Did you have some problems that time?
Bobby: (laughs). No that's just when I get excited when I see 80000 people (laughs). Because if they don't like you, you wouldn't last very long (laughs).
Mozzy: Ok, I thought maybe you were having some temporary problems (Bobby has had some health scares in the past).
Bobby: No, I always say my heart beats faster on certain stages.
Mozzy: That was a great start to that festival day, Overkill as the first band, curing the hangover (smiles).
Bobby: (laughs). Better than orange juice and coffee (laughs).
Mozzy: You've played all over the world, obviously, and even in the Caribeean as we mentioned. But are there still some new places you would like to play in?
Bobby: Yeah, there is a few! Iceland is one, I heard there is a festival there now. There is also a festival in South Africa. And some of the Pacific Rim countries; I haven't been to Indonesia, Thailand, Malaysia… I haven't been to China. And not Africa, then, but I'm not sure that is going to happen (laughs). But sure, there are new territories. I think it's kinda cool that when you've been around as long as us, there are still many places you would like to see. So as long as the offer is right, anything is possible.
Mozzy: Cool. You're playing here at Gefle Metal with Anthrax on the same night. You two toured together in Europe in 1986, thirty years ago. That must be special, that you are still here playing, as you're from the same area as well.
Bobby: Yes. It's unique for something to have value for that long, and it has not really changed that much as to the aesthetics of the value. It's still about live guitars, double bass drums and aggressive vocals. And I think that it shows that something that metal fans liked and something that metal bands were tapping into, all the way back in the 80´s, it has a value for possibly three generations at this point.

And that's really unique in a world where you dispose of cell phones after a year and a half, you know, or we throw our cars after six years… So it's unique to be something that has value for three decades.
Mozzy: Yeah. You must have pride in that.
Bobby: Sure! I'm a proud guy. I've gotten to live my life. This isn't about a career in a band - this is what I do, I live this. That's actually cooler than saying this is a career, you know.
Mozzy: Very cool indeed. So, you have the new album coming up, was it in October?
Bobby: Yep! No, it's going to be the first week of November. We will take one more week to see if everything is correct. And, you know, even though we have partners, we're self-managed. We like to make sure that everything is in order. Overkill is presented by Overkill.

That's another part of pride that we have - that is comes out correctly. We have Andy Sneap involved and I'm five songs deep, that are recorded, and I have seven more to do when I come back in a few weeks. And then the mix starts.
Mozzy: So all the music is done?
Bobby: Yes. Lead guitar has to be added but nothing else.
Mozzy: And then you will tour in Europe?
Bobby: Yes, us and Crowbar. I don't have the itinerary on me but we're doing some German shows, for example. I'm not sure if we will come to Scandinavia, but if not we will come back. One of the things that keep us going after 35 years is that we don't overdo ourselves in one shot. Then you would be ruined when you come home. So we do three weeks back home and then go out in the states a month after that, then back home, then maybe some festivals, then back home, and so on…
Mozzy: You recorded material in Germany for a DVD recently, was it in April?
Bobby: Yeah, in Oberhausen. We did Feel The Fire, our first record, and Horrorscope, our fifth. We recorded them both back to front, live. A really cool show. We brought out it all; it looked like an old-school metal show with stacks and Marshalls and as many lights as you can fit as possible. The idea was, let's grab the opportunity because the tour was happening. We're not rushing it as we're concentrating more on the record, but you should look for that DVD sometime in 2017.
Mozzy: Nice. I remember the last one, it came out in 2002 I think? I haven't watched it in a long time, but it was entertaining. Great to have another one, though.
Bobby: Yeah. And that's the thing; when you present it yourself and managing yourself, you take a real lot of pride in how you present everything. Even if you're not managing yourself you take a lot of pride, I suppose, but when you're managing at least you have the opportunity to take the correct decisions.
Mozzy: Some bands release DVD:s quite often. Perhaps it's better not to.
Bobby: Yeah, it becomes more special then.
Mozzy: I'm looking forward to that, it should be another good party DVD (smiles).
Bobby: (laughs).
Mozzy: Well, that was all I had, thank you. It was great seeing you again.
Bobby: OK, cool! You too, pleasure!

See also: review of the gig the same day

Related links:

www.wreckingcrew.com
www.facebook.com/overkillwreckingcrew