Interview conducted July 15 2017
Interview published August 8 2017

At this year's edition of Gefle Metal Festival in Sweden, day two was headlined by prog metal masters Opeth, who treated the audience to a top music experience, as usual. Some hours before, Metal Covenant was escorted backstage for an interview with the band's superb guitarist Fredrik Åkesson, who celebrates his tenth year in the band. It was a pleasure to meet the calm and humble Fredrik again and a nice, interesting chat was had.

Mozzy: Last time I met you, we spoke about Opeth's upcoming show at Wembley Arena in October, which I attended. That was a prestigious gig, how did that go do you think?
Fredrik: Oh absolutely, I remember that. We played this extra long set, which we only did there plus in New York and at the Opera house in Sydney, Australia. Oh, and in Los Angeles as well. So it was only four gigs and it was special. And to play at Wembley was great, although it was a bit downsized.
Mozzy: Exactly, the stage was pushed forward a bit on the arena floor. Mikael (Åkerfeldt, vocals/guitar) joked about it, calling it an intimate gig.
Fredrik: Yes (laughs). It is a bit of a prestige thing, I guess, to play at Wembley. Apart from the cut-off part, it was sold-out, they say.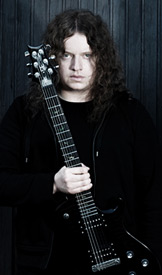 Mozzy: Yes. I bought this event t-shirt there, actually, with the date on the back.
Fredrik: Oh, cool! Next time in London we hope to play at Hammersmith. That would be great because it is so legendary.
Mozzy: Oh yes, that would be something.
Fredrik: We always try to play at new places in such big cities as London and New York. We have managed to get to play at different venues
Mozzy: Yes, I've seen you at other venues in London, actually. For tonight's show, you have a longer time to play.
Fredrik: Yes, not as long as London though.
Mozzy: No, but I saw your setlist at Download festival, for example. On instances like those, you really have to cram in your songs. That must be difficult.
Fredrik: Yes, it gets tricky for us considering the length of some songs. We have based the set a bit on what we did last autumn. There are a couple of other songs tonight though. But in the autumn this year we're doing a UK tour with Enslaved and then we will alter the set a bit. But it will be good tonight. It will be quite a hard, intense set.
Mozzy: And Martin (Axenrot, drums) is on double duty tonight (playing with Bloodbath during our interview), but he has done that before, I guess?
Fredrik: Yeah, and he was here yesterday as well, partying. He is a strong dude. He is a machine, a beast (laughs).
Mozzy: Mikael (a former Bloodbath member) has not thought of doing a guest appearance, then?
Fredrik: He is not here yet, actually. Me and him, and our families, have been to Gotland (Swedish island) and he is on his way here. He will be here around six and then he will have to warm up a couple of hours before we're on.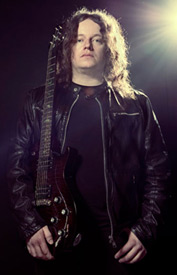 Mozzy: How has the response live been of the songs from the latest album?
Fredrik: Very good, I think. I think it was a good idea to release a couple of lyric videos on Youtube before the album came out. We chose to play those songs live, like Sorceress and The Wilde Flowers. And now we have added Era as well, which we did not do last autumn. So I think it feels good, like people are digging the new stuff.
Mozzy: I was going to ask about Era, actually. That one is a bit more direct, with a clear chorus too.
Fredrik: Yes, it is a little different for an Opeth songs, with a melodic chorus. Micke (Åkerfeldt) often calls it our 'cock rock' song (laughs). There may be some truth in that, perhaps.
Mozzy: It is nice to include it in the setlist I guess, for the audience.
Fredrik: Yeah. But it is rather intense too, and snappy. It is hard to play with that rhythmic riff (hums it) forever before the chorus comes (laughs).
Mozzy: I had a look on setlist.fm and noticed that you played Napalm Death's You Suffer recently, as a joke I suppose.
Fredrik: Yeah! We do that sometimes.
Mozzy: That one is easy to fit in (it's four seconds long).
Fredrik: Yes, we could do eleven songs tonight then (smiles).
Mozzy: Speaking of covers, I was at Bloodstock in 2010 when you did Rainbow's Catch The Rainbow. That was just epic.
Fredrik: Oh cool! Yes, that was a bit emotional. Heaven And Hell (with Ronnie James Dio) was supposed to play that year. Then we got their slot, which felt weird. So that was special. We have never played that one live except for that gig.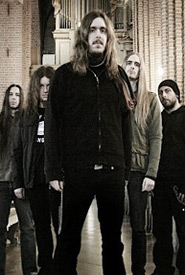 Mozzy: It was awesome. It has actually been named as one of the top five moments in the history of Bloodstock.
Fredrik: Oh, that is cool, I did not know that. I am a big Dio fan. We also did a little tribute to Dio on the Heritage album, on the song Slither. It was a little tribute to him and the Rainbow era.
Mozzy: Yes, that was cool. You have been in the band for 10 years now…
Fredrik: Yes! Time flies. There have been some gigs by now.
Mozzy: Do you reflect on that, that 10 years have passed, and how has it been?
Fredrik: It has been lots of fun. It is an inspiring band to play in. I feel that I have grown into the band, after ten years. We still get along great and the future feels interesting. I think all of us agree on that, including doing the next record. I feel that I have developed my playing as well during this time.
Mozzy: I guess Opeth is a good band for that, as it is so diverse.
Fredrik: Exactly. You always try to come up with something new for every record, and not walk the same path, you know.
Mozzy: Was it easy to come into the band from the start?
Fredrik: Yes it was. But it took a lot of work from a guitar playing point of view. Especially with all the arrangements as they are quite complex and the songs are long. You have to remember it all. Many people say, 'how do you remember everything?' One has to trust the muscle memory, and practise a lot. The acoustic playing was hard work at the beginning, but now I feel very comfortable with that.

It was very much about learning Mikael Åkerfeldt's playing style on the guitar, how he writes riffs, and getting to know that. So now I can recognise it sometimes, as in the beginning it was so much new stuff to take in. But we try to challenge ourselves as well.
Mozzy: Is there some particular highlights during your ten years in the band?
Fredrik: Well, there have been some cool concerts one can look back on. The first time at Royal Albert Hall was huge, to play there. And in recent times, when we played at Red Rocks, which we recorded for a DVD. We are looking at film clips from that now. That is a classic arena, in Denver. It was great to play out there in the desert, with the big cliffs and so on.

And then… when it comes to the craziest audience I have to mention Santiago, Chile. They sing along to the guitar melodies like at an Maiden gig. You get goosebumps standing there. And it can be to unexpected melodies as well. Otherwise, there are incredibly many memories, and crazy stories (laughs).
Mozzy: I can imagine. And you have been at so many places as well by now. You were in Mexico recently, for example. Are there any particular places you would want to go where you haven't been before?
Fredrik: Well, last summer we were in Iceland, where we had not been before. So that was very cool, I've always wanted to see Iceland. We played a gig with Meshuggah, which was fun. But other than that… We have done a tour in Asia before, and we're going to Japan this autumn. We're playing at the Loud Park festival. I'm looking forward to that because Michael Schenker is playing. We have not played in Africa, but that is not common.
Mozzy: I think it's South Africa, mostly, where bands play.
Fredrik: Yes. That has been considered for us. And we have played in Dubai once. We have covered the continents quite well.
Mozzy: It must be exciting to play those more exotic places, to see which reaction you will get as that must be impossible to know.
Fredrik: Yeah. We played in India, and even at the Maldives one time which was really special. But in India, the interest for hard rock and metal is massive. Someone said that there are two million people in India that listen to Opeth, which is difficult to understand. No one is buying any records (laughs). So those gigs have been really big, but it was a while ago. It was very cool and different to come there. When you walked outside the complex where we lived there was an ape family just outside the door and you just went 'oh, hi' (laughs).
Mozzy: And it must be a big thing to get the see the world as well.
Fredrik: Yes, it is of course. Sadly, we don't really have time to see that much. But that gig at the Maldives, we actually visited one of those paradise islands which was a luxury.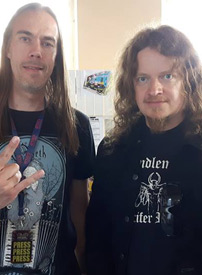 Mozzy: The last album only came out last year, but has there been any writing for the next one?
Fredrik: Not really. I have recorded a bunch of embryos, but Micke writes most of the material. I co-wrote one song on the last album, Strange Brew. I have some small ideas recorded but I have not played them for Micke yet. He wants to focus on the last part of touring for Sorceress and then see what feeling he has for the next album.

I assume we will just be on tour for the remainder of this year and then maybe it's time. He said the other day that his fingers are starting to itch. The writing is a fun process also. We have been going to Wales for the last albums.
Mozzy: I was going to ask that, if you're going there again, to the classic Rockfield studios.
Fredrik: It is possible. It is a good working environment for us, where we can focus and get a lot done in a short time. You get sort of a Zeppelin feel there as well, with some mystique.
Mozzy: It seems to a special place for sure, where lots of classic albums have been made.
Fredrik: Yes, Rush have been there, and Priest recorded Sin After Sin there. It is a real cult studio. And it is a bit like living at a farm.
Mozzy: The British countryside is beautiful.
Fredrik: Yes. And it is so leafy up there in Wales. Plus there is a great pub a 20-minute walk away, in a smaller town with a population of about 3000 people. The pub is from the 10th century.
Mozzy: Great. Me and a friend are going to Bloodstock next month and we will spend two days before the festival in a smaller town just to go to those really traditional, old pubs.
Fredrik: Cool. Those are the best, I love that English pub mentality. And Bloodstock is a favourite. There is not much nu-metal at that festival, so to speak (smiles).
Mozzy: Speaking of pubs, Opeth have had the name on a couple of beers. Are those sold-out now?
Fredrik: Yes, we did two. One was limited, the Imperial Stout. That had a bit higher percentage and could be matured up to 25 years, in a bigger bottle. The other one, Communion Pale Ale, was a 33 centilitre can which was brewed up in Leeds. Me and Axenroth went up there and tasted it. Unfortunately, it seems to be difficult to get hold of in Sweden.

I have been nagging our management to arrange it. There has been talk about that Brands For Fans company which has had drinks with Motörhead, Ghost and others. So let's hope that happens. But it is still in production, so in England it could be found, you could have a look there. I heard it could be found on tap in pubs.
Mozzy: Cool. There will be some pints for sure (laughs)
Fredrik: And I know people who have bought in the store, so you should look out for it there too. If you like ale.
Mozzy: I sure do (laughs). What about a solo project, is that something you have thought about?
Fredrik: Yeah, that is something I have though about for a long time. Doing some kind of hard rock/metal/guitar record. Let's see if there will be some time to focus on that. Opeth always comes first of course. I always present all of my ideas to Micke but I have a lot of stuff recorded which could end up in something good. I should do something.
Mozzy: I remember when you played with Southpaw.
Fredrik: Oh yeah! That was a bit of a project.
Mozzy: I saw you supporting Dio in Sundsvall (Sweden) in 1998.
Fredrik: Yes, that was really cool. We did four gigs with Dio I think. In Gävle (Sweden) I got to sit with him for two hours and he told some Rainbow stories which was awesome.
Mozzy: I remember we waited for him to come out in Sundsvall, to meet him. But we left, which I regret.
Fredrik: Oh. He was incredibly nice and really took his time with fans.

See also: review of the gig the same day

Related links:

www.opeth.com
www.facebook.com/opeth