Interview conducted January 19 2011
Interview published February 04 2011
Prepare for more shellshock and awe, as Onslaught unleash 'Sounds Of Violence' unto you deafening ears. It has already been four years since the force was last felt, and we were tested to destruction. Now after skillfully piercing our brains with their contract in blood and pain, these skullcrushers are again reborn for war.
I spoke with the Demoniac himself - vocalist: Sy Keeler - all about the fashioning of their new antitheist statement, his past searches for sanity, and his imperiled involvement with this influential act, as well as what we can expect in the future from this power from hell, still ready to rage from the hatebox of pure thermonuclear demonstration.

MettleAngel: Hey Man, it is so cool to speak with you. 'The Force' is my favourite Onslaught album. I get compliments everytime I wear my shirt. I have followed the band for decades, and I am glad to see you have a new album after already four years since the release of 'Killing Peace'.
Sy: Yes, our writing process has been delayed since we all have real jobs, and families. It can become quite a challenge for us to make an album by which we are proud to call Onslaught.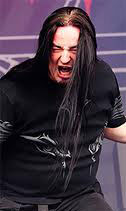 MettleAngel: I know how age factors in to the equation, and families, as well. I see that you are now signed to AFM Records. 'Killing Peace' was on Candlelight Records, right?
Sy: Yes, we signed with them for a one album deal. We are pleased with AFM. They cherry pick their bands, and really represent some top Metal acts. We also plan to release a DVD or live album with them. Right now we are focused on promoting our new album.
MettleAngel: I have the 'Live Polish Assault" DVD on Metal Mind Records. Watching this really helped me get back in to the band. I was less than generous on my review for 'Killing Peace', because I had felt the band had become too modern for my taste.
Sy: Yes, we accepted the fact that we would be appealing to a younger audience who relish acts like Machine Head, Lamb Of God, Chimaira, etc.
MettleAngel: I actually compared it to new Exodus, Sepultura, and Slayer. I guess each studio album Onslaught has released has always reflected the Metal of its time. 'Power From Hell' was more punk oriented like Discharge meets The Exploited.
MettleAngel: This was the case also with Anihilated, Virus, English Dogs, Warfare, etc.
MettleAngel: When 'The Force' originally came out, it was back then what we called "Power Metal". You had the falsetto vocals, and that is when acts like Exciter and Raven dominated.
Sy: I agree, and I am no longer able to reach those highs, so we tailor our music now towards a more brutal edge.
MettleAngel: On the Polish DVD, you make some attempts to hit the highs, but your vocals have evolved quite well over the years to fit the newer style of music. I especially like the song "Shock & Awe", which you have not played live. That was the best track off 'Killing Peace'.
Sy: I like this song too. We have been playing the same set-list for too long now. It makes me a bit bored. We are incorporating the new cuts into the mix. I would like to add "Shock & Awe" in there as well. We are also playing 'The Force' in its entirety at some festivals, like we did in South America.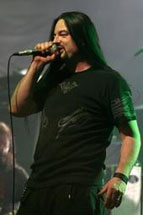 MettleAngel: Man, I would love to hear that. Are there plans to tour North America this year?
Sy: We really want to, but it would have to be economically efficient for us to do such a thing. Evile and Gama Bomb toured recently with Overkill,, and they played some really drab clubs with minimum turn out. They are younger and can rough it out. We are older and have more creature comforts, so it would have to be financially worth it for us to consider such a journey.
MettleAngel: I understand your concerns. Sabbat only played five dates, and the turn out was mediocre. Unless you are on a big bill with heavy promotion, touring the US can be a nightmare. Are you familiar with the "70,000 Tons Of Metal" Cruise? We will be leaving for that very soon.
Sy: Oh, you are going to be on that boat? We were considered for it, but we wanted to focus on finishing the new album. There are going to be some great bands on there. We have been assured that if there is a second one, we are on the waiting list.
MettleAngel: I am convinced it will be history in the making and very successful. Hopefully, we will catch you on it next year.
MettleAngel: Hell yeah! So, do you write the lyrics, or does that task and burden still fall on Nige Rockett?
Sy: Nige is very personal with his lyrics, and so he writes them. I may contribute a word or phrase here or there, but I am more about the music and melody. Take a song like "Antitheist", Nige takes this very personal. He was raised Catholic, and he vents all the frustrations that came from this.
MettleAngel: I too was raised with the guilt of Catholicism. I would have assumed he was Anglican. I like how you Brits coin new words like "Suicideology". It reminds me of Martin Of Sabbat and Skyclad. I love the term "Mythhistory". I noticed that on 'Killing Peace', you used the term "Kharmageddon".
Sy: Again this is Nige's thing and his way of making a song have more meaning. When you see a new word it makes you think about the subject matter. With Onslaught, we have always had a political underpinning.
MettleAngel: I was always fascinated by the artwork of 'The Force' and all the occult imagery. It was not until I actually saw the Japananese pressing of the CD, that I got a chance to read the lyrics. I also noticed that you covered AC/DC "Let There Be Rock".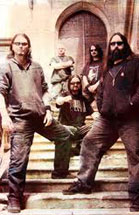 MettleAngel: I know the song appears on 'Search For Sanity', but that is with Steve Grimmett on vocals. This leads me to ask you that if the rumour is true and if you had already originally laid down the vocals parts for "Sanity', before you were dismissed by the band?
Sy: Yes, I had done everything as planned, but our label and management company were not pleased with the mix. This is why they brought in Steve to redo the whole thing. It was a bitter time for the band back then. They never did fully accept Steve as a gun for hire. Now after all these years, we have discussed about releasing those older demos so fans can hear the original direction we were headed in.
MettleAngel: I was not a fan of 'Sanity' at first either, because it sounded like 'Rock You To Hell' meets 'Master Of Puppets'. I understand the earlier demos were more in line with 'The Force', with more protracted songwriting?
Sy: Yes, the producer made everything too much like Metallica, because they were the band to live up to back then. We we reformed we held the audience in mind, and not what the Music Business dictates.
MettleAngel: That is why on 'Sounds' you can hear a mix of the new and old. I wonder if the band ever plans to reissue those rare 7" singles or (EP) recordings as well. The 'Welcome To Dying' (EP) has some mean covers of Van Halen's "Atomic Punk" and "Nice 'N' Sleazy" by The Stranglers.
MettleAngel: I know a guy who has the originals still on vinyl. I dubbed them onto tapes years ago, but I would love to have them in MP3 format. Speaking of redoing songs, Onslaught did a fantastic job on "Bomber" by Motörhead. What made you chose this song?
MettleAngel: I always argue that they invented thrash. The Big 4 all were inspired by these bands. I just wish the new Motörhead album was better, it is not as strong as their past efforts.
Sy: Indeed, and we wanted to choose a song not as common, but still representative of the band, and our own influences.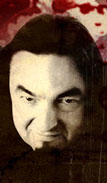 MettleAngel: I can see that. Did you know that there are bands out there like Ritual Carnage who have covered "Death Metal" by Onslaught?
MettleAngel: Come to think of it, I think I now remember that one he was doing about the war.
Sy: When we wrote that song, or 'Godhead' for that matter, we wanted to express the aggravated assault we feel on how these politicians and religious leaders are truly killing peace and robbing us of our own intellect.
MettleAngel: I hear you, they are planting seeds of hate right into our souls. We need a power from Hell to free us from ourselves.
MettleAngel: Well, Man it has been cool chatting with you. Send the best to the rest of the band. I do hope to see you live one day. The new album lives up to its expectations.
Sy: Thank you as well. You are very knowledgeable about the band and the Metal Music in general. If we can make it to America, or the Cruise, we will be definitely play of all "The Force" just for you!
MettleAngel: That will rule, in the mean time go convert more Metalheads to the Sounds of your Violence!

See also: review of the album Sounds Of Violence
Related links:

www.onslaughtfromhell.com
www.myspace.com/onslaughtuk