The killing machine One Man Army & The Undead Quartet keeps on turning and now evolution has come to the time where they are ready to unleash their second full-length album. Error In Evolution which is to be released in March is the highly acclaimed follow-up to 21st Century Killing Machine, released only a year ago. We took the opportunity to put vocalist Johan Lindstrand against the wall and confronted him with our questions.

Thomas: First of all, it is great to have you back with another killer album with Error In Evolution, but for someone less initiated how would you describe the sound of One Man Army? The music screams of thrash but the vocals are more of death metal, what kind of band do you consider One Man Army to be?

Johan: Hi Thomas! Cool that you enjoy the music, and talking about music, hmm, I don't wanna get to complicated when I describe the music of One man army to someone. I mean, a lot of bands has a description on 10 words you know. Either you say thrash metal or death metal about us. It doesn't matter. Both are correct in one way or another. But we get influences from all kinds of shit with different elements releasing each other so a 10 word description would probably be necessary, but within the roots we are death metal:. Damn, it got complicated in the end after all.

Thomas: With your last album, 21st Century Killing Machine, everything I have read about it has been in a positive sense, and rightfully so if you ask me, so I suppose one could say that you had a successful start? Did the album live up to the expectations you had on it, or did it even exceed them? Moreover, did you think that the album would get as good response as it has?

Johan: It went beyond all expectations. First the reviews were awesome. Then all the touring came. I mean, we did like 80 shows on that album which is unbelievable for a debut album. We've had a great start and have built up this unit to a very strong machine.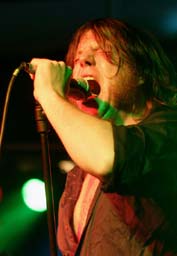 Thomas: Entering the studio to record Error In Evolution, what where your thoughts concerning the making of the second album? Did you ever think that it was going to be hard to make an album that could live up to the high standards that you set with the debut?
Johan: The cool thing about this new album is that everyone more or less has put some input. Well, 3 guys has written the stuff but when going into the rehearsal room we all kind of messed a bit with the songs and came up with improvements to each others songs. That was not the case on the debut which I almost wrote on my own. We knew that we had a strong debut but the new songs just came naturally and I think they are a step in the right direction on what the future sound of The Army will be. It's also cool now that we are more songwriters because we can make a wider sound without loosing aggression.

Thomas: Now with the new album, what can you say about it? What is different from your last effort 21st Century Killing Machine, any new things that you are trying out or things that you set out to do differently?
Johan: Yeah, there are some different elements in this new one. Mainly that the songs are shorter and have a more classic arrangements to it compared to the last one. It's also way more diverse, including some new vocal approaches here and there. More catchy, melodic and everything at the same time it actually has more fast parts than the last one. But the changes we did wasn't that much intentionally. Well, we knew that the songs needed an extra punch and spice but most of the "new" stuff were created in the studio which turned out great in my opinion.

Thomas: Do you feel that now with your second album and when you have gained some routine for the band from touring that you are starting to be where you want to be with One Man Army? Or did you hit the right spot from the start, considering that even if One Man Army is a relatively new band you as musicians aren't, so that you perhaps could achieve directly what you went out to create?
Johan: You always want more, hehe. I mean, just as you say, we have gained a lot of routine and respect out there but we still have a long way to go cause of all the other million bands out there that gets attention. The main goal is of course to release loads of great albums and be able to stand on our own on every possible level. I want this to be the source of money for us so we can live on it and just focusing on music instead of working 9 to 5 in a shitty place that takes away the strength for us to write music. Unfortunately it's a necessary evil at the moment.
Thomas: What are your hope and expectations on Error In Evolution? Or are you by now just eager to get out on the road to see how the songs work live?
Johan: The expectations are that people will receive this with pleasure and wanting us to perform as much as possible. I really hope for some quality touring just as last year but can it really get any better than to be out for 7 weeks with Children of Bodom and play in front of 1500 people each day?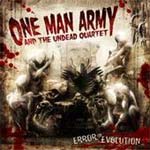 Thomas: If we take a more in-depth look at the title: Error In Evolution. What error in what evolution? And is this a common theme for the album in its entirety and something that reflects in the lyrics as well?
Johan: Yeah, it's a bit reflected in the lyrics as well. The title refers to all the actual wars, criminality and all that kind of shit that actually is increasing in this world, even in Sweden. I mean, you think that people should learn from past mistakes but apparently not. And now it seems like Bush will send another 21000 soldiers to Iraq, hehe. That's insane. That's what the error is referred to cause things are not looking that much brighter compared to 10-15 years. A lot of suffering to say the least.
Thomas: Where do you gather lyrical inspiration? And what kind of subjects are you dealing with in the lyrics? Are there any subjects that or opinions that you feel strongly about that you like to get off your chest in the lyrics?
Johan: Just as the error is referred to I´m getting inspiration from true events but them I mix it with some fiction. And some lyrics are also pure fiction but 50-60 % comes from the real world. Some topics comes from the school massacres in the states like in "Such a sick boy" and some from fanatic religious countries like in "Knights in Satan's service". Others from actual Swedish criminality but with some new touches to have a bit distance to it. You could say that I write about everything which I feel has something weird with it, hehe. There's also a couple of personal ingredients in the lyrics as well.
Thomas: Who writes the songs in the band? Is there anyone that is to be seen as the creative force behind the band or does all in the band chip in with material to the songs?
Johan: Like I said earlier. Now we are more like a unit that contributes into writing songs but of course we always discusses what fits this band and not. I was the starter of this band and I have a certain vision on how things should sound but that sound has become wider now with the other guys putting their influences on it and before taking a song into the rehearsal room we first analyse the demo that one of us has done and listens if the song is worth working on or not.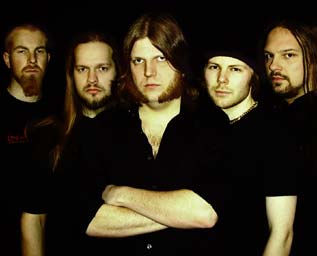 Thomas: On the album you have a song entitled Knight In Satan's Service, by the title it looks to me like it is a tribute to KISS? Is that correct, and if so, what kind of relation do you have to KISS?
Johan: Yeah, that's kind of a tribute to KISS but only title-wise. I just had to use this title to send out a punch in the face to all those ridiculous Christians back in the 80´s that claimed that KISS stood for "Knights in Satan's service". It's so bizarre that's it's funny. Anyway, KISS is one of the best bands ever to exist along with early Metallica.
Thomas: You also do a cover version of Alice Cooper's song He's Back (The Man Behind The Mask) that originally appeared on the soundtrack to Friday The 13th Part 6, what made you chose that one? Even if I personally think you could have done an even more aggressive version you have managed to capture the essence of the original version as well as making it sound as a One Man Army song.
Johan: The reason was basically cause I've wanted to do this song for a very long time. Even back in The Crown days but it took me a couple of years before it came true:. This song and movie has become very special for me through out the years. Since I first saw this movie with pretty poor quality I have loved this song and I´m not a huge Cooper fan or anything but I relate the song with the movie. Yeah, we could of course have done it even more aggressive but I love the original too much to change the very important chorus. And one cool thing is that Christian Älvestam from Scar Symmetry is doing the chorus. That was kind of funny cause we have been friends since the military service 11 years ago, and he called me up after he read on Blabbermouth that we would do this and he said: "-Hey Johan, I heard you're doing He's back!! Well, I will be very disappointed if I can't join you", hehe. And even if we weren't suppose to have a guest on it I´m not regretting taking him on cause he has an amazing voice and he's also the biggest Jason fan in the world. That's why he needed to be on it :)
Thomas: You have some really awesome artworks for your albums and there is a similar style on both of them. Is there a conceptual theme behind the artwork? What is the story behind the Sauron-like warrior in black and the faceless creatures surrounding him? Who is the artist and is did you have directions for him or did he get creative freedom with coming up with the concept?
Johan: We've had directions to him on both albums with some freedom to create on his own. It's a guy called Anthony Clarkson who is also responsible for the new exodus and Hypocrisy. He knows this shit very much and he also came up with these very cool creatures which we've had now for 2 albums. I think this fits very much what this band is all about. I am the beast, the frontman and the undead quartet is my rhythm section. We don't have a name for the beast yet but a competition will take place very soon just to name this demon and the winner who has the coolest name will win something really special.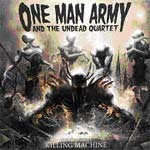 Thomas: In about a year you have soon released two full-length albums, one EP in time for Christmas and done more than 80 live shows, don't you ever rest?
Johan: Apparently not :). But the reason for being so creative is that the whole band is more involved now which feels great.




Thomas: How has the touring been, I saw you as support to Children Of Bodom in Gothenburg and I must say you did well, but what do you prefer - to act as support or as headliner, which you have done as well during the past year?
Johan: Touring has been great. We've done huge shows as well as very small club shows. The best thing when you are a new band is of course to open for other bigger acts so that you could promote your name in front of more people but the small headlining shows has been very funny as well. And now when we have more songs to chose from it will be even funnier.
Thomas: Which countries have you visited during the year and where would you say it was the most fun top play and where did you get the best reception?
Johan: The best show we've done so far is at Pratten in Switzerland on this new years eve. We had a great time and the turnout was great. People were very into The Army that evening. Other than that we've played in almost all of Europe. 19-20 countries or so but I really hope that we'll go to America and Japan on this one as well.
Thomas: You seem like a great outfit, it sounds splendid on album, there is such a high level of musicianship on it, and the band appears to be very tight. Is there as good spirit in the band as it sounds to be on the albums and on stage?
Thomas: And if we talk about your vocal techniques, how the hell can you keep doing what you do without destroying your vocal chords? Have you learned any techniques or does the growling come natural for you?
Johan: Well, I have done it for 17 years now and I guess this is my call, hehe. But sometimes I have bad days just as everyone. This isn't something that is pretty good for your chords but I love it too much and basically don't give a shit if I wreck ´em. Well, If I destroy them I wouldn't be able to growl at all so that was a bad thing to say. I just wanted to be metal enough for you ;-) No, but seriously, I am self learned and it just comes naturally. Can't remember how it started but where other normal people starts to puke blood I just get a little sweaty.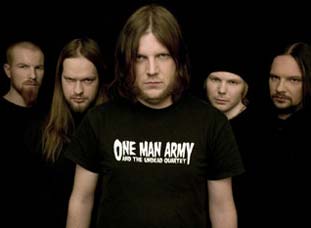 Thomas: You released a limited X-mas EP, Christmas For The Lobotomizer that was only available through Nuclear Blast. How did it turn out and why limited to only 500 copies?
Johan: It was limited to 500 copies because you're not supposed to buy this album in July. The album was a very cool thing because not that many bands do EP´s like this and it was also kind of a way to show the die hard fans of what to expect on the coming "Error in evolution" where you can find similarities both music-wise and sound-wise.
Thomas: How does the future look concerning touring, any plans made yet? And what would you like a tour to be, as headliners or as special guest to a band that is more established and has a bigger following of fans?
Johan: So far we have like 5 or 6 shows booked but we have a couple of other things in progress. I think we'll work pretty much in the same way as last year, like playing with more established bands to continue building up the band, cause you never get new fans by playing on your own.
Thomas: Any festivals lined up for this summer? What festivals are confirmed and is there any further in negotiations? Can you give us a hint on what is about to come?
Johan: We have a couple of small festivals booked and one really big one and that is "With full force" which will be great to do. We did so many festivals last summer so a couple of festivals don't want the same band playing 2 years in a row, but I really hope for a couple of more.
Thomas: And to round this off I would only like to say a big thank you for taking the time to share this with us, and if there is anything more you would like to add or share with the readers of Metal Covenant, feel free to use this last space as you like…
Johan: Ok, thank you very much for this great interview Thomas. Good luck with Metal Covenant, and to all the readers. Check out the new album "Error in evolution" or you will likely be stuffed into the error ;-) Cheers!

See also: review of the album Error In Evolution

Related links:
www.onemanarmy.tv
www.myspace.com/onemanarmyandtheundeadquartet