Interview conducted August 16 2019
Interview published August 31 2019

"Yes, but then everyone goes to my village Lumsheden to shoot shotgun and eat moose steak."

In mid-August Metal Covenant was at Sabaton Open Air in Falun, Sweden, and met up with singer Christian Eriksson of power metallers NorthTale to talk about the band's debut album Welcome To Paradise [Out August 2nd].

Tobbe: You have recently put out your debut album. So, tell me a little about it.
Christian: Well, we wanted to make a record that we want to listen to ourselves and a record that means something to us. A record that if were 14 and have heard it we would have been mind-blown and when we are 85 we can take it down from the shelf and be proud of it. That's our intention with Welcome To Paradise.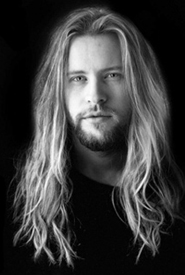 Tobbe: For those who know you from Twilight Force. In what way does this music differ from that band's music?
Christian: Well, we're not as symphonic as they are and then we choose to focus more on everyday life in our lyrics and in our message, rather than fantasy stuff. All respect to that, but we want to do something that we feel means more and beyond to us. We're more like melodic metal, rather than bombastic and grandiose. That's what's different, I guess. Back to the roots, on our part. We're a live band to 100 percent and everyone in the band is singing. Our idea is to be able to do a show anywhere.
Tobbe: When you built the album, was it kind of inevitable to include two ballads on it, to get some variation? What were you thoughts in that aspect?
Christian: Well, we didn't think about it at all. The first ballad, Way Of The Light: I've had that one for 12 years or something. I presented it to the band, but never thought it would make it to the album, or that anyone would even like it. But the rest of the band insisted that we were going to have it on the album.

The second ballad [Even When] is dedicated and written to my children. But there are, you know, no obligations, because we don't follow a model, but two ballads just were included on the album. Will there be 5 ballads or none on the next album? I don't know.
Tobbe: Heavy metal and hard rock have been around for, like, 50 years now and when making music today, is it even possible to find something new, or do bands have to kind of make music that has already been done?
Christian: You know, people are constantly saying "That's nothing new!". And this isn't anything new, because that's not what we're trying to do. You know, we're not trying to invent the wheel again, because the wheel already exists, which we are fully aware of. We usually use Greta Van Fleet as an example. Kids today love Greta Van Fleet. They sound exactly like Led Zeppelin. When I listen to Greta Van Fleet I think of Led Zeppelin and I guess it's the same for you.

But for those people who haven't heard Led Zeppelin, Great Van Fleet is the real deal. Those people don't give a shit about Led Zeppelin. And to me, as a singer and songwriter in NorthTale, the greatest reward happened just about 20 minutes ago. I was talking to this girl and she told me that she had found strength in one of the songs, because it's an anti-bullying song [Time To Rise], where I tell about when I was young myself and was being bullied. And she had listened to it, because she had been bullied a lot, and she started to cry when she was talking to me. And then we're talking about a whole different level, as far as I'm concerned, because then I've been able to communicate something that's more than just music, if you know what I mean?

So the whole basis for NorthTale is to do what we love, what we think is fun and to share our own experiences and a message that we hope that people can absorb. So many people are experiencing bullying, and panic attacks, which we also have a song about [Sirens' Fall], and if we are able to make those people feel just a little bit better, then I've won.
Tobbe: NorthTale have without a doubt been influenced by the old power metal bands, but are there any specific records for you personally that have meant a little bit more to you?
Christian: Well, I guess you can say that. For example, I love Painkiller by Judas Priest [1990], Power Plant by Gamma Ray [1999], and Keeper Of The Seven Keys Part 1 and 2 [By Helloween 1987 and 1988]. I mean, those are giants within power metal and heavy metal, so of course you get colored by them. But I also get colored by other stuff, because I love all kinds of different shapes and forms of music. Like our drummer [Patrick Johansson] often says, he has borrowed it from someone else, "There's good music and there's bad music.".

It doesn't matter what genre it is, you know. I also love our Swedish heritage within folk music, where we have very melancholic melody structures, that I'm most likely inspired and influenced by as well, because I love that melancholy, which yet have a bit of hope inside.
Tobbe: When you were younger and started to sing, did you look at different singers at that point, or were you just winging it?
Christian: Well, I remember listening to Gary Moore's Hiroshima [From the album Dirty Fingers. Recorded in 1981. Out in 1983 in Japan and 1984 in Europe.] and that's when I decided "I'm gonna be able to sing this song!". In the beginning there was a lot of Ritchie Valens, with La Bamba and Come On, Let's Go [Both songs out in 1958]. Then came Michael Kiske from Helloween and Freddie Mercury, so of course I've listened to them to find out how they do it.

And since I'm self-taught I've probably stepped into every trap there is regarding vocals, but I've also analyzed and split everything to molecules in order to be able to shape my own sound and already at an early stage I thought about coming out as myself and not as a copycat of someone else.
Tobbe: At what point did you realize that you actually can sing?
Christian: Oh! I think I have yet to realize that. When I was little it was like "When I become a rockstar everything will be fine.". I've been standing on incredibly big stages and I've done, in people's eyes, stuff that is very cool, but one thing I always come back to is "I am always I.". This was something that needed to land within myself, that it doesn't matter if I'm in front of an ocean of people, "I am still I.". So, it didn't come like a revelation, but I've fought my way to this.

I decided when I was 5 years old that I was going to be a rockstar, and it's been like that since then. I have bumped into obstacles, stepped into several traps and taken a lot of strange ways, and now, finally, I feel with NorthTale that this is what I want to do, for real.
Tobbe: About not being in Twilight Force anymore. Has that something to do with, like you just said, "I am always I."?
Christian: Well, you know, life is very short. I must point out: when we had fun with Twilight Force, we had such an incredibly good time. It is hard to beat the joy we had at those times. Then things changed. It's like any other relationship and sometimes it doesn't work. I mean, if someone would call you and ask why it didn't work out with your ex-girlfriend, it's like "Well, we were too different.". And this is kind of the same thing. If I ask you, "Your ex-partner. What happened?" you would say "Well, it didn't work out.". Sometimes it works out, and sometimes it doesn't work out, and in this case we grew apart.
Tobbe: People often want to hear bands air their dirty laundry in public.
Christian: I have no intention to smear them, in any way. Their new singer Alessandro [Conti] is a good buddy of mine. He has designed the NorthTale logo, you know. I wish them all the luck and there shouldn't be any bad blood. And especially in the heavy metal world, which is so small. So it's better to have fun, be friends, and if you're not friends you don't have to talk to each other. You know, it doesn't have to be more difficult than that.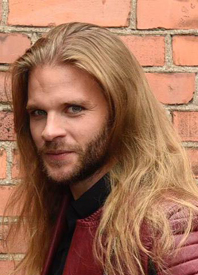 Tobbe: Most guys in the band are still members of other active bands. So why do you guys start NorthTale when you guys have other bands to play with?
Christian: Well, there's a difference. You know, everyone must eat. Some guys play in other bands, where they are hired and get money to pay the rent. I make animated films, and we dub animated films, you know, because I have to eat. In those bands they are hired musicians, but in NorthTale we do what we want to, in a completely different way. Everyone has a say in one way or another. Everyone can feel that this is their thing, instead of being a hired musician to someone else.
Tobbe: But isn't it hard to create a solid band unit when you live in different parts of the world?
Christian: Yes, but then everyone goes to my village Lumsheden to shoot shotgun and eat moose steak. [Laughs] We have done that. We met, together as a band, and then we have lived very intensively, and then we were out and we felt instantly that it was right, like "This is our band.". And although we have been working from different places, and online, now that we met everything seemed just right.
Tobbe: To what extent can you guys with connection to the town of Falun thank Sabaton for placing this town on the heavy metal map?
Christian: Well, those guys have done an incredible job, and first and foremost Pär [Sundström, bass]. I mean, we grew up together, we have partied together and we have done all kinds of funny and stupid stuff over the years, you know. I and Pär used to work as window cleaners. We were driving around in a van and cleaned windows. Back then he said, "I will take Sabaton and make it the biggest.". And he has come a long way already. All kudos to him.

I guess there is no one else in the world that is able to work as much as he does. He's unparalleled when it comes to working. So, of course, we guys who come from here do everything we can to keep this festival alive. It's amazing to be able to have a festival in Falun.

Related links:

www.facebook.com/northtaleofficial
www.sabaton.net/sabaton-open-air-festival