Interview conducted April 02 2016
Interview published April 16 2016
Erik Mårtensson of Swedish melodic hard rockers Eclipse pretty recently collaborated with Ronnie Atkins of Danish metallers/rockers Pretty Maids in order to form the project Nordic Union. Metal Covenant met up with a cheerful Erik in a hotel in Stockholm to talk about the guys' self titled effort [Released January 29th via Frontiers Music] and naturally to have a few words about his main band and their recent participation in the Swedish qualifying rounds to the European Song Contest as well.

Tobbe: What do you get out from making a Nordic Union record, on a personal level?
Erik: Personally it's really cool to make a record with Ronnie Atkins. You know, as cool it would be for you to make a record with Ronnie Atkins, as cool it is for me. I mean, the reason to why I do this is because I like music and rock and I'm still a fan. And having come so far as to have your own concerts is just a bonus, you know. There's no strategy behind it.

I'm a fan and I'm doing this because I love it and that's the most personal. And then there's a real challenge to make records. It's hard work, you know, to make good records especially and to not release a pile of junk and to keep yourself alert from start to finish. I would say that this is what's most personal. And then there's a real grind to make them. That's just the way it is. And it's my job, in a way, too.
Tobbe: I suppose that Serafino [Perugino. President of Frontiers Music] was the one originally behind this project, so why exactly a collaboration with Ronnie?
Erik: He has made several propositions. It was Tony Harnell [of TNT] and a couple more and…I don't even remember. And then he mentioned Ronnie Atkins and I was like "Yes!". I was thinking of not doing so many projects actually, because I hadn't done one in like 3 years. I did one with Jimi Jamison [of Survivor. Never Too Late album] and then I haven't done anything more of such projects. I've been taking part in quite a few else, but not something custom-made like this one. But doing one with Ronnie was a no-brainer, you know.
Tobbe: Is there a possibility that you will ever play these songs live?
Erik: There is. Absolutely. Ronnie seems a little bit eager to do it actually and I would definitely do it of course. That would be really awesome. And what about getting to do Future Would [Pretty Maids song] also?
Tobbe: If this won't be happening, will you ever consider playing some of the Nordic Union songs with Eclipse instead?
Erik: You know, I think it's really important to keep them apart. Eclipse is still our band and just because I'm making quite a few side projects it's still important that the other guys don't suffer from it. Suffer is perhaps the wrong word, but I think it's important to keep them apart. And that's why I don't sing on anything else either, you know. I write songs and stuff, but I don't lay down lead vocals, besides a very few guest appearances. But I don't lay down the lead vocals on someone else's record. I always turn those offers down. I want to keep that for Eclipse only, you know.
Tobbe: You've done the major part of the songwriting, with Ronnie only writing the lyrics to a few songs, if I look at the credits in the liner notes, so is this actually a union we're talking about, or is it simply you + Ronnie Atkins?
Erik: Sweden threw out the Danes, so why don't keep it like that and let us be in control? [Laughs] But we've got something together and in the end it became a collaboration between us anyway. Even if he hasn't been involved with the songwriting, he's still involved with the creativity since he's singing and making his own thing out of it. I mean, that the record is so damn good is not just because of me. He has really put down hard work into it and he hasn't just taken the easy way out when laying down the vocals. He really gives it everything he's got.
Tobbe: How big was his input regarding kind of changing stuff and putting his own mark to it, perhaps to a greater extent than what you first had in mind?
Erik: Melody-wise it's kind of identical, I would say, and there are very few changes. But yet I think that he has clearly put his mark on it anyway. And he has made certain changes, but always to the better. I try to make the demos really good, even if I don't put down every effort to it. When I make an Eclipse record, I make the demo first and then I try to improve. Now he had my demos handed to him and he tried to make it better.

I have nevertheless set the standards quite high song-wise and I think I have pushed him even more with this. You know, he can't come out worse than my demos. He told me himself that he had a lot of pressure on him to sing this. Even his wife said to him "Why are you singing these songs? You sing worse than him.". He seems to have a tough wife, you know. And so do I. But I think that's for the better, you know.

Someone has to put you in place. Anyway, in the end it sounds like Ronnie Atkins and not like Erik is singing, you know. It's pretty funny, some people say that everything on it sounds like Pretty Maids, but they don't get it, because the only connection is him singing the songs.
Tobbe: Yes, the record musically comes out like Eclipse, but the songs fit Ronnie really well anyway, so when you wrote the songs, what were your thoughts, regarding trying to adapt the songs to him?
Erik: Well, I had a plan. When I got this assignment, I kind of instantly had an idea how I wanted it to feel like, even if it sounds like Eclipse, which isn't strange since I'm doing the mixing and producing and everything. And it's kind of easy to write the same song over and over again, because you have a certain sound, you know, but I try to see it as a benefit, that you hear that it has a clear sound of Erik.

But I had a vision, kind of minor-ish, and the lyrics overall were to have that feeling too, and very melodic. Not some kind of Whitesnake blues vibe. It was important that each part had a punch. So unadorned it's very much the songs and the song is really in focus, you know, even if there is some riffing, but it's not the kind of riffing that we have in Eclipse, which is a little bit more intense, whereas this is a little bit more direct.
Tobbe: Pretty Maids kind of mix different styles, like rock songs with heavy metal songs from one song to another, so did you ever think about writing a couple of heavier songs as well? You know, a couple of metal songs too?
Erik: You know, Pretty Maids, I think that they have a vast mix of songs. It's like Go Fish [card game]. First you get a real heavy metal monster and then you get kind of a power ballad. I don't know, but it's really back and forth and it's like "Is it still the same band playing?". But I know how they think and Ronnie simply says "It's a good song, or a bad song, and we don't care about the style.". But I like to have a certain distinct identity and if I want to do a different song, let's just keep it for the another record. I try to keep things together and that's what I'm doing with Eclipse too.
Tobbe: We also find other Eclipse members on this album too. Like Magnus Henriksson, who has co-written a couple of songs.
Erik: Well, he just came by the studio a couple of times and I was doing some writing and he just helped out a little bit. I think he has co-written 2 or 3 songs.
Tobbe: And then we have the drummer [Magnus Ulfstedt], who happens to be Eclipse's bass player as well.
Erik: Yeah, it's like, you know, Mange is a really great drummer, so why should I get other people involved instead of just asking him to lay down the drums on the album? He gets the shit done and I know that a good end result is guaranteed. It's like if you're going to renovate your house and you know about a good carpenter, you call him, you know.

There's not need to gamble and call someone you've never heard of and who lives far away and that you have to get to know before you get started. Mange played on the Jimi Jamison album too, so in the end it maybe becomes boring, and it's something I have to think about more in the future. But you know, it's like you're always short of time, and it takes a while to write the songs, and all of a sudden you have to deliver and you're kind of panicking when you suddenly have to record the songs for the album.
Tobbe: Even if I realize that it's pretty far-fetched, but when the other guys are somewhat onboard, why don't make an Eclipse record instead?
Erik: Well, I see it like these songs wouldn't have been written if I hadn't been asked to write them. It's not like it was songs I had in the vault. They simply wouldn't have existed. If I hadn't had, you know, a gun to my head and "Now you have to do this, because you have to deliver!", they would never have been made. I see it like I'm sharpening the knife even more for the next Eclipse record. You learn stuff all the time and it's not like you run out of good song ideas.

I believe that you run out of ideas if you stop writing and take too long breaks. You know, you lose your skills, just like with any profession, in a way. You have to keep it going, like if you don't do some maths, you will find yourself back where I am now. It's not like I am where I was in senior high, you know. Maybe I practice a little bit too much sometimes, but I mean, I kind of have to. I mean, just because you lose some inspiration occasionally, the phone bills and the rent still keep coming.
Tobbe: So how far have you come with the next Eclipse record, with all those kinds of work you've been busy with lately?
Erik: I have a big pile of work in front of me as well, but we will have a new album out in February next year. We don't have any songs yet, so we will have to start making them now.
Tobbe: And will it sound pretty much the same as usual? Well, of course there's some development, but you know what I mean.
Erik: Yes, it's a gradual development of course. We will probably bring some new stuff to the table. We will have to see where we will draw the line. You still make some small changes and we made some changes on the last record [Armageddonize] that we might further develop. I don't think that you can make the same record over and over again, because then it will just be the same record, but maybe not as good. We have to make at least some changes, but I don't think that we will do something drastic. I want to change something, absolutely, but at this point I don't really know what.
Tobbe: You're pretty busy all the time, so how much do the other guys in Eclipse have to adapt to your personal schedule, when you have time to make a record?
Erik: Well, we have a plan and that plan is for next February and we will stick to that, you know. It's me and Mange [Henriksson] who have to put it together, so everyone should just be really happy about it. [Laughs] You know, I put down a lot of time on Eclipse. I do really. And it has become more and more during the last couple of years. We have realized that time flies and we have to kind of water our garden a little bit too. It has become more a question of "Now or never!", you know.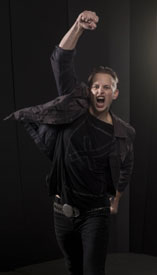 Tobbe: Yes, Armageddonize was really critically acclaimed and the fans seemed to really love it too, so do you feel the pressure to make an equally good or maybe an even better album?
Erik: Of course we have to make an even better album. Everything else will be a total fiasco, you know. I really put a lot of pressure on myself. You have no idea how hard I push myself to make it. I really try my best, you know.
Tobbe: I've got to ask you a little bit about the European Song Contest too. So did that thing give you any kind of boost?
Erik: Well, the difference is that you knew who we were before, but you're actively interested in rock music and so are a lot of people too who listen to us, but the ordinary people at, let's say, Sweden Rock Festival aren't all actively interested. The thing is, what happens when you're involved in these kinds of contests is that suddenly those people get to see us too.

So when they are walking the streets in their hometown, like in this part of town where there are posters all over the place, they will remember us when they see our poster, instead of just walking by some poster with an unknown band. I would say that this is the big difference. We don't feel the need or have the ambition to play every town festival and become one with the everyday people, but in terms of marketing, it's really a great opportunity.
Tobbe: If we look at the actual song, Runaways. Did you have an idea to that song before you knew that you were going to make a song for the contest or was this just a song you already had lying around the house?
Erik: It was actually the first single to Nordic Union. There is a version with Ronnie's singing too. But we rearranged it to make it sound more like Eclipse. We were asked to participate, so we haven't sent a song for them to listen to at an early stage. We were asked like "Do you want to participate?" and then we had to send them a song quickly. We were going on a tour about 10 days later, so I didn't have the time to write a new song. The only thing I did was to cut it down to 3 minutes and then we got an email that said "Congratulations. You're in the contest.". We have never tried to actively enter that contest, so this was just something that suddenly happened.
Tobbe: Did you have any connection to this contest before? Like watching it, like, every year?
Erik: No, I think it's really crappy. Of course there are good songs and good artists and I watch it sometimes because I have 2 kids who's watching it. You know, you're sitting there and let out a sigh. It's so funny, even if I don't want to mention any names, but there's many, because they have people singing behind the stage. Sometimes it's just acting out there.

But anyway, we just looked at it in a marketing aspect and when we have retired and put this to rest, it's not like I'm going to think "Oh no. We should have never entered that contest.". Of course we had to do it. I mean, far from everyone gets to do this. It was really fun from beginning to end. And you could never imagine how nervous I was. It was really outside of our comfort zone. I almost felt sick on the way there. We were really nervous and the others were…it's lip-synching, you know. I was kind of the only one under pressure.
Tobbe: During this period I guess you did more interviews with newspapers and mainstream media than what you usually do and how did they behave toward you?
Erik: You know, most of it is pure nonsense, so we turned down most of the offers. Like "Can't you please show us how to headbang!" or "What is like to be a real rocker?" and "Show us the devil horns!". Fucking nonsense. It's like it's just for fun, whereas for us it's all but fun. But I guess this kind of shit happens to the other artists as well and maybe it's not supposed to be too serious?
Tobbe: We're gonna finish this one up soon, so besides having the Eclipse record out in February, what's else in the pipeline?
Erik: I'm in the middle of making the next Ammunition record, with the Wig Wam singer Åge Sten Nilsen. We've done one record together, in 2014 [Shanghaied], and now we're making another one. We should have started earlier, but since the contest wasn't planned, it interfered with the recordings. I'm also working on a new studio. A whole new building, including the foundation. In my own backyard, so I will walk straight from the bed, tell the kids goodbye, and just be there in a second. It will be awesome. And it will have overnight stay for bands too.
Tobbe: And what about W.E.T.? Jeff Scott Soto just recently released a new solo album and he made one last year as well. And you have done Nordic Union and the contest.
Erik: Yes, we're kind of busy with other commitments and I know that Robert Säll [guitars] isn't too psyched about it at the moment. But things are starting to move a little bit and the talk has begun. So it's not in the deep freeze, you know. It's not like we don't like each other, but we have to do our own shit first.


See also: review of the album Nordic Union
Related links:

www.eclipsemania.com
www.facebook.com/eclipsesweden