Nocturnal Rites, one of Sweden's premier acts in the melodic metal scene, are soon about to release their new and steaming hot effort Grand Illusion. When the opportunity arose to question the bassist and one of the main men Nils Eriksson, Metal Covenant were not late to line up the questions. The following is what he has to say about the recent happenings in the band.....

Mat: Hello there Nils! I just want to start with saying that the Metal Covenant Staff and readers really appreciate that you've taken the time to participate in this interview and letting us know what's going on in the band and your feelings regarding your new album, Grand Illusion.
Mat: A little early to have a good overview of the overall opinions of your new album Grand Illusion, but the little I've come across, including my own personal opinion, is that you've accomplished yet another great and solid release. Are you pleased with the reactions you've had so far and have they lived up to the expectations you had?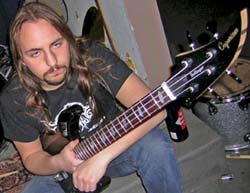 Mat: It's also the general opinion that Grand Illusion just might be the album that really is going to be your big break through and the last couple of years you've finally also begun to get some serious and very well deserved recognition. You were even highly praised by Swedish newspaper Aftonbladet a while back and they usually have a strong tendency to really discard metal and power metal especially. You must be very pleased where things are heading now?
Nils: Yes, we are. What else can I say? We've never compromised with our sound but always been one step ahead. We were doing this melodic metal 10 years ago when no one else did it and no one give us their time of day. I think the bottom line is that we have a lot of fun in both writing, recording and performing and somehow that always shines through in the end. We love doing what we do and it's really just encouraging that people on a larger scale are starting to regognize that. With NWM we tripled or doubled our sales in a lot of territories, so it will be interesting to see where "Grand Illusion" takes us.

Mat: As far as I'm informed, you've changed studio with this release. Your former albums have been recorded at Tonteknik, but with Grand Illusion you've chosen Toontrack Studio instead. Any special reasons for this or was it just time for a change?
Nils: Well, NWM was also recorded at Toontrack. Afterlife and The Sacred Talisman were recorded at Tonteknik. Two studios that start with "ton" might be a bit confusing, I know. The only reason why we decided to record the new album in Toontrack is because of the excellent cooperation we have with our producers SHEP. They definitely add something to our sound and we have a terrific time working with them. It's also very relaxing to record at home. You don't have to plant yourselves somewhere in the deepest of Germany and do nothing but stare at the ceiling while the others guys are doing their parts. By recording here we can go on with our normal lives in the meantime and I think the creativity is just getting a well deserved boost by that.

Mat: Grand Illusion is also your fourth CD with the same line up. You must be really comfortable with each other by now and must have a good general idea about how the others are thinking and how they feel about the compositions when you write and record your music. Would you agree with me on this?
Nils: Yes. We have a very well working way of writing songs that really is working perfectly by now. For Fredrik, Nils, me and Jonny it's sort of a team effort where everyone has their individual roles. When we're all active in this process we easily write songs that differ from each other and in the end manage to write really diverse albums. I think this line up works perfectly. We're all good friends and have a good time, which of course is the most important thing.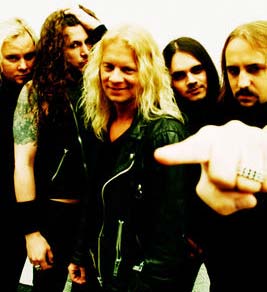 Mat: In comparison to your former albums, in what ways does Grand Illusion differ but also resemble those of the past in your opinion?
Nils: The biggest resemblance is that we sound like us. Even if we tried to sound different I know that we'd still have traces of NR. I guess that's a good thing. One thing that might differ a bit might be that this album has more mid tempo and heavy songs that are a bit more direct and in your face compared to NWM.
Mat: Looking back in your CD-catalogue there aren't really many longer songs but you still have a real knack for writing tracks that despite that a very epic feel to them. Is this intentionally or can we expect some longer epic tracks like for instance Egyptica from your former New World Messiah in the future?
Nils: I don't know. We generally don't like songs that go off into long instrumental parts. But in some songs it's called for and when we stumble on this, we go with it. Like on Egyptica, for example. So, who knows? There might be more of that...or not. We never make any plans, we just write songs and play them. Simple.
Mat: You've got some real interesting guest-musicians on Grand Illusions also, and among them Kristoffer Olivius from Naglfar, Hammerfall's Stefan Elmgren and Henrik Danhage who's in Evergrey. How was it to work with them and what do you think they mostly contributed with in your sound-frame?
Nils: We had an idea from the start to have some guests and friends join us on the album. Mostly because we all thought they could add something to it and also because we know the fans of our music are also fans of Hammerfall, Stratovarius, Evergrey and so on. So, it should serve as a nice little bonus treat. We didn't "work" with them per se. The modern technology made it possible for them to record on their own and then just send their stuff to us. Listening to it now, I think they all did a great job and that they all added something new to the songs they appear on. I'd love to have had even more guests on the album. Haha, I love things like these. Especially Kristoffer's contribution is cool to listen to. It's so far away from what we normally do in our music, which definetly makes that specific song brilliant.
Mat: I've also come across a rumour saying that Swedish cross-country skier (and fellow citizen) Per Elofsson performed as a guitar guest musician on this album… The already known musicians I can understand why they came on board the project but if the rumours are true it seems like Per Elofsson's got other skills as well =) So basically, is there any truth in this at all and if so, how did it happen that he joined in?
Nils: Yes, Mr Elofsson in in there as well. We went to school as kids and also hung out, so we knew each other a bit. I know from the past that he plays a little guitar and we just thought it would be a bit of a shocker to throw him in. He loved the idea and just came in and did some noise. Like I said, we all love the idea of having guests on this album!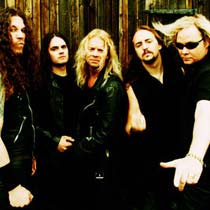 Mat: What is Nocturnal Rites for you band members? Of course it's a place where you can express yourselves musically and just hang out and have a great time with the guys, but is it also something more, like for instance somewhere where you can deal with personal problems, other experiences and such?
Nils: Some bands go as far as saying their band is their extended family, but I think that's bull. Most bands hate eachother. We don't luckily, we're all good friends and we enjoy hanging out and having fun. Basically that's what we're all about. If it weren't for the fun part of it, we would probably not be doing this. There is no greater award than being out there, playing, drinking beer, meeting people from all over the planet, travelling the world and even getting paid for it. But we don't meet upand deal with personal problems. There are professionals for that, in case we would need it.
Mat: One of the main reasons I guess that the first albums didn't do too well was mainly due to poor distribution. If you compare that situation with the one today, do you think matters are different now?
Nils: Yes, very. Our first album was out on a small label with poor desitribution and virtually no budget for promotion. So, things are definetly different now. I think our career started when we signed to Century Media. There is no way to get out there if you have no money behind you.
Mat: What are you looking for and expect from a record label and what requirements would they have to meet to be considered by you? Are you satisfied with those requirements and your situation with Century Media? How many albums have you signed for with them?
Nils: Our contract with Century Media is nearing completion now. However, they've been pretty decent to us over the years, so we'll see where we'll end up once the contract is up. Maybe we'll resign, I don't know. However, a good label stands behind you, supports you in whatever way possible and in the end sells records. Easy.
Mat: What do you love and hate the most with the music industry? Since you've been around for over a decade now you must have come across many twists and turns….
Nils: I love the fans and their devotion, the "brotherhood" between metal fans and just the scene in general. What I don't like is that bands generally don't get what they deserve in terms of money, that "standard" deals are generally really stupid and that young bands almost always sign these shitty contracts that last forever.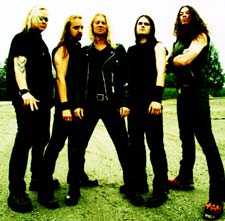 Mat: And speaking of decades… You've thus been around for 10 years on the metal scene with Nocturnal Rites and as a tribute to this released the double CD box, Lost In Time. But did you celebrate this anniversary in other ways too and in that case how?
Nils: Not really. We got drunk and naked, that's about it. But then again, that happens every weekend, so I wasn't that special after all.
Mat: A 10-year period is quite a long time and many things of course have happened in the band since the start. What would you say were the hardest parts and also vice versa, the best parts of your career so far? The major turning points if there have been any according to you?
Nils: The best part of our career is undoubtedly all the shows we've done, the countries we've been to and the fans we've crossed paths with on our way. We all love playing live and being on the road. This is the biggest pay off for us. So, I guess the major turning point was doing our very first tour back in the day. From then on we knew that this was what we wanted to do. Hardest parts...Well, I can't really think of a lot. It's always a bit hard to start writing an album when you have nothing written and are compeltely blank. But part from it's been a nice run.
Mat: You also have an upcoming tour with legendary Gamma Ray. Sounds like a great touring partner that most certainly will attract huge crowds. That really's got to be something very interesting and a great thing to look forward to I guess?
Nils: Sure, it will be really cool. We have never toured with them before and I am sure that together we'll be a really nice package and people will definetly get value for their money. We will also be doing headline shows in Sweden during november and december, so we have filled pretty much all of 2005.
Mat: And speaking of tours, you have played in Japan on more than one occasion and I'm a bit curious about that. What's it really like to play over there? Are the fans just as fanatic as they seem and the rumours say? What do you generally think of the country and the metal culture over there compared to other places in the world?
Nils: The fans are very devoted and it's really cool playing for them. I can't think of a nice country to spend time in or to be playing in. I just love everything about Japan. Playing in Japan is very different from playig in, say, Germany. But mostly I think it's because of the culture and because everything looks so different. In Europe all of the countries look the same. It doesn't really matter if you're walking around in Belgium or somewhere in Germamy. In Japan everything is so new and different. I would encourage everyone to visit Japan at least once in their lifetime.
Mat: If you would briefly give your own description of each individual band member, including yourself of course, how would you put that?
Nils: Me: lazy and hard working (when it comes to doing something I like), like coffee, whiskey and beer. Part from that a pretty normal guy (with my standards in mind). Fredrik: his memory is about as good as a gold fish's. He eats like a ton of candy every day and doesn't really gain any weight. Part from that he's quite weird and gets a cubical hairdo and fish eyes whenever he drinks. Owe: likes watching movies and drinking coffee, probably even more so than me. He also directs and produces music videos and is actually very talented (he's done our last three videos, including the brand new Fools Never Die). Jonny: he's always got something going on and can't sit still for five minutes. Norberg: likes playing his guitar, making his own wine and beer and likes to drink weird things.
Mat: And finally, I thank you very much for participating in this interview and sharing this information and your thoughts with us so these last lines are entirely for you. Any final words you would like to round off with - a tip, a recommendation or a thought for the future?
Nils: Get your hands on Grand Illusion - it will blow your mind. Play loud and see you all soon somewhere!
That was all I had for now, Nils - the staff at metalcovenant.com wish you all the very best for the future, and we sincerely want to thank you for keeping the spirit of Metal alive!

Review of the album »


Song By Song Commentary »

Related links: