Interview conducted September 02 2007
Interview published January 18 2008
After taking part in a signing session of the new single Amaranth on Swedish Metal Expo together with new vocalist Anette Olzon, Nightwish's drummer Jukka Nevelainen sat down with Metal Covenant to discuss the new album, the upcoming tour and Tarja Turunen's departure.

Niklas: So how was it meeting all the fans out there?
Jukka: It was really great, actually. I have been doing these kinds of things for two years now, having a break from touring after the final show on the Once-tour. So now it's great to be back with a new album.

Niklas: What is everyone in Nightwish up to at the moment? Are you rehearsing for the upcoming tour?
Jukka: Yeah, we are rehearsing. We have already rehearsed twice, once with just the guys in the band and once with the whole band, Anette included. When we get back from Stockholm we will start the final preparations for the upcoming tour.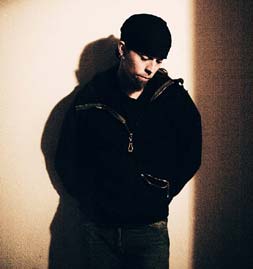 Niklas: Have you lined up the plans for the tour, about which songs you will play and so on?

Jukka: Pretty much, actually. We've been rehearsing a quite a huge load of songs, mostly to find out how the old songs fit Anette's voice. So far it's going really well. We have plenty of songs to pick for the set list. Let's see what it ends up being.

Niklas: How will Anette try to tackle the old songs, will she try to copy Tarja's operatic style or add her own personal touch to them?
Jukka: We're not going to use any operatic or classically trained vocals, because Anette is not like that, she never had the same training that Tarja did. It's possible that some fans are expecting these kinds of vocals and therefore will be disappointed, but I can assure them that the work Anette is doing on the old songs is really great. She's using her own voice with no imitations from the old days.
Niklas: Has Dark Passion Play been the hardest album to record with Nightwish so far, considering all that has happened?
Jukka: It has been a long process, and certainly a big project for us. We started rehearsing and arranging songs already back in June 2006 and the album was finished one year later, in the beginning of June 2007. The whole process went very smoothly, but we just needed some extra time because we wanted to rehearse and arrange the songs as good as possible in the studio. And in the studio we didn't rush anything, we took the time we needed. It was actually quite easy.
Niklas: People that have listened to the album says that it contains all the elements we love about Nightwish, just more of everything. How would you describe it?
Jukka: Our previous album Once was already a rather versatile and wide album; there were really soft parts but it also had extreme and really heavy parts. This album takes the same thing even wider. It does contain all the elements that you connect with Nightwish, and for me it's a natural follow-up to Once. The composing and musical style is, to me at least, quite similar to the songs on Once. The biggest difference is, of course, the new vocalist.
Niklas: Do you have a particular track on Dark Passion Play that you like extra much?
Jukka: It's called The Poet And The Pendulum. It was actually a nice challenge to record it, and also to make it work in the rehearsal room. It's also the song that I look forward to the most to play on shows. It's fourteen minutes of highs and lows, and it should be quite spectacular.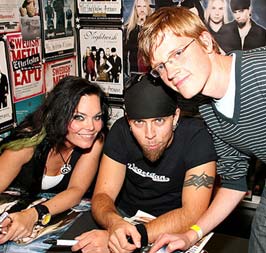 Niklas: The album contains two tracks that aren't written by Tuomas Holopainen (keyboards): "Whoever Brings The Night" by Emppu Vuorinen (guitar) and "The Islander" by Marco Hietala (bass). Why did Tuomas decide to not do all the song writing alone this time around?
Jukka: Tuomas has always been open to other members' songs and ideas, actually. If he feels that a song is proper for a Nightwish-album, it will end up being on it. It just matched well that Marco and Emppu had these songs at the time. Both fitted in very well with the concept and there were just some minor changes to be had for these songs, and then they were put on the album. So basically, if a song is good enough to fit together with the whole album-package it will be there, and it doesn't matter if it's Tuomas or anybody else who has written it.
Niklas: You recorded the videos to Amaranth and Bye Bye Beautiful in America. How was it?
Jukka: Yes, we went to Los Angeles for the video shoot. Both videos are directed by Anti Jokonen, whose earlier work we really like. We decided to shoot both videos at the same time because it saved us both time and money. The whole thing went really smooth. We just went there and did our job in one day.
Niklas: What do you think are the biggest differences between Anette and Tarja?
Jukka: There is the lack of operatic and classically trained voice, of course. To me, Anette's singing style sounds really fresh, especially in this context. Like I've said, it will be really exciting to hear what she can do with the older songs. It was obvious to us that we didn't want a cheap copy, instead we wanted something different. It wouldn't have made sense to choose someone who just tried to imitate Tarja. A different kind of voice could bring something new into our music, we felt.

Niklas: Did all the band members decide together that Anette was the right replacement for Tarja, or was it Tuomas' decision?
Jukka: After we had kicked Tarja out and announced that we were looking for a new vocalist, we received a lot of potential demos. So all four of us in the band sat down once in a while together and listened to all the applicants. When one member found something that he thought could be useful, we all listened to that particular recording even more. So the decision was made by all four of us and we stand behind it completely.
Niklas: If you could name your own personal favourite Nightwish-album - except Dark Passion Play - which one would it be?
Jukka: Yeah, I knew that was coming up. (laughs) I would say that it's Once. Already at that time I considered it to be our best album. There are great songs on the early ones as well, but I think that Once is the strongest overall.
Niklas: Any closing words to your fans?
Jukka: Well, we're finally getting closer to the start of the tour, and we haven't been here for two whole years. It's always special for us to play here in Sweden, and in Stockholm of course, since it's so close to home. It's just a boat trip away. (laughs)

See also: review of the album Dark Passion Play »»
Related links: