Interview conducted July 30 2022
Interview published September 28 2022

Nestor's debut album Kids In A Ghost Town is getting re-released via Napalm Records on September 30th and as the band came to Skogsröjet festival in August, Metal Covenant got a chance to talk with singer Tobias Gustavsson.

Tobbe: You signed a deal with Napalm Records. Tell me about that.
Tobias: Well, roughly seen, we didn't have any ambition to sign with a record company, but the record was done by ourselves. Well, mostly by myself, you know. I have worked in this industry for a very long time, so my experience with labels isn't the best.

So we wanted to keep it fully independent and do it ourselves. But then it went so well and many people liked it, so then the question came up, "How will we handle the distribution?". So we started to shop around, if I may use that term, for a good label, and Napalm felt trustworthy and they had a little bit of a different way of thinking.

A lot of labels have kind of a template that they follow, but Napalm was a bit more like, "We get it. You want something different.". So, we decided for Napalm. That's kind of the whole thing.
Tobbe: What will the re-release of the record contain?
Tobias: It's just the original record and 3 new songs. So it's a deluxe edition of the same record and 3 additional new songs. So, nothing remarkable, really.
Tobbe: Those 3 bonus tracks… Well, now I'm thinking in terms of economy, but this is also a chance to get buyers who already purchased a copy to purchase another one.
Tobias: Well, that's a bit tricky, but if we would have decided that part, we would have kind of said okay to everyone. But now it's up to Napalm and they obviously want to sell the deluxe record. But, as I said, it's a bit tricky. You know, even if we have done very well, we have just sold about 10,000 copies.

So I'm thinking that the audience we might get from Napalm will be bigger than what we have now and therefore the deluxe record might be seen as the first one. So, the deluxe record will be Kids In A Ghost Town.
Tobbe: The single Signed In Blood was out in April and it sounds very similar to the rest of the album. Was that song kind of already written when the first edition of the album was out in October last year?
Tobias: No, it wasn't. It came about when we started talking to Napalm and they told us that we had to make some kind of deluxe version. So I started writing it at that point. It was the first one of the new songs that I wrote.
Tobbe: Another new song is A Losing Game, which you played live at Sweden Rock. And obviously it's the same thing with this song.
Tobias: Yes, it's a completely new song. It's newly written. And also Andreas Carlsson co-wrote this song. But it feels good overall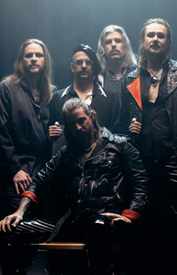 Tobbe: Sam Fox appeared on the album, which is cool for guys of our generation. But actually she had her greatest success before Nestor even was a band the first time. So my question would be: Is she more about your youth than the time around '89?
Tobias: Yes. We started the band in 1989 and my whole idea with the Kids In A Ghost Town record was us going back to make the record that we couldn't do, didn't have the skills for, or were able to do. So as I worked with the lyrics and stuff, I kind of went through my childhood bedroom, like which posters I had on the walls, and Sam Fox, I wasn't the only one to have her on my wall, you know.

So the idea was sprung there and this song, Tomorrow, immediately I viewed it as a duet. We tried to reach out to Lita Ford first, but it didn't work out, with the pandemic, and USA, and so. But when we came in contact with Sam, it was done in a day. We sent over the song, talked some fees, and then we were done.
Tobbe: She was pretty popular for a while there in the '80s.
Tobias: Yes, she was. And she was dating Paul Stanley for a while and she was friends with Lemmy. And she has something. Even if she's pop, she was kind of rock, you know. But it was great. We'll see what happens on our next record. Maybe there will be a duet on that one too, but perhaps not with Sam Fox though.
Tobbe: In the mid '80s it wasn't even something odd that kids had posters on their bedroom wall picturing bare-breasted women.
Tobias: Yes, that was completely natural. It was okay. Feels strange now. At that time it wasn't. It was Sabrina and whatever their names were. Strange.
Tobbe: If the format 'best-of record' still exists in 2031, 10 years past the first release of your first record, which 3 or 4 songs from the record would end up on that one?
Tobias: Well, probably On The Run, because that was a good single. Then I think Perfect 10 (Eyes Like Demi Moore), which is a song people love seeing live. Maybe that one would make it. And perhaps Stone Cold Eyes. Then I don't know. 1989 has been played a lot, but it feels maybe too much like that year. It's hard to say, but I would say On The Run, Stone Cold Eyes and Perfect 10.
Tobbe: At the Sweden Rock show in June, We Are Not OK was the only song from the album that you didn't play. Is that the worst song on the album?
Tobias: No, no, absolutely not. It's more like we haven't had the time to rehearse it. And to be frank, the deluxe edition will be a greater listening experience, because on the first Kids In A Ghost Town there are actually 3 mid-tempo ballads out of 10 songs on the record. That's a bit too many.

So as we put together the live set, we felt that we didn't need another mid-tempo song. So it has been pushed out a little bit and we didn't have the time, you know. Pretty much like that. But it will get on the setlist. We talked about it, well, yesterday.

We're throwing our own festival in the town we're coming from originally [Falköping] and we want to do something special and it was like, "Perhaps we should play We Are Not OK.", but we're not going to get it together, because we're on tour until then.
Tobbe: If you'd like to, tell me a little bit about that festival.
Tobias: Well, I had… It seems like I'm saying I all the time, but that's my vision around Nestor, and then the other guys help out too. When we had booked gigs all throughout the summer, I told the other guys that if we are going to do something in the area we come from, Skaraborg, Västergötland, we will do it in our hometown of course.

I know that the Töreboda festival got in touch with us. It was their last time this year. They asked us, but we turned that one down and decided to do our own little festival where we could play. So it's on August 13th. Sold out, over 3000 tickets. It feels kind of crazy. So, kind of like that.
Tobbe: So I guess you already have started planning for 2023.
Tobias: Yes, we are already in the talks, not so much with bands, but with different organizers. We're signed to Live Nation nowadays and perhaps it's going to be something with them next year. If things turn out great this year, that is. It's depending on a couple of things, you know.
Tobbe: Is the release of a second Nestor album put on hold now because of the re-release of the album?
Tobias: Well, that's hard to tell. The deluxe edition is out on September 30th and our plan is to have maybe something out by the same time next year. I have started writing. We'll see what happens. Sometimes it gets stuck. But we have a good team, and I know who I want to work with, and everybody in the band is pumped so far.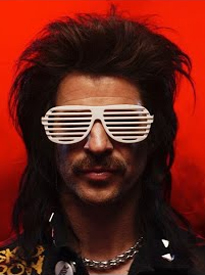 Tobbe: Do you feel any stress about putting out the next album now with management and record company and stuff?
Tobias: Well, perhaps. But on the other hand, it's one thing if it would be impossible, but if we're talking about a whole year and with a good team, then I might get pumped by not having it like, "It's done when it's done.". I think this situation might turn out to something good, at least for me.

But we won't speed things up just to get something out, but now it's like we're in the middle of this process, and all these gigs and festivals give us great inspiration. I have a lot of stuff inside me now and it feels like it could become a good album.
Tobbe: The first record really mirrors the late '80s. Will you end up in the same time period again, or what's on your mind right now?
Tobias: That's a good question, because the fanbase that we have built now I think would be very disappointed if we took a big step, and it's also just that's where our hearts are. But there are many paths to choose to walk on.

You could go to the Kiss - Animalize style, or maybe, well I don't know, Mr. Mister, well that's hardly rock, but Toto, or whatever. So it's more about which direction it will go. We will definitely stay somewhere in the late '80s or maybe the early '90s. Around that time, and what it will be like I don't know yet.
Tobbe: Do you think it will be kind of scary as you put out the second album because it will have to live up to certain expectations?
Tobias: Oh yes, definitely. I have already started thinking about that. You know, Kids In A Ghost Town got so great reviews and in the beginning you can't really trust in that, and you don't relate to it in the right way because there is too much in your head at that moment.

But, in hindsight, as a year soon has passed, I can look at it, well maybe not in the same way as you can, but at least a little bit from an objective point of view, and realize what a great album it is, how it is coherent and how it mirrors a specific year or two.

And I don't know if I will be able to do that again. On the first record I produced everything myself and wrote the lion's share with our guitarist [Jonny Wemmenstedt], but now we have a team that we have started working with, so it's perhaps up to them to come up with some input, you know, like, "Maybe this will work.". So I'm hopeful, that this will turn out great.
Tobbe: Most bands that are considered retro bands, which is a category that you guys actually belong to, in my opinion often end up doing speed metal or kind of traditional heavy metal, whereas you guys seem to kind of do a more uncommon style of retro music.
Tobias: Well yes, and I think that's probably one of the reasons to why it has become so successful. Someone wrote something like, "Nestor is the first band to wholeheartedly embrace a genre that has been a pariah for so many years.".

We have no problem with people saying that this sounds like Bon Jovi, or Def Leppard, or Kiss, or whoever, and we're like, "Absolutely. That's where we come from.". And I think it's like you say, if people are doing something retro it must always be like early Metallica, or Anthrax, or whoever it may be.
Tobbe: And before we end this I must say that it's kind of an effort, with only one album out, that you will already play on the Monsters Of Rock cruise for the second time next year.
Tobias: Well, Larry [Morand] on there was very delighted about us. And it was great, because we went there with the idea that no one would know our songs. But it became such a success, so he asked us already after the first day if we wanted to come back next year. Strategically seen, such a show should maybe be followed up by more shows. I mean, it's in the USA. But I don't know if we will have time to do that. But we will do the cruise anyway. And it was great. No question about that.
Tobbe: This isn't the only cruise following a similar concept.
Tobias: Yes, there are quite a few. I know that there were some talks for the Kiss Kruise, but I don't think it will happen, but they asked us if we were interested. It's taking place in October. Kind of the same thing, but with Kiss instead.
Tobbe: Maybe you don't want to answer this question with an exact number, but is the pay reasonable for a job like that?
Tobias: Yes, it is. I could summarize it like there is nothing wrong with the fees, but you have to pay for all drinks and stuff, and those things they really charge for. So, it's not something that makes you rich. But sure, you are free to choose whether to drink some liquor. But it's kind of being on kind of a vacation, so.

Related links:

www.nestortheband.com
www.facebook.com/nestortheband
www.instagram.com/nestor_theband

www.skogsrojet.se
www.facebook.com/skogsrojet