Interview conducted February 10 2011
Interview published March 20 2011
Matthew and Gunnar Nelson, the twin sons of American Teen Idol Ricky Nelson, have recently released 'Lightning Strikes Twice'. The aptly named album marks the 20th anniversary after the enormous success brought about by 'After The Rain'.
Over the past two decades, these third generation musicians have put out several other albums, many of which were released on their own label. They have shown their level of diversity by covering other genres of music, and diligently working with many other renowned musicians.
As I am a dedicated fan, 'After The Rain' holds special significance for me. Therefore, I was ever grateful to converse with Matthew Nelson. My mettle curiosity had me determined to discover why the two blond ambitious brothers have chosen to return to their musical roots, and what has been happening, since?
I invite you to join me and discover just how our unexpected dialogue played out that heartfelt day when Matthew called.

MettleMaiden: Hello there, I am a bit nervous, because I am a fan of the band Nelson. The band has really had an impact on me over the years.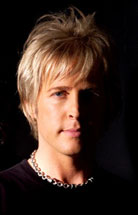 MettleMaiden: I apologize because this interview was thrust upon me rather abruptly.
MettleMaiden: I have not had a lot of opportunity to listen to 'Lightning Strikes Twice', but from what I have heard, I do agree it sounds a lot like 'After The Rain'.
MettleMaiden: It may even be better because of modern production values. You are a lot more experienced with writing and producing now, after all these years of doing it on your own.
MettleMaiden: Why did you decide to recapture the sound, feel, and style of the first album?
MettleMaiden: This is why I am such a strong supporter of Frontiers Records!
MettleMaiden: I see what you mean.
MettleMaiden: Oh, so he spearheaded the mission, so to speak?
Matthew: Yeah, I have been a little bit busy with some personal stuff that had been unravelling in my life. This is one of the benefits of being a twin, because he agreed to begin the process, then bring me in for the second half.
MettleMaiden: That was noble of him...
MettleMaiden: Definitely!
Matthew: I am happy in that sense, because it has that tighter sounding feel, from a mixing standpoint. I just worked on an album for a band called Steel Panther.
MettleMaiden: Really? My husband and I love Steel Panther. They are hilarious! They have really helped reignite that '80s "Hair Metal" flashback.
Matthew: Indeed, and they do have a wild sense of humor. They are all buddies of mine, and that is me on the album doing the background vocals.
MettleMaiden: Man, I would kill to see them live. That is so cool that you are associated with them. I cannot wait until their next album.
Matthew: Jay Russman, who produced their album is a friend of mine. We asked him to work with us on the new Nelson album. I think he did a great job recreating that Nelson trademark sound, which was a bit of a challenge.
MettleMaiden: I can see that because Nelson is a bit lighter, and certainly not as racey or provocative.
MettleMaiden: Who knows, you may now have fans who were not even born back then.
MettleMaiden: I saw that you were on the Firefest Festival in the UK.
Matthew: We headlined it, which was fantastic. People came from all over the world to see us. Just that one show was worth all the effort. It was so fun, and a true celebration.
MettleMaiden: It sure sounds like it! Back in 1990 you were signed to Geffen Records for 'After The Rain'. I read that they did not want to give you full artistic freedom when it came to the follow up record, which was actually pretty common back then.
Matthew: Well that is a complicated thing because the Geffen situation is far more in depth than just that. I do not blame David Geffen, as it was all just business. After we returned from our tour, we soon learned that they had signed Nirvana, which changed everything!
MettleMaiden: Oh yes the dreaded "Grunge Movement" had begun, which is ironic because Nirvana were really more Punk based!
MettleMaiden: A number of other excellent acts felt the shaft!
Matthew: Realistically speaking there was nothing we were going to do to salvage that relationship. It was a whole other world. The problem we had with them was that, even though we had sold so many albums, they would not let us out of our contract.
MettleMaiden: Is this then why it took so long for the follow-up?
MettleMaiden: Such was the story of the Music Business back then!
MettleMaiden: I assume you mean how Bon Jovi and Def Leppard have successfully crossedd over into that genre?
MettleMaiden: This frustration may have been a blessing in disguise, because it led to the birth of Stone Canyon Records and the release of 'Imaginator'.
Matthew: Exactly, and this was before everyone started doing the indie thing. I am proud of how we did this out of necessity, even if we were one of the first ones to do so.
MettleMaiden: You should be saluted, since you have successfully released several records on Stone Canyon.
Matthew: We really needed the autonomy. Frontier Records are now our partners, not our actual label, in the classic sense. We licensed this album to them, and we get it back in a few years. We are giving them a shot to market it, in order to see how well they will do.
MettleMaiden: Sounds like a great deal. I am so glad a label like this cares more about the music than the money!
MettleMaiden: This may explain the positive reviews and praise.
MettleMaiden: This is one reason why Matt left Iced Earth to focus on his family concerns.
MettleMaiden: I have never heard it put that way before, but that does make sense.
Matthew: As a songwriter, I look at it as that even though the income may be gone, the inspiration will never fade. I am still writing great songs for other artists. It is like having a diversified business, where you have to work hard to measure the success we once held.
MettleMaiden: All that hard work has paid off.
MettleMaiden: I know what you mean, it is really sad to see that happen.
Matthew: It is just because kids do not pay for music anymore. This then inspires us to create the best CD we possibly can, hoping people will buy it. More importantly, we really do hope our fans will come to see us live.
MettleMaiden: I would if you came near! I have never seen you live.
Matthew: Fortunately with us, we have always managed to survive, because of how we grew up and who we are, even when everybody always thought it was an image thing.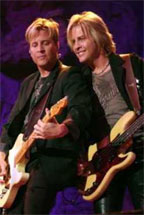 MettleMaiden: Your family background has always been instrumental in your success, right?
Matthew: To a certain extent, but we have always had to be better than people expected in a live atmosphere. Hopefully our live shows have spoken for us, and we can play live more often. We still play our hearts out. We do not feel that we have properly entertained, unless when leaving the show, the fans response is overwhelming.
MettleMaiden: Speaking of shows, will you be touring America to support this album?
MettleMaiden: They are expanding their roster, having just signed Yes and John Waite. They have bands ranging from Asia and Toto to Benedictum or Primal Fear!
Matthew: We want to do whatever we can to sell as many records as possible. There has to be the right demand, and honest promoters. We plan to book more shows, and then play a bunch of new songs live.
MettleMaiden: I am definitely looking forward to it. I want to hear "Two Heads Are Better Than One" from the "Bill & Ted's Excellent Adventure" soundtrack, which you recorded under the name Power Tool. You played it on the 'After The Rain' tour, right?
Matthew: Sure, I am glad that you said that. We have two other albums that Frontiers has licensed. You will absolutely dig them because one is actually a live album from the 'After The Rain' tour called 'Perfect Storm'.
MettleMaiden: Awesome!
MettleMaiden: A jet engine, huh? Well, you were very popular among the female population at that time.
Matthew: It was really fun, we had a lot of energy. If you ever wanted to hear that tour, or for people who did see it, and want to relive it, it was a hell of a year for us.
MettleMaiden: The early 90's were fun in general for me. I was in college at the time. Lately, we have seen a remarkable comeback of the Hard & Heavy Metal based music.
MettleMaiden: Guilty! We always try to bring our son to shows! He is seven, and we have been taking him to shows ever since he was three. He saw Maiden when he was four.
MettleMaiden: It is fun to see him just stand there and completely focus on people playing their instruments. We actually just returned from a Heavy Metal Cruise, called "70,000 Tons Of Metal", with 42 bands performing in four days. Stephen was one of only two kids on the cruise, and the youngest. It was so much fun!
MettleMaiden: Our son has such a collection of guitar picks and drumsticks right now!
Matthew: Gunnar and I meet everybody after our show, no matter what kind of show we play, and sometimes it takes two or three hours to shake their hand, take a picture, and sign stuff.
MettleMaiden: Wow, that is dedication!
Matthew: This is cool, because it is something we could not do in the '90s. Back then if we were seen together we would cause a riot, when the young girls went crazy!
MettleMaiden: Like a later version of the Beatles!
MettleMaiden: He would love that!
Matthew: Everyone always remembers their first concert. This is what got us hooked while seeing our father play for the first time when I was four years old. I knew right then that I wanted to follow in his footsteps. You are cool parents.
MettleMaiden: That is what everyone kept saying on the cruise. We actually got a standing ovation when fans were acknowledging that we were raising our kid right!
Matthew: We knew going into it that we were guilty until proven innocent. This is ironic given that our father is in the Rock 'N Roll Hall Of Fame, and our grandfather, Ozzie, had number one hits.
MettleMaiden: Which is why you are all in the Guinness Book Of World Records.
MettleMaiden: My ignorant husband, who is not too familiar with your music, until now, always dubbed you the Nelson sisters.
Matthew: Fair enough! We blew up on Pop radio, not Rock radio, so Rock just abandoned us. The only way we could prove ourselves was to show up with two acoustic guitars and kick everybody's ass.
MettleMaiden: Which you are still doing.
Matthew: You have to prove yourself, and earn your stripes. At the end of the day it really does come down to the music. After all these years, I can honestly say, that nobody does what we do, especially the way we do it. We have our own calling card. We have created a unique sound, for which we feel fortunate.
MettleMaiden: Agreed! Speaking of family, your sister and uncle are actors, your other grandfather was a football player, and you mother is an artist. With all of the success in your family do feel any personal pressure to do better?
MettleMaiden: Yes.
MettleMaiden: That is good to hear...
MettleMaiden: You just have to work harder than most people because of your family!
Matthew: My father sold 60 million albums, 240 million singles, and is in the top ten of all time sellers, that is huge, you know.
MettleMaiden: To say the least!
Matthew: My grandfather pioneered the sitcom with the "Ozzie and Harriet Show", and before that he had number one records with Big Band music. I realized at a very young age that they all did something very specific in the relative time that they lived. We are still loving what we do. We are multiple generation entertainers.
MettleMaiden: That has got to be a great burden weighing on your shoulders.
Matthew: I liken it to being circus entertainers, and I do not mean that in a derogatory way. Circus people go back for generations, and for me, like a lot of show business families, it runs really deep.
MettleMaiden: That is a great analogy, and the same goes for the Carnies during the Great Depression.
MettleMaiden: I always liked him in "Summer School", and his wife Pam Dawber AKA Mindy from "Mork And Mindy" fame.
MettleMaiden: I did not know that!
Matthew: He considered a career in football, but after seeing his father's friend walking around with canes from the football injuries, he went in another direction.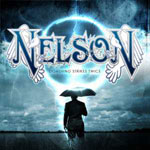 MettleMaiden: And the rest is history...
Matthew: Who knows what it takes to be successful? More than anything it takes persistence and motivation, and we always had that. Gunnar and I always felt like we were athletes, working towards a time when we could shine or have our moment in the sun.
MettleMaiden: To a certain extent, athletes and musicians do have a lot in common.
Matthew: This is why we began playing when we were seven years old. We started playing clubs when we were twelve. I wrote my first song, and we recorded it when I was the same age. Then we earned our first record deal when we were twenty.
MettleMaiden: All that determination and hard work has paid off.
Matthew: Frankly I think we should have got our first deal six years earlier, we were ready for it but a lot of people did not think we were mature enough. We should write a book. The stories are fantastic and a lot of fun.
MettleMaiden: Go for it! Rockers are writing biographies all the time. Sammy Hagar just released his.
Matthew: In our case, I used to always joke about how we had the world's longest overnight success. When it happened, it was bigger than we ever expected, and you cannot prepare for that. It even led to some isolation. We were not as recognized separately, but once together the girls went wild.
MettleMaiden: Wow, so you were only recognized when the two of you were together?
Matthew: I could go hang out at the mall on my days off and people might think they recognize me by myself, but once Gunnar and I both went together forget it! To this day, he and I still laugh about that, and realize that it will never happen again.
MettleMaiden: That is the tale of fame for the young and reckless!
Matthew: Honestly, it is not just about causing mall riots, or selling millions of records, it is about still being here two decades later, and still genuinely love what you do.
MettleMaiden: You mean the cougar crowd of older fans still do not go ga-ga for you?
MettleMaiden: I hear you!
Matthew: There are easier ways of making a living, especially nowadays. We do this because ''we choose to do this''. People like yourself get it. For us, it is more than just a song, it is an energy and lifestyle, it is bigger than the both of us.
MettleMaiden: You have to follow your bliss.
MettleMaiden: When I first saw the video for "Love And Affection" I had no idea who your family was, It was not until I spoke with my grandmother that I understood your lineage.
Matthew: Three million people who bought that record had no idea who our family was. When a 14 year old girl heard the song, she instantly liked it. That song just broke and it hit number one on the Billboard charts, then it was followed by three more chart toppers.
MettleMaiden: Those were just well-constructed songs, despite your family legacy. Given your different vocal style, how do you decide who sings on what song?
Matthew: In this respect, we are like a male version of the Heart sisters. Gunnar does most of the vocals, but I sing on "Change A Thing", because this song hold significance for me.
MettleMaiden: That is a good analogy.
MettleMaiden: These hits provide you an ample supply of songs to play live.
Matthew: Therein lies the problem, we have a lot of albums, and too many songs. So how do you create a set-list which will placate everyone?
MettleMaiden: Many bands struggle with this very dilemma. On a more intimate level, I want to sincerely express to you how much your music has touched my life, and inspired me.
MettleMaiden: Late in 1999 I was involved in a dead marriage, but I did not want to leave for fear of being alone. One day while I was driving, I put in my 'After The Rain' cassette, when the title track came on...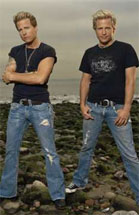 MettleMaiden: You got it! Once I delved into the meaning of that song, it gave me the courage to end my marriage. Less than a year later I met my current husband, and we have been together ever since.
MettleMaiden: What?! I am so sorry to hear that!
MettleMaiden: Tragic and ironic, what lyrics can do.
Matthew: I followed my own advice, because the same line encouraged me to file for divorce.
MettleMaiden: The same line!
Matthew: That is right! Strange, huh! The minute I filed for the divorce, I felt I would literally rather be alone for the rest of my life, than ever go through this again. A month later I met this great girl from Iowa and we have been together ever since.
MettleMaiden: That is great, I am so happy for you! We are cosmically linked in that way.
MettleMaiden: Even when it first came out, that song had special meaning for me, and it still does. I was always shy in school, which is why I got into Metal.
MettleMaiden: We have really dug deep, and we need to reach a conclusion. My final question for you concerns your performance on cruises, is that the Ricky Nelson Tribute Band?
MettleMaiden: Then we both have cruises in common too!
Matthew: Oh yeah! People love it. We do not advertise it, so it becomes pot-luck, and open to all ages. "Ricky Nelson Remembered" is something we put together after so many people asked us why we do not play any of our Father's songs.
MettleMaiden: That sounds like a rewarding experience.
Matthew: Indeed! For a while there we would play a couple of his songs in our set, then we decided to put together this tribute band to satisfy everyone.
MettleMaiden: What a great way to honour his memory! It was such a pleasure getting to know you better.
MettleMaiden: When you come to town, you can count on it! All the best!
Related links:

www.nelsonkicksass.com
www.myspace.com/officialnelson